This Music Hall MMF-5.3SE exudes its hint of classy-ness. If you look at it closer, you will notice that the platter is made of solid glass disc covered by the soft felt mat, weighing at 6 pounds. It is also equipped with a metal clamp which helps to further secure the LP to aid in suppressing the warped record surfaces. It also comes with a high quality molded plastic dust cover that gives the perfect finishing touch to the sleek yet retro outlook. This turntable has a weight of 24 pounds, measuring 18.25 inches wide, 13.25 inches deep and 5.5 inches tall taking into account its dustcover.
Minimal noise operation
This model has 2 layer base and the top and bottom platforms are separated by 6 rubber springs so that the transmission of motor and room vibration from the turntable to the LP is minimised. When it comes to adjustment, the top base comes with a built-in bubble level so it becomes easier to adjust the MMF-5.3 SE to the point where it can lie flat for your optimal sound. Furthermore, in creating a minimal-noise operation, the glass platter (of low resonance) sits on a Teflon coated ball bearing. The metal clamp also helps produce deeper bass and aids in subduing the pops, clicks and noises that usually accompanies vinyl records.
Some small drawbacks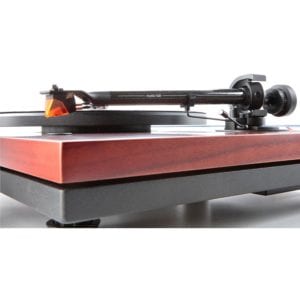 You might have to be a little more involved when you set up the MMF-5.3 SE than other turntables. This is the drawback of manual turntables. It is that entirely complex, however if this is your first turntable, we recommend you to look at the comprehensive guide before you begin assembling. Not to worry, if you run into any difficulty, you can contact the reliable and good customer support guys at Music Hall.
This MMF-5.3SE turntable comes premounted with the Ortofon 2M Bronze Cartridge. For a start, this is sufficiently good but of course higher end cartridges can boost the sound much better in terms of upgrading. Some small inconveniences, when you change the speed from 33 rpm to 45 rpm, you have to go through a little hassle, such as removing the platter and moving the belt to another section of the pulley. Less of an irritation, with such premium turntable, its like more of an extra move.
Remarkable sound quality.
Its sound quality is quite remarkable, could even feel the band using their bare hands beating the drums. This machine is able to reveal every single detail contained in your vinyl records. It is completely silent whilst in action, clear and neutral sound with a fantastic bass that's so enjoyable.
This turntable comes with a very thin felt mat. I must say I have been quite surprised with experiencing only minimal static using the thin mat. When I remove albums, it does not lift up even when it comes to 170g releases.
Personally, I am a very happy owner of the Music Hall MMF-5.3SE. Besides its pleasing appearance (the photo doesn't do it justice!), its truly a classy piece of turntable. If that's what you are looking for, you got it here. I sometimes only wish if the leveler is not built in. But then again, I can appreciate it very well. Let me know your thoughts if you also have it.