Here is another quality record player suitable for novice and beginners too. Usually high quality comes with high pricing, but fortunately, this Dual CS410, touted one of the best entry level Dual turntable comes at an affordable price! If you are searching for Dual turntables only, it means you certainly know the value and brand that Dual commands, quite different from that of other brands.
This model Dual CS410 is quite one of its kind in the sense that its built for the novice vinyl listeners. Why is that so? If you compare the prices across the Dual family, then it will be quite obvious; this because the CS410 is one of the most affordable or cheapest model in the fully automatic turntables line up produced by Dual.
Dual CS410: Targeted at new entrants
You can say it is quite targeted at the beginners because when you start venturing into purchasing your first turntable, your main intention is probably to enjoy the unparalleled music that comes out from it. However, along the way in reaching that level of enjoyment, you know you have to deal with the mechanics and technical aspects of it. When it gets a little too technical and dry, for those of us who have short patience or attention span may find it frustrating to meddle with so many hardware components just to hear my newly bought machine produce a sound.
Fully automatic Dual CS410
Therefore, Dual tried to appeal to this segment of users as there are now more and more people keen on vinyl again. What is the best way to help these folks achieve what they want? Clearly, the first step is to remove all the potential obstacles in their first enjoyment. I felt that Dual decided to simplify the mode of use, hence launching the Dual CS410 as a purely fully automatic turntable. For beginners entering the vinyl scene, it's a simple act for them to just push the play button; works like plug and play mechanism and then they achieve their goals. I would love that when I just started out. Remember that I spent quite some hours figuring out what worked in what way and where the cables would go. Does this sound familiar to you, too?
How does the Dual CS410 look or feel?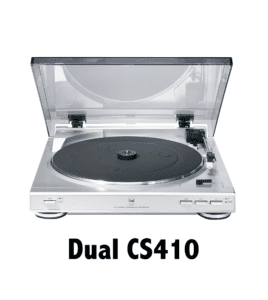 Contrary to many, I actually like the silver shiny appearance that the CS410 has. It does not look too loud but yet gives the feel of being professional and capable. Somehow I personally also like light colors and I could imagine how it would blend into my set of other equipment seamlessly. Well, I do know that some people still prefer the wood or black color due to the ease of matching it with other equipment, so its really up to your individual preference when it comes to color and style, yeah?
Chassis Technology of Dual CS410
The midi-format CS410 turntable is equipped with special floating feet and the platter is made from aluminium with anti-resonance rubber platter surface. What does this mean? The special floating feet is meant to stabilise your turntable on any surface that you are placing it on, so that you don't have to worry about using your own way and so on. Also, we know resonance can be irritating at times so Dual tried to help resolve this problem by introducing improvised features that can help reduce or even avoid resonance. If there is one thing you take away from Dual, you will not forget its great chassis technology.
Dual CS410's Drive Technology
The Dual CS410 is a belt driven fully automatic turntable. So is a belt drive better than a direct drive? Well, this can actually spark a whole debate on its own and I just want to provide my 2 cents worth here. Basically, a belt drive works in this way: the belt will drive the platter from the motor spindle and it produces low rumble. However, as the belt stretches over time, there will be more tension and therefore you may experience a higher risk of wow and flutter.
It has a DC motor that comes with electronic speed control. Always take note that drive technology contributes to the production of good quality sound, because if all else is great but the drive technology is under invested, then you have not so great quality music. All components play important roles. Here the CS410 comes with the viscosity damped arm lift. What I like most about fully automatic TTs is that you don't have to do the 'manual' work yourself. Here you have the automatic tone arm cue and even a return cue of the diameter 17 or 30 cm which is selectable. You will also get a magnetic cartridge DMS 402S with this purchase.
Understanding the tone arm technology of Dual CS410
Tonearm technology is another component that is crucial to producing great sound quality. This is because the tonearm holds the cartridge and the stylus in having the only point of contact with your vinyl. Hence, a good tonearm and a bad one can be easily spotted while you spin your vinyl. In the Dual CS410, the tonearm is weight balanced and there is even a pre-set tracking force. Correctly balanced tonearm is one of the easiest and cheapest way to improve sound quality without doing many extras.
So over here, you have a piece of mind, as the tonearm is already weight balanced and you can make use of the pre-set tracking force. It also comes with the MM element with a diamond stylus or needle of DMS-402S. Especially since this is a fully automatic turntable, everything is already programmed for you, so just press the play button. For those who are new to vinyl, it's a pretty perfect match.
What about its playback speed?
This Dual CS410 works for your 33 rpm and 45 rpm only, it doesn't allow you to play 78 rpm records. For those who have the 78 rpm albums, probably you would not be keen in this model too. Hence Dual is quite targeted in this sense that it designed this for the beginners who would under normal circumstances, would not have 78 rpm records.
The Dual CS410 technical specifications
This turntable has a speed accuracy in % DIN / WRMS: < +/- 0.15 %, while the rumble to noise ratio is < 60 dB. It has a frequency response of 20 Hz to 19kHz. Its weight is 2.88 kg and requires power of 230 V. It has the dimension of 360 by 98 by 349 mm. This Dual CS410 also comes with a built in phono preamp, so this saves you the extra effort.
To sum up
Both the Dual 1229 and CS410 turntables are fully automatic and are also priced around the same category for new entrants to try their newly found hobby. Although from the outlook, both look very different, it depends on your specific demand. Today it is quite difficult to find the Dual 1229 turntable on the market, but at least the Dual CS410 is more readily found on sites like ebay and amazon.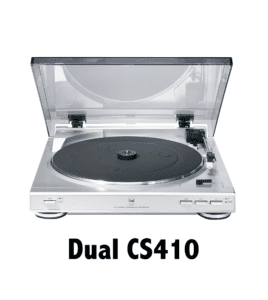 If you are only selecting Dual turntables, you may visit one of our recent posts written by Helen "Dual CS 505-4: One of my best dual turntables I owned".