Vinyl turntables have made a huge comeback and the biggest rage right now is whether vinyl is more superior to digital. This has had teenagers looking for the next hip thing and older people looking to recapture their youthful sound. One sure thing is that vinyl sounds much better, the songs have greater depth and texture, and they can make you money as they keep their purchase value and even appreciates in value. That's one of the reasons why the Denon DP 29F is popular.
There is something nostalgic about listening to the enchanting hum and crackle of a needle on a vinyl as it turns on the turntable. The question is which turntable to go for, as we need a good turntable to match our vinyl collection. And of course thats worth your budget too.
Appearance and Description
If you are not after the vintage looking turntable or an antique for that matter, then you will like the modern polished silver finish of the DF 29f that will complement your home theater system. It is designed to give you the best enjoyment of your analogue records. At the touch of a button, DP 29F features an automatic system that starts the music and tone arm will automatically return to its original position once the record is finished.
This feature is great as it drastically minimizes the chances of scratching your records.
Denon DP 29F also has a manual lifter mechanism for when you want to skip to a song where it allows you to place the needle on the record whenever you want. In order to allow a smooth playback, the DP 29F has been designed with rigid die cast aluminum to allow a stable turntable rotation that creates quality audio.
There is also a selector switch which gives options for an EP 17cm or an LP 30cm, which comes in handy when you have to choose the size of the record you want to play.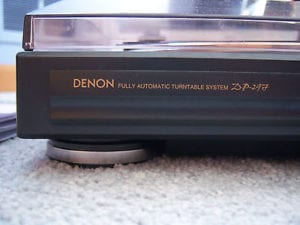 Even if you do not have a receiver or amp, this versatile turntable includes a built-in phono MM equalizer that enables you to connect to an integrated amplifier that does not have a phono input. You don't even need a phono adapter. If your receiver has a phono input, which you'd prefer to use, there is a small switch underneath the platter that disengages the preamp.
Sound
The Denon DP 29F sound quality is like no other. While it's impossible for a turntable to enter into the deep bass frequency region because of the low rumble noise that's normally generated by the rotary mechanics and motor systems, the dynamic range delivered by DP 29F is smooth and has a rounded bass response. The sound quality is not only focused in the low end region, but also in the high audible frequencies.
Cartridge
Probably one of Denon DF 29F turntable. While Denon has created some of the most respected cartridges of all time, it fails in this respect as DF 29F has no removable cartridge and because each ear suits different sounds, the inability to change cartridges does not sit well with a turntable collector.
Specifications
The DP 29F is a fully automatic turntable with the following specs:
Dimensions – 360 x 97 x 357
Weight – 2.8kg
Built-in RIAA equalizer
Aluminum Platter
Drive system – Belt-drive system with DC servo motor
Motor system – DC servo motor
Preamp – A phono preamplifier
USB output – None
Attached RCA audio cable
Sound – No adjustable anti-skate for a superior sound quality to reduce wear on records
Wow and flutter – 0.15%
Vibration – It does not have an adjustable anti-skate
Head shell – Not removable
Tonearm – 195mm dynamically balanced with a Manual lifter mechanism
Cartridge – MM DSN-82
Output voltage – 2.5mV
Speeds – two speeds of 33-1/3 and 45 RPM
The Denon DP 29F turntable requires minimal Set up. Simply connect the left and right pin-plugs of the output cord to the amplifier's phono jacks, then the ground wire of the turntables to the amplifier's signal GND.
Upgrade – Denon DP 300F turntable with a hologram vibration analysis to improve platter hold, a removable headshell, and surface sturdy.
Reviews
Highest quality at a popular price
Makes the perfect retro gift for a music historian
On average customer ratings 4.8 for sound and quality
Great for a simple set up and an easy to play
Fully automatic turntable
Equalizer switch provided to connect to a variety of audio devices
Lightweight, compact design
Best Denon cartridges
Comes with a dishwasher vinyl record cleaning kit and LP brush
Considered better than Duals in quality
To wrap up
While the Denon DP 29F turntable can do with a few key product improvements in its features such as a removable cartridge, an adjustable counterweight, and an adjustable anti-skate, but while it lacks in the above, it makes up for other great qualities such as being a fully automatic turntable that is easy to install and because of its compact design size, it makes portability a breeze and the best solution for a casual listening at home or at the office. It also can plug into any receiver's analogue line-level input, which is ideal for receivers without a phono input.
Denon line of turntables produces a lot of solid direct drives, which are easy to use and worth checking them out. So if you are looking to get the best possible audio performance on a limited budget then Denon DP 29F turntable is the way to go. It's time to get the dust off of your valuable collection of vinyl and make your next purchase a DP 29F.