So, you've decided that you no longer want to miss out on the experience of owning speakers. Your biggest concern is finding speakers of excellent quality without breaking your budget.  Thus, we have compiled a list of our 12 budget speakers – top picks for spectacular and affordable speakers. We aim to guide you in finding the best speakers to suit your music needs. Whether you are completely new to shopping for this type of hardware or an experienced stereophile at it, we hope that our reviews on the top 12 budget speakers under $500 in 2018 help you find what you're looking for.
Our Top 12 Budget Speaker for Turntables under $500
Audioengine A5+ Premium Powered Speaker Pair
Monitor Audio Bronze 2 Bookshelf Speakers
KEF Q300B Bookshelf Loudspeakers Pair
DALI ZENSOR 1 Bookshelf Speaker Pair
Wharfedale Diamond 220
JBL EON615 15-Inch Two-Way Multipurpose Self-Powered Sound Reinforcement
Klipsch R-15PM Powered Monitor Pair
Polk Audio RTI A3 Bookshelf Speakers Pair
ELAC Uni-fi UB5 Bookshelf Speaker Pair
Vanatoo Transparent One Powered Speakers Pair
Definitive Technology SM65 Bookshelf Speaker
Audioengine HD3 Powered Bookshelf Speakers Pair
Top 12 picks: Our Speakers Review (below $500)
We spent about a week checking out only the best budget speakers under $500 right now so that we could share our favorite picks with you. As you might already imagine, some of the top brands in the industry made it on our list below. If you are currently in the market getting a new speaker, then we urge you to take a moment and read our reviews to help you compare the different budget speakers and come up with the one that is the best fit for you.
Audioengine A5+ Premium Powered Speakers – vocals very clear, impressive bass, no hums, pops or clicks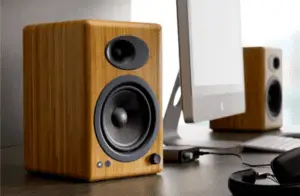 What we liked:
The speakers are easy to set up
Convenient volume control at the front of the speaker and a remote control
Solidly built and heavy speakers
At just 30%, the speaker can get very loud and room-filling
Vocals and Mid-range noises are very clear
No hum, pops, clicks
There are outputs to allow you to connect the speakers to a Subwoofer
Amazing aesthetic look with a nice glossy finish
These speakers are very user-friendly. The speakers are easy to set-up with a volume control button and a remote control for added convenience. The outputs enable the speakers to be connected to a Subwoofer to produce an even more impressive bass. In most of the models, the sound of the speakers is clear with little unwanted resonance.
What we didn't like as much:
A break-in time of 40 hours is necessary for optimum sound performance
Need a subwoofer
In some models, if the sound is turned up to 50% the bass distorts and has feedback noise
Audioengine has a quality control issue as some speakers were defective and had to be exchanged
One minor complaint is that the speakers require a subwoofer to produce the lower octave. However, this is to be expected for budget speakers. With regards to the distortion in the bass and feedback noise, this is often present in the defective speakers. Luckily, this is found just a small minority of the speakers bought.
Monitor Audio Bronze 2 Bookshelf Speakers – crisp clear sound, great upper octave extension, diminished vocals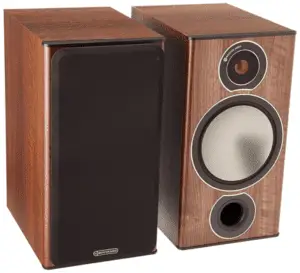 What we liked:
Extremely well-built
Satisfactory performance in a manageable size
Extremely easy to power
The traditional gold dome tweeter has a new venting system that leaks air into a rear chamber
Great upper octave extension
Sound is crisp and clear without being harsh while the bass extension is low without getting muddy
Walnut finish is gorgeous
The sound performance of these speakers sound much better than other speakers costing as much as 3 times more. They sound great playing any genre, but particularly shine with jazz records. The sound features great clarity and succeeds in hitting the lower notes. The new venting system in the gold dome tweeter prevents air from being compressed behind the dome, thereby reducing distortions and lowering unwanted mechanical resonances.
What we didn't like as much:
Speakers take a while to break-in
Diminished vocals
Problems with vocal reproduction even with a sub-woofer
Needs a little space to breathe
Until the speakers start to break-in, their sound will seem off for a while. As a result, some users initially noticed diminished vocals and problems with vocal reproduction. These speakers also require more room for optimum performance. In a small and confined space, some resonance and diminished sound may occur.
KEF Q300B Bookshelf Loudspeakers – midrange clean delivery, powerful bass, robust speaker grills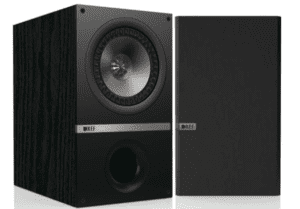 What we liked:
Very clean delivery in midrange
Powerful bass
Detail and great clarity in the highs
Accurate response, nice soundstage and good lows
At a low volume, the vocals are very distinguishable from the beat
The black oak build is thick
The speaker grills are robust
A die-cast aluminium chassis prevents unwanted resonance
These speakers perform excellently when playing records which feature female vocals, solo violins, trumpet and sax instruments. This amazing clarity is also apparent in the lower octave; thus, it is not necessary to turn up the volume for better sound. The black oak build is superior as it is not flimsy unlike other speakers which use laminate. With robust speaker grills, each speaker weighs a hefty 17lbs.
What we didn't like as much:
Too large to fit on most bookshelves
Poorer clarity at the lower frequencies
High frequencies can be a little thin and delicate
Although these speakers are marketed at bookshelf speakers, they are often too large to fit on regular bookshelves. In some cases, even after adjusting the bass and treble, there is less sound clarity when playing the lower octaves of the piano. However, in most cases, the speakers do justice to the high and low frequencies.
DALI ZENSOR 1 Bookshelf Speaker – voice instrument separation perfect, tight punchy bass, balanced soundstage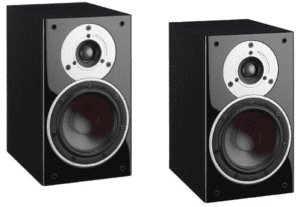 What we liked:
Open and balanced soundstage
Lightweight dome tweeter offers great class resolution
Instrument and voice separation is perfect and expansive
The bass is tight, accurate and punchy down to the rated 53 Hz
Gorgeous and sleek design
The speakers have a lively and agile sound with good rhythmic drive. The dome tweeter and balanced soundstage create a clear and expansive sound. With amazing instrument and voice separation, the clarity of the speakers is quite breath-taking. The treble is also beautifully defined even in near-field listening. The speakers produce a cohesive unit of neutral musical sound.
What we didn't like as much:
Soft material of the tweeter
Slightly lacklustre when playing in low volumes
Careful positioning is key for optimum bass performance
While the lightweight dome tweeter offers greater sound clarity, it is quite easy to damage. A few users experienced damage to their tweeters during delivery and opening. Hence, the speakers require a delicate touch. Additionally, you must turn the volume up for these speakers to unlock their full potential. Otherwise, they will sound slightly underwhelming at lower volumes. Careful positioning is vital for optimum bass performance as small bookshelf speakers tend to struggle with the low-end punches.
Wharfedale Diamond 220 – expressive dynamics, deep bass, smoother sound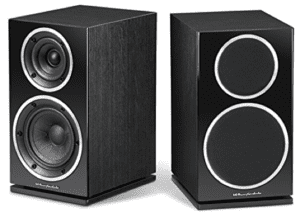 What we liked:
Wonderfully balanced and informative sound
Expressive dynamics
Overflowing with detail
Deep, controlled bass
Smoother sound
Neatly finished
Each speaker produces a detailed and balanced sound with a deep and unwavering bass. The speakers are unfussy and require little effort to put together. The Diamond 220's tweeter sits in a deeply-dished waveguide which increases efficiency, especially through the crossover region. The Diamond 220 also uses a ferrite magnet, instead of the usual neodymium magnet, in the unit's motor system. This gives the speaker a smother sound with little sound distortions.
What we didn't like as much:
Nothing of note
Speakers are more suited for a smaller room
Although these speakers are decent, they do not stand out amongst their competitors. This is partly due to some users observing that the speakers lost clarity and dynamics at higher volume levels. Therefore, these speakers sound better at lower volumes in a smaller room.
JBL EON615 15-Inch Two-Way Multipurpose Self-Powered Sound Reinforcement – loud with clarity, tight bass, mid-range clarity, bluetooth integration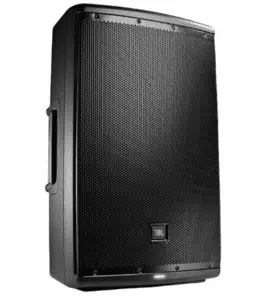 What we liked:
These speakers can get loud without sacrificing clarity
Bass tightness and mid-range clarity
Enclosure designs have been optimized for ideal acoustic resonance
JBL Waveguide Technology
Bluetooth integration
Volume is not an issue with these speakers as they can reach a high volume without sacrificing clarity. This makes the JBL EON615 one of the few 15-inch speakers with this ability. The JBL Cross-fired Waveguide Technology helps deliver evenly dispersed sound across a wide coverage area. The Bluetooth integration provides a fine way to broadcast music from your devices.
What we didn't like as much:
Bulky
Not loud enough
Bluetooth is complicated to use
No 3.5mm input for playback from portable devices
Each speaker weighs 17.69 kg and is too heavy for some users. Given its hefty size, some users expected the speaker to be even louder. For users who are less savvy with using Bluetooth technology, they miss the 3.5mm input option for playback from their portable devices.
Klipsch R-15PM Powered Monitor – easy set up, built in phono pre-amp, good mid-bass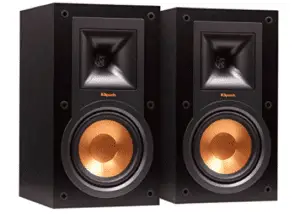 What we liked:
Simple set-up
Many input options at a competitive price
Built-in Phono Pre-amp with ground screw terminal
Bluetooth wireless technology
Clean sound with a good amount of mid-bass
Easy to control with the remote control and easy to power off when speakers are not in use
These speakers are of a decent size and easy-to-use. With many input options, users can allow experience reference quality audio at a competitive price. The speakers have indication lights which allows users to know when the speakers are switched on or muted. When using the USB hook-up, users noted the amazing clarity and that volume can be cranked up high without distortion. The integrated amplifier can handle any respectable digital file collection.
What we didn't like as much:
The Klipsch R-15PM's sound veers towards the bright side of neutral
Hard to hide the cabling
For best results, a subwoofer will help
If you plan to use stands for the speakers, it will take some time to hide the cabling. If you care about aesthetics, this might be a minor downside when purchasing these speakers. Another potential issue is that the sound is slightly "bright" which may not sit well with some sophisticated listeners. Overall, these are not serious issues and should not deter you from buying these speakers.
Polk Audio RTI A3 Bookshelf Speakers – deep bass, clear tight mid-range, warm natural tone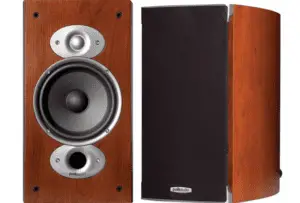 What we liked:
Deep, balanced bass reproduction
A subwoofer is not necessary for music listening
Nice soundstage with great sound clarity in movies, gaming and music
Clear and tight midrange
Tone is natural, warm and solid
Elegant teardrop design combined with a cherry finish
Aside from the bass being balanced and deep, the punch of the bass is precise. The A3's 6-inch woofer and 1-inch tweeter can handle most bass lines. Only the lowest of low bass lines cannot handled by these amazing bookshelves. If there is any hint of sibilance or brightness, adjustments can be easily made to the equalizer to immediately clear up these issues.
What we didn't like as much:
Break-in time of probably 200+ hours
They may sound a bit too bright at first
Sounded slightly better playing Jazz than Pop
The speakers will need some time to break-in and reach optimum performance. However, over time, they will balance out once the woofers lose some of their stiffness and start to move better. The sound will eventually become less bright and more neutral.
ELAC Uni-fi UB5 Bookshelf Speakers – well separated soundstage, clear midrange, sweet highs, deep bass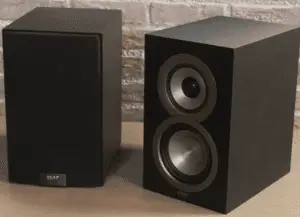 What we liked:
Deep, tight bass
Clear midrange and sweet highs
Rich and detailed treble
Full and well-separated soundstage
Exquisite precision and accuracy
Tweeter is concentrically positioned within the midrange voice coil
1-inch soft-dome tweeter and a rigid aluminium 4-inch midrange cone
The 4-inch aluminium midrange cone is superior in minimising unwanted resonances than common paper cones. The harmonic accuracy created by the rigid aluminium 4-inch midrange cone alongside the 1-inch soft-dome tweeter achieves sonic perfection. The tweeter is also concentrically positioned within the midrange voice coil to achieve a uniform directivity pattern. The extended size magnet with vented pole piece allows for an accurate reproduction of bass frequencies that are clean, clear and powerful.
What we didn't like as much:
The speakers' vinyl finish was not durable
Build design is slightly disappointing
Some speakers had low sensitivity
Some speakers had a disappointing build as the speaker drivers did not sit well within the box. With the poor vinyl finish, there were also minor flaws on the woofer of some speakers. Some users reported that some speakers had low sensitivity. This means that the speakers require an expensive, high-quality amplifier to sound their best.
Vanatoo Transparent One Powered Speakers – class D amp, digital inputs, clean bass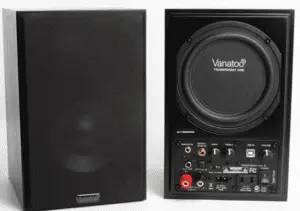 What we liked:
Deep and clean bass (down to 48hz)
Sound great at both low and high volume levels due to the Class D amp
The 3.5mm mini-jack allows direct connection to an MP3 player, Apple iPod, TV etc.
3 digital inputs (USB audio, coax, optical) to enhance sound when directly connected to devices with a digital output
Connecting via USB allows volume control from your PC with a fully digital connection
Sleek yet subtle look of the fabric grills helps the speakers to blend-in
The speakers boast excellent quality alongside different input options. The 3.5mm mini-jack enables you to easily connect to virtually any music source as well as nearly any other device with an analogue output using the included cables. Additionally, there are even bass and treble controls to adjust for preference and room correction. The bass extension is quite astonishing for speakers of this size and many users felt that a subwoofer was unnecessary.
What we didn't like as much:
The speakers tend to distort at high volumes
The bass tends to vibrate the desk even when placed on foam blocks
When the speakers reach high volumes, there are minor distortion problems. Although, for near-field listeners, the distortion is not apparent at lower volumes. The vibration is particularly noticeable when bass heavy music is playing. However, this could be the natural result of the speakers being able to reach such a low bass line.
Definitive Technology SM65 Bookshelf Speaker – smooth extended highs, little break in time needed, great sensitivity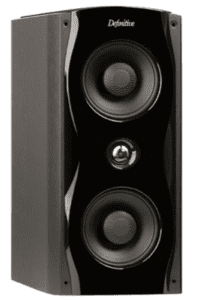 What we liked:
Pure aluminium dome tweeter for smooth, extended highs
Non-resonant braced enclosure ensures pure, uncoloured performance
Top-mounted racetrack bass radiator for outstanding bass response
Little break-in time required
The SM 65 has great sensitivity
With high sensitivity, the speakers are easy to drive and require very little power to reach room-filling volumes. This makes them a good fit for low-power tube amplification. Given the small size of these speakers, they can be easily adjusted to achieve the ideal balance, depending on the room's space. Additionally, the SM65 performs exceedingly well across different genres. With classical music, high-end noises typically found in violin and piano pieces were very detailed. Similarly, the SM65 can play heavier pieces like percussion pieces with no problem.
What we didn't like as much:
There were very few complaints regarding the build quality of the SM65 speaker. One minor compliant was the lack of design or aesthetic quality to the speaker. The SM65 does not blend in as well with your décor. Some users wanted a greater balance between functionality and aestheticism.
Audioengine HD3 Powered Bookshelf Speakers – bluetooth, no distortion at high volumes, magnetic removable grills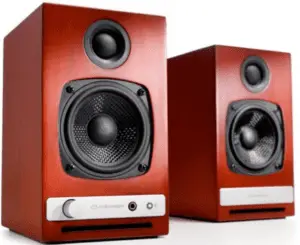 What we liked:
Solid Bluetooth connection
Stream music wirelessly from your devices
There are various input options
Speakers are accurate, clear and do not distort at higher volumes
Versatile
The HD3s have magnetic, removable grills
Sleek design
These speakers qualify as one of the best desktop speakers. The speaker boast a deep, well-separated sound including a punchy base. With multiple input options, users can connect their speakers to a turntable, subwoofer or directly connect to their devices via the USB input. All of which gives the music high resolution. With removable magnetic grills, users can decide to whether the speakers look better with or without grills.
What we didn't like as much:
Couldn't fit any standard 3.5mm headphones
Not for booming bass fanatics
Some users found difficulty with inserting and using their 3.5mm headphones into the headphones input. However, this could an isolated incident of faulty hardware. While these speakers can play different genres, it loses some definition when playing booming bass records.
Enhance your Listening Experience
Optimising your Room
The materials used in a room can have a significant impact on sound performance.  For example, floors, walls, ceilings, furniture, and decorations can collectively make a substantial difference in a room's acoustics.
In general, softer materials such as carpeting tend to absorb and dampen sound. Hard surfaces like wood flooring and plaster walls better reflect soundwaves which can cause an increase in volume. If you are encountering sound distortions, you can choose to re-decorate by installing a few carpets and wall-hanging sound dampeners. This can reduce sound distortions.
Subwoofers
Subwoofers are very useful for producing the very hushed tones of your speaker's dynamic range. Most subwoofers today are "powered" as they contain a built-in amplifier. Additionally, subwoofers have a crossover network which allows you to adjust the subwoofer's upper frequency response and better blend-in with your main speakers.
At 30 Hertz, any subwoofer can perform very well in most listening environments and for playing most music. Obtaining quality subwoofers provide the foundation of any serious surround sound system.
Subwoofer performance is greatly affected by placement. Some locations in a room will cancel the bass entirely. Therefore, you should invest in placing the subwoofer in various parts of the room to find an optimum placement.
With smaller rooms, you should be mindful of the bass volume. One problem with small rooms is bass pressurization which can create an unpleasant, booming sound. In this case, it is necessary to turn down the bass volume down.
---
Keeping your Speakers in Great Shape
Quality speakers are expensive set of speakers and require a great deal of care. Here are some basic actions that you should routinely perform to keep your speakers in top shape.
Avoid Direct Sunlight
You should avoid storing your speakers in a hot environment as it can cause your speakers to overheat. This eventually causes their sound quality to degrade over time and shorten their lifespan. You should place your speakers in a climate controlled environment where your speakers are not exposed to direct sunlight. It might be helpful to arrange fans to blow on your speaker to help keep them cooler.
Avoid Excessive Moisture
Moisture is another major concern. High humidity environments are generally not conducive for speakers. Again, it is best to store them in a climate controlled environment, typically indoors. If you intend to use your speakers outside, ensure that you use covers to protect them from moisture such as rain. Rain as well as high humidity can damage the internal cone and cause rusting.
Protect your Speakers
It does not hurt to use a cover to protect your speakers when they are not in use. Using covers can ensure that your expensive speakers are safe from any unexpected accidents such as an errant football. Also, do not keep your speakers near any magnetic source as this will adversely affect the electromagnet built within the speakers.
Clean up Excess Dust
You should keep your speakers in a place where dust does not get inside the net of the speaker or the interiors. Dust or small foreign objects spell disaster for your speakers as it affects sound quality and can damage the interior components. Even with the dust cap, you should regularly remove any excessive dust particles. One method is occasionally using a vacuum cleaner or blower to clean out the dust.
Choosing the Right Cleaning Agents
Over time, dirt and grime will accumulate on your speakers. Before cleaning, you should find cleaning agents that are compatible with the material of your speaker cabinets. Speaker cabinets can be made from different varieties of pine, cherry, walnut, and more. Also, plywood and MDF react to liquids differently as they are more absorbent than real wood.
You should avoid using all-purpose cleaning agents as it might strip off the finish. If you're unsure the material of you speaker cabinet, do consult the product manual for information. Once you have figured out the best cleaning solution to use, you should then use clean, lint-free, soft cloths to clean the speaker.
Have a Delicate Touch
The soft material won't damage the speaker and will not leave any residue behind unlike paper towels. Besides having a wet cloth, you should have a dry cloth in hand to wipe the wet surfaces. For small crevices, you can use Q-tip cotton swabs to clean those hard to reach areas on equipment.
Besides cleaning the outside of your speakers, you can also clean the speaker grills and terminals. However, this requires a delicate hand and you need to follow more precise instructions to avoid damaging your speakers.
---
Finding your Perfect Speakers
Plenty of music stores and retail outlets sell speakers. However, we found only a few sellers offer a good combination of affordability and variety. Thus, we recommend that you try shopping at Amazon. Unlike many of its competitors, Amazon offers competitive prices, a great selection as well as free shipping. However, given the popularity of budget speakers, you should be mindful that Amazon may be out of stock from time to time.
In the unlikely event that Amazon does not have what you want, you can always check the website of the company manufacturing the speaker. Though, it should be noted that you may have to pay for additional shipping charges when purchasing your speakers directly from the brand. For the best bargain, you should always compare prices between stores before purchasing your desired speakers.
---
Types of Speakers
If you cannot yet recognise the distinct types of speakers, perhaps you should familiarise yourself with the basic differences between the various speakers to help guide your decision on selecting the best speaker. There are at least 6 distinct speaker types and sizes:
Floor-standing Speakers
Bookshelf Speakers
In-wall Speakers
On-wall Speakers
In-ceiling Speakers
Satellite/Subwoofer Combination Speaker System
Floor standing Speakers
If you are looking for a large and in-room speaker, floor-standing speakers are usually the largest speakers. These speakers deliver a full and room-filling sound that is difficult to match. Like more complex home theatre systems, floor standing speakers provide amazing surround sound. Generally, the bigger the speaker the louder the sound.
One of the advantages of floor-standing speakers include placement flexibility. Another advantage is that the cabinet or enclosure is tuned to provide the best performance. There are many diverse types of floor standing speakers available. However, given their larger size, they tend to veer towards the more expensive side in comparison to other speaker types.
Bookshelf Speakers
Bookshelf speakers also offer excellent performance at a smaller size. Bookshelf speakers are much smaller and take up less space than floor standing speakers. In most cases, they're small enough to fit on a shelf or a floor stand. Users using smaller bookshelf speakers tend to pair the speakers with a subwoofer for bass. Contrary to its name, an actual bookshelf is not the best place for a pair of speakers. This is because the shelves will absorb a great deal of the sound produced, thus lessening their efficiency.
The recommended setup for bookshelf speakers is to put them on specialized stands such as foam blocks. Bookshelf speakers tend to be played at lower volumes. Therefore, they also tend to suffer less from cabinet resonance. While speakers of the bookshelf variety can be less expensive than floor standing speakers, they under-perform in terms of bass response and their size limits the number and size of drivers they can contain. This results in limited loudness and fullness of sound.
In-Wall Speakers
In-wall speakers are very popular as they sound great but take up no floor space. This is especially preferred by users who have severe space limitations. For aesthetic purposes, in-wall speakers can be painted to match the wall colour. A subwoofer for the low-end bass lines can also be installed into the wall or floor. All of this combined provides an In-wall surround system for a true theatre experience. Installing your speakers into the wall also eliminates the reflection from that wall and avoid unwanted peaks and dips.
One of the downsides of In-wall speakers is that they may require professional installation and are more difficult to move around the room. While it is not impossible to install these speakers on your own, you should seek professional assistance to avoid damage your speakers and wiring system.
On-Wall Speakers
On-wall speakers are a great complement to a flat-panel television. On-wall speakers help deliver full-scale sound with a deep, powerful bass. They are deal for TV and surround-sound applications and thus perfect for serious music listening. conveniently mounted on the wall. On-wall speakers are conveniently mounted on the wall, and offer sound quality as good as floor standing speakers.
In-Ceiling Speakers
In-ceiling speakers are like In-wall speakers except they are installed overhead. They are generally used as surround sound speakers, especially in rooms where there is little floor or wall space available for speakers. In-ceiling speakers may also require professional installation. One pertinent issue with In-ceiling speakers is problems with sound quality. The concept is simple: the thicker the wire, and the shorter the length and the better the sound. A signal can be significantly degraded by a thin wire and long runs.
Satellite/Subwoofer Combination
The Satellite/Subwoofer type of speaker system uses small satellite speakers, combined with a subwoofer. They consume little space and offer good sound quality. They are also easy to place in a room and the subwoofer can be concealed under a table.
---
Differentiating between Speakers
Many music lovers can become confused over the categorization of speakers. Therefore, we hope to clear up any confusion regarding the differences between passive, active and powered speakers.
Most of the speakers that you will encounter are passive. A passive speaker does not have a built-in amplifier. Therefore, it needs to be connected to an amplifier through normal speaker wire. One of the advantages of a passive speaker is that you have option of upgrading the amplifier at any moment. They also weigh less and are compact.
However, the main problem with passive speakers is that you still need to find a matching amplifier for your speaker to avoid damaging the speaker. This is particularly challenging for inexperienced users.
In contrast, active speakers have a built-in amplifier and are fed by a low-level signal passed along an interconnect cable originating at your preamplifier or controller. As the amplifier is an active electronic device, it needs power and thus needs to be near a power outlet.
The advantages are an easier setup because power amps and speaker cables are unnecessary. However, active speakers limit your ability to pick amplifiers tailored to your home audio system and are generally more expensive and heavier.
Powered speakers are slightly different from active speakers. The crossover components within a powered speaker can be passive. In comparison to active speakers, powered speaker systems are more streamlined. These speakers also have a built-in amplifier feature which enables wireless speaker scenarios and eliminates the need for additional components.
So, which is better?
This is a question that has been heavily debated within the audiophile community. Truthfully, there is no clear-cut answer. For example, if you prefer the flexibility of owning a passive speaker, the built-in amplifier of an active speaker or powered speaker would not suit your music needs.
---
Looking for the Right Speaker
When it comes to selecting the right speaker, there are many factors to consider. In terms of the technical features of speakers, you should consider the sensitivity, impedance and power handling of the speakers. In addition, you should consider build quality, size of the speakers and speaker parts as these features can greatly affect your choice.
Sensitivity
Sensitivity is measured in dB (decibels) and is one of the most important speaker specifications. A speaker's sensitivity indicates the loudness of a speaker in a room environment. Sensitivity measured in room environment will have results inflated by 2 to 3 dB over a non-echoing environment.
The higher the sensitivity rating, the louder your speaker is. An average speaker comes with a sensitivity of around 87 dB to 88 dB. A speaker with a sensitivity rating over 90 dB is considered excellent while a speaker of 85 dB is considered very inefficient. An inefficient speaker of 85 dB would take twice the amplifier power to reach the same volume as a speaker with 88 dB efficiency.
Impedance
Impedance is also known as resistance and is measured in ohms. Impedance refers to the current that is converted into the sound produced by a speaker. If a speaker has low resistance or impedance, more current from your amplifier will pass through the speaker and vice-versa. Therefore, the lower the impedance, the more current flows through the speaker.
Now, should you buy a speaker with high impedance or low impedance? You shouldn't pick either! If your speaker has low impedance, it will put greater stress on your amplifier as it must push more current beyond the capabilities of your amplifier.
In the worst-case scenario, by having to push more current, the amplifier may overheat and shut down or get damaged. Similarly, a higher impedance is not ideal as it means a low flow of power which results in low volumes.
Therefore, your speaker should have neither low nor high Impedance. It should have an optimum impedance of 6-8 ohms.
Build Quality
The build quality of your speakers play a significant role in affecting the sound of your speaker. If the build of the speaker feels solid and has a solid sound. Some users lightly tap the speaker to see if it sounds hollow. This serves as an indication of whether the sound from your speaker will end up sounding hollow. It is also important that your speaker is made of dense material, such as wood as a light material vibrates the sound produced by the speaker. This would significantly affect the bass produced.
Size
Speakers come in a range of sizes, from small bookshelf speakers that could fit on a desk to large floor speakers that are much heavier. The consensus is that the larger the speaker, the better the sound quality. In addition, bigger speakers can handle a larger range of sound frequencies.
Typically, larger speakers can more easily fill a large room or area with sound. If you are interested in room-filing speakers, then floor speakers are best. Otherwise, for a desk setting, bookshelf speakers would suffice.
Cabinet
The cabinet is a critical component in a speaker's design. A cabinet should be rigid, well braced and internally damped to avoid sound-colouring resonances. Typically, the cabinets of higher-end audio components are made from dense materials such as wood or Medium Dense Fibreboard (MDF). Although, plastic cabinets are also quite common for computer speakers.
There are two types of cabinet design. One is called acoustic suspension and it uses a sealed box to provide tight, accurate bass response. This design uses a sealed box whereby the trapped air acts like a spring. As a result, the smaller box can produce a very deep bass. However, one flaw in the design is the lower efficiency which then requires a more powerful amplifier.
The other version is sealed enclosure or a bass reflex. This type of speaker includes a 'passive radiator that helps to increase and prolong bass response. These are more power-efficient than their acoustic suspension counterparts, meaning they will play louder when driven with the same amplifier power. However, they may sacrifice some bass accuracy as a result.
In addition, you should be mindful of the tightness of the outer enclosure. If the outer enclosure is too wide or loose, the sound reverberates too much inside the speaker. If the enclosure is too tight, the speaker rattles and the sound distorts.
Power Handling
Power handling tells you how much power, in watts, the speakers can take without damage. The larger the number of watts that the speaker can handle, the greater the sound signal. It is also important to match your amplifier with your speaker. Usually, higher watt speakers often require more powerful amplifiers. However, if your amplifier sends out more watts than your speaker uses, you may damage the speaker.
The maximum figure in the speaker's specifications refers to the power level that the speaker can take before it starts to distort or clip. Be mindful to avoid using a small amplifier and driving it to "clipping" levels. This can ultimately damage your speakers.
---
Speaker Parts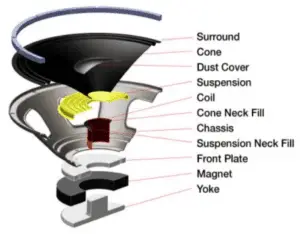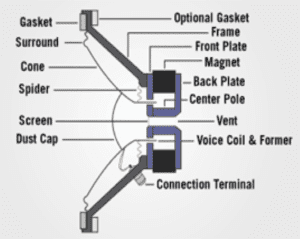 The quality of a speaker is dependent on the specifications of its speaker parts. Therefore, the material of the different speaker parts can affect quality which causes the prices of the speakers to vary. The main parts of loudspeaker that you should know about include the T-Yoke & Washer, ferrite magnet, voice coil, damper, frame, cone, dust cap and gasket.
T-Yoke and Magnet
The function of T-Yoke is to conduct magnetism while the function of ferrite magnet is to store magnetism, which allows the speaker to create a magnetic field. The quality of magnet will affect the power of speaker. Typically, for a more powerful performance, you should opt for a high-grade magnet, such as the ferrite magnet.
Voice Coil
The voice coil is the core component of any speaker. It helps connect the speaker to an outside power which enables the speaker to work. The damper and its many concentric rings enables the voice coil to move up and down freely instead of moving horizontally in the magnetic gap. This ensures that the voice coil will not collide with T-Yoke and washer.
Cones
The two cones, the woofer and tweeter, are the actual producers of sound and are thin funnel-shaped pieces of material that vibrate. The woofer produces the bass while the tweeter emits high frequencies. The midrange falls somewhere between the two and is determined by the crossover network, which divides the frequencies between the cones.
The ideal cone is light, strong, and well dampened. If the cone is too heavy, it will be slow to respond to the movement of the voice coil. It needs to be strong enough to avoid bending. Likewise, a well-dampened cone prevents the sound from being coloured with harmonics or resonances.
Speaker Frame
The main function of speaker frame is to support the paper cone as well as provide a stable foundation for the connection of the other speaker parts. The quality of the speaker frame directly affects the voice produced. Thus, you should look for a sturdy speaker frame for optimum playing.
Dust Cap
The dust cap helps prevent the dust particles from entering the voice coil, which can impact the speaker's normal operation. The main function of the gasket is to help the edge of the cone adhere to the frame. This prevents the speaker from shaking which could affect tone quality.
---
Spoilt for Choice?
This guide helps to point out some vital details that you should factor into your decision-making process. The type of speaker you select is dependent on your budget and space constraints. On top of that, you also must decide whether you are looking for passive, active or powered speakers. Furthermore, each type comes with its own set of advantages and disadvantages for consideration.
Once you go through these important stages, you can finally start looking at individual products from assorted brands. For first-time buyers on a budget, you can use the above list of affordable budget speakers to guide your decision. To avoid making the wrong decision, make sure to carry out extensive research on your own and look into customer reviews to better decide which speaker is right for you.
Unfortunately, even after intensive research into the speakers that you want, you can still end up with a defective set of speakers. Make sure that you purchase speakers that allows exchanges to be made or refunds.
Most companies accept returns for manufacturing flaws and dissatisfaction, but not for damage related from installation, use, or wear and tear. Thus, you need to take care of your speakers! Owning a pair of expensive speakers can be a big responsibility. If you want to avoid splurging to regularly repair your speakers, you need to take excellent care of your speakers.