Vinyl collecting is all the rage these days and many bands are now putting their music back out on vinyl which is awesome. This is why there are so many people looking to enhance turntable sound with a top quality phono preamp. Not all record players can be connected to a set of speakers or a computer out of the box, there is a go between that is needed and that go between is called a phono preamp. The reason that so many of us love listening to vinyl is that it gives you a richer, more realistic sound than you get on a CD or listening to an album that you have downloaded. It is just much more real and raw and once you have listened to your favorite album on vinyl (powered with a good quality phono preamp), there is no going back and I am sharing with you some of the 8 best phono preamps under $200 today!
I Do Not Know What A Phono Preamp Is!!!
To be fair many people do not, but if you have a record player that cannot connect to a specific device, a phono preamp is what you need. The phono preamp is the device that you are going to plug your turntable into and then plug that into your speakers, computer or maybe even something else. I have had a couple of friends pick up an older turntable from a flea market and then wonder why they cannot plug it directly into their speakers or stereo.
The phono preamp is what is going to do all of this for you so that is why you need one. It is the kind of thing that sounds super complicated, but it really is not. You simply plug in your turntable, then plug the phono preamp into your chosen receiver, most of the time you just need basic RCA cables which are very inexpensive.
Modern Turntables Sometimes Have Phono Preamps Built In
As there has been a resurgence of vinyl, many companies have put out brand new and affordable turntables (also check out Victrola's super affordable under $100 new launch here). Many of these newer ones will have a phono preamp built in, especially if they have a USB connection. So if you have not yet bought your turntable, you may want to look at a newer one with a phono preamp already built in. However, I will say that chances are the sound you will get out of your turntable with a separate phono preamp will always be better.
The 8 Best Phono Preamp Under $200 Reviews
I was recently sent six of the most popular phono preamps under $200 to test out with my own two turntables. I have been collecting vinyl for a very long time now so I was very excited to give these a try. I have also picked another two for you to check out, one is well under our $200 price tag and the other a little over it.
Cambridge Audio CP1 Phono Preamplifier- Black
Emotiva Audio XPS-1 Phono Preamp
Pro-Ject Audio – Phono Box DC – MM/MC Phono preamp with line output
YAQIN MS23B upgraded version of MS22B 12AX7B X2 Stereo Tube Phono Stage
Music Hall PA1.2 MM/MC Phono Pre Amp
Pro-Ject Phono Box USB V Phonograph Preamplifier, Black
ART USB Phono Plus
Parasound – Zphono MM/MC Phono Stage with USB
1. Cambridge Audio CP1 Phono Preamplifier- Black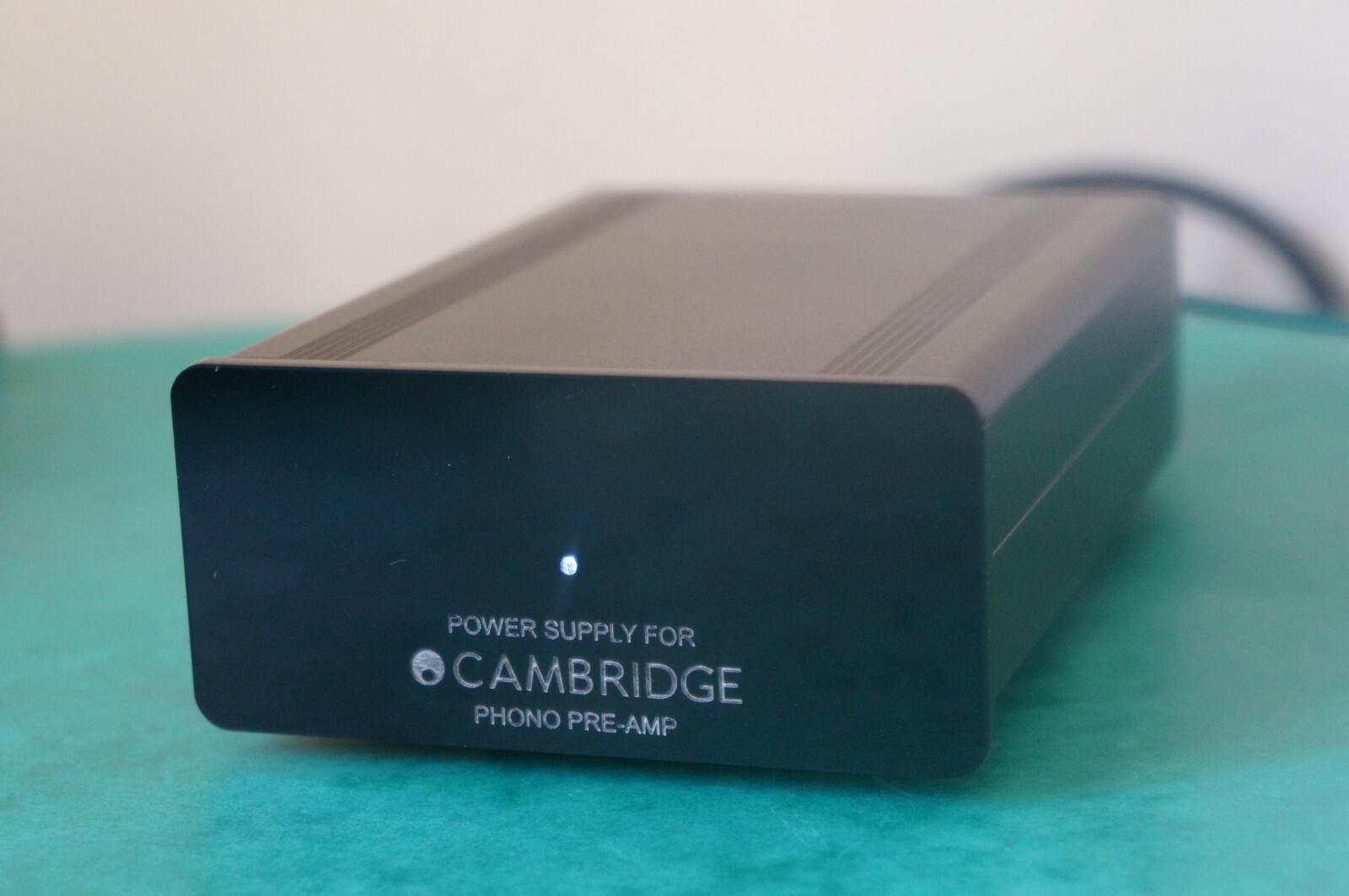 Pros:
Has a really cool design
Made with a strong body
Takes minutes to connect
Price is very reasonable
Sound is noticeably improved
Cons:
Some may not use the balance dial
Modern look may not fit in with retro setups
First up we have this one from Cambridge Audio and as you can see, it has a really modern and sleek look. I think this is ideal for people who have a more modern and cool looking turntable and what something that is going to slot into their entertainment center and fit right in.
It took just a few minutes for me to hook up and then I was ready to listen to some vinyl. The sound quality is actually very nice and I used an older turntable I have to test this out. There was a noticeable improvement in the sound, it felt richer. I would say that if you have been using a record player with a built in phono preamp and always felt there was just something a little off, connecting this will give you that raw vinyl sound that you have been looking for.
One the back of the unit there is a balance control, which I am sure most people will leave just right in the middle, but I am a guy who likes to mess around with is audio equipment so I had a little fun trying to get the perfect balance for my set up. At around 150 bucks, I can see why so many people love this phono preamp.
If you want to kick your vinyl sound up a notch and do it in style, you cannot go wrong with this.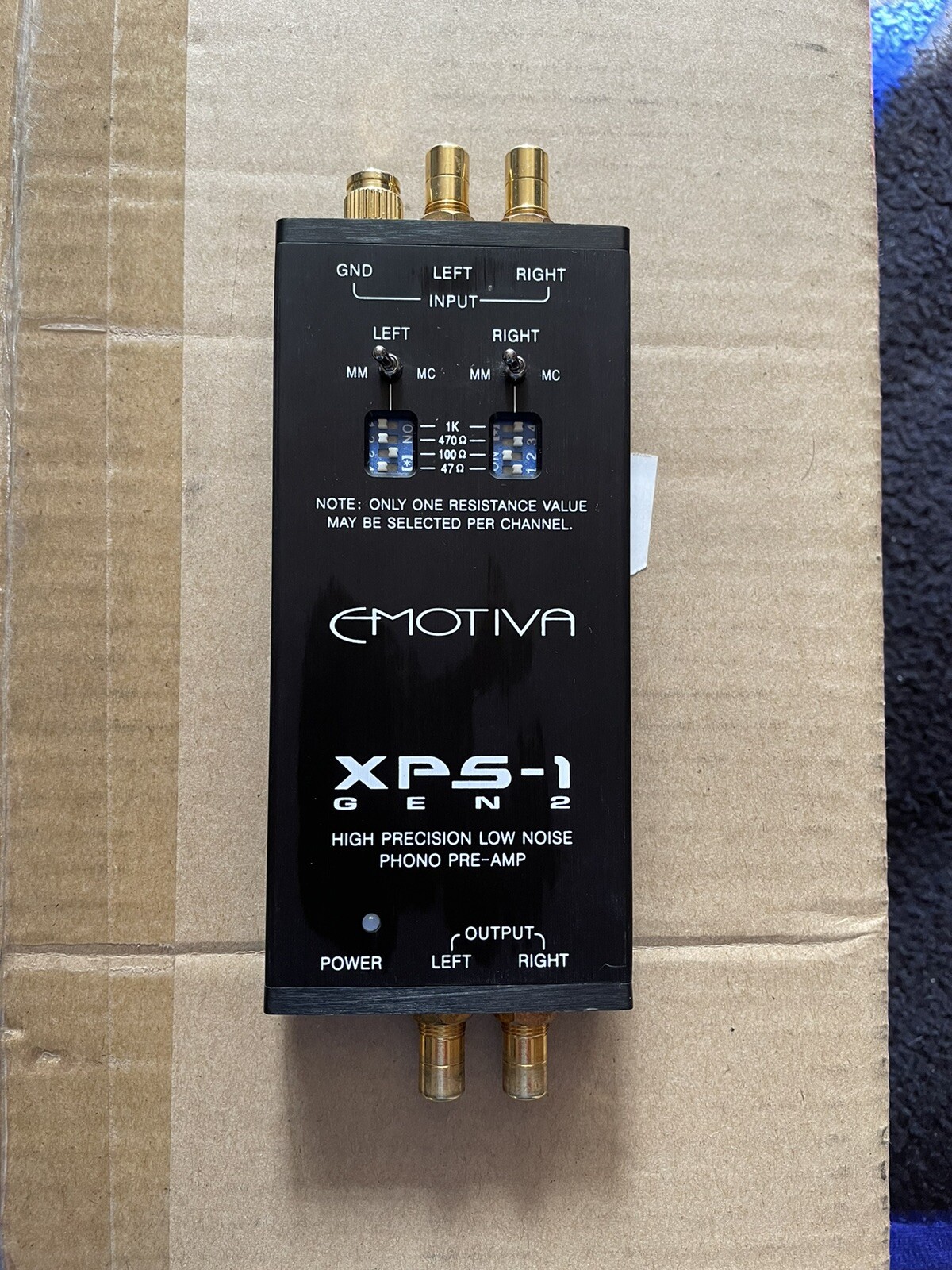 Pros:
Sounds fantastic
One of the better quality phono preamps at this price range
You can tinker with settings
Very easy to hook up
Has a strong build quality
Cons:
Maybe a little close to $200 for some people
LED light is way too bright
I was super stoked when I found out I was getting to test this out. Many vinyl enthusiasts speak highly of this and for the price many say that you will struggle to beat this, you can now add me to this list. The design may not be to everyone's taste, but I actually really like it. This thing looks cool, is well built and in general, has a smart look. The only design feature I do not like is how bright the LED light is, I ended up covering it with a bit of tape!
Connecting this is very simple, if you have ever connected any kind of electronic device before, you will be able to hook this up. There are different settings on the phono preamp so you can make sure that it is ideal for your set up. At the same time, a novice will be able to connect it and just let it go at its default setting and be happy with it.
In all, I was impressed with the sound, so impressed that after I used it on my main turntable, I took it upstairs to see if it would improve the sound on my older one and it did. It may be close to that 200 bucks price limit, but this is one of the best phono preamps at this price range.
If you really want to enhance your turntable sound and do it in style, this is the phono preamp for you.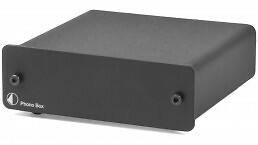 Pros:
Price is more than reasonable
Designed to be easy to use
Nice and easy to set up
No complicated settings
Has a really nice design
Cons:
Not the fanciest
You cannot really tweak anything
I really like what Pro-Ject have done with the design here. It has a jet black design and the front of the phono preamp is a solid matte black so it will go pretty unnoticed in any entertainment center. I know that many people want their phono preamp to not be seen and this design is ideal for that. By the way, this has one very strong design so if you were to drop it…. Like I did, it is fine!
Connecting this could not be any easier, you simply plug it in and it is ready to rock and roll, there are no complicated settings you have to mess with or anything like that. You connect this to your turntable, turn it on and you can just forget about it. I am sure this ease of use is one of the reasons this is one of the best phono preamps under $200 and it is so popular.
Sound quality is great, serious audiophiles may raise some questions, but I feel that is being way too harsh. At this price, the sound is fantastic and it really is going to allow you to hear your favorite albums in some serious style. I ended up rocking out to four Iron Maiden albums in a row with this connected to my turntable.
With an unassuming design and high quality sound, it is easy to see why this is one of the most popular phono preamps.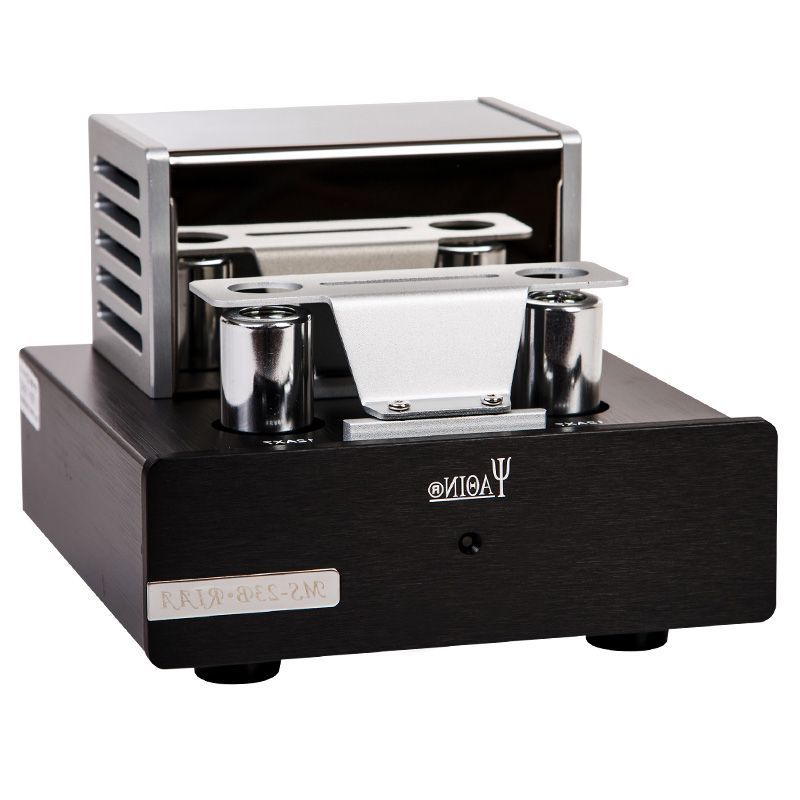 Pros:
Incredible sound
Ideal if you like to mess with your audio settings
Very interesting design
One of the most popular phono preamps
Makes a great upgrade for most setups
Cons:
Close to 200 bucks
May not be ideal for a basic setup
I know that some people will look at this and say "what the heck?" as it does have a very interesting design, but I love it! It is a little bulky and I know that some people will not like all that exposed chrome, but I have a more retro setup in my room upstairs and this goes very well with that.
It may look complicated, but honestly setting this up was very easy. I am sure that even a person brand new to the world of vinyl (or a person getting back into it) will have no issues connecting this. So please do not be put off by the look of this as it is no more complicated to set up than any of the other ones we have looked at so far.
Now the most important part of any phono preamp is the sound and the sound this produces is amazing. Some turntable setups will have a low level humming sound, you get none of that here or any kind of interference at all, just that rich vinyl crispness that we are all looking for.
It was the bass that really impressed me with this and I had a lot of fun messing with the different settings on my stereo receiver to get the best out of it. With that being said, while I had a blast with this, for the person who has no desire to play with their treble or bass settings, you may not want to spend the close to 200 bucks.
If a really rich sound is what you are after, you have to take a closer look at this phono preamp.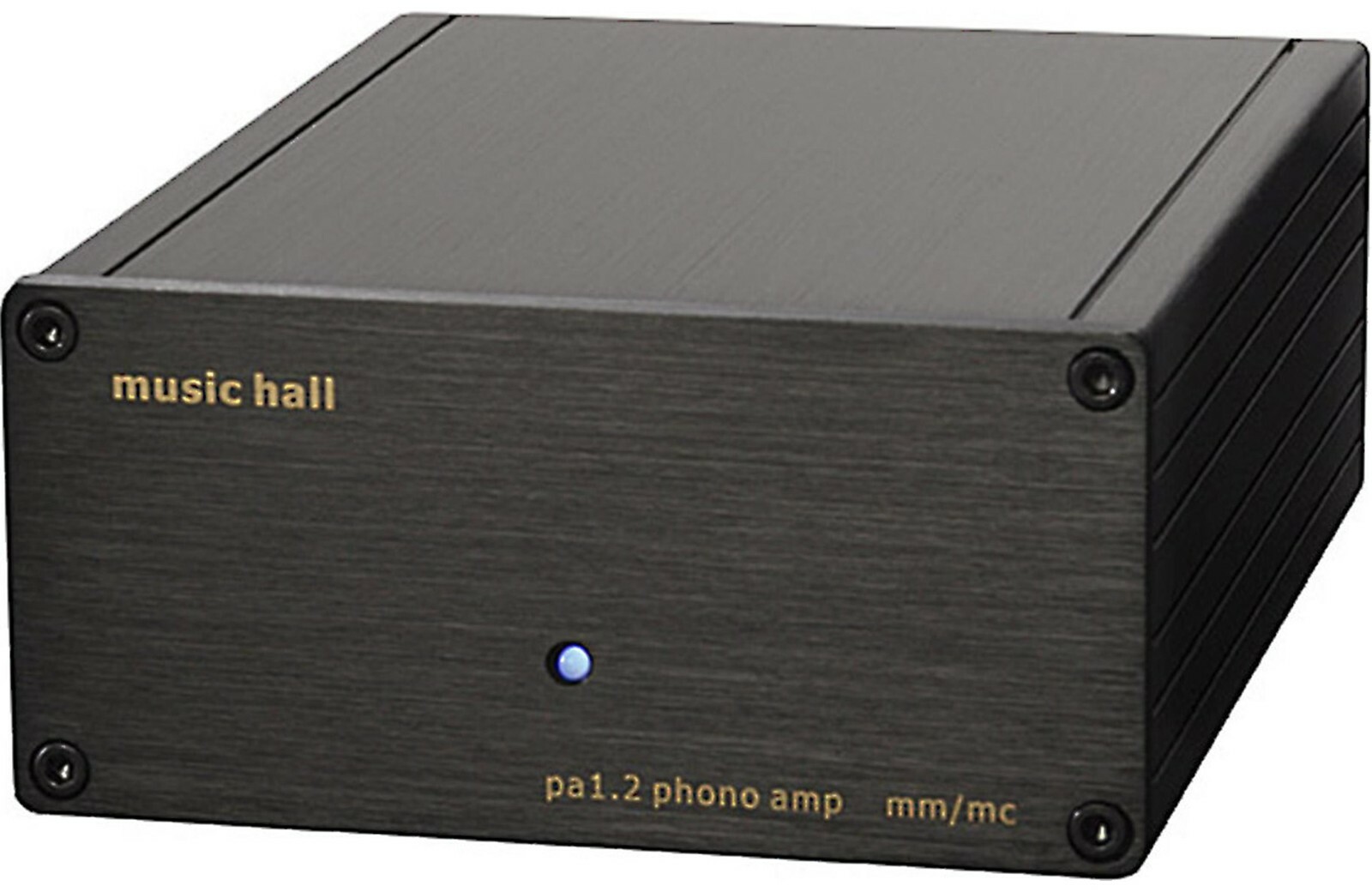 Pros:
One of the coolest looking phono preamps
Is made incredibly well
Easy to set up
Sound is great once you get it set just right
Price is not bad at all
Cons:
Led light is way too bright!
Some tinkering with your receiver is essential to get the best sound
Talk about an elegant design, I love the wooden design that the folks at Music Hall have gone with for this phono preamp. I have a stereo receiver that has a very similar look so this fits in great right next to it. The build quality is fantastic, it has a very strong and sturdy feel so as soon as you pick it up you know this is quality.
Connecting this to your receiver, speakers or whatever is very simple. I had it connected in a couple of minutes and most of that was untangling the wires from the back of my receiver. So if you want something that is easy to hook up, you cannot go wrong with this. My only little criticism is in regards to that LED light. Why do so many electronic devices these days have LED lights that are brighter than the sun?
Sound wise I was very happy with this. Some people have said the sound is a little flat, but if you tinker with your stereo settings, you will be able to get the right sound for you. I know that is not something everyone will want to do, but in order to get the best sound, you have to do it. I do not see this as a bad thing though as it is all part of the fun that comes with listening to vinyl!
With a really cool and elegant design and some pretty darn good sound too, it is easy to recommend this phono preamp.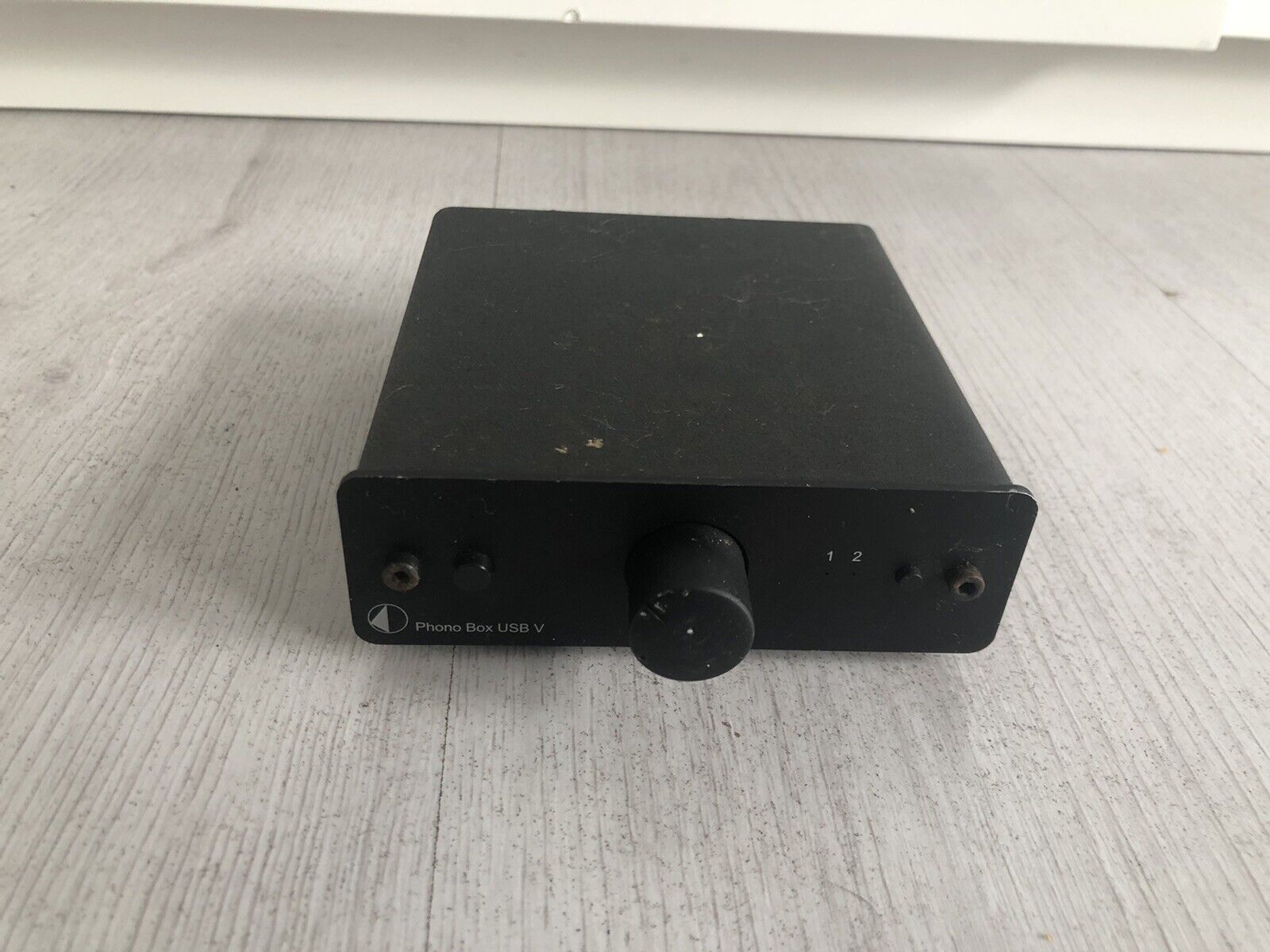 Pros:
I really like the design
USB connection is a very nice bonus
Sound quality is very good
It is very easy to setup
Strong build
Cons:
Price is close to 200 bucks
Dial on front sticks out
When I first took this out of the box, I thought they had sent me two of the same unit, but this is actually a more high end version of the other Pro-Ject phono preamp that we looked at earlier. The design is just as sleek and cool and to be honest, if you have a predominantly black audio setup, you will find this fits in perfectly.
Some may not like the large dial on the front, but it is not that bad. It is a little more expensive as it is right around that 200 bucks price tag, but I do actually feel the extra money is well worth it.
This has all of the same connections on the back as the other Pro-Ject phono preamp. The big difference is that this model has a USB connection as well. Many modern turntables and receivers have USB so this makes connecting it even easier. I think if you do have a more modern setup that this is ideal, but do not worry as it has standard phono in and out connections as well so you are getting the best of both worlds.
I will be honest and thought that this would sound exactly the same as the other Pro-Ject phono preamp I tested, but this one is slightly better. Most people will not be able to notice a difference, but the sound is a little richer from this and in general, I was very happy with how good the sound quality was.
With connections for modern and retro setups as well as great sound, this is one awesome phono preamp.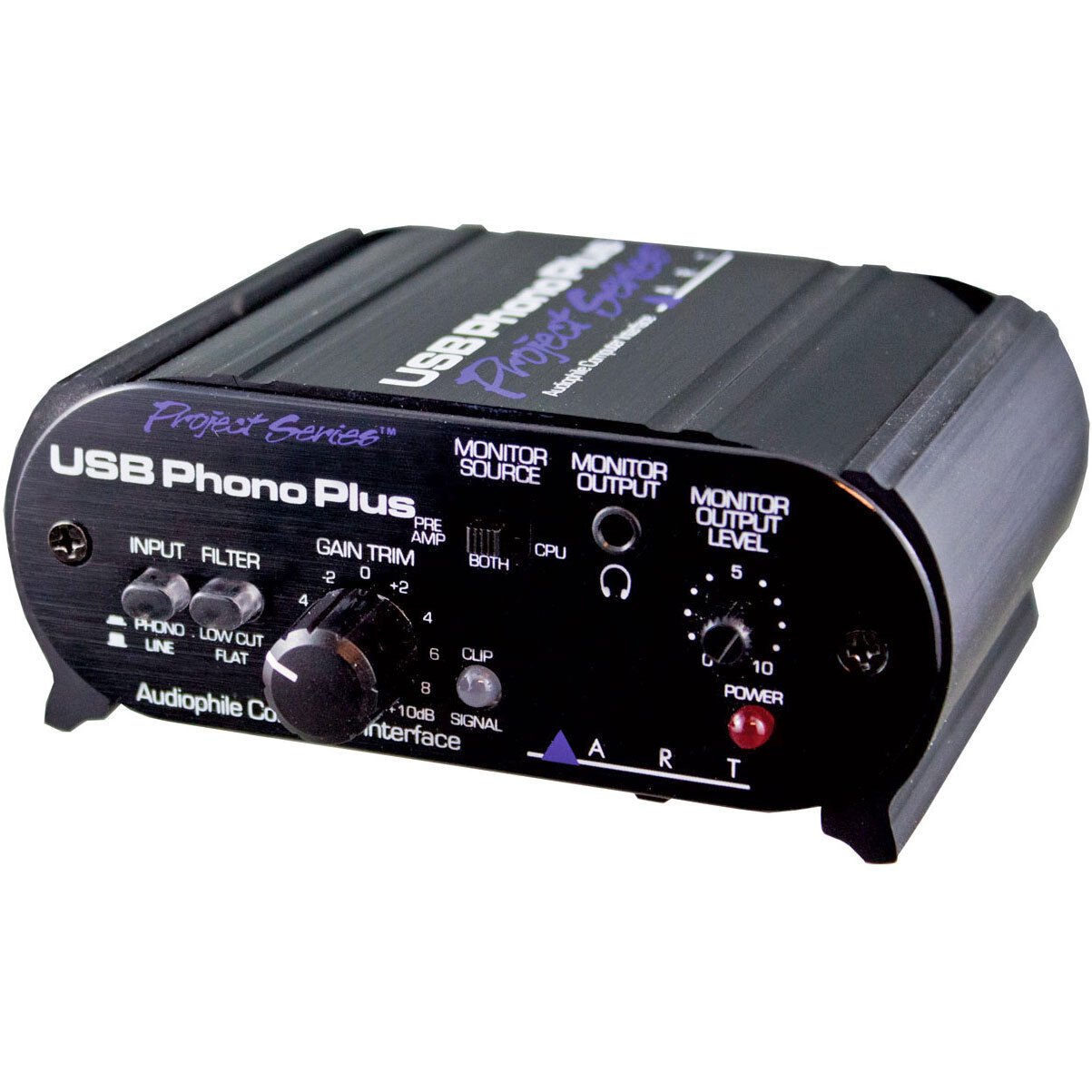 Pros:
Price is under 100 bucks
Can be connected to many different devices
Impressive build quality
Sound is said to be very good
Lots of positive reviews
Cons:
Design is not going to be to everyone's taste
Will stand out in an entertainment center
I did not actually test this phono preamp out, but at just under 100 bucks, I felt it could be what many of you are looking for. As you can see from the design, there is a very interesting design to this. Some may not like the way the front is so busy and it will stand out in an entertainment center, but I am sure some people will like this kind of thing.
In the reviews I read, people seemed very happy with the build quality and with how easy it was to connect. While I would plug this into a stereo receiver, they do say it is great for plugging into a laptop so that is an option. I feel that this is a phono preamp that looks more complicated than it actually is.
Many people state that the sound quality is very good with this and for under 100 bucks, the amount of positive reviews in regards to the sound is very impressive. It does sound like you need to do a little tinkering in order to get the best sound out of your setup, but that is to be expected when it comes to using a turntable.
With an interesting design and a price tag under 100 bucks, it is easy to see why this phono preamp is so popular.
Pros:
Very smart slim design
Will fit in most entertainment centers
Plenty of connection options
USB
Hardly any negative reviews!
Cons:
Does cost around 300 bucks
Not really aimed at the average Joe
At around 300 bucks this is more than our 200 bucks limit, but I wanted to include at least one more high end phono preamp. I really wish I could test this out as it is one of the coolest looking phono preamps I have seen. They have given it a long and slim body which is interesting as most other phono preamps go for a more boxy design.
Connecting wise this thing is stacked, it has phono in, line 1, line 2 and a USB! So it is pretty impressive in that regard and for those with a more sophisticated setup with multiple devices, you would really benefit from this. Clearly, this is not aimed at the guy who has just purchased a turntable and a few vinyl records from the flea market and more at the guy who knows exactly what he is doing.
The reviews for this are very positive in regards to the sound quality. Actually, I did not read one that was bad! I would love to hook up my turntable to this thing and see just how rich the sound is for myself.
If you want something with more hookups and have a slightly higher budget, take a closer look at this.
What Is The Best Phono Preamp Under $200?
I found that all six I tested will offer you better sound than what any built in phono preamp will give you. So in that regard, you are certainly in for an improvement no matter what one you buy. However, as I have to pick a favorite, the one that would fit in best with my own personal setup is the Pro-Ject Phono Box USB V Phonograph Preamplifier, Black.
I know that it is one of the more expensive ones we have looked at today. But the best phono preamps offer great sound, easy setup, modern connection options and in general should fit in perfectly with any entertainment center or home theater. You get all that with this and best of all, the sound is amazing!
If you still cannot decide or would like to check out phono preamp below 100 or you would like to invest a little more to get a much better experience for those under 500, check this out!