Where words fail, music speaks.

Hans Christian Anderson
With music at the heart of what we post at AllforTurntables, we figured that having options for various platforms would assist you greatly in making a sound and expeditious decision. So far, we've recommended the best music store themes for WordPress and Joomla. Today, we'll be recommending the best Shopify themes for music stores and eCommerce businesses. Before we begin, you might have some questions.
What is Shopify?
Shopify is an eCommerce software that will allow you to create an online store and sell your products. When you start selling online, you'll need to set up a storefront, display items, interact with consumers, collect payments, and more. Shopify has all of the tools you'll need to keep track of each of these tasks. Consider Shopify's platform as a facilitator that streamlines the process of selling items online. 
Additionally, with Shopify POS (Point Of Sale), merchants can also sell their items in person. With this software, you'll be able to sell your items in person at real stores, trade fairs, pop-up shops, and other events. Using the POS app on your iPhone, iPad, or Android, simply accept payments effortlessly.
How does Shopify work?
Shopify is an all-in-one solution, which means you only need an email address to get started. There are pre-built templates to help you launch an online store, as well as marketing tips and a variety of third-party tools to help you scale your business.
Who can use Shopify?
The answer is anyone! Shopify's simplicity and ease of use are part of its appeal. Shopify can assist you in getting started, whether you're a first-time entrepreneur or have prior technological experience. When compared to other hosting platforms, the popular WordPress is primarily used by bloggers, while Shopify is used by store owners. 
If you're interested, try Shopify for yourself and sign up for a free 14-day trial. During your trial, you may create your own online store, try out free Shopify applications, and make your first sales. If you utilize the Lite plan, Shopify's price starts at $9 per month. Most first-time store owners, though, begin with Shopify's Basic plan, which costs $29 a month. Depending on your company needs, you may select Shopify, Advanced Shopify, or Shopify Plus if you've been in business for a while.
Check out this post if you would like to know more about the nature of this software. 
UNLIMITED DOWNLOADS: 50+ Million Shopify & Design Assets
Without further ado, here are our 7 best music store/eCommerce Shopify themes for 2021. 
The Musicaly theme comes with all of the required smart features for selling musical instruments and other items. The neat layout and color scheme of this Shopify theme will persuade visitors that your offered products are of outstanding quality. On the home page, there are main and footer menus with informational links, a wishlist block, a purchasing cart, and a comprehensive search. 
Customers may look for their preferred music gear based on new arrivals or bestsellers, as well as discover suitable music classes and schedule appointments online. A testimonial slider has also been included to build up the credibility of your brand when it comes to new page visitors. Additionally, this Shopify theme is totally responsive, so it will work on any device. 
Musicaly's template is based on the well-known Bootstrap 4 framework, which makes working with web page code, style sheets, and JS simple and straightforward. The theme is simple to use, has a great grid structure, and has a large variety of components for customization and personalization.
Read up more information about Musicaly, or head to the preview.
Flamez is a 100% responsive Shopify theme, which means it can be adjusted to fit any device, including desktop, laptop, tablet, and mobile. Start selling albums and the likes using a special shop page that consists of an integrated ajax add-to-cart and quick-view options. You'll be able to pick color variants on the homepage and view them clearly without being redirected by establishing a new design pattern and structure. The outcome is updated in real-time and changes in accordance with the hue you select, giving you a more accurate picture when buying online.
With Flamez, social networks are prominently displayed to allow customers to keep track of store information. You may use the social widgets to like, share, and tweet your information on your favorite social network.
Moreover, this Shopify theme is integrated with CSS3, HTML 5, RTL language layout, and friendly shortcodes, all of which contribute to the creation of polished web pages with semantic accuracy. Flamez has a lot of built-in functionality, including a sophisticated admin panel that'll allow you to manage and modify your site better. Let this incredible theme help you grow your online music store. 
Get more information about Flamez, or view the preview in your own time.
Boom features a basic design with a white and gentle pink backdrop, as well as black accents. A large, eye-catching slideshow of your selected featured product will wow visitors right away, allowing them to pay attention to your offer. As a single-product feature theme, you'll be able to highlight all the benefits of your music-related equipment or accessory on the homepage itself.  
For a greater website experience, Boom also includes pages needed for services, FAQ, and support for a variety of currencies. Additionally, there is always room for your sales signage or advertisements to reach out to potential customers. Shopify Music is simple but never dull, with a catalog menu, membership function, and social media integration to ensure clients have a nice buying experience.
In general, Boom is a Shopify theme that is a ready-made solution for online stores specializing in selling Airpod items, or any essential hearing device. You are, however, not restricted to selling just these items as you'll be given control over all of the theme's elements. When it comes to customization, choose your ideal fonts, colors, slider control, and many more, thanks to the featured powerful admin panel. 
Look up more information about Boom, or head to the theme's preview.
Foxic is a multipurpose Shopify theme made for eCommerce sites with a wide range of products, such as musical instruments, CDs, fashion, watches, and numerous stores. As you can tell by the picture above, this theme comes with a template made especially for selling electronics that can be utilized for selling your musical instruments, equipment, accessories, and the likes.
Choose this theme for your website and it will appeal to all levels of musicians, from beginners to professionals. Designed with a conventional eCommerce look, visitors will have no problem navigating your website and will see you as a trustworthy supplier of musical instruments. You'll be able to draw their attention to the most important features, such as add-to-cart buttons and price tags, through the use of alluring blue accents and buttons.
Furthermore, Foxic is fully responsive on all devices, including tablets, desktops, and mobile phones. This will undoubtedly enhance customer experience and generate income for your firm since it was built using CSS 3, HTML 5, and popular Bootstrap technology. In general, this theme is stunning with diverse templates that include a variety of useful modules like a blog, mega menu, quickview, and more. 
Obtain more information about Foxic, or preview the theme in your own time.
Guitare is a Shopify theme that is both flexible and user-friendly. It'll provide you attractive page layouts and divisions so that you may quickly create an appealing online music store. Ideally, a contemporary theme for your music shop website will allow store owners to draw attention from clients and boost the number of potential customers. 
Additionally, there are other useful features like the advanced Mega Menu and stylish headers. The Product Carousel will allow users to view your categories and highlighted goods, while features like the blog option may effortlessly bridge your business to your clients. Admins of your site can easily list your store's items owing to the modern and user-friendly interface. Generally, this template is mobile-friendly, well-coded, and comes with lifetime support upon purchase.
When it comes to personalization, you may make your own homepage with the theme's easy-to-use Drag-and-Drop interface. Guitare's custom-designed Shop Page is excellent for presenting your items in a way that is most appealing. Other inherent layouts for inner pages, such as About, Contact, Services, Blog Page, and FAQ Page, may be employed should you wish to put up more information about your company.
Click for more information about Guitare, or preview the theme.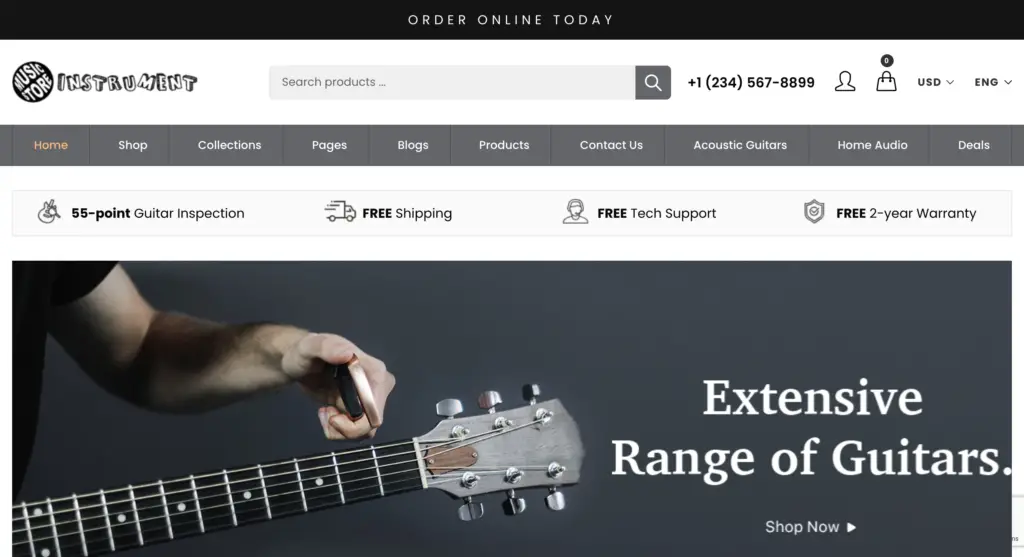 This sleek, beautiful Shopify Theme was created with the goal of building a professional online music store. With a single homepage variation, KalaMusic is also ideally built to present your instruments through a picture slider in the header area.
This Shopify theme is retina-ready, completely responsive, and mobile-ready, ensuring that your website will look great and function seamlessly on all modern devices. This will provide your viewers with an incredible viewing experience regardless of how they choose to view your site. If you want to easily construct a professional and neat eCommerce website, KalaMusic is one of the ideal solutions.
When it comes to customization, your website's homepage layout will be easily managed with the theme's pre-made sections. No coding will be required as you'll be able to utilize the drag-and-drop feature in editing your music site. Other features include, but are not limited to: a countdown timer for offers and discounts, the ability to display customer reviews, as well as a blogging and news feature that is SEO friendly.
Gather more information about KalaMusic, or preview the theme in your own time.
Matley is a premium Shopify theme designed especially for headphone and audio stores. It has everything you need, including a homepage, a special shop page, two types of mega menus, a product owl carousel, and a newsletter popup. It is designed to be right out of the box but also allows for extensive customization for users who want to create the finest website possible for their clients.
Having one template ensures that you won't be caught in a slump trying to choose between a few. This Shopify theme also comes with a number of sophisticated modules that make it simple to set up a music eCommerce site in mere minutes. It features a versatile control panel that'll render it easy for you to manage your business, even if you're a complete novice at web design. 
Coded with HTML5 and CSS3, rest assured that your website is secured and up to date with the latest web hosting technologies in the market. The author has also kept SEO in mind to ensure that your website will rank among the searches, helping you stand out from your competitors. Moreover, you'll be able to choose from over 800+ Google fonts and be provided a collection of icons from FontAwesome and Stroke Gap Icons. 
Collect more information about Matley, or head to the theme's preview.
Got a favorite theme from this list? Let us know in the comments below!
Should you frequently need access to a variety of premium plugins, themes, logos, video footage and audio files to power up your WordPress site, do also check out envato elements' unlimited subscription plan starting from just $16.50/month.