If you're shopping for a WordPress Theme for a Fashion website then two things are most likely true. You're not going to waste time reinventing the wheel and you're not going to get stuck in the weeds doing a lot of unnecessary coding. Why would you when someone else has already sweated through that process?
Instead, you are going to use your time more productively and focus on the UI/UX that will deliver truly exceptional sites customers will love coming to shop at. That where the real money is to be made so that is where you are going to focus your attention.
There is one challenge with the approach though. You have to be able to weave your way through a whole forest of WordPress Themes for Fashion sites to find one that will set you off on the right foot while providing a foundation worth building your shop on.
Going Niche or Going for Width?
Consider a few things before you set off on this journey and by consider, I mean ask a few important questions. The first and most important is, will you be building a shop for fashion and accessories only or do you foresee branching out into other product categories. Depending on how you answer this question you may find yourself looking at fashion-centric themes or you might need to look at multi-purpose themes instead.
Product Selection Consideration
Then consider how big your product selection is going to be. If you are building a boutique shop with a few select items in a collection or two, your choice may not be the same as what you may want for a large and diverse selection of fashion and accessory items.
In this round up review, we are going to focus on Fashion-specific themes and along the way, we will point out those that we think will be better choices for large shops rather than small boutiques. We'll also identify those that support all of the leading browsers and that support key plugins like WooCommerce.
These are all fashion-specific rather than broader multi-purpose themes. They are ordered from the bottom up.
Here are our 10 Best WordPress Themes for Fashion.
UNLIMITED DOWNLOADS: 50+ Million WordPress & Design Assets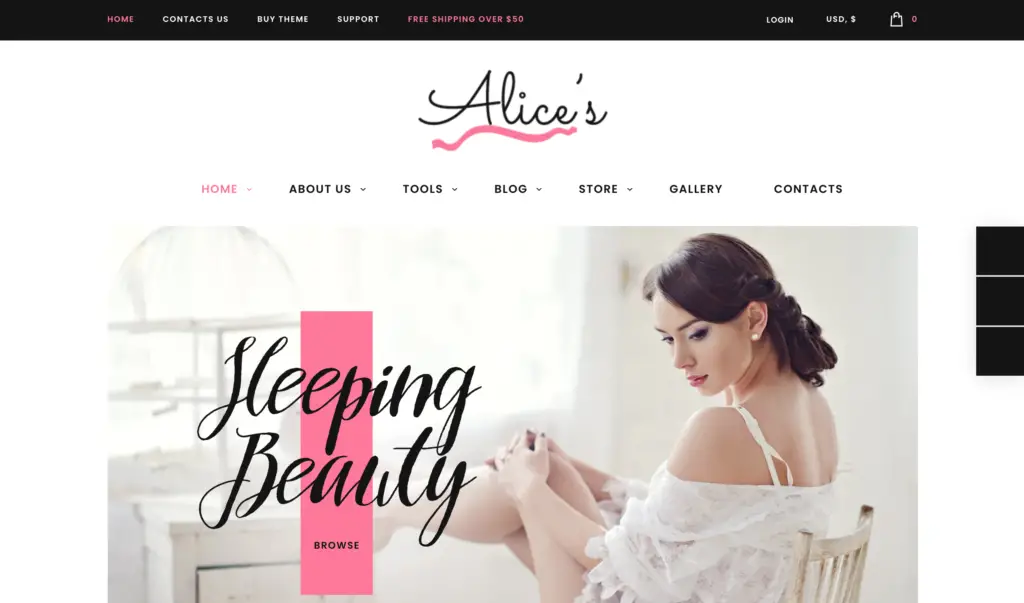 Alice has been built specifically to support boutique shops, with design samples that are focused on Lingerie but this theme does a great job highlighting and type of boutique fashion or accessory collection. The key is in the collection.
The shop support comes from WooCommerce and building custom designs is accomplished with WP Bakery. They've used these to develop a range of predesigned pages that you can start from so add your products, include your art, present your content, and in no time at all, your shop can be up and running.
Dig into the Live Preview and see how this theme may work for your boutique online store.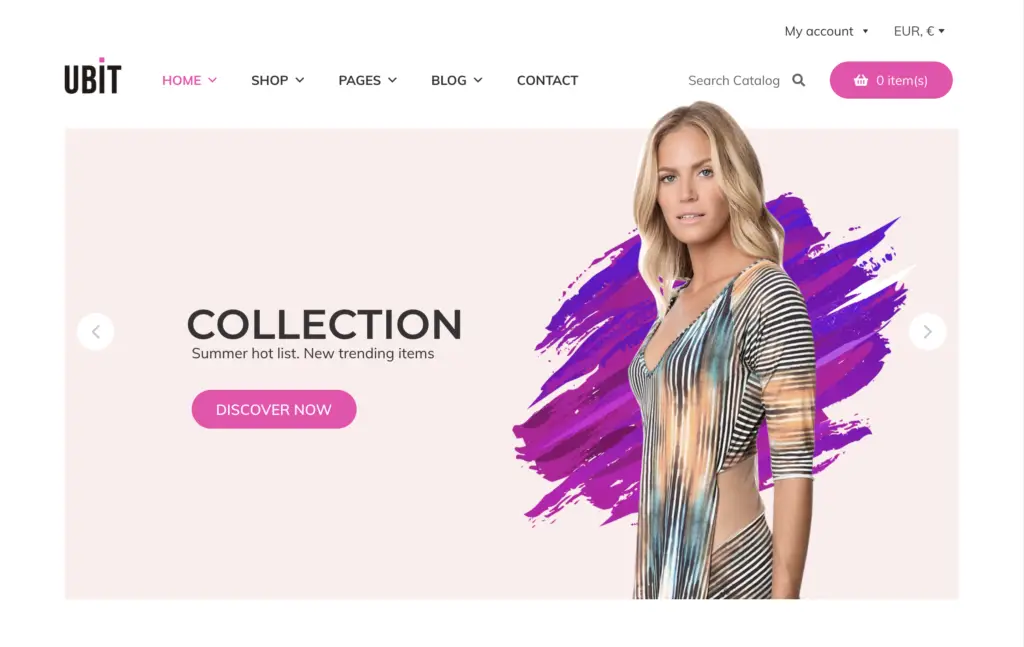 The first thing most folks notice when they look at Ubit is the use of bold color splashes that help sections, products, and features stand out. Your eye is drawn to exactly where it needs to be to stir interest and trigger healthy emotions.
This is another multi-purpose theme but it very definitely leans toward fashion and for that reason, it makes it onto our list. It also means you can grow with this theme into a wide range of product categories so if you start with fashion, and for example, decide to expand into home decor, this one theme will grow with you.
For a live preview click here.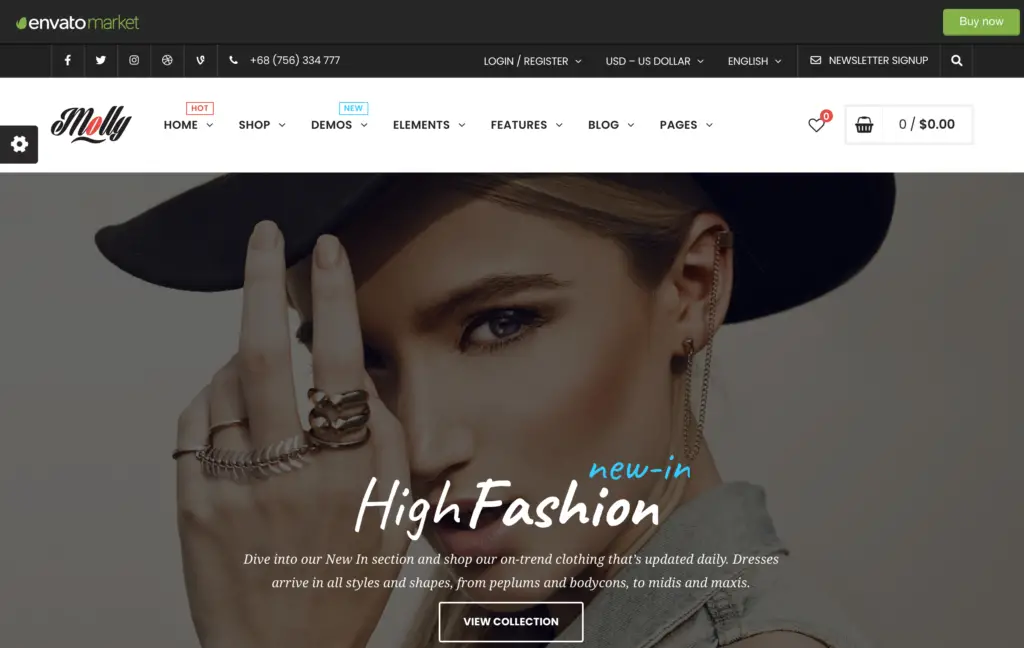 If you want a minimalist WordPress Theme for Fashion, Molly delivers. If you want a theme that is bold and colorful, with hero images and more, Molly delivers that too. Basically, this WooCommerce theme can present a number of diverse personalities that can easily match your fashion offerings.
They accomplish this with more premade designs than you'll find in most any other theme, along with a long list of supported building elements that help create a unique and hopefully compelling shopping experience for your customers. In fact, these design elements have been nominated for their design features.
Check out their Live Preview and see if this fits your style.
Umbala is full of options but it is its responsiveness and unique mobile-friendly layouts that make this one particularly interesting. It still looks great and is chock full of options for desktops too so this one theme will have you fully covered.
This is a minimalist design that is built on the WooCommerce foundation. It also supports multi-vendor shops with compatibility built in for Dokan and WC Vendor. This theme does include a drag-and-drop page builder but it does not state which page builder that is so it's impossible to say how functional it is. Still, it should be better than building page variations from scratch.
You'll find their live preview here.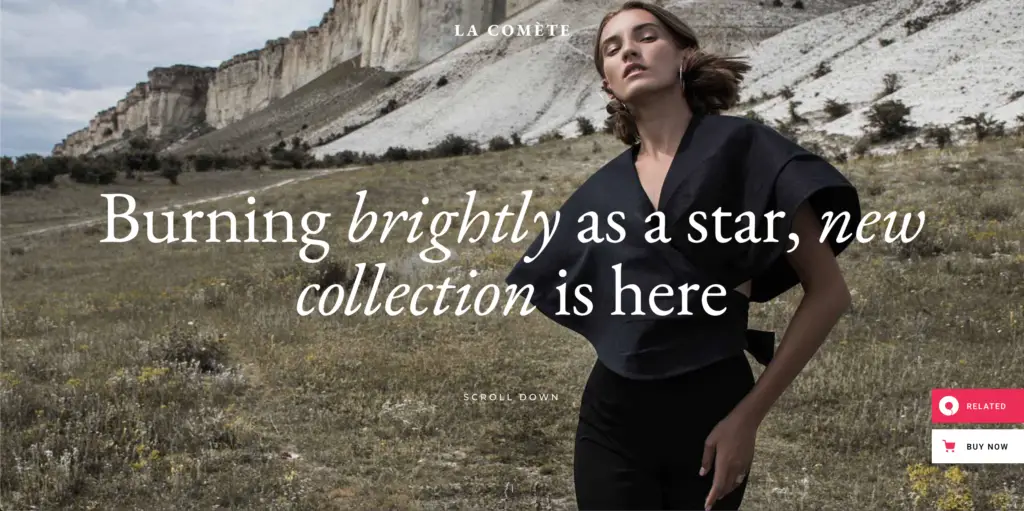 With layouts that span design themes that are minimal, modern, and even awe-inspiring, La Comète is chock-full of design options. You can even mix and match designs to create your own unique combination for your unique online shop. This set of variations also make this theme great for boutique shops with limited collections and large fashion store with a wide variety of options crossing multiple departments, for example, Men, Women, Children, Casual, and Formal, and all of the accessories that go with them.
You can start by easily importing fully fleshed-out demos so you'll have a great head-start on your final design.  These include 8 different home page designs and as many product page designs, all built on the WooCommerce platform. The theme also includes a long list of useful shortcodes that add functionality to your product displays as well as helping to ensure connectivity to social media platforms.
You can get a good feel for this theme La comete through their Live Preview.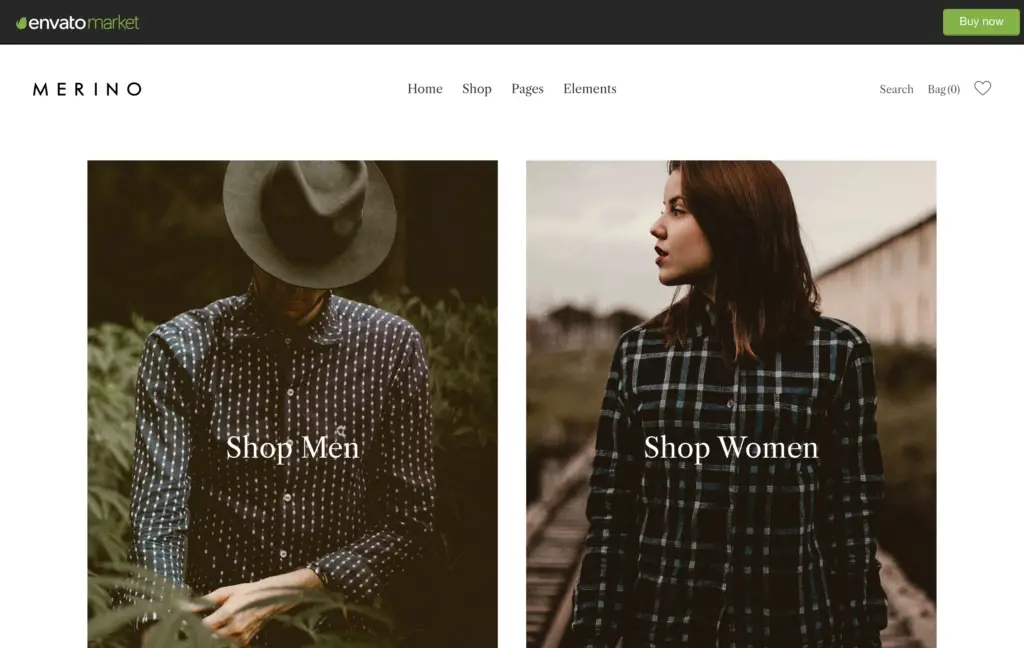 This well-crafted WordPress Theme for Fashion is clean and simple while also being light and fast so customers won't lose focus waiting for page and image loads that can have a negative impact on conversions. Merino knows what it's all about and what it's all about if selling clothing and accessories.
This Merino theme is fully responsive and fully compatible with all of the leading browsers, including the older versions Of IE. It is up to date with WordPress and WooCommerce, WPML and it includes the latest version of WP Bakery as its page builder. The theme supports an innovative floating menu design and a wide range of search filters that make it easy for customers to find exactly what they are shopping for. You'll also find a wide range of supported fonts including Typekit Fonts, Google Fonts, and most any other custom font you may have.
For a full demo of Merino theme, you can check out their Live Demo.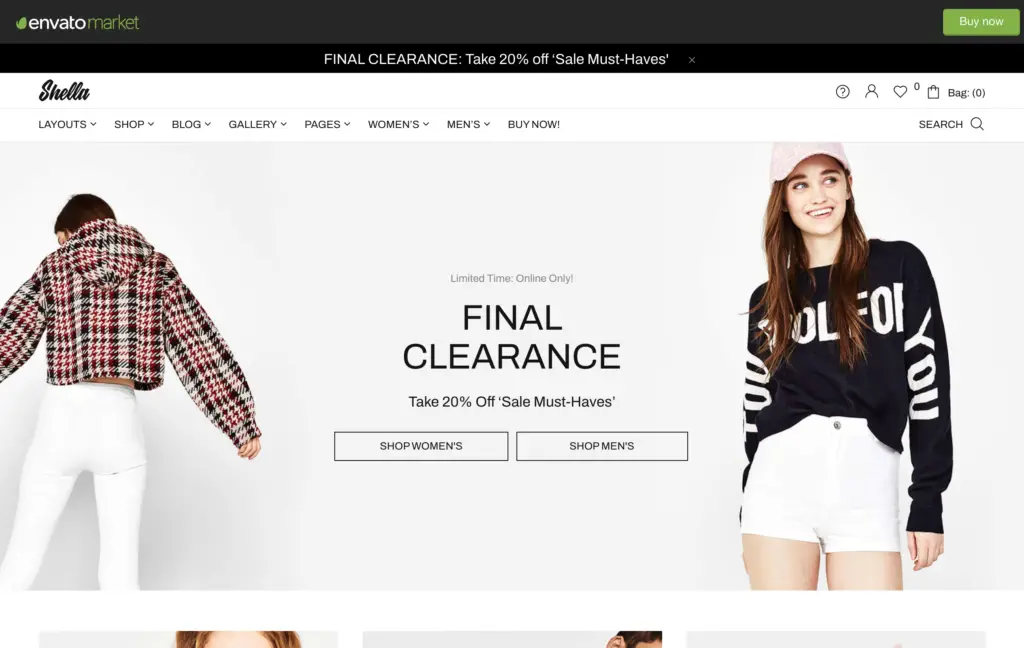 The developer of this theme clearly focused on delivering a Theme for Fashion. From the very start, that focus comes through in its product-centric design features and that means the design is uncluttered. All your eye is drawn to are the models and the clothing.
Shella is principally a WooCommerce theme so that will be your store platform. This ensures a wide range of tools and support that goes well beyond the theme so you will be fully covered. It's also designed to be light and fast and that helps keep customers engaged in the shopping experience. The real highlight though is the UI.UX design for filters and product variations. It makes the shopping experience feel much more like a custom experience than just buying stuff "off the rack". Add to this their advanced search features and you have the key tools you need so customers can find exactly what they're after.
They offer a Live Preview that lets you walk through a fully functional sample site with multiple design options.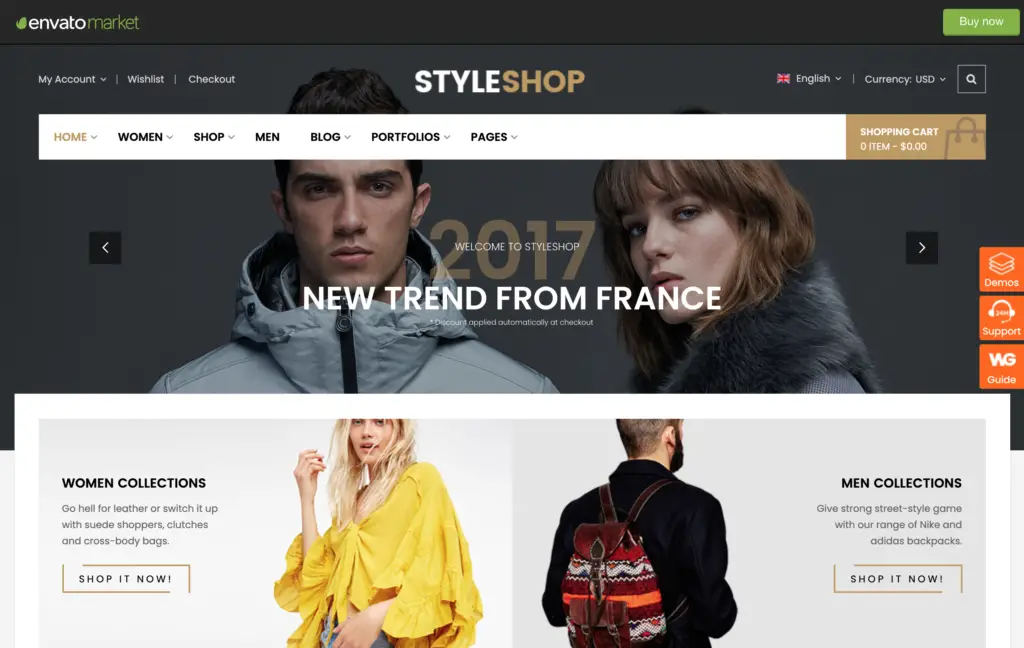 This award-winning theme is both a WordPress Theme for Fashion and a multi-purpose theme for just about anything else you might want to sell and for that reason alone, I was tempted to skip this one. But after looking through their demo and the reviews, it seems that they do fashion best so it's here. StyleShop starts with 4 different homepage layouts and then a wide range of whop and product page designs that make it easy to pull your site together quickly. You'll just need to focus on your product, product images, and descriptions to complete the picture.
You'll have the ability to install a range of predefined websites built on this theme and if needed, support is available 24/7. This theme also includes a range of blog designs so you can do more than just selling. You can engage your customers with your best content too.
Walk through their extensive Live Preview and start imagining what you could accomplish with this theme.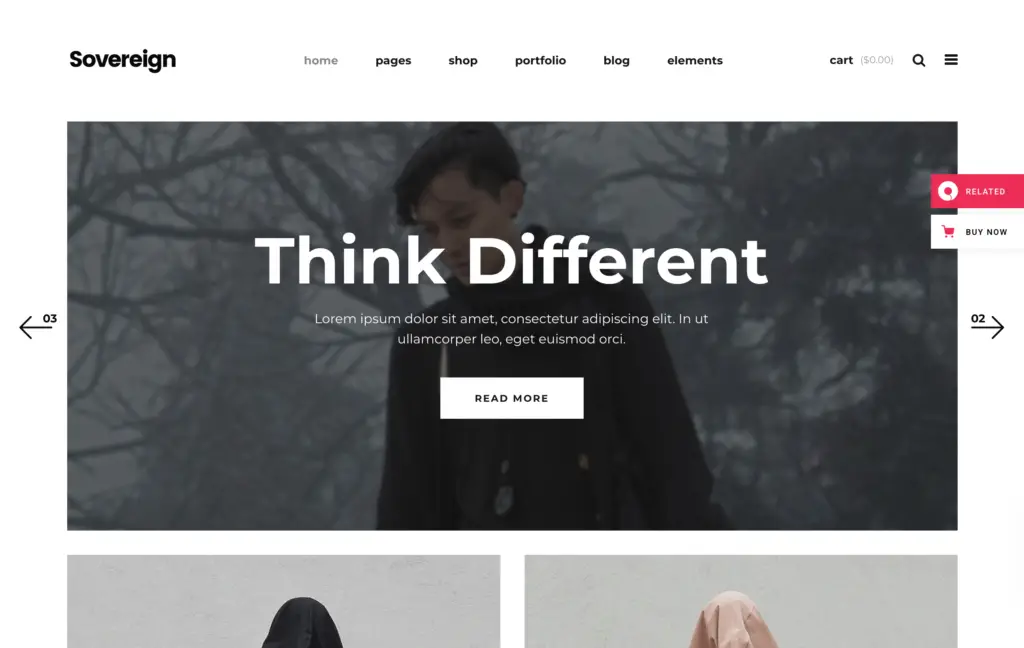 The WordPress Theme for Fashion comes from a leading theme author, Edge Themes, who takes black and white and lets that help your products stand out in this shop. They also keep the pages light so they deliver a smooth and fully responsive experience for your shop visitors. Sovereign comes packaged WP Bakery – a top-rated page builder, Revolution Slider, and Contact Form 7.
This theme also includes an admin panel that is accessed without having to sign in to your WordPress Admin account. You reach it through a secured page on your website instead and that means you can easily assign admins to help keeps things running and help ensure customers are getting great service. It comes with access to a wide range of demo pages and content as well and that's easily loaded with a single click. That means there is no need to start from scratch designing your site. Just refine their content to fit your specific design requirements.
Take some time to work through their Live Demos, with a wide range of shop types and designs, and see what you think.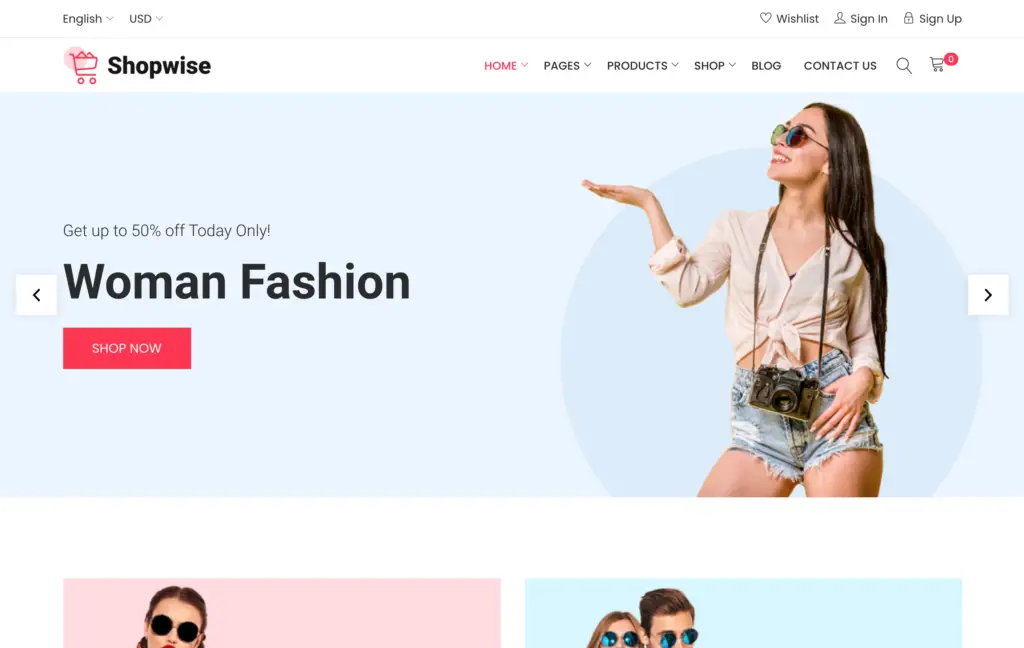 With a minimalist styling approach, Shopwise is specially designed for an online fashion shop. This is accomplished with a clean design approach that is product-focused so what you are selling is always the center of attention. This is true for every page and every section within a page.
The theme is highly customizable and comes complete with Elementor page builder, Revolution Slider, and Mega Menu, three key plugins. It also comes with and is kept up to date with WooCommerce. That will be your shop platform when you select this theme. You can start from scratch with this theme or install any of their pre-built theme designs as your jumping-off point.
Check out their Live Preview and have a play with their demos to get a good feel for how this theme will work for you.
Final Words
I am often building a wide range of sites so I rarely look for purposeful Fashion focused WordPress Themes or any other specific category. I will more commonly lean toward a multi-purpose theme to meet my needs. But if I were this focused I would probably lean toward the design approach of Ubit and the functionality of Molly.
The bottom line though is that every one of these WordPress Themes should result in your fashion site that is responsive, fast, and that looks great so there really are no bad choices on this list.
Should you frequently need access to a variety of premium plugins, themes, logos, video footage and audio files to power up your WordPress site, do also check out envato elements' unlimited subscription plan starting from just $16.50/month.