Today we are taking a look at this Yamaha A-S1100 or McIntosh MA5200 Pros and Cons Review. This is a very hot topic that has a great discussion going on at the Steve Hoffman Forums which I have had a great deal of fun reading through and thought that I would throw my own two cents in with. A little while back we had a look at The 6 Best Stereo Preamps Under $500 and these are quite high end for most "normal" people. However, the amplifiers we are looking at today are a step above what we usually look at. These are very, very high end so your average joe is not going to need either one of these, but I thought it would be fun to take a look at both of these and try and pick a winner.
Yamaha A-S1100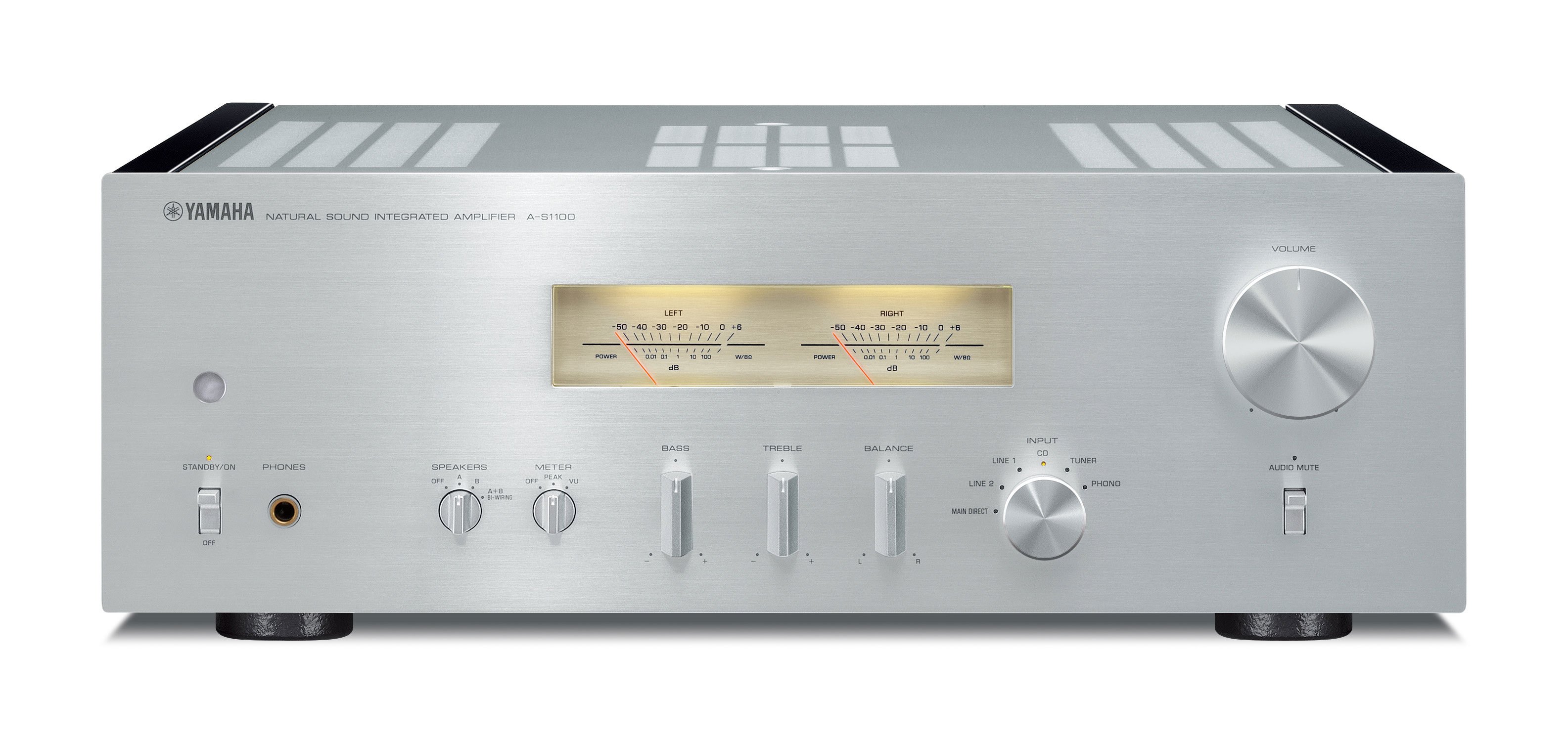 The Price:
We will start with the Yamaha A-S1100. Check out this very in-depth video review if you want a heads up on what is on offer here with this amplifier. To start with this from what I understand this has been discontinued by Yamaha, when it was around it had like a 3 grand RRP which is certainly not cheap. I had a quick look on eBay and you can get this for anywhere between $1500 and $2000 so if you are patient and are willing to shop around, you can get a decent deal on this.
The Design:
The overall design of the Yamaha A-S1100 is pretty damn cool. I have only ever seen the silver version, but there is also a black version which looks really cool. It just has such an elegant design and this can stand on its own, it actually has a very solid build quality about it and when you pick this thing up, you know you are dealing with a high-quality piece of equipment.
The front of the device has adjustments for bass, treble, and balance which is great. I also love the meter it has and how there is a separate one for right and left. You have various dials on the front too such as the one to select your input, volume, and so on. You also have a headphone jack right on the front which is pretty convenient.
On the back of the Yamaha A-S1100, which you can see in great detail on this video is about a million ports. I really do not know where to start in regards to the possibilities of hooking stuff up to this. It is insane the number of things you can do with this. The fact that the dial on the front has five input settings lets you know what you are dealing with here.
The Remote Control:
I also want to take a moment to give the remote control a bit of special attention as this is pretty damn awesome. The remote has all the dedicated buttons you could possibly need. Ranging from different inputs and sound presets too. What I really like about this remote is that it has a real style to it. My wife goes nuts when the remotes are left lying around the room. What "laying around the room" actually means I am not sure. However, I guarantee that a remote as cool as this would be ok to be left out on the coffee table!
The Sound:
Now we have to talk about the most important aspect of this and that is the sound. I am a big fan of Yamaha. I have this very strange memory as a kid, it is my earliest school memory. Anyway, the teacher had this electronic organ and it was a Yamaha and it was the most amazing thing I had seen. Ever since then, Yamaha has been a company I have had a lot of affection for.
The sound quality of this is just amazing, Yamaha has a sound that is quite unique and that is the case here. This has a very rich and full kind of sound and while it is my buddy who had one of these, it was records that we were using when I was putting it through its paces for the purpose of this article and they sounded fantastic. Even when the sound was cranked all the way up the clarity was amazing.
I will say (well he said) that there is a fair bit of breaking in with this to get it at its very best, but that is to be expected with something like this if you ask me. Even something like this OSD Audio Pre-1 High Definition Preamplifier which is much more modestly priced is going to require a little bit of breaking in to get it at its very best.
Pros:
I love the design of this and think it is just so cool
You can actually get this for a grand or less than the original RRP if you shop around
This offers you many options in regards to things you plug into it
Above all else, the sound this will give you is truly amazing
Cons:
Finding a brand new one is pretty much impossible now
It does take up quite a bit of space
McIntosh MA5200
The Price:
First thing we have to look at with the McIntosh MA5200 is how much this thing is going for. Currently, at the official McIntosh website site, they do not even have this bad boy listed! I had a quick look on eBay and wow! This is a very popular integrated amplifier and that is reflected in the price where it is going for as much as 4 grand! So, if you do want this, you are going to have to shop around to ensure you get the best deal. No matter what I would say you are looking easily at double of what you can expect to pay for the Yamaha A-S1100.
The Design:
Man, I love this thing! I think the fact it is black really appeals to me and if you look at another amplifier guide we have done like this, The Best Stereo Preamps Under $1000 article we did a while back you know black is something I think is cool. This is designed to be placed into a unit and it is pretty large which you can see in this video so you will need to make sure you have a decent amount of space. What really pops with this is that the dials are backlit and the light is this very cool blue.
Speaking of light. There is this fantastic LCD right in the middle of the unit that gives you all of the information about the source and so on that you have going on at any given moment. It is a great little touch and something that I really think sets this apart from the Yamaha. You have a dial on each side of the front of the unit and in all, it is very easy to get the hang of. I really do think that McIntosh makes some of the most stylish looking amplifiers out there and they have a real signature style which I love about them.
On the back, you, of course, have your inputs and this thing is pretty stacked the built in DAC does mean if you have some kind of digital audio source it could be ideal for you. However, you have your USB port, optical port, and coaxial for digital. There are also 4 standard RCA inputs, a MM phono input, and an XLR balanced input too. So, no matter your needs, I am pretty sure this is going to be able to help you out. Check out this video showcase which gives you great detail about the ports on the back.
The Remote Control:
At this price range, I would expect a remote control as advanced and cool like you get with something like the Bose Soundbar 700. I have to say that this remote control comes nowhere near close to that. The remote control for the McIntosh MA5200 is awesome and gives you complete control over your amplifier. However, even though it gives you complete control over the device, it is said to be very "plastic" feeling and is a little on the cheap side. Which when you consider the asking price of this thing is not very cool.
The Sound:
Ok, so while I have had the pleasure to experience the Yamaha A-S1100 firsthand, the McIntosh MA5200 I have not had the pleasure. So, what I am saying here is based on the research that I have done. I did find this fantastic video review where a guy who has been using this for around a year and he gives excellent detail about what you can expect from this.
What I think is very appealing about the McIntosh MA5200 in terms of the sound is that built in DAC which is lacking on the Yamaha, making this the better option for those who are more into digital music if you know what I am saying. One of the best compliments that I can give this is that in all the research I did about this, I never came across anyone saying anything bad about the way this sounds.
There are a ton of great amplifiers out there take this AudioSource Analog Amplifier for example. It has a great reception online, but there is no way something like this (even though it is not exactly cheap) is going to be able to compete in regards to what the McIntosh MA5200 offers.
Pros:
I love the way this thing looks
The LCD is very handy
The possibilities for what you can hook up to this are pretty much limitless
I have yet to read one bad review about this in regards to the sound
Cons:
This thing is very, very expensive
You do need a fairly large setup to house this
Final Thoughts
I think that both the Yamaha A-S1100 and the McIntosh MA5200 are great and well worthy of the amazing reputation they have online. At the end of the day, if you are someone who has an amplifier like this Pyle Bluetooth Stereo Amplifier and are cool with it, you do not need to even be considering dropping thousands of dollars on either of these.
However, those of you who want the best of the best when it comes to your audio equipment have a tough choice on your hands. For me personally, I have to go for the Yamaha A-S1100. Not just because I have personally tested it and played around with it. I just do not see the McIntosh MA5200 being worth the as much as 3 grand extra asking price it has.