After realizing how fun and didactic it would be to express my opinion on the two amazing LG products: SN9YG and SP8YA, I found it irresistible to assess each of them to show which one is the better soundbar solution. To be candid, I found both to be highly functional with great features.
I was a little bit surprised when I discovered that just as SP9YA happens to be the next generation of LG SN9YG, so is LG SP8YA. The most difference between SN9YG and SP8YA is that the former features a 5.1.2 setup with a rated power of 520 watts, whereas the setup of SP8YA is 440 watts. I fell in love with both soundbar solutions when I tested each of them and see how amazing their features really are, in particular, their Bass Enhancements (I really enjoyed all my action films), EQ Presets, Treble Enhancements, and lots more.
Furthermore, before I move into the subject matter in detail, I discovered that listening habits could influence preference as far as the 5.1.2 LG SN9YG and the 3.1.2 LG SP8YA are concerned.  Looking at the former, I saw it to be better built and playing surround content and not downmix it to stereo.  Nonetheless, I discovered that SP8YA comes with more wireless playback options. Besides, it can get louder, but with more compression at maximum volume.
About LG SN9YG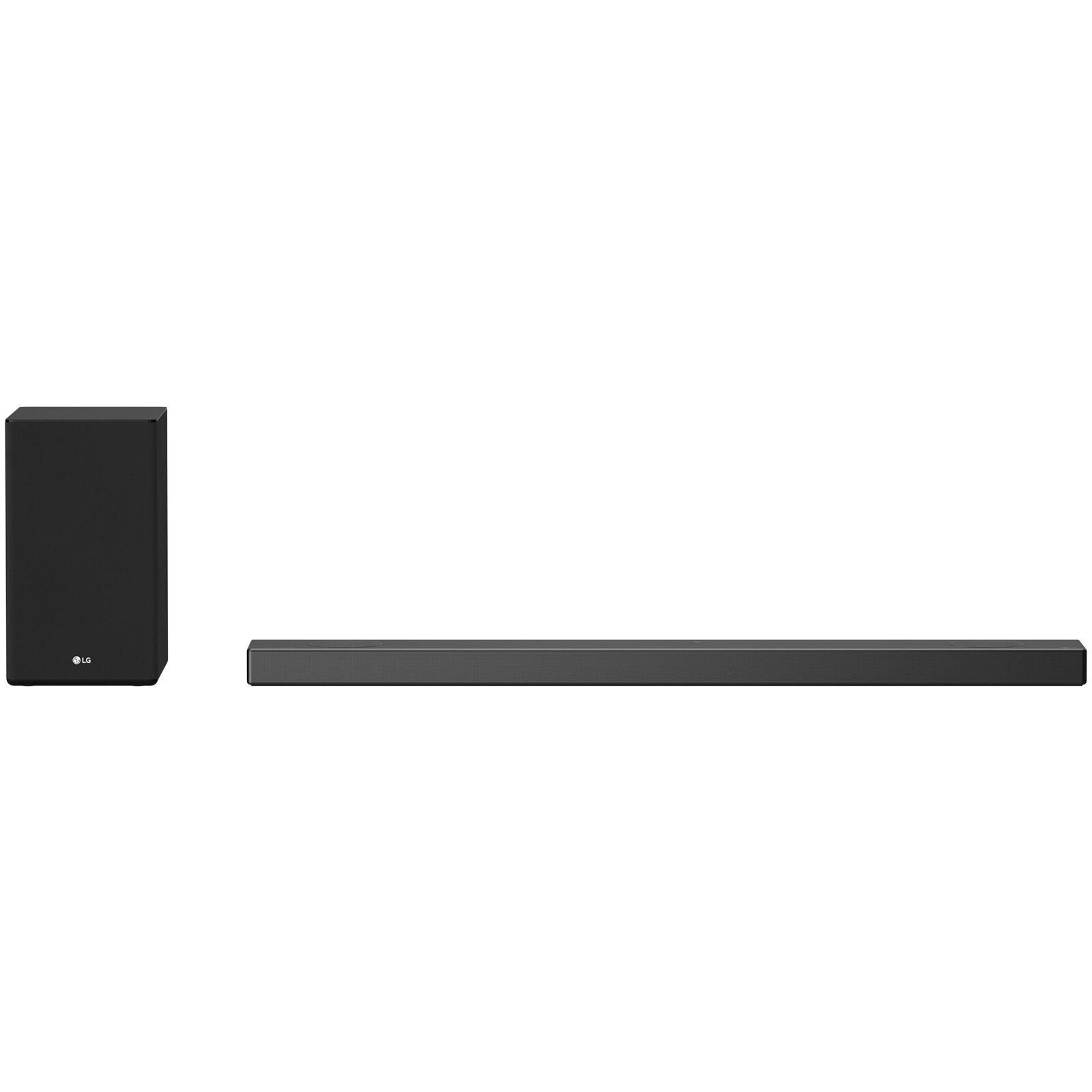 The LG SN9YG is the 2020 well-built 5.1.2 setup soundbar that features a bass-heavy sound profile. It is perfect for different audio content, and for a different sound profile, it comes with numerous sound enhancement features that can help with a perfect adjustment and customization. It also features room correction, even though it's only available through the companion app.
This product can get loud with few thumping or compression artifacts and supports Atmos content.  It comes with numerous options under physical inputs and wireless connectivity, which makes playing your content from the bar very easy. More so, the soundbar can be used as a hub between TV and any other device such as a gaming console.
LG SN9YG Pros
Supports Atmos for an optimal experience
Comes with dialogue enhancement and room correction features
Features EQ presets
Can get loud easily
Cons
Distortion at maximum volume
About LG SP8YA
The LG SP8YA is a 2022 well-built 3.1.2 setup soundbar that features more EQ presets and a 2021 LG TV AI Processor. If you have a compatible LG TV, you can sync up the bar with the speakers to get a more immersive sound.
Furthermore, the AI Room Calibration feature of the soundbar can adjust audio reproduction automatically according to the unique acoustic characteristics of the space you place the bar. Because of this feature, it is characterized by a bass-heavy sound profile that gives additional thump and punch to your audio. Besides, the soundbar can also support DTS: X content and Dolby Atmos.
LG SP8YA Pros
Comes with numerous wireless playback options
Can get loud
Features bass and treble adjustments
Cons
Has no dedicated surround channel
Downmixes it to stereo when playing surround signal
LG SN9YG vs SP8YA Comparison
| | | |
| --- | --- | --- |
| Specs and Features | LG SN9YG | LG SP8YA |
| Total Sound Outputs | 520W | 440W |
| Number of Channels | 5.1.2 | 3.1.2 |
| Satellite | No | No |
| Dimensions (Bar) | Width 48.0″ (121.9 cm)Height 2.2″ (5.6 cm)Depth 5.7″ (14.4 cm) | Width 41.7″ (106.0 cm)Height 2.2″ (5.6 cm)Depth 4.7″ (12.0 cm)  |
| Dimensions (Subwoofer) | Width 8.7″ (22.1 cm)Height 15.4″ (39.0 cm)Depth 12.3″ (31.2 cm) | Width 8.7″ (22.1 cm)Height 15.4″ (39.0 cm)Depth 12.3″ (31.2 cm) |
| In The Box   | Optical cableRemote and x2 AAA batteriesPower cable for subwooferWall-mounting brackets and screwsWall-mounting templateManual | Optical cable2x power cablesMounting brackets with screwsAdapter for the soundbarManual with mounting templateRemote with battery |
| Bluetooth | Yes | Yes |
| Wi-Fi | Yes | Yes |
| Surround Sound | Phantom (Side Firing, Bar) | Stereo (Downmix) |
| Height (Atmos)   | Phantom (Up Firing, Bar) | Phantom (Up Firing, Bar) |
| EQ | Presets | Presets |
| Audio Format Support – ARC   | eARC Dolby Atmos Dolby Digital Dolby Digital Plus DTS DTS:X (eARC only) Dolby TrueHD (eARC only) DTS-HD MA (eARC only) 5.1 PCM (eARC only) | eARC Dolby Atmos Dolby Digital Dolby Digital Plus DTS DTS:X (eARC only) Dolby TrueHD (eARC only) DTS-HD MA (eARC only) 5.1 PCM (eARC only) |
| Audio Format Support – Optical   | Dolby Digital DTS   | Dolby Digital DTS   |
| Chromecast built-in | Yes | Yes |
| Apple AirPlay | No | Yes |
Differences Between LG SN9YG and LG SP8YA
Here are the major differences between these two soundbars
Design
The obvious difference between the two soundbars is on their corner: LG SN9YG appears to be elbow, while the SP8YA is apparently curved. Also, the dimension (bar) of the SN9YG is bigger and it's around 122.9 cm × 5.6 cm × 14.4 cm, while that of SP8YA is around 106 cm × 5.6 cm × 12 cm.
LG SN9YG soundbar features an acceptable surround performance. It's a product that uses side-firing speakers, which helps bounce sound away from the walls and thereby providing an impression of a wider surround sound. Nonetheless, its setup doesn't offer the perfect and clear representation of the surround objects that fall within its soundstage. Besides, it doesn't feel as real as a discrete surround made by home theater speakers.
Unlike LG SN9YG, the surround performance of the LG SP8YA is poor. To play it, downmixing surround content into stereo is required. Therefore, sound objects such as footsteps and voices are not as localized accurately in the soundstage. In addition, audio sounds look like it's coming from your front rather than from the speakers positioned strategically around you.
Stereo Frequency Response
The LG SN9YG soundbar features a great stereo frequency response. If set as "standard " mode, it has a little bass-heavy sound. With it, you can enjoy your favorite albums and podcasts. In case you want a different sound, you can explore different EQ presets with this soundbar. The product also features a room correction, which can improve audio reproduction based on your room acoustics; nevertheless, this feature is only available through its companion app.
For the LG SP8YA, several different bass and treble calibration settings were used as test tools; however, one of these settings brought the slop of its stereo frequency response closer to zero. So, the default settings are recommended if a more neutral sound is preferred.
The LG SN9YG features a decent stereo soundstage. The bar is large and its soundstage is about the size of the bar itself. The sound produced by the product is focused, so objects come from specific locations rather than from a general area.
Just like the LG SP9YA, the stereo soundstage performance of the LG SP8YA is also decent. However, the soundstage is a little bit wider than the bar itself. The sound is also decent, but the objects such as footsteps and voices appear to come from a more general area and not from a specific location.
The Verdict 
Do you seek a soundbar for mixed-use? LG SN9YG is an ideal product. It features, exceptionally, a bass-heavy sound profile that is great for action movies. Also, users will enjoy other EQ presets that are great for your audio content. Although the height performance of this product is poor, it supports Atmos. Interestingly, it's loud enough for a crowded or large room.
Moreover, it can deliver dialogue clearly when using it for TV shows. It also comes with other fantastic features such as dialogue enhancement and room correction.
The LG SP8YA is perfect for mixed usage. Featuring room correction, it provides, when turned on, a bass-heavy sound profile that improves your audio by adding extra punch and thump; with this, you will enjoy the rumble in your action-packed movies and bass-heavy music. Besides, it comes with many sound customization features and it supports Dolby Atmos content. Nevertheless, to play surround content, the soundbar needs to downmix it, which will not sound very immersive.