This Luxman 505UXII and McIntosh MA5300 that we are looking at today is putting two of the heavyweights when it comes to high-end amplifiers in the ring together. Both the McIntosh MA5300 and the Luxman 505UXII have a very positive reputation online. I thought today I would take a look at these two mythical amps, look at their design, how much they are currently going for and what people seem to be saying about the sound quality that these bring to your music collection too.
The Price
The first category in our both amplifiers showdown that we are looking at is the price. This is a bit trickier than normal as I had a really hard time tracking these things down online.
Luxman 505UXII:
You would be easily looking at around the $4,000 to $5,000 mark for a new Luxman 505UXII from a dedicated retailer. This is actually regarded as one of the more "entry level" amps from Luxman which is kind of crazy when we are talking about something being entry level when it costs thousands of dollars! You have to do a bit of shopping around with this to make sure you are getting the best deal. On eBay, you can find this for around the $2,000 to $3,000 mark, some of which even include postage! I think that there really are some great deals to be had with this if you are patient and willing to do some leg work online.
McIntosh MA5300: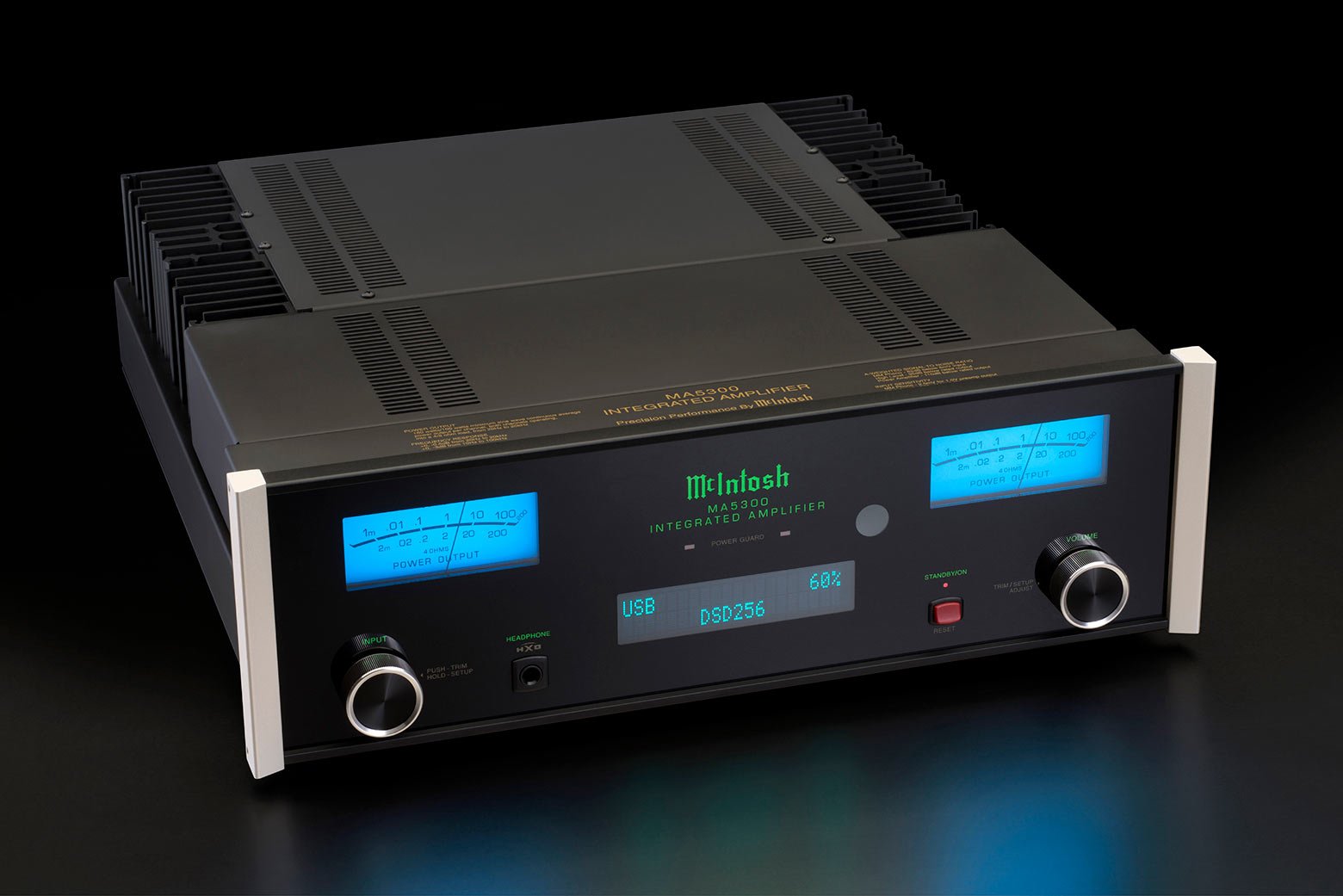 A buddy of mine who lives in Manchester picked one of these up when it first came out and it cost him over 6 thousand pounds! So yeah, this is a bit expensive if you were to buy one new. I would say you are easily looking at $5,000 to $6,00 for the McIntosh MA5300. I had a quick look on eBay and at the moment there are not too many of these on there. To be honest, I think the reason for that is this is such a popular and well thought of amp, that those who have it do not want to part with it.
The Verdict: 
This round is hard to call as these are both quite hard to find new, you really do have to search if you want one of these. I would have to say that from my experience, there do seem to be more deals for the Luxman 505UXIII. However, for me personally, I think that you are getting more bang for your buck with the McIntosh MA5300.
The Design
This comparison of both amplifiers has one of the most exciting design rounds of any of these types of VS articles that I have done. The reason I say this is because these are two very different looking amplifiers! As they do look so different, it is hard to say which one is definitively the best, it is more of a personal preference type of thing.
Luxman 505UXII: 
Classy is the first word that pops into my mind when I look at the Luxman 505UXII. This comes in at 17.3" x 7.0" x 17.8" so it is not huge, but it still has an impressive look about it. I just love the classic design that this amp has, it really does look awesome. You have that night lit up display right in the middle which I am a huge fan of. Either side of this we have larger dials, one for the volume and the other for input selection. Along the bottom, we have six smaller dials that are there to give you precise control over the sound. I usually prefer black audio equipment over silver, but the silver (and a kind of grey) that they have used here really do pop and look awesome.
Before we get to the back, be sure to have a look at this Luxman L-505uXII Class AB Integrated Amplifier video that shows the design of this thing off very well. The back of the Luxman 505UXII is pretty much what you would expect. You have more than enough analog ports to keep you happy and the whole back has a nice and clean interface. It is very easy to figure out what "source" each set of inputs is. I really do appreciate how clean and easy to navigate Luxman have made the back of this. Luxman are one of the best for a reason and the overall design of this amp is a prime example of that.
McIntosh MA5300: 
From the front, the McIntosh MA5300 ticks all the boxes when it comes to what I like from an amplifier. This thing just looks so cool, of course, the fact that this is black is something I really do like. The dimensions of this are, 7.1/2″ x 6″ x 22″ making it quite compact for a higher end amp. I read somewhere that it offers the McIntosh quality, but on a much smaller scale. This has a more modern design to it, you have a display on the right and left side, instead of in the middle like most amps do. However, you also have an LCD in the middle that gives you the source information and stuff like that which is cool. The front only has a source and a volume button, each one under one of the displays. My one complaint is that the standby/reset button is red and it sticks out like a sore thumb! If I had this, my OCD would make me have to change that red button to black!
On the back, you have your various inputs and this as well as having analog does also have two digital optical ports as well and the built in DAC is pretty awesome, but more on that later. You have all the ports that you could want on here, I know for me personally, this would be more than enough to handle my setup. Now as much as I like the design of this, the rest of the amp is not flush with the front, it has a kind of car stereo thing going on. I do not dislike it, but I would have preferred if it was all the same size if that makes sense. This McIntosh MA5300 Integrated Amplifier Unboxing is pretty good for showing you what exactly you are getting with this amp.
The Verdict: 
This is such a tough one to call. These are two very differently designed amps and I like the design of both of them. Even though the McIntosh has that ugly red button, I do think I like the design of that more. It has a cleaner and more modern look which appeals to my personal taste more. Hey, if you say you prefer the Luxman 505UXII I would not argue with you as like I said, this is certainly a personal preference decision as they both look great in their own way.
The Sound
We come to the main category of these amplifiers contest and that is looking at the sound you can expect to get from these amps. Look, these are two very high-quality amps so chances are you are going to be very happy with the sound that both of these things provide! Still, let's take a closer look so you have a better idea of what to expect.
Luxman 505UXII: 
If you look around on the various audio forums the Luxman 505UXII does have quite a solid reputation. While the more improved models like the 507 for example are taking what is done here and improving on it, this is still a fantastic amp in its own right. Getting rid of distortion is something that Luxman takes a lot of pride in and once you get this thing properly broken in and have it set just the way you want your favorite records are well and truly going to shine. Stuff like the epic The Dark Side of the Moon by Pink Floyd which has all kinds of musical instrumentation and haunting vocals is going to be able to sound phenomenal when pumped through this.
If you have a look at this Luxman L-505uX II Review, Best Amplifier Under $5,000? video, you can get a better idea of what to expect from the Luxman 505UXII when it comes to its performance. I think that the mid range here is great and even when pumped all the way up, there is next to no distortion. I do feel that some later amps, get a bit better vocal performance than you are getting here. I actually listened to my favorite Genesis album, We Can't Dance with this and even without playing around with the different dials or the remote, the sound was fantastic.
McIntosh MA5300: 
I know that the smaller stature of the McIntosh MA5300 may make some people think it is lacking in the power department, but I did not find that to be the case at all. I suggest you look at this My Thoughts After 1 Year Of Ownership: McIntosh MA5300 Integrated Amplifier video as this guy has well and truly put his McIntosh MA5300 through the wringer so his views are very valid. I was very impressed with the performance of this, the first record I tested out with this was Leftoverture by Kansas. Despite being a huge rock fan and even listening to a great deal of 70s and 80s rock, Kansas was not a band I really embraced until Carry on Wayward Son was used in the show, Supernatural! Anyway, it sounded fantastic through this and I was very impressed at just how much kick this thing offered, despite its less than massive size.
I know that there are bigger and better amps out there, including more than a few from McIntosh themselves. However, I think that this really is a great amp and unless you have something bigger and more powerful to compare it with right next to it, you will never think there is anything lacking here at all. I do also like the way that it has two optical ports as well for digital connection, the DAC as well is a very nice touch, stuff like this just gives you more listening options and more options is never a bad thing.
The Verdict: 
Both the Luxman 505UXII and the McIntosh MA5300 sound fantastic. There is not a great deal between the two of these, to be honest with you. However, for my ears, the McIntosh just had a little bit more punch and personality to the sound. You could not go wrong with either of these and it is so close if I were to test these a year from now, I may even go the other way.
The Remote Control
Oh yeah, time to look at the remote control. I am always a fan of a cool remote control and this part of our Luxman and McIntosh amps is looking at how we are going to be able to control these and get the sound just the way we want it.
Luxman 505UXII:
Much like the amp itself the remote control for the Luxman 505UXII has a very classic and retro style to it.  Back in the early 80s, we had this VCR that had a remote that you had to physically plug into the VCR and this remote reminds me of that. It is silver with black buttons and it has all the buttons that you need to do stuff like change the source, the volume and play around with the sound a bit too. In all, it is a good remote and fits the style of the Luxman 505UXII very well.
McIntosh MA5300: 
The McIntosh MA5300 comes with a remote control that I really do like. This remote control has a kind of TV remote control vibe to it, well an older one as TVs these days tend to have smaller remotes. I like how large this thing is and it is packed with buttons, buttons that give you complete control over the amp. This is a good thing as unlike the Luxman, you do not have a whole bunch of dials on here. The remote overall feels great and I think the style of it fits the way the amp looks pretty damn well.
The Verdict: 
If you have read any of these other styles of VS articles that I have done you will probably know which way this is going to go. While I like the remote that comes with the Luxman 505UXII and think it is perfectly functional and has a cool retro style. I much prefer the size, design, and look of the McIntosh MA5300 remote control. Like the overall design of the amp, this really is a personal preference thing and I could easily see why someone would prefer the other remote control.
What Is The Best?
It is great when I do an article like these two amplifiers as I get to check out two fantastic products. I think if you were to do a survey of people who have used both of these and ask what they like best out of the Luxman 505UXII and the McIntosh MA5300, you would get a very mixed response. The reason I say that is because these are two fantastic amplifiers and there is no real right or wrong answer here. For me, the McIntosh takes the win. I say that because I like the design of it better and I think the fact that it also supports digital in addition to analog gives you more options. No matter which one of these you like best, make sure you do a lot of looking around as there are some fantastic deals to be found for both of these.