Want to know what the best software for recording vinyl to computer is? Well, you have come to the right place, my friend. As you can tell here on the site we love collecting vinyl just look at OUR 5 BEST CLASSIC ROCK VINYL FOR 2022 and OUR 10 BEST HIP HOP VINYL FOR 2022  articles and you will see just how much we love adding new records to our collection. There are many reasons for wanting to do this and today we are not just looking at the best (well what we think are the best) pieces of software that allow this, but also looking at why you would want to do this to your record collection.
Why It Is A Good Idea To Rip Your Records To Your Computer
Before we get to what the best software for recording vinyl to computer is, we want to look at a few of the reasons as to why you would want to do this in the first place.
It Keeps Your Vinyl Safe
Look nothing will ever replace listening to music on vinyl, but if you are a collector, you will no doubt have some records that are rare, expensive, and pretty much irreplaceable to you. A great example of one that I have is Iron Maiden: Live After Death, even the re-release of this goes for a lot of money, but I have an original first pressing that my dad bought back in the day and it truly is irreplaceable to me, so much so that I never listen to this original recording, it is just a collector's item for me. By ripping your rarer vinyl to your computer, you can still listen to the music all the while preserving the actual record.
It Keeps Your Music Collection Close By
I work from home and as much as I love to listen to my records, if I am working and in the mood to listen to Cross Road by Bon Jovi, I am not going to get up, leave my office, go to my record collection, find the album, come back to my office and then put it on and then have to get back up again to turn it over! By having all my music ripped to my computer, I am able to enjoy my music collection much more conveniently. Plus, you can then put it on your phone so that you can listen to it outside of the house as well.
What Do I Need To Record My Vinyl To My Computer?
Here we are looking at how you would go about recording your records to your computer. You need to know this before you start looking for the best software for recording vinyl to computer!
A USB Turntable And USB Cable
I would wager that most houses will have a USB cable or two these days laying around. You can get these in most dollar stores or even off Amazon, they cost next to nothing. Now, if you have a turntable like this awesome Audio-Technica AT-LP120XUSB-BK Direct-Drive Turntable you would just connect the USB from your turntable to your computer, fire up the software you have decided to go for and that is pretty much it. It really is that simple, if you have taken stuff on and off your phone via your computer before, this is essentially the same kind of thing. Just make sure you know for sure what kind of USB cable you need for your computer.
What If I Do Not Have A USB Port On My Turntable?
If you do not have a turntable with a USB like this LP&No.1 Bluetooth Turntable Hi-fi System for example. You may be wondering how the heck you connect it to your computer. Well, it is actually pretty simple and not as much of a headache as you may be thinking that it is. All you need is something like this DIGITNOW USB Audio Capture Card Grabber for Vinyl Cassette Tapes to Digital MP3 Converter. You plug your turntable cables into this device, plug the device into your computer and fire up your software, it really is that simple! There are many brands of these devices out there and at the most, you are looking at like 20 bucks.
The 5 Best Software For Recording Vinyl To Computer
Ok, so here we are, what you came here for. Here are our picks for when it comes to the best software for recording vinyl to computer.
Golden Records Vinyl and Cassette to MP3 or CD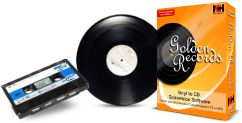 I know that the name, Golden Records Vinyl and Cassette to MP3 or CD software may be a bit of a mouthful, but this is delivering exactly what it says it is! This is another piece of free software and I felt that it had to make our best software for recording vinyl to computer list. Plus, this is the one that I actually use myself all the time. This is pretty basic, but I mean that in a good way, I am not the most computer literate person in the world, but I did mess around with this and managed to record a few of my albums such as 2020 by Bon Jovi which I have been meaning to do for ages. It is very simple to use and I loved the user interface here.
Once you connect your turntable up and set it off, you can then decide what you want it to do. You could even have it put your record onto a CD, if your computer still has a CD drive on it of course. There are a few options on here that I like too such as the ability to try and restore the sound quality. I found this old beat up Purple Rain at a thrift store that sounded pretty bad and I tested out the "restore" functions here and it actually did clean it up a bit which was pretty cool. I could actually see myself having a lot of fun with this and messing around with records that sound terrible because of age, damage, or whatever and seeing what this could do with them.
Pros:
They have made this very simple to use
If you still have a CD player, you can use this to put your records on CD
I like the UI and how easy it is to figure out
This is completely free to use!
Cons:
It may be a tad basic in some regards for some people
Audacity
One of the most popular and highest rated pieces of vinyl recording software out there is Audacity which is a piece of software that I am very familiar with and have used many times. This keeps things nice and simple, you just connect your computer and record player together, fire up the software and it literally does everything for you. It makes it very easy to organize your collection too. I would say that if you are not much of a computer savvy person, Audacity is probably the best option for you.
While I just wanted some software for recording my records, Audacity does also have some fantastic options that let you play around with your music. You can edit tracks, reorganize them, and do all other kinds of fun stuff. This is way over my head, but for those that think it sounds interesting, it could be fun. Oh, Audacity is completely free to use as well so you have nothing to lose by trying it out. As I said, this is the software that I use and to be honest with you I could not see myself moving on from this. I actually used this software just last night to record Unlimited Love by the Red Hot Chili Peppers on my computer so I could put it on my phone and listen to it at the gym!
Pros:
The user interface is fantastic
They have made this as easy to use as possible
It does not cost you anything to use
There are advanced options for those that want to play around with their music
Cons:
The editing options are not for me at all and are way too advanced!
Spin It Again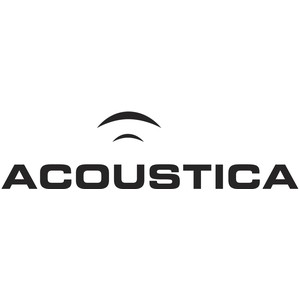 While the first two we looked at on our best software for recording computer to vinyl list were completely free to use, Spin It Again here is something that you will have to pay for. However, they do let you try it out for free so you can see if you like it. Still, I messed around with the free version for a bit and felt that it was worthy of making an appearance on this list. One of the things that I think may make this very appealing for people is the number of editing options that it gives you once you have ripped your record. I am talking about things like tinkering with the bass, treble, vocal clarity, and so on. If you like to play music producer, you can have a lot of fun with this.
Another thing that I liked about Spin It Again was how it allowed you to clean up the sound of your records. If you are like me and love picking up vinyl in places like thrift stores, flea markets, and garage sales, you will come across some records that are in pretty bad shape and do not sound all that great. This software has some pretty neat clean up options that I can tell you first hand thanks to a nasty Meat Loaf Bat Out of Hell II: Back Into Hell album I found at a thrift store can make a pretty big difference!
Pros:
The free version gives you an idea of what it is like
It has a sleek and intuitive US
The people who make this seem pretty cool
It has some nice options for cleaning up the sound of your records
Cons:
It is going to cost you around 20 bucks to fully unlock everything that this offers
ION EZ Vinyl/Tape Converter
Next up we have the ION EZ Vinyl/Tape Converter which a friend of mine insisted on being on this list as this is what he personally uses. I can see why so many people hold this in such high regard. Not wanting to disappoint my buddy, I did end up ripping a few records such as The Dirt Soundtrack which is the soundtrack to the epic Netflix movie about Motley Crue. Anyway, it was very easy once I had my turntable hooked up to this to get it going. It is very easy to figure out and it is not too option heavy which is something a computer novice like me really does appreciate.
Like the other things we have looked at on this best software for recording vinyl to computer list, you can have some fun trying to clean up your records and getting the sound a bit better here. One feature that my friend loves (and most other pieces of software offer too actually) is how you can reorganize the tracks if you want. He has done this to make his own cuts of albums that he feels flow better with the way he has organized the songs. I am more of a "shuffle" kind of guy when it comes to listening to music on my computer or phone, but I can see why some people would like this feature.
Pros:
I like how barebones the UI is
They have made sure this is very simple to use
It has some neat options for cleaning up and playing with your music
This is not going to cost you anything to use!
Cons:
Not the most advanced piece of software which may not be ideal for some folks
VinylStudio

Last, but by no means least we have VinylStudio. I really only put this on here because I wanted to have five pieces of software. However, the version I checked out was the free trial, but it was pretty basic with most of the features being behind a paywall. Hey, I get it, when you have a piece of software that is more "professional" you do have to charge people for it. I do know that if you want to record, edit and get the sound improved, you can do all that here and more. I only recorded a couple of records to test this out, one of which was Tickets To My Downfall by Machine Gun Kelly and it worked fine and I found it very easy to use.
As I never paid for the full version, I could not play around with all of the features, but I do think for those that want something that is a bit more in-depth, especially when it comes to editing options, VinylStudio could be for you. There are two versions available, the Standard Version is 30 bucks and the Pro Version is 50, be sure to look at what each version offers so you know for sure what you are getting.
Pros:
There is a free trial that you can use
There are two premium versions to consider
I found it easy enough to use
It has some more advanced editing options for those that want that kind of thing
Cons:
You will have to pay if you want to use all of the features
Which Is The Best Software for Recording Vinyl to Computer?
When it comes to the best software for recording vinyl to computer, I am going to have to say that my personal favorite is Golden Records Vinyl and Cassette to MP3 or CD software it is the one that I personally use on pretty much a weekly basis whenever I get a new record and I have never had an issue with it. As far as a runner up goes, I would probably say that Audacity would be my next recommendation. As many of these are free, I would suggest that you try them all out and see which one is the best fit for you.