I knew before I even started this is a vacuum tube amplifier or solid state amplifier better for vinyl article that I was bound to have a few people angry at me for what I had to say. That is why I am going to try and sit on the fence and stay in the middle so we can try and see what the best each style has to offer. Not too long ago we did look at THE 6 BEST TUBE PREAMPS UNDER 500 REVIEWS IN 2022 which was fun. We have also looked at a ton of solid state amps such as the ones in this BOULDER 866 VS SOULUTION 330 WHAT'S THE DIFFERENCE? comparison article we did. Today we are looking at the best of both worlds so you can try and come up with your own opinion. Plus, I may even let you in on which way I swing on this argument as we get to the end of it all.
There Is No Right Answer!
Look, before we dive deep into this, I have to say that people like what they like. For example, while I love both bands, Poisons Open Up And Say Ahh! will always be the ultimate 80s hair metal album for me. However, I have a friend who always argues that Slippery When Wet Bon Jovi is better. They are both great, but I prefer one over the other and he is the same. The point I am trying to make here is that I tend to find that people seem to prefer what they know better and that is ok. Just try and keep an open mind. At the end of the day, there are pros and cons for each style of amplifier.
Going Head To Head
I decided that I would pick three tube amps and three solid state amps and give all of them a fair looking at so we can try and see which is the best for you.
Vacuum Tube Amplifiers
Here I have a few quality vacuum tube amplifiers that will try and sway you to their side in this is a vacuum tube amplifier or solid state amplifier better for vinyl debate.
Nobsound NS-01P Tube Preamp Preamplifier
I did actually look at the Nobsound NS-01P Tube Preamp Preamplifier a while back and while the reviews were kind of mixed, I really liked it. You can usually find this in the 250 to 300 bucks range which I think is a very fair price. It has a very cool style, actually, I would probably say that this is the most stylish (in my humble opinion) of all the tube amplifiers that I have had the pleasure to play around with over the years. It just looks so cool, a real showcase kind of amplifier that is really going to draw eyes toward it.
I will say that you do have to mess around with your settings to get this just right, but I ended up listening to Nirvana: Live at the Paramount and I was very impressed by the warmth, clarity, and just how much ass it kicked thanks to this amp. Even a song like Breed had a real edge to it that made me say wow. I think that if you want to get some real bang for your buck and still want that exceptional kind of quality, this is a vacuum tube amp that is very hard to beat.
Pros:
I really do love the style of this amp
It is very affordable
The build quality of this is very impressive
Once you get it just right, the sound quality is phenomenal
Cons:
A fair bit of breaking in is required
The silver design of it may not fit the rest of your setup
YAQIN MC-84L 6P14 x4 Class A Vacuum Tube Integrated Amplifier
With a real retro and classic kind of vibe going on the YAQIN MC-84L 6P14 x4 Class, A Vacuum Tube Integrated Amplifier was a firm favorite of mine when I had the pleasure to look at it a while back. I knew that this would have to make an appearance on our is a vacuum tube amplifier or solid state amplifier better for vinyl article today! Now you are looking at the better part of 500 bucks for this, but you are getting some great value for your money here. It has a very stylish look to it, kind of the thing I could imagine my grandparents having in the 70s thanks to that woodgrain kind of style it is offering.
You can actually see (and hear) this thing in all its glory thanks to this Yaqin MC-84L Tube Integrated Amp video. The sound quality here is great when I had the pleasure of testing this out a while back, it was the title track from Crazy Nights by Kiss that I tested out first and out of the box, I was very impressed by this. Granted it had been broken in, but still, this blew me away and that was before I played around with any of the various settings that I like to mess with. For someone that is willing to spend the time to get this set up just right, I truly do think they will be blown away by this.
Pros:
I like the classic/retro vibe the design has going on
The sound was very impressive
The build quality of this vacuum tube amplifier is fantastic
Many people love this!
Cons:
You are looking at close to 500 bucks for this
To truly get the best out of this, you have to play around with your setup
Pro-Ject Tube Box DS2
The last vacuum tube amplifier I want to talk about today is the Pro-Ject Tube Box DS2 which is one that I hold in very high regard. As I write this, Amazon actually has this in stock and it is priced at $899, so the price for this thing is starting to creep up as I am sure it was less the last time I checked this out. Anyway, the black design of this is what makes this for me. It has a very 80s style to it, but at the same time, it also has a modern look as well. Ok, so that is a massive contradiction I know, but let me just say it would look awesome with a modern turntable next to it or a classic Vintage Rare Sony PS-FL7 Stereo Turntable if you are lucky enough to have one! It just oozes class and it is the kind of thing that I know for a fact I would be happy to have in my own house.
The sound quality is probably the best out of the three we have looked at today. Look, I know that sound is subjective, but man this impressed the hell out of me. Look, I am a rocker, but I love to get mellow too so I fired up some River of Dreams by Billy Joel which still after all these years has one of the creepiest album covers I have ever seen. Look, the clarity, the warmth, and the overall balanced sound that this brings to your vinyl collection is excellent. I am sure there are many other, much more expensive vacuum tube amps out there that "audiophiles" will say are far better, but for me, this is probably one of the best I have had the pleasure to check out.
Pros:
I love the black version of this amp
You can get another color if you want
The sound quality is some of the best I have heard from a vacuum tube amplifier
It is built like a tank!
Cons:
It is the most expensive of the amps we have looked at here
This design may not be everyone's cup of tea
Solid State Amplifier
Here are three awesome solid state amplifiers for you to consider as we try to figure out, is a vacuum tube amplifier or solid state amplifier better for vinyl.
McIntosh MA7200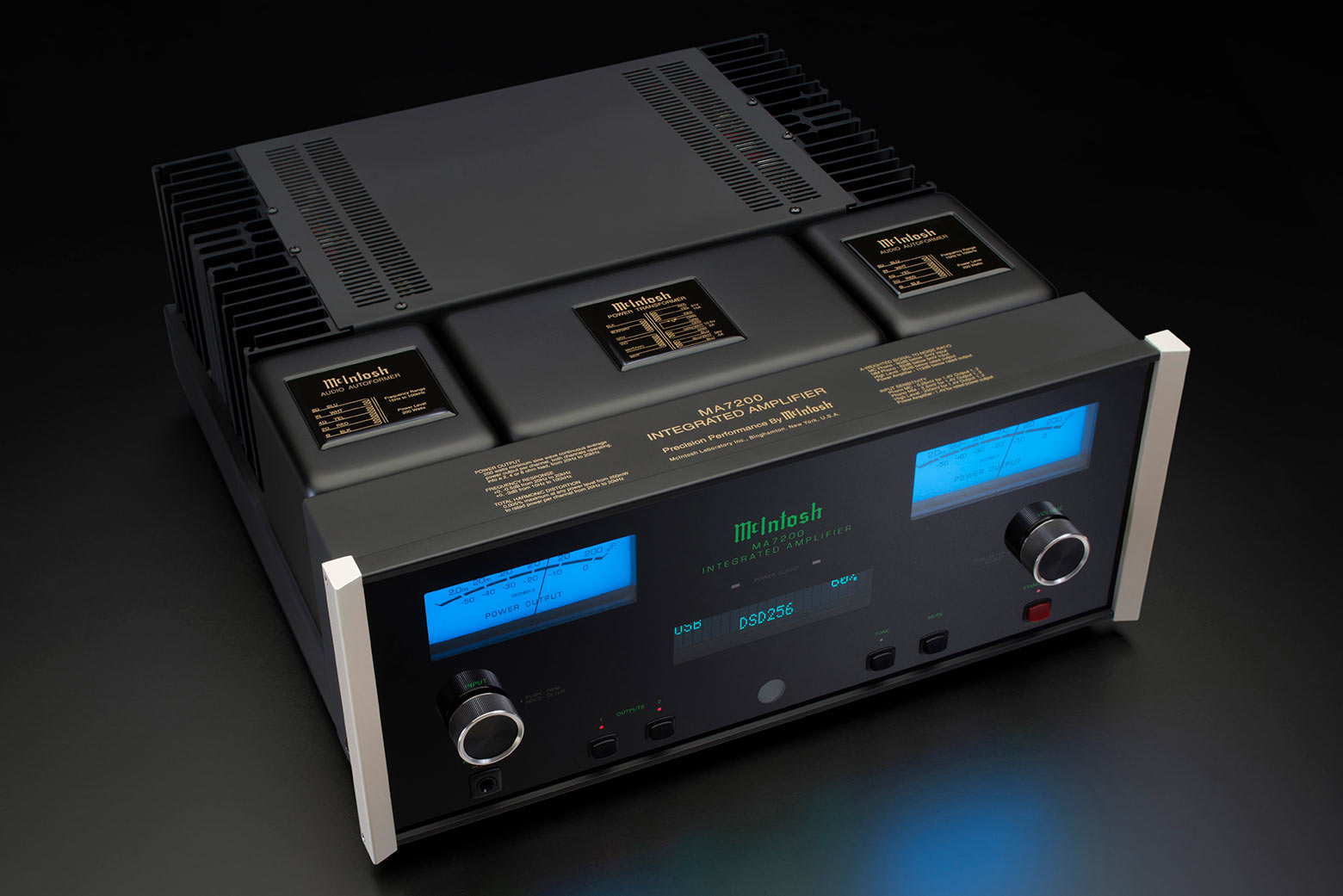 We are starting off with an amp that I hold in very high regard and that is the McIntosh MA7200. I will admit right off the bat that the 8 grand asking price you are probably looking at for this is very, very high. However, this is one of the best amps that I have had the pleasure of playing around with. To start with the design could not be any more epic! It may be on the large side, but that is something I actually like about this. The shade of black that they have used here fits my style pretty much perfectly and I love the LCD, and the dials and it also boasts a very impressive selection of inputs too! While we are looking at an amp for playing vinyl, the McIntosh MA7200 does also have a DAC so your CD collection is covered too.
What really impressed me the first time that I tested out the McIntosh MA7200 was its raw power. Not only can this thing get loud so you can listen to Appetite For Destruction as loud as you want or as loud as your significant other will allow! It never loses any clarity, no matter the volume you are playing it at. I was well and truly mind-blown at what I was experiencing with this. Honestly, if you want an amp that can do it all, this can do it! My wife is a big Cher fan so we listened to Believe which is an album I can take or leave, to be honest with you. Anyway, I noticed for music that has a more "digital" vibe to it, this thing really comes into its own. I know that the asking price for this puts it out of reach for most people, myself included. However, I can pretty much guarantee that if I won the lottery and could get any amp I wanted, this one would 100 percent be in the conversation.
Pros:
This has such a cool style about it
The DAC means you can listen to all your music, not just vinyl
The power this provides is very impressive
Even when cranked all the way up, clarity is second to none!
Cons:
That asking price is pretty insane
While I love the black design, it may not be ideal for your setup
Luxman L-509X
I had to put the Luxman L-509X on this list! You are looking at around ten thousand bucks for this, but to b fair, there are many videos like this Luxman L-509X HiFi Integrated Amplifier Review – Sensational video that goes into great detail as to why this is one of the best amps around. What I love about this is just how old-school and industrial the thing looks. Those two large dials the generous number of dials on the bottom to give you direct control and of course, the impressive amount of hookups on the back. It is so easy to see why this is an amp that so many people fall in love with the very first time they use it. It does not have a DAC built in, but to be fair, this is a vacuum tube amplifier or solid state amplifier better for vinyl quest we are on today is all about vinyl. Anyway, you can buy an extra board if you want to add a DAC so you can use this with your digital music collection.
I liked playing around with the different dials on this and I got the sound to just the way I liked it and it was very impressive. I want to single out a live album, Live at Hammersmith by The Darkness. These guys are a lot of fun and the way that this handles live music truly made me feel like I was there in that crowd… which I actually was, but still, this amp did wonders at bringing me right back there. I think that no matter the kind of music you like to listen to, this is going to give you a real kind of sound that was exactly what the artists and producers intended.
Pros:
While expensive, it is in line with other similar amplifiers
I love the whole style of this amp!
It has a nice number of ports on the back
You could buy the DAC attachment if you want
Cons:
That DAC attachment is cool, but it is very expensive!
The style may be a tad too "submarine" like for some people
Hegel H590
I really wanted to add the Hegel H590 to this list as it is an amp that I know very well. You are looking at somewhere between $10,000 and $11,000 so be sure to shop around for this one. This is a pretty good sized amp, it is large, but not too large like some other higher-end amplifiers can sometimes be. Out of all the amps on this list, this is the one that fits my style best. It has a smart black design; it is lifted the perfect amount off the ground thanks to the feet and it has a very stylish and simple LCD right in the center. It may lack a ton of dials and buttons, but that is actually something I really like about this.
When I had the pleasure of being able to test this bad boy out, I was in a real 90s rap kind of mood. When I am in that kind of mood, Doggystyle by Snoop Dogg (or Snoop Doggy Dogg as he was known back then) is one of my go to records. Man, it sounded fantastic, the instrumentation was on point and the vocal clarity was truly outstanding. I usually go from Snoop to Dre, but on this day I was feeling some 2Pac so I put on, The Best of 2Pac. The song Trapped is one of my favorites and the clarity that this provided let me hear the song in a way I had never heard it before! Seriously, the kind of sound this is bringing to your record collection is something very, very special!
Pros:
I love the design of this
It is not as big or heavy as other high-end amps
It has a built in DAC so it is suitable for your entire music collection!
I do not think the price is that bad
Cons:
It may be a tad too simple looking for some
Could the LCD be a bit bigger?
So, Which Is The Best Style Of Amplifier?
I am not going to beat around the bush here, a solid state amplifier, especially one with a DAC is the way that I am going to go every time. I certainly respect and like tube amplifiers, but for me, a solid state will win each and every time. If I am being 100 percent honest with you, I notice very little in sound quality between the two. I feel that two amps no matter if one is a solid state the other is a vacuum tube or if you have two of the same style are going to sound slightly different.
We asked the question at the start of this thing, is a vacuum tube amplifier or solid state amplifier better for vinyl? I am saying that my answer is solid state, but that is a personal preference and if you were to ask my good buddy, he would say that he always prefers a vacuum tube amplifier!