There are too many oil filter brands in the market. If you are a car enthusiast or an owner, it can be overwhelming to decide which among them works best for your car engine. Each oil filter varies depending on the materials used in its components, durability, mileage, filtration rate, price, and others. All these factors may weigh differently depending on your preferences. In the pricier tier of oil filters in the market, we've set side-by-side two brands which you most probably consider purchasing: Purolator Boss and K&N oil filters, to make it easier for you to decide the best fit for your need for an oil filter.
Marketing aside, oil filters' name, in fact, has no contribution to its efficiency in protecting your car engine. What we are to do is not look at these products just for their brands, but intricately analyze their components, features, strengths, and weaknesses to know which can provide the best accompaniment to your car engine.
If a human body has a kidney, then a car engine has an oil filter. This algorithm works as both parts ensure that their hosts function smoothly without the interruption of unwanted objects. The oil filter is an important yet underrated part of a car engine. You probably know for sure that it serves two duties, filter out contaminants or waste that can damage the vehicle's engine, and put the oil in place. Which among Purolator Boss and K&N oil filters do you think does the job better? Let us see in the rest of this article.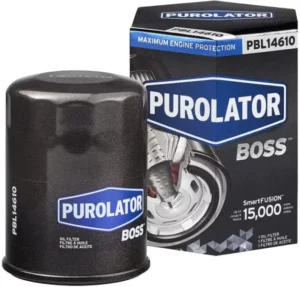 The Purolator Boss oil filter provides car engine protection for up to 20,000 miles of running. It uses full synthetic media which gives the oil filter a long endurance to chemical reactions from contaminants, so it can perform longer than those made of other materials.
Through ISO 4548-12, the filtration rate of this oil filter is determined. This means that the products underwent a multi-pass filtration test where numerous contaminants are injected into the oil that then goes through the oil filter to see how much it can screen out.
There is available data on how Purolator Boss stands compared to other oil filter brands in the market. While other brands like Fram and Royal Purple have more than a 90% efficiency rate at 15 microns, Purolator Boss oil filters perform at only a 20% filtration rate. This, however, increases to around 90% at 25 microns and can perform 99% efficiency in filtering out contaminants that sizes 35 microns and up. Such a number, still, is quite far lagging from other oil filter brands. For reference, a cheap oil filter has a filtration rate of 95% at 45 microns and almost 0% at 10 microns or less.
K&N oil filters are used for racing cars, which uses different oil and car engine than normal daily-purpose vehicles. A racing car engine produces extreme heat and pressure that is incomparable to that of normal cars. So, its oil is also crafted to keep up with this heat and pressure. Racing car oil has higher Hot Temperature/High Shear (HTHS) Viscosity Requirement of 3.7 mPas, which is 0.2 mPas higher than the oil used for ordinary cars.
In simple words, the K&N oil filters are known to withstand thicker and heavier oils that are used for race cars. This is also manifested in its design. It has a wrench-off design or a one-inch nut on top of its canister that makes its removal from the car engine easier than other brands. It also has numerous springs inside that keep all the components together and compact even when getting external pressure or shock, off-roading for example.
It has a filtration rate of 75% at 10 microns, 85% efficiency at 20 microns, and 95% at 25 microns. If we look at the data above, all of these numbers are better than that of the Purolator Boss oil filters.
Side-by-side-comparison
Here is a side-by-side comparison of the features of Purolator Boss and K&N oil filters.
| | | |
| --- | --- | --- |
| Features | Purolator Boss | K&N oil filters |
| Anti-drain back valve | Silicone | Silicone |
| Mileage | 15,000 | 10,000 |
| Bypass valve | Good design | Good design |
| Base Gasket | Nitrile Rubber | Nitrile Rubber |
| Weight (g) | 350.7 | 300 |
| Height (in) | 3.3 | 3.25 |
Both brands use silicone anti-drain back valve, which prevents the engine dry start for a long time. This material can also withstand extreme temperatures, which is a notable point so it can withstand the process of oil pump or delivery of oil all over the car engine. As for the mileage, Purolator Boss tops K&N oil filters with an additional 5,000 running mile capacity. They both have good bypass valve designs that control the pressure and allow the oil to travel to the car engine. Nitrile rubber base gasket gives the oil filter excellent resistance against fuels, oils, and grease, and makes this component tear-resistant and well-enduring.
Weight and height do not contribute to the efficiency of the oil filter, but their compatibility with your car engine's size would make a difference. Oversized or undersized oil filters can cause failures in your car engine's lubrication system, which you would not want to experience.
Purolator Boss has a price of $15 on Amazon while K&N oil filter's price is $17.5. While in a quick glance, Purolator Boss may have won this round, it is still up to your preference which among them would give the best protection for your car engine.
18K-Mile Test
Purolator Boss and K&N oil filter both underwent an 18K-mile test, where two car engines with respective oil filters were driven for 18,000 miles to see their condition afterward. The most prominent result for Purolator Boss is the low amount of contaminant in its filtering media. Given such length of traveling which equates to more than 10 months of no oil filter replacement, the Purolator Boss is expected to capture many metals, dust, and other waste on its media. But the test showed that it did not. This may be because the car engine was in good condition upon the execution of the test, but we cannot say for sure.
The K&N oil filter due to its thick canister remains strong and durable even after months of installation. The spring that kept its components together is still in good condition and still adds extra protection to the oil filter's parts, especially when receiving great pressure from the outside. The filter media also remains firm and in good shape even after some time. This test especially highlighted K&N's wrench-off feature that gave the tester an easier time removing the oil filter from the car engine.
Here, it seems that K&N bagged the win.
Conclusion
To summarize, Purolator Boss and K&N oil filters are made with almost similar materials. K&N varied a little on its design due to its wrench-off feature and additional spring inside. It also performed better on filtration rate for all micron-ratings. Lastly, Purolator Boss is used mostly in ordinary vehicles while K&N is known for racing car engines, which explains why the latter is more expensive than the former.
While this article laid out facts and reviews between the two brands, we are still in no position to decide which among them best fits your car engine. While others prioritize quality, some may also weigh price more. It is up to your preference to find the oil filter for your car engine. Which among the two would you entrust your car engine with? Let us know in the comment section below!