No matter if it is for music or for watching movies a good subwoofer can make all the difference. It can give you that really deep bass that makes listening to a live album extra special. It can also bring a pretty intense action scene in a movie to life! In all, a subwoofer is something that most people want in their entertainment center and that is why today I am looking at the best subwoofers between $300 to $500.
Why You Need A Subwoofer!
Now the average joe may not think a subwoofer is necessary. However, if you want a sound that is as real, rich and awesome as possible then you really do need a subwoofer. It kicks up the bass about ten notches and once you have watched a movie or even listened to your favorite album with a subwoofer, you cannot go back. A subwoofer works with your speakers and together they form a really powerful team that ensures you are getting a much better quality of sound.
Front Or Down Firing?
When you are looking for the best subwoofer between $300 to $500. You will notice that they are either front or down firing. This is actually pretty simple, the down firing one sends it down and the front one sends it out. I honestly could not say what one is better as this is a heated debate and all down to personal preference. I will say that most people will not actually even notice or care if the subwoofer they are getting is a front or down firing one. If you have had a subwoofer in the past and it was front firing and you were happy with that, stick with it and the same goes for a down firing one.
The Best Subwoofers Between $300 To $500 Reviews
Audioengine S8 Black 8-inch Powered Subwoofer
Klipsch R-12SW Subwoofer
SVS SB12-NSD – 12″, 400-watt DSP Controlled, Sealed Box Subwoofer
Klipsch 12″ 600W Powerful Subwoofer Cherry
Yamaha HS8 Studio Subwoofer
Definitive Technology SuperCube 2000 Subwoofer
Yamaha NS-SW300PN 20-160 Hz 250W Powered Subwoofer
I am a lucky man indeed in that I was sent five of what are regarded as the best subwoofers in this price range. I was able to test them out with movies and music and I am going to give my honest thoughts on each one. While I have personally tested the first five, I have also handpicked another two that while I have not tested, I do think look pretty cool.
1.  Audioengine S8 Black 8-inch Powered Subwoofer
Pros:
Costs around 350 bucks
Compact size is ideal for smaller set ups
Nice level of bass
Connects to multiple devices
Looks pretty cool
Cons:
Sound gets a little "weird" at super high volume
Some night like its small stature
First up is this rather compact 8 inch subwoofer from Audioengine. I really like the design of this and while the one I was sent is black, it can be purchased for the same price (around 359 bucks) in white. While I like a subwoofer to have some meat on its bones. I do think the compact design is rather neat and it will be ideal if you space is something of a premium in your entertainment center. They have used nice and strong wood and overall it feels incredibly sturdy and well made.
The sound was actually a lot more powerful than I thought it would be. It has a real kick to it, although not the most powerful I have heard. But for the movies I checked out, one of which was Avatar. It really did hit that sweet spot of kicking in just when the action got heavy.
I had this connected to my turntable as well and listened to the classic Nirvana live album and once again I was very happy with the sound quality that it provided. I did notice that at higher volumes it was a little rattily, but to be honest with you most of us will not be playing this at top volume. The dials are on the back as are the connections and getting it set up is very easy.
In all I was very impressed with the job that Audioengine have done here. I really like the design, especially those funky looking feet and if a down firing subwoofer is what you are after, but you do not have a ton of space and you want to keep the price well under 400 bucks. Honestly, I am sure you are going to be very happy with this. I have even heard that this is awesome if you are a gamer and have it hooked up to your gaming set up so that is something I need to try.
In all this is a really neat, compact subwoofer that delivers far more kick than its small size suggests, plus the price is just right.
2. Klipsch R-12SW Subwoofer
Pros:
Nice and big!
Use of copper gives sound a real boost
400 watts of power
Well made
Easy to connect to devices
Cons:
May be a little big for some entertainment centers
Wireless version is very rare
I have a Klipsch soundbar and I love it so I was very excited to get this out of the box and hooked up. It has a really elegant style to it and at 12 inches it is just the right size for a subwoofer in my opinion. You look at this thing and you know it is going to kick some serious bass. I had actually heard of this before as it is regarded as one of the best subwoofers between $300 to $500.
After getting giddy about how awesome it looked, I set it up. The version I got requires you plug your devices directly into it, but there is a wireless version available, although it appears to be hard to come across. Klipsch have used a copper design here and the way they have built the subwoofer means that you are getting 400 watts of power. This is a front firing subwoofer and first of, all I connected it to my turntable and tested it with Use Your Illusions 2 from Guns N Roses….
Let's just say I sat a little too close, had it turned way to high and nearly had a heart attack…. It was awesome! Even with movies this makes things extra cool as it gives action heavy scenes much more intensity. Messing with the dials on the back is nice and easy and I see you having no trouble getting it up and running.
I actually feel that the under 350 bucks this is going for is a real steal. Considering the quality of the insides and the fantastic and robust outer shell. It is not an exaggeration to say that this could be the only subwoofer you ever need. My only "criticisms" are that some may not be too thrilled with the size of it and also it can rattle a little when you have the volume cranked up.
I was impressed with this subwoofer. It is being sold for a great price and if you want something that looks cool and offers plenty of bass, take a closer look.
3. SVS SB12-NSD – 12″, 400-watt DSP Controlled, Sealed Box Subwoofer
Pros:
I love the black ash design
Very sturdy feel to it
Bass is very deep and powerful
Very easy to set it up
Works well with movies and music
Cons:
Price may be a little high
Retro design may not be cool for everyone
At a size of roughly 14 inches, this is a very impressive looking subwoofer. It is quite heavy at 35 pounds and it has a real sturdy feel to it. While the weight and size are impressive, as is the build quality of the wood they have used. I love the black ash design they have gone for., To me, this thing just screams 80's and I think that it really cool. I know this design will not be to everyone's taste, but as a kid of the 80's I think it is awesome.
At 400 watts, you get a lot of oomph with this subwoofer and I can see why so many people like it. At a little under 400 bucks, it may seem rather pricy, but I was very happy with the sound it provided. I never really noticed any feedback, hissing or rattling like you get with other subwoofers at this price range when you have the sound cranked up so that was nice.
Setting it up was very easy and I managed to have my turntable and Blu-Ray player hooked up through it. For music, I felt the bass was a little rough at first, but some messing around with the dials on the back got it just how I liked it. Movies though are awesome and it really does give them some extra kick.
To me this is a very basic subwoofer and I actually mean that in a good way. It is very easy to set up and the level of bass it provides is fantastic. It even allows you to tinker with it so you can fine tune it. It has a rather retro design and it does what it does very well. The big question is if it is worth around 50 bucks more than the previous two?
With a really cool 80's style, a solid design and some butt kicking ass. If you want a subwoofer with a bit of personality, you will really like this.
4. Klipsch 12″ 600W Powerful Subwoofer Cherry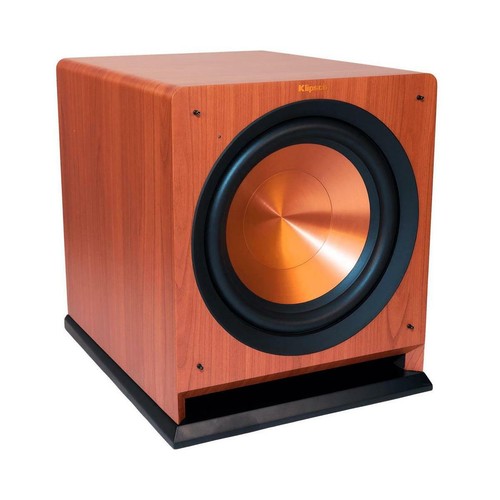 Pros:
Very, very cool looking cherry design
Simple to use
Bass is very nice
Strong build quality
Has that Klipsch quality all throughout
Cons:
Cherry may not be to everyone's taste
Price is a little high
The folks at Klipsch never disappoint and out of all the subwoofers I tested out, this one was the one that made me smile most when I first opened the box. I have never seen a subwoofer done in a cherry design… actually I am having a hard time thinking of any kind of stereo or audio equipment I have seen done in this color.
It works and it works very well. Ideal if you want something that is going to stand out and be a bit of a conversation piece. The cherry is complimented very well with a black bottom and front. In all I really dig the design here.
At 12 inches and 600 watts, this thing has some major kick to it. They have used the same copper design that the previous Klipsch subwoofer we talked about did and the back where the dials and ports are is just as easy to get around. In all, I really do not see you having any issues getting this set up.
To be honest with you in terms of the sound quality, it is great, but not that much different from the other Klipsch one I tested, but due to the funky like a money (a phrase I am borrowing from Dusty Rhodes) design I tested album after album and I eventually fine tuned it to a point where the bass hit that real sweet spot.
I know that around 420 bucks is not cheap, especially considering the price of the other Klipsch subwoofer I tested and while they say these are different, I really did not notice much that would be the reason as to why this is priced much higher. You are pretty much paying for that sweet looking cherry wood and I see nothing wrong with that at all.
Very few subwoofers come close to matching the cool factor that this one has and the sound is good too.
5. Yamaha HS8 Studio Subwoofer
Pros:
Very sleek design
Ideal if you are short on space
Designed with a home studio in mind
Very well made
Has a rather curvy and interesting look to it
Cons:
Price is a little on the high side
Not for the average joe looking to add a little bass to his set up
I was very surprised at the compact size of this subwoofer from Yamaha. The version I got was the 8 inch version, but they do have two smaller ones. They have clearly gone for a modern studio design here and that is really interesting. It has a very sleek and cool look to it and it has a kind of curvy feel to it that I cannot decide if I like or not. One thing I do like is how the small size will make it perfect for those looking for something smaller for their entertainment center.
The bass was actually very good with this subwoofer. I think one of the reasons that this is regarded as one of the best subwoofers between $300 to $500 is the way that it handles noise reduction. Even when you creed the sound up, there is very little interference or rattling that distracts you.
While I did test this with my home theatre (for some reason Home Along 2 was what we watched) and of course my turntable. I also hooked it up to my computer as it was small and I could put it under the desk. It worked really well with everything I connected it to and while it took a little messing around with the settings, I was happy with the bass it provided.
At right around 450 bucks, you may wonder where all that money is going, especially considering the size. But I have a feeling that Yamaha are targeting the real audiophile with this and I think they will succeed. I was impressed with the bass it provided, but I am not sure it is the kind of thing that I would have in my entertainment center.
If you have a home studio, a small amount of space or just want something that has a more professional look. Then this could be the subwoofer for you.
6. Definitive Technology SuperCube 2000 Subwoofer
Pros:
Really smart looking
One of the smaller subwoofers
Small, but still very powerful
It is said to be great for movies
Great if you have very little space
Cons:
It does cost close to 450 bucks
May not be perfect for music
I never got the pleasure to test this one out, but if you want a subwoofer that is small in size, but big in bass, you have to check this out. Regarded as one of the best compact sized subwoofers. I really like the way it has that sleek and shiny top, even though it will be a magnet for dust and fingerprints. There is no denying that it looks super cool. It actually comes in at a little under 8 inches so I would love to see the size of this thing.
Sound wise it has a 650 watt amplifier and while I do not know a lot about these guys. What they are aiming for is a lot of bass, but in a really small package. I have read a lot of reviews about this and from what I can see, it works a lot better with movies than it does music. Now I am sure that if I did a little tinkering with this, I could get the perfect bass for music as well. But for a person who just wants to plug it in and go, it may be a little bit too much messing around.
At a little under 450 bucks, it fits into the price range we are looking at and I am sure there must be some kind of super secret and special technology in here to enable deep bass, but also keep the size of the box down.
If modern, funky and compact is what you want in a subwoofer, you might be onto a winner with this one.
7. Yamaha NS-SW300PN 20-160 Hz 250W Powered Subwoofer
Pros:
Bass is said to be incredible
Lots of advanced technology inside
Has a very modern look
Power button is in easy reach
Ideal for those who love music and movies
Cons:
Price is close to $500
I cannot see much else wrong with this!
Last of all I wanted to take a look at this subwoofer from Yamaha. It is coming in at just a hair under 500 bucks, but to me this is what Yamaha are all about. I really like the design of this and while of course the connections and the dials are located on the back of it. There is a power button front and center as well as a standard volume dial which is a nice touch and it takes nothing away from the design.
While the outside of this looks really cool, it is what is inside that really makes me want to check it out. It has a brand spanking new twisted flare port that helps with the bass being nice and clear. It of course has their advanced Yamaha active servo technology, which I am not even going to pretend to know what it does.
But for years now Yamaha have been saying this helps with the bass all the while keeping interference and noise down to the bare minimum. Of course you can tinker with the sound as well so you can really set it to just the way that you want it. This is one subwoofer that I really would love to get my hands on and give a good workout.
While we are right around that 500 bucks price tag here, I do feel that Yamaha have really worked hard to make this as powerful as they can. It looks a good size and in all I am sure for the real audiophile, this would be something they have a lot of fun with.
If high end audio with a cool design is what you want, do not let the price tag put you off this!
What Is The Best Subwoofer Between $300 To $500?
I had a booming blast (see what I did there?) testing the five out and they all did a hard job. I would say that most people would not be able to tell the different, especially when they play around with the settings. But as I have to pick a winner, I think I am going to go for either one of the Klipsch subwoofers.
The cherry one is one of the coolest looking pieces of stereo equipment I have ever seen, but I know that price tag may put some off, but if you want style you have to pay for it. The other one offers great sound, is very affordable and the design is pretty cool as well.