As a guy who loves his music and has a family that may not appreciate his taste in music. A set of high quality headphones is a must. The amount of headphones I have gone through over the years is crazy and honestly, headphones are something where it is a case of, you get what you pay for.
You cannot complain that the 15 buck pair of Star Wars headphones you bought from Walmart have less than amazing sound and broke after a few months! If you really love listening to your music (or maybe you are a DJ?) you need a high quality set of headphones and that is why today I am looking at the best open back professional headphones between $200 to $500.
What Are Open Back Headphones?
Some of you may not even know that there are different types of headphones, but there are a few different styles and for me, open back is the way you want to go. No matter if you are just rocking out to your CD or vinyl collection at home or if you have a home studio and like to make your own tracks.
Open back headphones are what you need. Open back headphones are designed so that the music is not fully enclosed in the ear cups. People around you will not be listening to what you are listening to, but this design gives the music a more real kind of feel and you just do not get that with closed back headphones.
For professionals, open back headphones are the only way to go and that is why I am talking about the best open back professional headphones as these are not only ideal for listening to music. They are also great for DJ's and people who like to mix their own songs.
The Best Open Back Professional Headphones Reviews
I was sent six different sets of headphones to review. These are regarded as the best open back headphones on the market right now so I was very excited to connect these to my stereo and start rocking out. As well as the six I tested, I also have a couple, slightly cheaper sets of headphones I want to talk about for those of you who want high quality headphones, but want to keep that price tag around or below the 200 bucks mark.
1: Sennheiser HD 650 Open Back Professional Headphone
2: Monoprice Monolith M1060 Planar Headphones
3: HIFIMAN HE-400I Over Ear Full-size Planar Magnetic Headphones
4: Sennheiser HD 598 Over-Ear Headphones – Ivory
5: Sennheiser HD 700 Headphone
6: K701 Open Back Reference Class Stereo Headphones
7: Sennheiser HD 599 Open Back Headphone
8: Grado Prestige Series SR225e Headphones
1.Sennheiser HD 650 Open Back Professional Headphone
Pros:
Really cool design

Comfortable to wear

Padding is very high quality

Sound is very rich

Well made
Cons:
Price is rather high

Cable got on my nerves
I am a huge fan of Sennheiser and have used their products before. Currently they are going for over 300 bucks and are regarded as some of the better open back headphones that Sennheiser have on the market. The design is pretty interesting in that they are silver and have a mesh kind of design over the ear cups and this is something I really like.
As far as comfort goes, the ear cups have some very nice black padding that did not make my ears swear after rocking out to some Black Sabbath so that was nice. What really impressed me with these open back headphones was how comfortable the headband was.
At first I did not even notice the large piece of foam they have here, but it makes wearing them, even for a whole album very comfortable. The wire is nice, long and removable, but I did have an issue with it as I pulled it out a few times!
But what about the sound? The sound is fantastic, they have their own custom drivers in here and I have zero complaints about the sound quality that these headphones produced. The bass was deep, treble was nice and even vocals had a real rawness to them that I enjoyed. I think these are a great set of headphones, but the price may put some people off, especially considering they are close to 100 bucks more than some of the others.
If you want stylish, comfortable and just really cool looking headphones and your budget is high, have a closer look at these.
2. Monoprice Monolith M1060 Planar Headphones
Pros:
Come in a nice package

Amazing sound

They are rather light to wear

Ear cups are nice and large

Price is not bad at all
Cons:
Design is rather odd

Some say they take a while to "warm up"
I will not lie, when I opened these up, I had no clue what I was looking at. I have seen all kinds of styles of headphones, but these open back headphones certainly left an impression. They have a really bulky, almost workman type of design to them and I still cannot decide if I like it. One nice thing about these is that they do come in a very nice package so they would make for a nice gift.
The ear cups that they have used are nice and large. So they fit round my ears perfectly. The padding is nice and thick and I did not get sweaty, but that may not be the case for you. I feel that at close to 300 bucks the headband could have had a little more padding. Do not get me wrong these were not uncomfortable to wear at all, but I just prefer a little thicker padding. I am sure that some people will like the thinner padding as it makes it lighter on the top of your head.
So I put these on, nestled my ears in them and fired up a classic, Bon Jovi Slippery When Wet. Man was I impressed. The sound quality these produce is just fantastic. It is kind of hard to explain in words, but the bass, treble and vocals are balanced incredibly well.
I have heard some people say that there is a little "burn in" required with these and that after a few hours they sound even better. In that case sign me up as right from the start I was happy with these. I think even a real audiophile would be happy with the sound that these headphones provide.
For those who want great sound, but a set of headphones that look kind of weird, you have a winner here!
3. HIFIMAN HE-400I Over Ear Full-size Planar Magnetic Headphones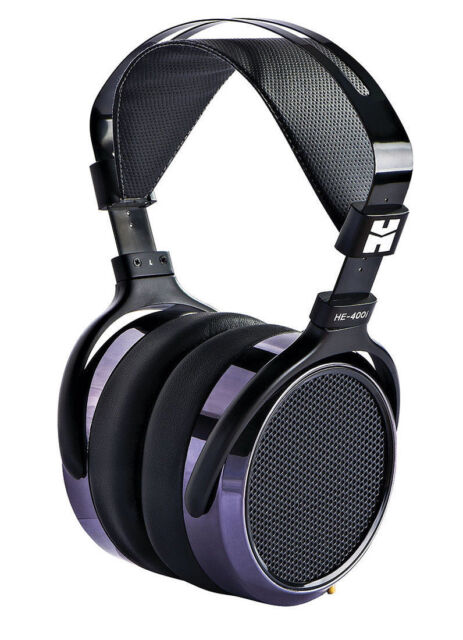 Pros:
Price is fantastic

Design is pretty neat

Sound quality once broken in is very good

Comfortable to wear

Any kind of music sounds great
Cons:
They do need breaking in

Cable is rather short
When you are looking at the best open back headphones HIFIMAN with their HE-400I are among the most popular. To start with the design is rather interesting. They have gone for a jet black look, which I really like but the ear cups and even the headband have a bit of texture to them which stands out in a really positive way. They just have a really cool vibe to them and if you are the kind of person that likes to wear headphones in public, you will look cool with these.
At a little over 200 bucks I was worried about comfort, especially when I read on the box that velour and pleather are what they ear cups are made from. But these and the thin headband were comfortable enough. I did find that my ears got a little hot, but to be fair that could be because it has been said that my ears are so large I can pick up TV stations. In all seriousness, I think these are more than comfortable enough.
As I was on a bit of an 80's kick when I tested these, the greatest hits of Mr. Billy Joel (on vinyl) was what I used to test the sound. There is some breaking in here, but after the third or fourth song, I did notice some improvement in the sound quality so I would assume that after a few hours they will get to their peak performance.
The music has a really wide feel to it and I even tested a couple of live albums as well, which by the time I did they were broken in and the sound was great. My only gripe is that if you like to listen to loud music (which I sometimes do when I am in a hair metal mood) it is a little rough.
If you are on a strict budget, but still want high quality sound, these open back headphones are great!  
4. Sennheiser HD 598 Over-Ear Headphones – Ivory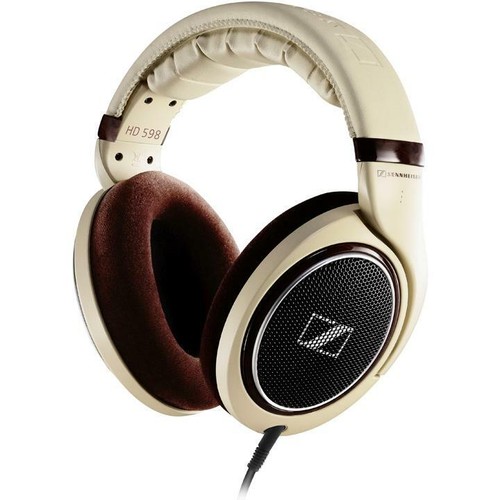 Pros:
Price could not be any more reasonable

Ivory looks amazing (Black is also available)

Sound quality is awesome

Nice and comfortable ear cups

Headband is well made and light
Cons:
You will never want to take them off

Some people have had quality control issues with these (but I did not)
Man talk about classy! I felt like I should have a high end glass of Scotch and a cigar while I was using these. Of course the ivory design (color, not real ivory obviously) is what catches your eye with these Sennheiser open back headphones.
It gives them a very unique kind of look and a look that goes great with my old school wooden turntable that I have upstairs. The ivory look is complimented with some nice burgundy ear buds and in all the style of these is just awesome. While I love the ivory color, for ten bucks less you can get these in black.
Not only do these look good, out of the six headphones I tested, these were probably the most comfortable. They have used very high end velour ear cups that feel great on your ears and they do not even make them get sweaty. The headband is made from super soft padding which is not just comfortable, it is also very light. I could wear these all day and not get hot and uncomfortable. I have even used more expensive Sennheiser headphones that did not offer more comfort than these!
The sound is great and I have yet to experience any kind of product from these guys that does not offer great sound. Like most headphones, a little breaking in is required, but I was happy with the sound right from the get go with these. When you consider that these are costing around 250 bucks, the sound quality is really amazing. I listened to all kinds of albums (mostly vinyl) and not once did I wince at the bass or roll my eyes at the quality of the vocals.
Stylish, affordable, comfortable and boasting fantastic sound quality make these very easy to recommend.
5. Sennheiser HD 700 Headphone
Pros:
Sound quality is phenomenal

Required next to no breaking in

They have a very cool look

Ideal for music professionals

Have a comfortable, but strong build
Cons:
Cost over 400 bucks

Not really suitable for just casual music listening
At right around the 450 bucks range these are quite pricey, but Sennheiser is really aiming these at music professionals and hardcore audiophiles. The design of these as they put it is "industrial" I think this is a good way to describe these. They certainly have a really cool and modern design and while dance music is not my type of thing, I am sure that more than a few DJ's will be rocking these, not just for their sound, but their style.
The ear cups are very comfortable and feel just like the ones on the ivory colored open back headphones. The headband though is much more high quality. One of the higher quality headbands I have come across actually. You can instantly tell this is not just cheap pleather like many other headphones use.
It feels super smooth is light weight and honestly after a couple of songs, you do not even realize it is there. These are very comfortable headphones and I think that ties in with them being more for professionals.
The sound quality is amazing, on the packaging and enclosed information that you get they give you a huge list of things like their specially tuned drivers, the frequency response and so on. To most people this will mean nothing! But what I can tell you is that the sound here is so rich, so pinpoint accurate that these might just be the highest quality headphones from a sound point of view I have come across.
Now of course, these are very expensive, but if sound quality is your main interest, you really will struggle to beat these. I am not sure I would pay this for just listening to my records in the house, but for a person who likes to make their own music or DJ, these would be perfect.
These high end open back headphones offer great comfort, incredible sound and are ideal if you want something more professional.
6. K701 Open Back Reference Class Stereo Headphones
Pros:
They look awesome

Once broken in, sound is good

Ear cups are very comfortable

Have a high quality feel to them

Price is very reasonable
Cons:
Headband is not the best

Design may not be every ones cup of tea
If you are looking for a set of open back headphones that are really "funky" you have to check these out. These look like something from a sci-fi movie and I think that is really cool. I am not sure I would wear these out of the house. But the metallic design and that weird headband really does give these a style all of their own. Also at a little over the 200 bucks price mark, the asking price is very nice.
These have a very metal and heavy look to them, but I was impressed with not just how light, but how comfortable they are. The ear cups are nice and large and the padding they have used is not just cool looking. It also is very soft and even after a couple of albums, did not make my hears hot and uncomfortable. My only issue is the headband, I feel it could have used more padding, but I am sure with time I could get used to this.
Sound wise there is certainly a bit of breaking in required with these open back headphones. But at the price range, I was impressed with the sound. The bass is good, treble hits the right spot and even on live albums, sound is nice. Before I tested these I read some other reviews and "sound leakage" was an issue some people had.
To be fair all open back headphones have this, it is part of their design, but I must admit it is a little more noticeable with these. Still if something cool looking and affordable is what you want, you will really enjoy these.
With a cool looking funky design and an affordable price, it is easy to see why these have so many positive reviews.
7.  HD 599 Open Back Headphone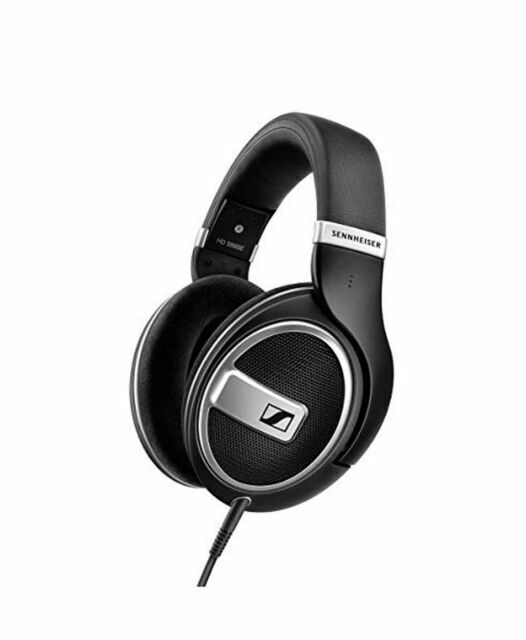 Pros:
Cost under 200 bucks

They have a pretty smart design

Ear cups and headband look very comfortable

Many positive reviews

Great "first" high end open back headphones
Cons:
There is some breaking in required

Not the highest quality sound
This next set of open back headphones I did not have the pleasure of personally testing out. But I wanted to include them as they are (as of writing) currently under the 200 bucks mark! Which for a pair of Sennheiser headphones is great. They have a very modern design that will look good if you wear them in public or just when you are kicking back in the house.
The ear cups appear to be nice and comfortable, Sennheiser are one of the best companies when it comes to their ear cups and these look no different. From what I have read they are soft and very comfortable to wear for long periods of time. The headband looks nice and large as well and I actually really like the design of it.
Sound wise, there is a lot of great reviews for these and I think that these would be an ideal entry level set of more high end open back headphones. They are aimed at people who want high quality sound, but who do not want to spend a ton of cash. I would really like to give these a try. Sure they will not be as high quality as the more pricey Sennheiser headphones, but there are a lot of people who are happy with these.
If you want that Sennheiser quality at a low price, take a closer look at these.
8. Grado Prestige Series SR225e Headphones
Pros:
I really like the 80's style

Cost right around 200 bucks

Many positive reviews

Works good for vinyl and CD's

Great first set of open back headphones
Cons:
Double cable is a little lame

80's style may not suit everyone
Grado is a company I have heard of, but one that I have never actually used. These are right at the 200 bucks mark, so ideal if you are looking to get a great set of open back headphones, but at a more affordable price. The design for these is really cool, Grado have gone for a kind of 80's look and that is something I always like. It does mean that they will not be to everyone's taste, but I think the design is pretty awesome.
The ear cups look very interesting. They are nice and large, they also look like they have a lot of padding to them. What really peaked my interest is the "added airflow" that this design supposedly allows for. This along with that rather slim headband is sure to make these comfortable to wear for extended periods of time. There is a wire for each ear cup which to be honest with you, in 2018 should not be happening, but at this price point some sacrifices have to be made.
I have not actually tested these so of course as far as the sound quality goes, I have to go on what other customers have said. Most people seem pretty happy and those who do not tend to not understand how open back headphones work or that most headphones do have a breaking in period. At 200 bucks, you will not get the richest sound upgrade in the world. However these will be an immense step up from the cheap headphones you can buy at Walmart or Toys R Us!
If you want that classic 80's style with some good sound quality and an affordable price. These could be the right headphones for you.
What Are The Best Open Back Professional Headphones Between $200 to $500
I was impressed with the headphones that I tested and taking into account the sound quality, comfort and of course the, price. For me, the best out of the six I took a look at are the Sennheiser HD 598 Over-Ear Headphones – Ivory. It is not just because of the ivory look either, even in black, these would have been my pick.
They offer fantastic sound quality and they are comfortable to wear even for hours on end. Add to this the fact that they are well under 300 bucks and you really do have a great set of open back headphones on your hands here and even if they cost a hundred bucks more they would have been my favorite!