With this Accuphase E-800 and the Gryphon Diablo 300 battle that we have today, we are looking at two very high-end and expensive amps! Both the Accuphase E-800 and the Gryphon Diablo 300 have a solid reputation online. It is going to be fun to put these two juggernauts in the ring together and ultimately I am going to have to decide which one of these I like the best which is going to be pretty darn tough I can tell you that right off the bat!  
The Price
We have to start these two amplifiers fight off right and that is by looking at how much you can expect to pay for these.  
Accuphase E-800: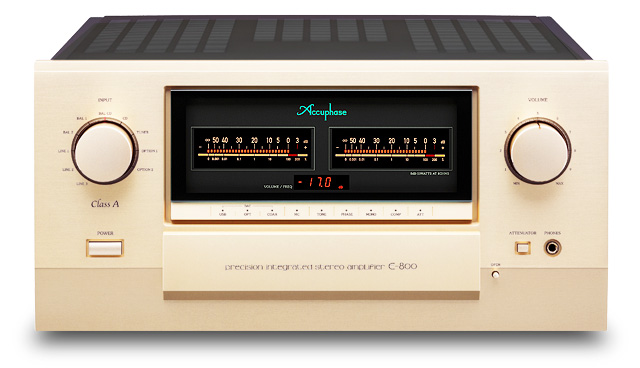 The Accuphase E-800 is one of the premier amps on the market and as a result, it has a very premium asking price. In my research, you are looking at anywhere between $12,000 and $15,000 for this depending on the dealer you get this from so shopping around and taking your time is certainly something you want to do as the price difference can be very high. Even pre-owned units on eBay are going for over 10 grand!
Gryphon Diablo 300:
Even the "entry level" Gryphon Diablo comes in at well over 10 grand so that right there tells you that the Gryphon Diablo 300 is going to be very expensive! I have seen this go for as much as $16,000 and it can get even more expensive if you want to add one of the modules that slots into the back. If you do shop around, you may be able to find it for a couple of thousand bucks cheaper so be sure to do some legwork before throwing down some money. I found a used on one eBay, but that was from the UK and it was over 17 thousand bucks!
The Verdict:
It is hard to pick a winner here as they are both very expensive and the prices are all over the place depending on where you manage to find one. For my personal taste, I think I would have to go for the Gryphon Diablo 300, but there is pretty much nothing in this round! No matter which one of these you decide to go for, you are going to be spending a whole lot of money!  
The Design
We come to around in this amplifiers contest that I am very excited to talk about and that is the design! These are two very different looking amps and that makes comparing them a whole lot of fun!  
Accuphase E-800:
I do not think that the Accuphase E-800 could have a more awesome retro kind of design! The late 70s kind of silver design is really awesome. You have a nice big display right in the middle and besides that on the left and right are a volume and input dial. All of the other dials are cleverly hidden behind a little panel that can flip down, this is a nice touch and something that the amps of the 70s and even early 80s had. I suggest you have a look at this Welcome to Accuphase Laboratories, Inc. our demo E-800 integrated amplifier unboxing video to get a better idea of the design. On the back, you have an incredible range of connectivity options, all of which are clearly labeled. This is a large unit coming in at 18.31" x 9.41" x 19.76" and it weighs a hefty amount too so it is going to take up a fair bit of real estate in your home. However, I would be proud as a peacock o have this on display in my home. I do love the remote control that comes with this as it also has that retro design. It is packed with buttons too so you have complete control over the amp.  
Gryphon Diablo 300:
I would argue that Gryphon makes some of the coolest amps in the world and the Gryphon Diablo 300 is one of the very best! While the Accuphase has a retro design, this bad boy has a modern and cool design and I love it. The front has a very minimalistic design, no dials here, just a cool looking display and touch controls, I love the LCD and the way it has a glossy finish to parts of the amp is something that I think is very cool. Have a gander at this COVID-19 Lock Down with a BEAST The Gryphon Diablo 300 Integrated HiFi Amplifier video and you will see why I think the design of this thing is so cool. It has a kind of engine look to it and it really is quite imposing! The back has all of your connection options, but there is also a slot for adding one of the amps such as the awesome DAC one if you choose to do that. Like the Accuphase, this thing is massive as it comes in at 18.9" x 9.2" x 18.1" and weighs over 80 pounds! I also really like the metal remote that comes with this. It is easy to use and I think the whole design of it has the same premium style as the actual amp.  
The Verdict: This is such a hard round to call as the styles of these are so different. I am picking the Gryphon Diablo 300 as my winner here. I love the retro charm that the Accuphase E-800 has, but I prefer the black and modern design of the Diablo 300 more. However, I can see why someone would pick the retro charm of the E-800 too! I do have to give a bit of extra credit to Accuphase as that remote really is pretty sweet!  
The Sound
We come to the most important category of these two amplifiers' showdown and that is looking at the sound you can expect from these. Sound is a very subjective thing and all I can do is share my own personal experience with each of these with you.  
Accuphase E-800:
I was very impressed by the Accuphase E-800 right out of the box. While it will take a while to get properly broken in, I can tell you my experience was a very positive one. I found that the mid-range of this was just staggering and as it has a retro design, I was rocking out to some Leftoverture by Kansas. I think if you want an amp that is going to bring your record collection to life in a way like you have never experienced before, you will get that with this. Just check out this Accuphase E-800 Integrated – Is it any good ?? video and you will get a better idea of all the things that this is capable of. I was very impressed with this and that is from someone who was not even able to give it a full 40 to 50 hours of playtime to fully break it in. I can see why so many people love this amp, but if I do have one criticism, the higher notes were just a tad too abrasive for my personal taste, but to be fair that could just be the way I was hearing the sound.  
Gryphon Diablo 300:
I was so excited to be able to get the chance to test out the Gryphon Diablo 300. I know that I may have been swayed by the epic design this thing has a tad, but man I was blown away by this thing. Again, I was not lucky enough to spend a whole week with it to truly break it in. However, this thing rocked right out of the box and the first record I tried with this was Follow The Leader by Korn which took me back to my high school days. I cranked this sucker up and man did it rock. The clarity at every range here was something that truly blew my mind and this was out of the box! I have no doubt that this is the kind of amplifier that just gets better and better. I threw all of my favorite records at this thing and as cheesy as it sounds, it was like listening to some of them for the first time. I was completely blown away by this and I can see why so many people consider Gryphon to be the best when it comes to amps.  
The Verdict:
These are two fantastic amps and truth be told you could not go wrong with either one of these. However, I think that I was more into the Gryphon Diablo 300 more. Look, you could read another guy's take on this and they might go for the Accuphase E-300 and I would get that, at this price point it is all subjective, but for me, I preferred the Diablo 300.  
What One Is The Best?
We bring this Accuphase E-800 and the Gryphon Diablo 300 to a close and this has been a lot of fun to write. I think that these are two incredible amps and if you are lucky enough to get either one of them you are going to be very, very happy! You could make a case for either one of these coming out on top. I love the retro style of the Accuphase E-800 and think that the sound quality was fantastic. However, for me, I have to say that the Gryphon Diablo 300 was more of my personal style. I am not just talking about the amazing physical design of it, I actually slightly preferred the sound it was producing as well.