Now this Yamaha NS-10 and HS8 comparison we have going on today is going to be a lot of fun! The Yamaha NS-10 are some of the most iconic studio speakers ever made! Yamaha had these things on the market in the late 70s and all the way through the 80s and even now they are seen as a cool piece for a studio to have. Yamaha are one of the best around when it comes to this style of speaker and their Yamaha HS8 speakers are insanely popular and I have looked at them a few times over the last few weeks and I thought that it would be fun to see how they match up with a truly iconic set of speakers.
The Price:
I do have to say that the price round in this Yamaha NS-10 and HS8 is a bit awkward to talk about. The reason I say this is because the NS-10 have been off the market since the early 00s so you will have to resort to eBay or a used electronics store if you really want to get them.
Yamaha NS-10: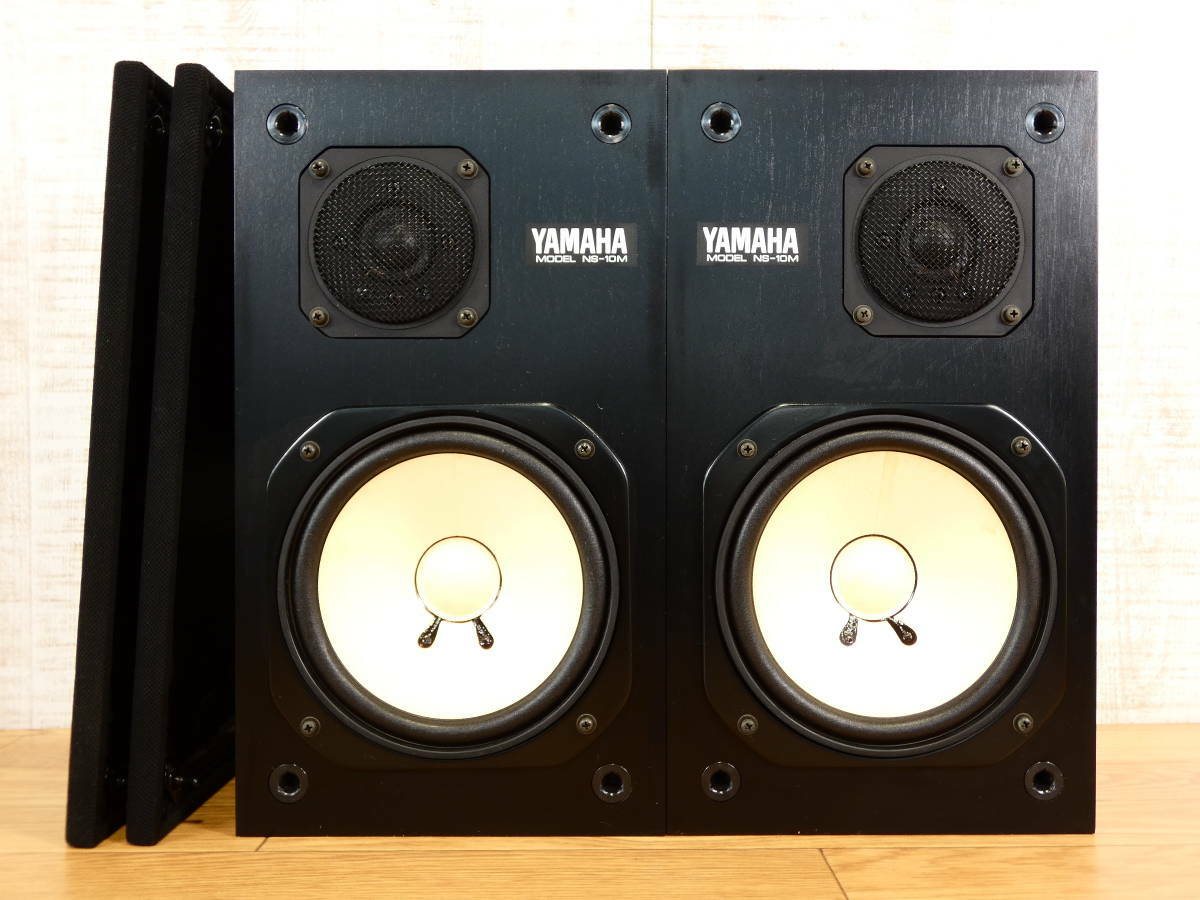 I have to say that the price for the Yamaha NS-10 is all over the place on eBay. You can expect to pay anywhere between 200 and 500 bucks for these. As these are going to be used, you want to do as much research as possible before you buy these speakers. These are the kind of thing where a mint set that are in top performing condition are going to cost you a lot of money as for some people they are seen as a bit of a collector's item so that is something to keep in mind. I do want to also say that I have a buddy who found a pair of Yamaha NS-10 speakers at a yard sale a few years back, he paid five bucks for them, and while they are not "mint" they still sound great. The point I am making is that you can find these at all kinds of prices!
Yamaha HS8:
As I write this the going rate for the Yamaha HS8 on Amazon is $374,99 which I think is an amazing price. I am pretty sure that the RRP on these when they were released (and it very well still may be) was $499,99 which I have to be honest and say is not completely out of line in my opinion. I think getting a set of studio monitor speakers for this price is a great deal and if you are interested, I would suggest you snap them up at this price in case Amazon sell out and 3rd party sellers start asking way more for them! You can find these on eBay, but there is no clear rhyme or reason to the asking price here as some are priced around what Amazon are asking and others are priced higher!
The Verdict:
How can I possibly pick a winner here? I mean, my buddy who scored a pair of Yamaha NS-10 speakers for five bucks is the real winner! I have to say that I do feel I have to give this round to the Yamaha HS8. Would it be cool to have a set of Yamaha NS-10 speakers in your home studio? Yes, it would, but these are speakers which are at least over 20 years old so you do have to take into consideration the condition.
The Design:
Before we get to the second round of our Yamaha NS-10 and HS8 battle, I will warn you that I am basing this comparison on the 5 bucks pair my buddy has as well as images I have seen online. These are two awesome looking speakers and I am pretty excited to do this comparison.
Yamaha NS-10:
While the Yamaha NS-10 was designed in the late 70s, I feel that these have a more 80s vibe to them. You can just imagine bands of the 80s recording albums with these hanging on the wall. The dimensions of these speakers are 15 x 8.5 x 7.8 inches so they are very comparable to what the Yamaha HS8 speakers are in their footprint, but at 14 pounds, these are a lot lighter. These have that 80s style black which I am a huge fan of. Now, there is a grill that goes on the front of these which I do like the look of. However, the set I have checked out did not have the grill. However, I do think if I had these, I would display them without the grill as I love the way you have the Yamaha logo and the tweeters out on full display. These are just really awesome looking speakers and even if I did not use them I would love to have them on display somewhere.
The build quality as you would expect from a set of speakers from this era is pretty damn solid. My buddies' ones have a bit of a nick in them, but these feel like they would need to be pretty badly abused in order to be damaged significantly. Of course, as these are older speakers, you do not have much in the way of connection options on the back, actually, you just have your standard speaker jacks, but I have seen some people who have modded these to make them more compatible with different setups. I have to be honest, if I had a set of these (and if I keep nagging my buddy, maybe I will) I would want to keep them as original as possible.
Yamaha HS8:
I am a huge fan of what Yamaha has done with their Yamaha HS8 speakers. Have a look at this These Studio Monitors are UNBEATABLE!!! – Yamaha HS8 Review video if you want a closer look at these. I really do like these speakers! They do come in white and black, but I have only ever seen the black version of these speakers. Coming in at 13.1 x 9.8 x 15.4 inches and weighing 23.5 pounds they are a little larger than the Yamaha NS-10 speakers. These look fantastic and I think that the overall design is something that is just so appealing. I think when you have these side by side with the NS-10's you can clearly see how they progressed into these and that is pretty awesome.
The black MDF they use is great and the details on the front do add a nice bit of personality to the speakers and I think they manage to look cool and classy at the same time. They have a fantastic build quality and overall, I really could not be any more impressed with what they have done with the design of these speakers. As we move around the back of the speakers you have your room control and high trim switches. You do also have a level switch and two connection options as well. I cannot really think of any complaints about the design of these speakers at all and Yamaha once again prove that they are one of the best when it comes to audio equipment.
The Verdict:
Look, I guess from a technical point of view the Yamaha HS8 has taken what was started with the Yamaha NS-10 speakers and improved upon it. However, I do have to say that I am just so smitten with the design of the NS-10 that I think I am going to have to say that side by side, I do prefer the way the NS-10 speakers look over the HS8. The HS8 looks fantastic, but my personal preference is the NS-10.
The Sound:
I know that it may seem a bit off to compare speakers that are released over 20 years apart, but I think the sound category of our Yamaha NS-10 and HS8 speakers is going to be a lot of fun. I know that my friend and I have had a great deal of fun playing around with those NS-10 speakers he got at the yard sale.
Yamaha NS-10:
The Yamaha NS-10 speakers I have tested have not been played around with at all so that is something to consider here. I did find this short, but very sweet NS10 test video if you want to hear these in action. These were regarded as the pinnacle of studio monitor style speakers for many years and people even swear by them now. You do have to take into consideration that the ones I have used are pretty damn old and from what my buddy heard, they were stored in a garage for like 10 years before they were sold to him. So when he connected them to my turntable and we fired up Leftoverture by Kansas and put on Carry On My Wayward Son, I was expecting something a bit rough, but I was very impressed that even with their advanced age and poor storage, these sounded great.
I found that these speakers offered a pretty fantastic sound across the board, the bass was lacking just a tad, but I think that may have been me just looking for a negative to talk about. I wanted to play a more "modern" album with these speakers as well as the classics so I decided to play The Black Parade by My Chemical Romance which I have not listened to in ages. Also, did you know that the lead singer Gerrard Way wrote the comic book series, Umbrella Academy? Anyway, I think that the Yamaha HS-10 speakers make more modern albums sound great. Look, these were not perfect, but that was to be expected with their age, but I was very, very impressed with the sound quality I was experiencing with these speakers.
Yamaha HS8:
As far as modern studio monitor speakers go it is easy to see why the Yamaha HS8 speakers are regarded as some of the best around. These sound great and while I am not a musician of any kind, I know good sound when I hear it and I think that I could have these connected to my system and be very happy with the sound I was hearing on a daily basis. I fired up the Foo Fighters: Greatest Hits which is one of my favorite greatest hits albums of all time, it is a great album and it was also a fitting tribute to the drummer Taylor Hawkins who died way too young. Anyway, these speakers can really rock and I think that they give you a nice and balanced kind of sound, even when you have them pretty damn loud.
In keeping with the balanced theme, I wanted to try out an album that featured a few different styles of music and that is why I fired up the This Is Us soundtrack. The wife and I love this show and it has a great mix of 70s, 80s, and modern indie style songs as well. It really showcased just how well designed these speakers were as each song sounded great. I really cannot think of anything negative to say about the overall sound quality you get from these speakers. I even had them connected up so I could see how they handled movies and I ended up watching the classic Forrest Gump and I was very happy with the way it sounded.
The Verdict:
Taking nostalgia out of the equation and just going for what I experienced between the two. The Yamaha HS8 is the clear winner here. These really are a great set of speakers, but even if you are someone that is making music, apart from the cool and nostalgia factor, I do not think that the sound you will get out of the Yamaha NS-10 is as good. They sound fine, great in fact, but there is a clear improvement with the HS8.
Which Is The Better Speaker?
I have had a lot of fun making this Yamaha NS-10 and HS8 article today I must say I am so glad (and a little jealous, I am not going to lie) that my friend found that set of Yamaha NS-10 speakers on that cold October day a couple of years back. It was so cool to be able to see, hold and hear these and get an idea of why they are held in such high regard. I have played around with the Yamaha HS8 a few times and I have never not been impressed. While I do like the retro and old-school charm of the design of the NS-10, I have to be honest and say that you need to go for the Yamaha HS8! Still, with that being said if you are a collector like me, tracking down a set of NS-10 speakers to have as a bit of a collectible would not be the worst idea in the world.