The best way to describe this Gryphon Diablo 300 and McIntosh MA9000 battle is that it is like a real Clash of the Titans or if you want a more modern example like a Godzilla and Kong or even a Batman V Superman. These are two very large and very expensive amplifiers that thanks to my friend's store, I was able to play around with and get a real up close and personal look at. Both the Gryphon Diablo 300 and the McIntosh MA9000 are often regarded as some of the best amplifiers money can buy. These are not for the average Joe, hell, I love my music collection and these are even way, way out of my league! Still, as I had the chance to check them out, I thought it would be fun to put them head-to-head.
The Price
Look, I know that the price category in our Gryphon Diablo 300 and McIntosh MA9000 contest is going to raise those eyebrows right off the top of your head. These are not cheap, actually, they are very expensive that you would need to be WWF wrestler The Million Dollar Man Ted Dibiase to buy them. Ok, so that is going a step too far, but these are some of the most expensive amplifiers that I have personally managed to get my grubby hands on.
Gryphon Diablo 300: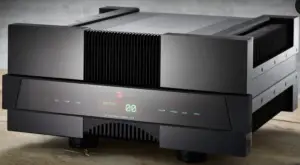 The Gryphon Diablo 300 is going to cost you the better part of 20 thousand dollars. I did not make a mistake there, you are looking at spending around 20 grand if you want the Gryphon Diablo 300 in your home. That is just insane, isn't it? I did some shopping around and the best deal I found was in the UK where it was under 15 grand, but they did not have how much shipping would be. Still, even if you could get this for 15 grand shipped that is a hell of a lot of money to spend on an amplifier. Oh, and it could cost even more if you decided you wanted to add the DCA module to it is as well.
McIntosh MA9000: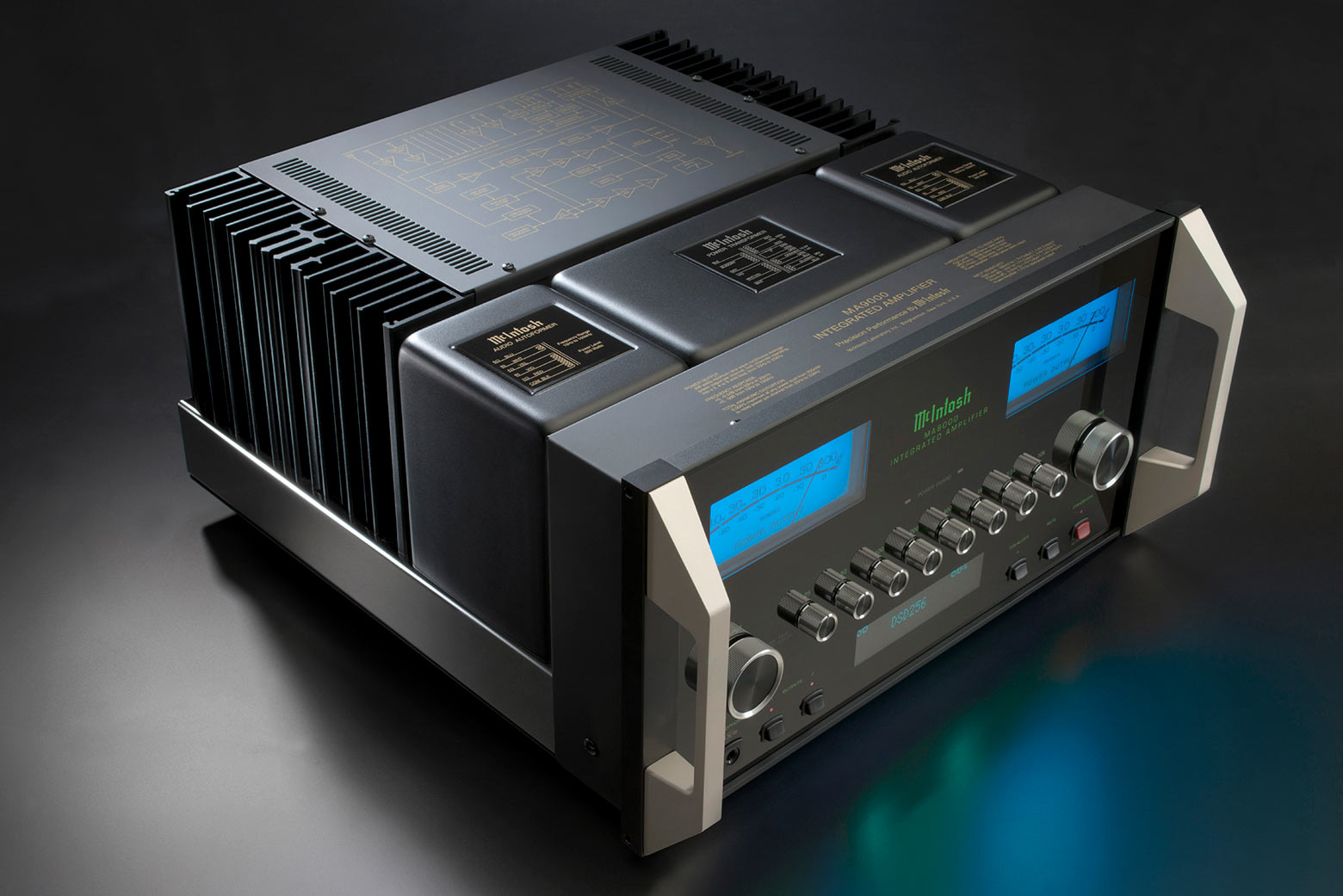 It is crazy to think that the McIntosh MA9000 is the way cheaper option. I say crazy because you are still looking at 10 to 11 thousand dollars, maybe even more depending on the seller. From what I have seen, McIntosh products tend to hold their price very well as they are held in such high regard. I have only ever seen a couple pop up on eBay and even then, they were pretty close to the RRP. Still, you are looking at the better part of half the asking price of the Gryphon Diablo 300 and that is not something you can ignore. McIntosh has a very solid reputation and my buddy who owns a store swears by them!
The Verdict: Come on, we have to give this round to the McIntosh MA9000 don't we? Look the Gryphon Diablo 300 is awesome, but when the price tag is like ten grand how can you ignore that. Ten grand just saying it out loud is crazy, isn't it? Just think of the speakers, the record player, and the tons of records you could buy with that extra ten grand!
The Design
The design category in our Gryphon Diablo 300 and McIntosh MA9000 is the one I am most excited about today. These are two very, very different looking devices and I always love putting things that look so different against each other. I tend to find when things look as different as these do, it is always a personal preference kind of thing in regards to what style people like the best.
Gryphon Diablo 300: I have to start by saying that I think the design of the Gryphon Diablo 300 is very cool. I actually highly recommend you watch a few videos of it, especially ones like this COVID-19 Lock Down with a BEAST The Gryphon Diablo 300 Integrated HiFi Amplifier where you can get a real sense of the size of it.
This is no small amplifier, let me tell you that! The dimensions of this are 18.9" x 9.2" x 18.1" and it weighs a very hefty 83 pounds. My friend has to have this on a special table in his store as he was not confident in the shelving he had It has a very cool looking design and I am a big fan of the black color that they have used, it gives the amp a very stylish and modern look. You have this vent in the middle that then has a little LCD underneath and here you have a selection of touch based buttons. It has a very space age kind of design, like something that would be on the shuttle from 2001: A Space Odyssey!
You have an excellent selection of connection options with the Gryphon Diablo 300. I like how they have made them nice and spaced out and each connection is clearly labeled which makes hooking your stuff up nice and easy. The connections are located nearer the bottom of the amp and above this, we have a large door and this is where you can attach one of the modules (like the DAC) that are available for this. The folks at Gryphon mane an amazing remote control and I really do love it! It has the same kind of premium design that the actual amp has and it has way more heft to it than a remote control usually does, plus, it makes controlling everything as easy as can be too.
McIntosh MA9000: Boy do I love the design of the McIntosh MA9000! This thing really is incredible and it looks like a very high-tech and expensive piece of tech. I think that they have really outdone themselves with this amp and while the pictures make it look massive, the 17.1/2"  x 9.7/16" x 19-3/4" dimensions of this put it in a similar kind of size to the Gryphon Diablo 300. T is though way lighter as it comes in at 45KG, which is still pretty damn heavy, but nowhere near as much as the Diablo 300. I love the way you have the twin display which has a very cool blue backlight. Under this, you have your various dials that you can use to play around with the sound. You do have a larger volume and input selection dial at the side of the other dials. Below this, we have an LCD which has that same kind of blue backlight to it which I love. It also has these two large silver handles on the side. I think these will be a love/hate kind of thing as I like them, but I wish they were the same black as the body of the amplifier.  I also wish that the power button was not red and was black like the rest of the buttons!
As much as I like the design of the front of the McIntosh MA9000, it is around the back where the real magic is happening. When it comes to connectivity options, this thing is truly incredible. So much so that it may even be a bit daunting to look at! It is stacked with connection options and unlike the Gryphon Diablo 300, this actually had digital inputs to go along with the analog ones! The remote control that they include here is awesome, it looks more like a TV remote control as it is so large. It has a lot of buttons and I had a lot of fun playing around with this thing.
The Verdict: This is a really tough one to call. I have to say from the front, The McIntosh MA 9000 has a lot of things I love about it, but the red power button and the silver grips do take some of the shine away from it. However the back and the connection options I have to say leave the Gryphon Diablo 300 standing in the dust…. Hmmm, I am not sure what way to call this one, overall, I think that I can live with the things I do not love about the MA9000 and pick that as my winner here.
The Sound
The main event of our Gryphon Diablo 300 and McIntosh MA9000 battle is looking at the sound! You may think that as there is a ten grand price difference between these two things that the sound difference is going to be huge, but what I am going to tell you may shock you as this is not as one sided as you would think when you see the price tags!
Gryphon Diablo 300: I know that we are comparing the Gryphon Diablo 300 to the McIntosh MA9000 today, but did also compare the 300 to the Gryphon Diablo 120   recently and I must say I did not experience as huge a difference in the sound as I thought I would. Do not get me wrong, the Gryphon Diablo 300 really is going to bring your records to life, I fired up LIVE IN CALIFORNIA 1992 by Van Halen in my buddy's store and we cranked this sucker up and the clarity was truly outstanding. I mean, the leap from an amp like this to a more modestly priced even several hundred buck's amp is like night and day. Live music truly comes into its own here and you will feel like you are at the concert.
We ended up playing around with this thing for most of a Sunday afternoon and one album that we both agreed sounded fantastic was Get A Grip by Aerosmith. Even to this day, Over the Edge is one of my favorite songs of theirs and it sounded phenomenal when pumped through the Gryphon Diablo 300. I have read and seen many reviews about this by "audiophiles" and they break down all the little differences that make this such a leap up from the 120, but I have to be honest and say that amazing as this is, I just do not see how anyone can say the sound is ten grand better. Does it sound amazing? Yes, would I be happy spending an extra ten grand for it? Absolutely not!
McIntosh MA9000: McIntosh themselves put out this awesome (and pretty short) MA9000 Integrated Amplifier that shows off the capabilities of this thing and I recommend that you check it out. Is there a company that when it comes to amps has a better reputation than McIntosh?
Anyway, I had an absolute blast playing with this and when I heard Bat Out of Hell it sounded so good, I just kept turning it up a little more and more until I got shouted at! While you can leave all those dials right in the middle and still get an epic sound out of the McIntosh MA9000, once you start playing around with the settings, you can get that sound just the way you want. I was truly blown away the first time I got to check this thing out and as it is still in my buddy's store, I have had the pleasure a few times getting to try out some of my favorite albums with it.
While I am very much a vinyl kind of guy, one advantage that this has over the Gryphon Diablo 300 is that out of the box, it has digital support! This is great if you are like me and have a large CD collection as well as a vinyl one. I just do not think there is anything that this could not do. From something heavy like Back in Black by AC/DC to something more mellow like Duke Ellington & John Coltrane, everything your throw at this will sound near perfect. I said this the last time I checked this out, but this really is one of the best amps I have ever had the pleasure to play around with.
The Verdict: I know that some hardcore audiophiles will be screaming at me right now, but I prefer the sound from the McIntosh MA9000! At the end of the day, you can tell me all the technical mumbo jumbo you want and yes, the Gryphon Diablo 300 sounds amazing, but it is not ten grand better and actually I think the MA9000 has a better overall balanced sound! Music is subjective and if someone is going to tell me the Diablo 300 is better for them, I will not dispute it, but for me, the MA9000 is the clear winner here.
Which Is The Better Amplifier?
Well, we bring this big heavyweight UFC style fight that was the Gryphon Diablo 300 and McIntosh MA9000 to an end. Look, if you have read the article you know what I am going to say here. The winner here is the McIntosh MA9000. Now, you may think that as a tightfisted Scotsman I am picking it because it is so much cheaper….ok that is partly the reason I will admit. However, if the Gryphon Diablo 300 was the exact same price or even let's say a grand cheaper, I would still pick the McIntosh MA9000 as the winner. I think the fact it has a DAC built in is great and I just preferred the overall sound I was getting out of it.