Now, this Gryphon Diablo 120 and 300 is an epic match up between two very elite amplifiers. As I write this, I have looked at the Gryphon Diablo 120 once before and had a great time doing so. I talked about how it was one of the elite amps on the market and how that Gryphon are known for making truly next level stuff. Well, today it is going up against the Gryphon Diablo 300 which is the even more premium offering from Gryphon in this style. The big question we are going to be hopefully answering today is if the 300 is worth all the extra money that the already very expensive 120 is going for.
The Price
Out of the three categories we are looking at today in this Gryphon Diablo 120 and 300 contents, the price is going to be the one that is the most shocking. It is crazy to think that some people can drop this kind of money on an amplifier, my first car was not even a grand, and yet we have two amps today that cost over 10 times that!
Gryphon Diablo 120:
I just do not see any way that you are getting a Gryphon Diablo 120 for anywhere under the 11 to 12 grand mark! One of the things that I think is kind of amusing is that this is actually the "entry level" amplifier from Gryphon in this style. It is very, very expensive, but to be fair, there is a very good reason for this. Gryphon makes only the best of the best when it comes to pretty much everything and that is why their products carry the price tags that they do. If you do a bit of shopping around, you might get lucky and find this for a bit cheaper, in my time looking around, around 10 grand was the cheapest that I saw this.
Gryphon Diablo 300: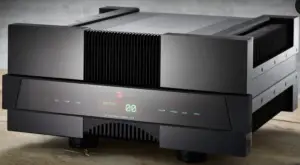 No way!!!! That was what I said when my friend told me you were looking at about 20 grand if you want a Gryphon Diablo 300! So I did some looking around and found out that he was right. However, I did find some in the UK that was priced at around the 14 to 15 grand mark, but just imagine how much shipping on this monster is going to be to the USA! As far as this series goes, this is the be all and end all from Gryphon. This is their elite flagship amplifier and it has a price tag that lets you know you are dealing with a serious piece of tech. My friend who actually owns a music store told me that these are so high end, that he has only ever had one come through the store (which is how I was able to do this comparison) and he has only known of a couple of other stores that have dealt with these!
The Verdict: No matter which one you go for, both the Gryphon Diablo 120 and the Gryphon Diablo 300 are very, very expensive. For me, I have to give this round to the 120 as while I get that from a "tech" point of view, the Gryphon Diablo 300 does have more going on, from what I experienced it was not enough to justify the extra price tag.  Oh, the price tag for these can get even higher if you decide to add the DAC module too!
The Design
Our design category is very interesting today in this Gryphon Diablo 120 and 300 showdown as these are two very similar looking products! To be fair most companies that have a series of products tend to keep them in a similar style so I will certainly not criticize Gryphon for this.
Gryphon Diablo 120: How can you look at the Gryphon Diablo 120 and not say wow? I just love the style of this, it looks like some kind of high-end gaming PC and I mean that in a very complimentary way. This is a very large amp as it comes in at 17" x 7" x 14.5", but as large as this is, it does make it smaller than the Gryphon Diablo 300. It does weigh 57 pounds so this thing will need a very sturdy place to call home. The black design of this is something that I just love, parts of it have a kind of gloss design to them which I am a huge fan of, even if this will be a real magnet for dust and fingerprints. The last time I talked about this I compared it to a laserdisc player and I still think that is a fair comparison. On the front of the Gryphon Diablo 120, you do not have as much going on as you do with some other expensive amps.
I like how all of the buttons are simple touch-style controls and the blue lighting on the buttons and the LCD is something that I think goes very well with the black body of the unit. I like the air vents above the display too as it gives the amp a very cool kind of look. On the back, you have your various connections and Gryphon has made sure that they are all clearly labeled and spaced out enough so that things are not a pain in the butt to plug in and unplug. Towards the top of the unit, you have a large slot and this is for adding the DAC module if you decide you want to have something digital like a CD player connected to this. The thing that surprised me the most about the Gryphon Diablo 120 was the remote control. I love this thing! It might be small and only have six buttons, but it has a very sturdy and high-quality feel to it. While I get that it looks basic, it does make it easy to control the various features of the amp.
Gryphon Diablo 300: As I said the design of these is very similar so much of what I wrote about the 120 is going to ring true for the Gryphon Diablo 300. I suggest you have a look at this Gryphon Audio Diablo 300 REVIEW Conclusion Amazing HiFi Integrated Amplifier DAC video if you want a better and more up close and personal look at it.
Let's start with the dimensions which are different from the Gryphon Diablo 120. This comes in at 18.9" x 9.2" x 18.1" and it was the height where I noticed the biggest difference. However, it is the weight of this thing that really makes you say wow, the 300 comes in at a crazy, 84 pounds! This thing is very heavy and that means moving it and even finding a place for it can be tricky. You have the basic same design as far as the front goes, the same touch buttons, same display, but due to the increased height, the air vent is much larger and more noticeable here. Which I do not like as much as I do on the 120!
The back is very similar to the 120 as well at first glance, but when you take a closer look, you can see that the Gryphon 300 does offer more in the way of connection options. Like the 120, the various ports are towards the bottom of the amp as there is a large space for the DAC module above this. Just like with the 120, you get an amazing remote control with the 300 which makes controlling the amp as easy as can be. It has such a premium feel to it that I am someone that likes to flip around their remote controls, but this thing feels so expensive there is no way that I would do that with this!
The Verdict: I am sure the extra ports that are on the back of the Gryphon Diablo 300 may make you think that is the winner here, but as handy as they are. I do think I prefer the design of the Gryphon 120 more. I think that the 300 verges on being too big and that extended air vent style part of the front is not as nice to look at as it is on the slimmer 120 in my opinion.
The Sound
I have to say thanks to my buddy for letting me come to his shop and play around with these. I thought for sure that the sound category of our Gryphon Diablo 120 and 300 contest would be very one sided, but I have to say, I was actually surprised at the way this round turned out.
Gryphon Diablo 120: I suggest you have a watch of this "Entry Level" Gryphon The Diablo 120 Integrated HiFi Amplifier REVIEW video if you want to get a better idea of why so many people hold the Gryphon Diablo 120 in such high regard.
Out of the box, the sound that you are getting out of this thing is amazing. I really do not know how to describe it, but the sound I was experiencing was as real and raw as I had ever heard, even an album like The Transformers: The Movie which I have listened to a million times managed to blow me away. A huge part of the fun for me was just the way you felt like you were hearing notes for the first time when your music was played through this. I have never once claimed to be a hardcore audiophile with the most sensitive ears in the world, but I have to say, I could recognize a real step up in quality thanks to this.
I think that the best compliment I can give the Gryphon Diablo 120 is that it just hits all the ranges near perfectly. It has a great mid-range, but if you love deep bass and high-pitched vocals, you will not be disappointed with this! A great example of this is from UK rockers The Darkness and their Live at Hammersmith album, which is such an underrated live album. After I listened to this with the 120, a few weeks later I went to listen to it at home with my own setup and I noticed right away that something was missing in comparison to what I heard before, it was actually a major bummer if I am being honest.
Gryphon Diablo 300: I had the pleasure of getting to try out the Diablo 120 about a month or two before I had the chance to play around with the Gryphon Diablo 300. With how much more expensive the 300 is and with how much more impressive and expensive tech there was inside, I was expecting to be blown away. I took my Arctic Monkeys, Whatever People Say I Am, That's What I'm Not album around as that was one of the ones we tested out with the 120 and thought sounded amazing. Now, to be 100 percent honest with you, I did not actually notice much if any difference here at all. Hell, if anything I thought that the 120 actually offered a softer kind of sound.
That brings me to an interesting point when talking about amplifiers like this. While they make a massive difference, at the end of the day, your speakers do play a big part in the kind of sound you are getting as well. I think with the right pair of speakers, the Gryphon Diablo 300 will sound amazing. However, even an album like Is This It by The Strokes did not sound noticeably different. I am sure some "audiophiles" will be able to notice the little differences. However, for me at this price range, the differences should be very noticeable. Make no mistake about it the Diablo 300 sounded phenomenal, but I did think it was going to be a much bigger step up from the 120.
The Verdict: I have to say that I liked the sound I was hearing with the Gryphon Diablo 120 better! Even if you took the price out of the equation, I still would pick the 120 as I felt it had a more balanced kind of sound. Does the Gryphon Diablo 300 have more power, undoubtedly yes, but that from what I was experiencing did not translate to a more pleasing sound, well for my ears at least!
Which Is The Better Amplifier?
And here we are at the end of our Gryphon Diablo 120 and 300 fight to the death! Before I had the chance to check out the Gryphon Diablo 300 and I knew I was going to be making this article, I was certain that I was going to be so blown away by the 300 that it would leave the Gryphon Diablo 120  in its dust. While I was impressed with the 300, I must admit that overall, I think the 120 is better. The sound it produced just appealed to me more and I prefer the smaller design of it too. Plus, we cannot ignore the massive price difference, can we? You could get the 120 and the DAC module for about the same price (maybe even cheaper) than the 300! I was so surprised that I preferred the 120, I did some research online and it seems that many other people prefer the 120 too!