Are you looking for a reliable turntable that brings you back to the past; reproducing the very nostalgic vinyl music? If you are one of the audiophiles, the Thorens TD 170-1 Fully Automatic Turntable is a model we recommend. Besides being reliable, playing old records smoothly, there is no scratching or skipping when the machine turns along. Suitable for both beginners and the very experienced, this machine allows you to re-discover the vinyl of the past.
Your convenience and comfort
Besides being able to bring you convenience and comfort by being fully automatic, you do not need to worry about alignment while getting your favorite records on this three speed turntable. Well equipped with a built-in phono pre-amp, it connects to amplifiers and receivers that does not have a phono input too. Furthermore, with an additional special cartridge/stylus, it can also take on shellac records at 78 rpm. To many of us, it simply brings back the times when we were growing up… Very often its also a good companion at home that helps entertain our guests.
Where black is both sleek and retro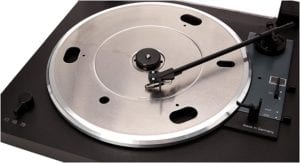 What type of person are you? Are you the more simple classic type or the one that looks for variety? The Thorens TD 170-1 comes with a simple yet sleek black outlook. It easily blends into the other audio components and sits well in the room. For the vinyl lovers, most of us appreciate its simplicity as it brings back the flavor of the past, where black was one of the most 'popular' options around.
Compatible with your old vinyl records?
When it comes to the specifications of this machine, it allows you to choose between the three playback speeds, 33-1/3, 45, 78 rpm. For the long-time collectors of vinyl records, this is great news… because almost all your records will be compatible with this turntable. What about the speaker component? Not to worry about finding a suitable speaker, this is because this model has already the built-in phono preamp.
No flutter yet friendly for your wallet
How is this different from the Thorens TD 190-2? Actually if you compare them both, there are many similarities; mainly both are fully automatic turntables that plays your favorite and relaxing records. The only obvious difference here is that the Thorens TD 170-1 Fully Automatic Turntable is a little more friendly to your pocket! Priced at between $600-$700 dollars, its said to be one of the best deals around! In this aspect, we feel that the models from Thorens seems to be doing very well meeting the needs of their users – bringing turntables that are hassle-free yet giving you nothing to worry for. Other than that, this turntable does well at serving you with the noise-less sound performance that you are looking for. This model brings you both convenience and quietness, what else can you complain?
Does this meet your needs?
Giving your old records a revival should be a hassle-less and easy thing. Do not get distracted by the many other minute features that are dangling around, especially if your goal at the end is to get a good turntable that can play your favorite records well. For me, I have no complains about this given the reliability and the friendly price. That is for myself, maybe if there is another color that I can choose from, that's something Thorens can work on. Overall, many good reviews about this model, do check it out.