Introduction
In this post, let's look at how Pioneer has caught up with their innovations especially in the budget segment of turntables. According to Pioneer, this model brings convenience to audiophiles and it comes with a high performance cartridge (something many of us prefer) and a built-in phono stage. For the vinyl lovers, beginners especially may find this suitable in both needs and price aspects. This TT is built with a dual layered chassis that is equipped with a thick metal plate of thickness 4mm, resulting in greater mass and great sound quality. It is also designed with a low CG aiming to bring stable playback with least disruptions. You can use this PL-30-K to play your 33 and 45 rpm records.
Design & Dimensions
A quick glance at this model, one would probably agree that this TT is quite simplistic in its earnest design; simple black outlook which doesn't resemble other outstanding-looking TTs. Some people however, have a taste for plain standard looking models. For the record, I prefer more standardised colors and designs as it will never be out of fashion since its very solid looking meaning – it can withstand the time of change and fashion yet appear smoothing to the eye.
This TT is of the dimension: 17 inches by 4 inches by 15 inches. It has a weight of 12.3 lb. It might seem heavy but honestly, this increment in weight is a good help as it aids in the reduction of unwanted vibrations, giving you good sound quality.
2a. Manual or Automatic?
We are looking at a fully automatic turntable here. For those who do not like the action of doing all the manual work yourself, this is something that brings you added convenience without much compromise on sound quality.
2b. Belt driven?
The PL-30-K turntable is belt-driven and powered by a DC servo controlled motor. When it comes to such a set up, it optimizes the best sound performance, with low wow and flutter (0.1%) and a signal to nose ratio of 60 dB only.
2c. Tonearm, Cartridge, Stylus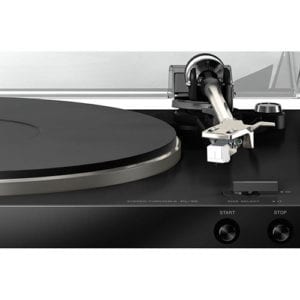 The aluminium die-cast tonearm comes with a straight arm tube for the most optimal geometry. The headshell is also detactable also made from aluminium die-cast and it gives ease when you change cartridge or make adjustments. Yes, the tonearm cable is also equipped with gold plated RCA connectors. This model also comes with the anti-skate dial that enables accurate adjustment in achieving the precise stylus tracking.
The effective arm length of the tonearm is measured at 221.5mm with an overhang of 19mm. The stylus pressure variable ranges from zero to 4.0g. Yes, you have the moving magnet cartridge included.
2d. USB output?
Unfortunately this model doesn't have a USB port.
2e. Phono?
Yes, rejoice! Because this PL-30-K arrives with a built in Phono Equalizer.
Quality of Sound
Well, when you use this TT for some time, you will realise that this TT is kind of different from those cheaper ones in the market. First of all, one has to keep in mind that this is NOT one of the other high end machines. Given that it is designed to reduce vibrations especially with its increased mass, I have to give it 2 thumbs up for what it brings, albeit with the pocket-friendly price tag.
Clear sound performance for a fully automatic turntable, just push the play button and you have your vinyl records spinning. Overall music quality was good, as you can also notice it produces warm and has clarity of mid range, a stark difference when you compare it with digital sound. It also comes with great low frequency extensions and bass definition was pretty good enough for me.
Well if you have tried more higher end TTs, perhaps you will notice the difference, like I did. However, I think for those starters or those who are not looking to spend too much to acquire a high performance TT at a reasonable price, this is a good buy. If you have more budget here, you can even upgrade your cartridge to the Ortofon 2M Red cartridge, even better sound performance.
Pros
Fully automatic
Thick metal plate base
Easy to set up
Great sound performance
Anti-skate dial
Cons
Heavy 3.5g cartridge force
Lack of tone arm clip
Feedback of consumers
Great for those who are not very tech savy, since the set up is very easy, young and old can enjoy it without much hassle. Many consumers find the tracking force a little on the high side, that's one of the main drawbacks. However, that aside, for the price and quality, you don't see much complaints. We also see beginners enjoying this model and those who are looking for entry level TT to begin their vinyl journey, find this a good deal.
Conclusion
In a nutshell, I think Pioneer did a good job in rolling this Pioneer PL-30-K out to the market, targeting specifically beginners and those who have a budget. For those who are just starting out, sometimes you do not know if this will be something you will enjoy looking after, taking care of and even in the future to upgrade your machines, so probably you do not want to plough deep into your pockets to get something very well recommended yet not appreciated very much by you.
For those who have a budget, maybe you will be ok to substitute the price premium for a little less premium sound. For this inexpensive price, you get the outstanding sound quality, with all the other features and a fully automatic turntable that looks modern yet simple, you do not have to think further. Basically awesome entry level TT with speed adjustment – solid record player.
I must say its quite a perfect gift if you are looking for something for either your young folks or elderly parents at home, easy set up and quality music that doesn't break the bank. If you are afraid of dust cluttering on your TT, and you want to keep them well maintained, there are also inexpensive companions such as the clean brush and vinyl record cleaning kit that will be good tools to have.