Vinyl record players are not just a fad, they have been around since 1877. Contrary to previous predictions, vinyl record players are far from being replaced by CDs and MP3s. According to Official Charts Company, vinyl album sales reached a 20 year high of 1.29 million in 2014 following seven years of continuous growth. Correspondingly, vinyl record player and turntable sales have surged.
You may wonder what's the reason behind this comeback? It is not just because of the older generation's sense of nostalgia. Audiophiles, of all ages, recognise the unique and higher-quality sound in vinyl records. In response to the rising demand, existing and new firms have joined the foray and released high-quality turntables with a modern touch.
Why pick turntables under $500?
Turntables that cost under $500 are typically marketed as entry-level turntables. Thus, buying turntables under $500 is a terrific way for beginners to start listening to vinyl or for avid listeners on a budget to enjoy their vinyl records. High-end turntables can easily cost thousands of dollars. Does this mean that turntables that cost under $500 are of sub-par quality? Certainly not.
Our Top 13 Best and Affordable Turntables Below $500
Rega RP1 Turntable

Music Hall MMF 2.2LE 2-Speed Turntable

Audio Technica AT-LP1240-USB Direct Drive Turntable

Pro-Ject Debut Carbon DC Turntable

Pro-Ject Essential II Digital USB Turntable

Thorens TD158 2-Speed Dual Cartridge Belt Drive Turntable

Denon DP-300F Fully Automatic Analog Turntable

Marantz TT42P Fully Automatic Belt Drive Turntable

Pioneer DJ PLX-500-K Direct Drive DJ Turntable

Onkyo CP-1050 Direct-Drive Turntable

U-Turn Audio Orbit Plus Turntable

Crosley CR2413A-PA Memory Master II Turntable

TEAC TN-300 Analog Record Player
Let's explore the 13 best turntables that cost less than $500. These lower-priced turntables can play your records with the esteem they deserve.
1. Rega RP1 Turntable – great value for money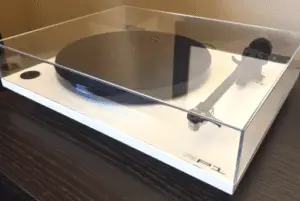 UK-Based company Rega's RP1 model is a belt-driven turntable with 2 speeds, 33 and 45 RPM. The Rega RP1 turntable is noticeably lighter than other similar record players. It uses lighter materials for its MDF plinth. In addition, the RP1 turntable uses a high-quality and low-vibration motor which reduces unwanted vibrations.  The high-quality motor in the Rega RP1 is frequently seen in Rega's pricier turntable models. Overall, the Rega RP1 offers excellent value for money.
The latest models of the Rega RP1 have shown an improvement in terms of platter material and cartridge design. Rega has shifted from using MDF material to phenolic resin for the RP1's platter. The new platter is weighted at the outer edge which achieves a flywheel effect and stable playing. The top surface of the Rega RP1's platter is textured which reduces slippage between the platter and the felt mat. Altogether, this enables superb speed stability and consistency.
The RP1 uses a hand-assembled Rega RB101 tonearm. The tonearm is sturdy as it uses high tensile strength stainless steel and its three-point mounting system offers maximum stiffness. It also has magnetic anti-skating mechanism which minimises cartridge vibrations and sound distortions.
Another upgrade in the Rega RP1 turntable is the Carbon Moving-Magnet (MM) Cartridge. The Carbon Cartridge offers high-performance at the very low price of US$34. In terms of sound quality, the Carbon MM Cartridge produces a very decent bottom-octave performance. It does not disappoint in both the mid-range and bass. Unlike other entry-level turntables, the Rega RP1 does not sound "light" or lacking in power. The RP1 decently tracks the electric bass and kick drum in "pop" records while simultaneously producing a satisfying amount of "oomph".
The design of the Rega RP1 is extremely sleek and minimalist. The Rega RP1 turntable noticeably omits the non-essentials. Although some users enjoy the modern and minimalist style, others who prefer fiddling with their turntable's components find themselves slightly disappointed with the design. However, given that the Rega RP1 is 100% manual, vinyl lovers can still experience the "feel" of owning a turntable.
There are a few other features that can be a let-down. While the Rega RP1 is an entry-level turntable, it is priced higher than its competitors despite lacking a phono stage and thus requiring customers to buy an external one. Furthermore, the Rega RP1's RCA cables are permanently attached to the turntable and do not have a ground clip. Consequently, some users experienced ground hum in their setups.
Overall, despite having some flaws in its design, one cannot deny that the Rega RP1 offers great value-for-money. Although it is slightly more expensive than other entry-level turntables, the Rega RP1 possesses several high-quality features that are not easily found in other entry-level turntables. It remains a great platform for novices to start listening to vinyl. It is also fast and easy to set up the Rega RP1 turntable.
Pros:
High-quality and quiet motor
Excellent tonearm and cartridge design which reduces unwanted vibrations
Improved platter material which improves speed stability and consistency
Cons:
Ground hum is experienced in some set-ups
Lacks a phono stage
Very simplistic design
2. Music Hall MMF 2.2LE 2-Speed Turntable – affordable and superb sound quality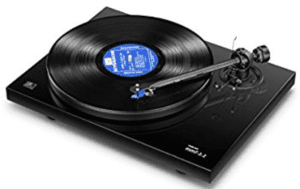 Although it is an entry level turntable, the Music Hall MMF 2.2 sounds amazing as it shares similar parts with its higher-end counterparts.
In terms of aesthetics, the MMF 2.2 is rather simple yet pleasing to the eye. Customers can order either a high-gloss piano black lacquer, or a Ferrari Red colour at a slightly higher price. Although it is minimalist, users tend to not mind given the lower cost of owning a Music Hall MMF 2.2 turntable.
The motto of Music Hall's turntables is developing top sound quality. Therefore, this player is completely manual to retain the authentic sound of the vinyl records. Although the Music Hall MMF 2.2 is minimalist, it still comes with a sturdy dust cover, a quality MDF plinth, quiet motor and an adjustable vibration damping feet. The plinth holds the turntable together and can reduce unwanted vibrations. These useful features reduce sound distortions and improve sound quality.
The MMF 2.2 turntable come with a good tonearm. The alloy tonearm is also used in the Music Hall MMF 5.1 turntable which is a higher-end turntable model. The tonearm provides excellent tracking. It also includes a moving magnet phono cartridge which is mounted and properly aligned with an elliptical stylus.
With an elliptical stylus, it can easily follow the groove oscillations more accurately than other types of styluses like the spherical stylus. Sound distortion and phase error is thus less. As a result, this TT has virtually no wow or flutter. The sound produced is pleasing and neutral, and upholds the integrity of any record.
One potential inconvenience is that the inferior quality of the felt platter mat. However, this is a small matter. Music Hall's Acri-Plat Acrylic Platter is an upgrade to its current Music Hall MMF2.2 The platter is crafted of a dense acrylic material that lowers background noise and clarifies the bass and highs. It does not even require a slip mat on top.
While the Music Hall MMF 2.2 cannot be assembled in under 5 minutes, it still does not take long to assemble. The player requires some assembly and light calibration should take no longer than 30 minutes. You can refer to these videos as a guide on how to assemble the Music Hall MMF 2.2 turntable:
By paying attention to the crucial details and omitting non-essentials, Music Hall imbues a great deal of value into this turntable. The result is a simple and functional turntable that offers affordability and superb sound quality.
Pros:
High quality tonearm
Quiet motor to reduce sound distortions
The included cartridge has a high-quality stylus which improves tracking
Cons:
Low quality slip mat
Longer assembling time
Fully manual design can be frustrating for new vinyl users
3. Audio Technica AT-LP1240-USB Direct Drive Turntable – professional DJs or music lovers?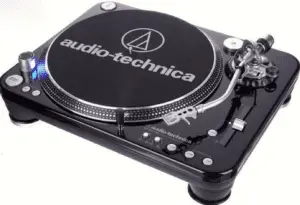 The Audio Technica AT-LP1240 turntable is high-performing and flashy model. Unlike other entry-level turntables which are simplistic and tone-downed in design, the AT-LP1240 pulls out all the stops. It has many knobs and switches to fiddle with. It is also unique as it caters to two crowds, professional DJs and music lovers.
This turntable has a rare feature as its electronic speed selector has three options unlike most turntables. Users can select either 33, 45 or 78 RPM. For vinyl record enthusiasts with records made between 1898 and the late 1950s, the option of 78 RPM would be greatly appreciated.
The Audio Technica AT-LP1240 has a direct drive design and high-torque motor. With a drive belt design, there is higher torque which means that the platter can accelerate to a constant speed faster. This results in faster start-up times. The Audio Technica AT-LP1240's motor can also do back-cueing and reverse playing with ease. All DJs need is a special needle to do so.
The more precise and stronger motor means that there will be less wow and flutter in your playback. The hefty but sturdy build also prevents vibrations or motor noises from interfering with the music and sound quality. This is especially useful for DJs as a stronger motor can withstand rougher and prolonged use.
The S-shaped tonearm has an adjustable tracking force/counterweight, an anti-skate adjustment and a removable universal cartridge mount. The aluminium tonearm is quite durable and can withstand frequent use. However, the cartridge needs to be bought separately.
One other outstanding feature of theAudio Technica AT-LP1240 is its USB connectivity function. The turntable includes PC and Mac-compatible Audacity software that converts the audio on a record to MP3, WAV or other format digital audio files. In the same vein, the records do not lose their integrity or "vinyl touch". Most entry-level turntables do not have this feature!
While some of these features cement value of the Audio Technica AT-LP1240, most home listeners won't benefit from additional functions such as pitch-shifting their audio or playing records in reverse. In fact, home listeners should never hit the "reverse" button as it could damage the record and stylus. Best to leave it to the professionals.
These additional functions then make the turntable more expensive. Nevertheless, the Audio Technica AT-LP1240 does not compromise on quality and the sound it produces is greatly enjoyed by even non-DJs.
The Audio Technica AT-LP1240 also has a built-in switchable phono preamp, which allows for properly amplified playback. However, some users preferred using other phono stages such as the Rega Fono Mini A2D. This enabled a more dynamic and detailed sound with greater clarity.
All things considered, the Audio Technica AT-LP1240 still offers a lot of value at an affordable price. It is a versatile turntable that will not disappoint.
Pros:
High-torque direct drive motor is enables controlled playback
Quality aluminium tonearm is durable and tracks excellently
USB connectivity for digital archiving
Cons:
No included cartridge or stylus
Extra controls are not useful to home listeners and can damage vinyl records
Built-in preamp is not as effective as other phono stages
4. Pro-Ject Debut Carbon DC Turntable – upgradable with affordability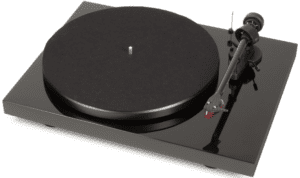 The Pro-Ject Debut Carbon DC TT does not spend on fully-automated features but instead invests in higher-quality components. It has an 8.6-inch carbon tonearm and an integrated headshell. The carbon tonearm increases stiffness and decreases unwanted resonance.  This material normally is usually used in high-end tonearms and creates a fuller and richer sound when playing your vinyl records.
The cartridge is included in the turntable and is already pre-mounted on the tonearm. The cartridge is typically the Ortofon 2M Red cartridge which is favoured by many audiophiles and costs $100 if bought separately. Within the first few uses; the cartridge can produce a clear and warm sound.
This turntable also features a heavier and larger platter. This enables speed consistency and reduces wow and flutter. Additionally, the Pro-Ject Debut Carbon DC's platter can be upgraded to the Pro-Ject Acryl-It platter for just $130. This further reduces plater resonances and does not require a felt mat. Although, some users felt that the felt mat was too thin and opted to upgrade to another one.
The Pro-Ject Debut Carbon DC features a new DC power supply with ultra-precision frequency DC-driven AC generator. This motor will allow a more stable speed for accurate playback and less sound distortions. The power supply also uses much less power when turntable is idle.
Another bonus is that the decoupled motor. This means that the motor is connected to the body by a suspension system. In the Pro-Ject Debut Carbon DC model, thermo plastic elastomers are used as a dampening material to further reduce vibrations caused by the motor's operation. Overall, there will be little resonance and unwanted vibrations to interfere with your listening experience.
In terms of set-up, the counterweight and anti-skate mechanism is not accurately calibrated beforehand. Hence, you will need to do this on your own. For first-time users, you should use a tracking force scale. The turntable is also 100% manual; thus, you will need to lift the platter to change between 33 and 45 RPM. You should refer to this guide on how to set-up and use your Pro-Ject Debut Carbon DC turntable:
Like other entry-level turntables, the design is elegant and simple. The model is versatile, it is available in high-gloss black or shiny red, green, blue, yellow, silver or white finishes. This player also has a USB version with an included phono stage. This ultimately boils down to your preferences. For another opinion refer to this post: Looking for a manual turntable? You cannot miss the Pro-Ject Debut Carbon…
Although, it has some flaws, it is an impressive piece. The improved motor and suspension system makes it hard to beat. Customers can also enjoy the additional option of upgrading their Pro-Ject Debut Carbon DC turntable, without paying a fortune.
Pros:
Improved motor and suspension system
Heavier platter to ensure speed consistency
Sturdy carbon tonearm and an included cartridge
Cons:
Must pay extra for a phono pre-amp
Need to calibrate the counterweight and anti-skating mechanism
Sub-par felt mat should be upgraded for better playing
5. Pro-Ject Essential II Digital USB Turntable – all rounder but less suitable for beginners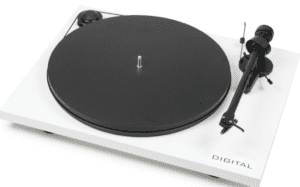 The Pro-Ject Essential II Digital-USB turntable is one-of-a-kind as there are hardly any other high-quality turntables at this price. It comes with a phono stage and a pre-mounted Ortofon OM5E cartridge. It is a great platform for vinyl starters as it possesses good sound reproduction and recording capability.
Pro-Ject Essential II Digital-USB turntable is a belt-driven manual turntable. The speed change is manual. For example, you need to shift the drive belt to the larger step on the motor pulley. It also has an external belt drive which means that the pulley sits next to the platter, rather than beneath it. This makes switching speeds for 33 or 45rpm records very convenient.
The Pro-Ject Essential II turntable uses an 8.6-inch aluminium tonearm. The improved design material is sturdy and thus easier to maintain. The Pro-Ject Essential II turntable uses a heavy MDF platter and a low-voltage motor perimeter belt drive system. The low-resonance platter is made from a laminated particle board and allows smooth rotation with accurate speed consistency. The low-vibration synchronous motor also produces less operating noise.
The Ortofon OM5E moving-magnet cartridge is fitted and pre-aligned to the tonearm. While the stylus cannot be replaced, it costs just over $60 which is relatively low for a decent quality cartridge. There is no creaking or sound distortions, Overall, in terms of sound quality, the cartridge produces a good amount of detail and enough refinement.
The addition of the built-in phono preamp allows you to send a line level signal to your amp or speakers Additionally, the added feature of a USB connection offers an uncomplicated way to record or play your records through your MAC or PC. With the USB digital output, you can easily digitize your entire vinyl collection without sacrificing the quality of the music.
For this turntable, it is not as easy as plug-and-play. Users must add the anti-skate weight to the tonearm and set the counterweight to the correct tracking force for the cartridge. Unfortunately, Pro-Ject doesn't supply a tracking-force gauge. Therefore, this will be slightly challenging for first-time vinyl users. The manual does offer decent instructions but this will still take some time.
For optimum sound quality, the Pro-Ject Essential II Digital turntable needs proper placement. It's best to place the turntable on a firm support and away from the speakers or any other source of vibration. Aside from these minor issues, the Pro-Ject Essential II is an all-rounder with undeniable potential.
Pros:
USB connectivity to digitize records
A built-in phono pre-amp
Low-resonance platter and sturdy aluminium tonearm
Cons:
Inexperienced vinyl users may face difficulty in setting up this turntable
Need to calibrate the counterweight and anti-skate weight
Ortofon OM5E is less stellar than other entry-level cartridges
6. Thorens TD158 2-Speed Dual Cartridge Belt Drive Turntable – little sound distortion and rumble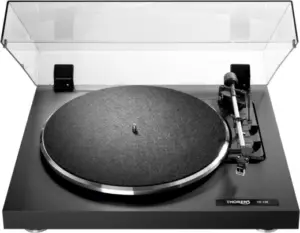 The Thorens TD158 Belt-drive turntable provides brand new vinyl enthusiasts to start listening to vinyl records. Thorens is a Swiss manufacturer and is renowned for their high-end finished turntables. The components of Thoren's turntables are manufactured in Germany.
The distinguishing feature of the Thorens TD158 is its fully-automatic function. At the push of a button, the motor starts spinning the platter while the tonearm is moved over the record.
With the addition of an electronic speed selector, users can select a speed of 33 or 45 RPM to play their record. With a fully-automatic TT, manually changing the position of the belt is unnecessary. At the end of each album, the turntable automatically switches off. Any intervention is un-required as the turntable raises the stylus and moves the tonearm back to its original position.
If you lack a steady hand, the fully automatic operation is ideal as you can evade scratching your valuable records. The Thorens TD158 allows first-time users to bypass the technical aspects of record-playing. However, vinyl fans who enjoy "interacting" with their turntables would consider the Thorens TD158 as less suited to their needs.
The design of the Thorens TD158 is quite minimalist and features just the essentials. Since the Thorens TD158 is fully automatic and does not require users to manually adjust the belt, some are left disappointed with the lack of contact with their turntables.
In terms of sound quality, the Thorens TD158 does not disappoint. There is little sound distortion and unwanted ground hum noise. However, some contend that a manual turntable is more ideal as it also produces better sound quality in comparison to a fully-automatic turntable like the Thorens TD158.
The Thorens TD158 is a breeze to set-up, it is literally as easy as "plug and play". The tonearm and cartridge of the Thorens TD158 are already pre-mounted and carefully adjusted in the factory. The Thorens TD158's user-friendly manual makes it even easier to assemble. In just 3 steps, your Thorens TD158 turntable will be ready to play. You can download the Thorens TD 158 Manual here.
One potential point of contention would be the price of a Thorens TD158, it typically costs between $400 to $600. As the TD158 is marketed as an entry-level turntable, some would consider the price tag as too high and may prefer to buy a cheaper alternative from Thoren's competitors. However, given the reputable and high-end nature of the Thorens brand, the Thorens TD158 turntable is one of Thoren's few automatic turntables under $1,000, let alone $500.
Pros:
High-quality components such as tonearm and cartridge design
Extremely easy to set-up and use
Automatic switch on/off button
Cons:
Very simplistic design
More expensive than other entry-level turntables
Unable to manually adjust the turntable's speed
7. Denon DP-300F Fully Automatic Analog Turntable – great sound great price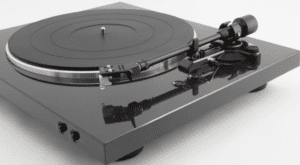 Denon's DP-300F offers the rare combination of both fully automatic controls and high-quality sound. With a fully automatic turntable, all you need to do is press to play. With the push of a button, the player automatically lifts the tonearm and gently lowers it over the spinning platter.
For inexperienced vinyl lovers, the fully automatic function stops you from damaging your turntable's stylus or record. When the record side is finished, the platter stops spinning and the tonearm resets itself. Another unique feature is the manual lifter mechanism. It allows you to place the needle on the record and skip to a different song.
This turntable is powered by a DC servo motor and belt drive system and has rotation speeds of 33 1/3 or 45 rpm. Another automatic convenience in the Denon DP-300F is a button to switch between the 33 1/3 and 45 RPM playback speeds. Also, the belt-driven motor is very silent and does not affect the sound in any noticeable way. The fully automatic features of the Denon DP-300F makes it easy to setup.
The turntable's platter is made of rigid diecast aluminium to produce uniform rotation for smooth operation. The aluminium base reduces vibrations and improves performance with little wow or flutter. Although the build quality is solid, the turntable's heavy plastic plinth is not the best material to reduce vibrations and distortions.
The Denon MM Cartridge is pre-mounted on a removable headshell. The straight tonearm has a removable angled headshell, which improves tracking on side grooves. Overall, the sound produced has no crackling or popping. The removable headshell makes cartridge replacement simple.
Some users were dissatisfied with the original pre-mounted cartridge. However, it was easy for them to switch to using the Ortofon 2M Red Cartridge which produces a warm and delightful sound. The Denon DP-300F has other features such as a built-in preamp which makes it easy to connect this turntable to a speaker as well as a good-quality rubber slip mat and RCA connectors.
In terms of overall sound quality, the turntable's sound has a rolled off treble and a full mid-range. The sound is very full and has a touch of warmth. However, it's slightly lacking in the bass even with a good phono stage.
Despite these issues, the Denon DP-300F is still a great sounding and convenient turntable at a great price. The Denon DP-300F is a viable alternative to turntables sold by Music Hall & Pro-Ject. It is easy to upgrade and with a few tweaks, the Denon DP-300F can suit your needs too.
Pros:
Angled and removable headshell
Fully automatic
Great value-for-money
Cons:
Original cartridge is slightly disappointing
The plinth material could be better
Sound quality is slightly lacking
8. Marantz TT42P Fully Automatic Belt Drive Turntable with On-Board Phono EQ – convenient but not for upgrading fans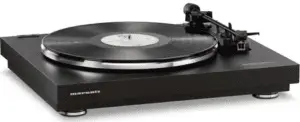 It's not easy to find an affordable turntable that is fully automatic. This makes the Marantz TT42P a great buy. It is a fully automatic turntable with a built-in phono preamp which works well with receivers that lack a phono input.
Automatic turntables are convenient and easy-to-use because they do all the work such as moving the tonearm to play your record and moving back automatically after the end of a record. The Marantz TT42P is easy to set-up since the TT42P is fully pre-installed.
Vinyl fans who enjoy fiddling with their turntables will enjoy the Marantz TT42P's manual lifter mechanism. You can set the needle on the record. Also, with the manual lifter, you can skip to a different song depending on where you place the needle on the record.
The turntable's DC servo belt drive keeps the motor running at a constant speed for optimum performance. The Marantz TT42P's aluminium platter is heavier and has good speed consistency. Unlike in the case of cheaper turntables, the needle does not skip on dust particles or dirt stuck in the groove of the record. Thus, the Marantz TT42P produces a stunning, nuanced, and distortion-free audio performance
The Marantz TT42P turntable has a heavy base construction and a low-coloration tonearm. The tonearm plays at a very accurate and stable speed which resists resonance for a clear, balanced sound. A high quality, moving magnet cartridge is included and pre-set at the factory for clear tracking. The cartridge supplied is of decent quality,
The cartridge is not replaceable as the headshell is mounted at an angle and fixed to the arm. Therefore, the cartridge cannot be upgraded. The anti-skate mechanism and counterweight cannot be adjusted too. Thus, this model is more suited for first-time or inexperienced vinyl listeners.
Another potential issue is the RCA cables which are attached to the board. Some users are unhappy that the RCA cables are soldered directly to the board, as this makes upgrading very difficult. Users who wish to upgrade their Marantz TT42P will find that their options are extremely limited.
The Marantz TT42P does have commendable features such as its fully automatic set-up and decent quality tonearm, platter and cartridge. However, it is not the best-suited turntable for users who enjoy upgrading and tweaking their record players.
Pros:
Fully Automatic
Built-in phono preamp
High-quality cartridge and tonearm
Cons:
Very limited options for upgrading
RCA cables are permanently attached
Cartridge cannot be upgraded
9. Pioneer DJ PLX-500-K Direct Drive DJ Turntable – for DJs, with sleeve stand at great price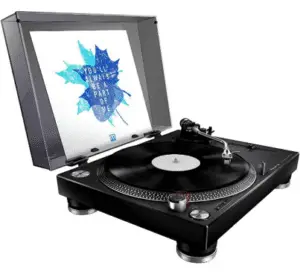 The Pioneer DJ PLX-500-K turntable is noticeably quite heavy as it is solidly built with excellent vibration damping and precise audio playback. This high-torque deck allows the platter to accelerate to a constant speed faster. DJs greatly value the faster start-up times in a direct drive turntable.
The high-torque deck is ideal for scratching and this makes the Pioneer PLX-500-K a favourite among DJs. DJs can further upgrade this turntable by purchasing a rekordbox DVS, a compatible DJ mixer and the RB-VS1-K Control Vinyl to play and remix the digital files.
The electronic speed selector makes this turntable even more convenient for DJs and home listeners. With a press of a button, you can change the speed between 33, 48 and 78 RPM. The Pioneer PLX-500-K is also one of few turntables that has the option of 78 RPM. It is typically used when playing records from before the 1960s.
It also has a USB out so you can make digital recordings of your vinyl collection. Users can record their vinyl collection to high-quality digital files by simply connecting the turntable to their PC or Mac via the USB cable. Pioneer supplies the USB cable as well as a free rekordbox software. You can refer to this link for more detailed instructions on using the free software: https://www.pioneerdj.com/en/news/2016/plx-500-direct-drive-turntable-for-djs/
The turntable comes with all the other parts that you will need. It includes a pre-mounted cartridge and stylus, slip mat, balance weights and stereo audio cables. However, the origin of the cartridge and stylus is indeterminate.
The Pioneer PLX-500-K has a universal type S-shape tonearm with a gimbal-supported type bearing structure. With a gimbal design, there is less bearing friction which allows the stylus to better track the grooves in the record. The aluminium die-cast platter has excellent speed stability and further reduces unwanted vibrations.
The Pioneer PLX-500-K produces a high-quality sound that is expected from vinyl. The turntable has the shortest possible audio routing from the stylus to the outputs which then reduces sound distortion. The phono and line outputs enable users to connect directly to their sound system or powered speakers to enjoy a clear and warm analogue sound.
One particularly intriguing and creative feature of this turntable is its sleeve stand inside the dust cover. The sleeve stand allows you to put your covers on display while listening to your vinyl. Not many entry-level turntables have this feature which makes the Pioneer PLX-500-K slightly more unique than the rest.
With all these features, the Pioneer PLX-500-K is a stunning turntable for DJs and even home listeners. It offers a clear and warm sound that is free from distortions and vibrations, at a great price. This makes it a great record player for any music lover to have.
Pros:
USB connectivity
Excellent vibration damping structure
Precise audio playback with high-torque motor
Cons:
Hard to determine cartridge's origin
Some users prefer a more manual turntable
More suited for professional DJ players than causal listeners
10. Onkyo CP-1050 Direct-Drive Turntable – great full base, suitable for tweaks

The Onkyo CP-1050 is the latest of Onkyo's entry-level models, which is a low-torque direct drive player with no built-in phono preamp. With a low-torque motor, this eliminates unnecessary motor noise.
The Onkyo CP-1050 is marketed to home listeners rather than DJs, even though it uses a direct drive motor. The design omits the pitch control and reverse playing options, which is of little use to non-DJs. Noticeably absent is the option of 78 RPM speed. Nevertheless, the omission of these gadgets helps reduce the price tag.
The unit has a classic retro design, framed in a thick black MDF plinth with an aluminium control panel. The plinth sits on four elastomer-damped feet which performs excellently in isolating the turntable from unwanted vibrations. The added dust cover further reduces vibrations coming from the speakers. The Onkyo CP-1050's aluminium platter is denser and further contributes to a steady sound.
The tonearm is an S-shaped arm with a detachable headshell. The Audio-Technica phono cartridge is pre-mounted on the tonearm's removable head shell. Some users were slightly dissatisfied with the included cartridge.
Luckily, changing the cartridge is easy with the detachable headshell. The headshell mount is compatible with Ortofon's cartridges, which cost over $100 when sold separately. Users were happy to report that the Ortofon 2M Bronze Cartridge worked brilliantly with the Onkyo CP-1050.
Upon opening the package, the tonearm seems as though it is not optimally adjusted. There was some slack in the bearings, which makes it appear as slightly imprecise. Fortunately, both the horizontal and vertical storage can be easily adjusted. After some careful tightening with a screwdriver, the slack disappears. Just be careful to not overdo it and end up compromising mobility.
In terms of the set-up of the Onkyo CP-1050, it is relatively straightforward with the aid of a detailed manual. You will need to do some adjustments, which is elaborated further upon in this manual: http://www.intl.onkyo.com/downloads/manuals/pdf/cp-1050_manual_en.pdf
In terms of sound quality, the included cartridge from Audio Technica has a surprisingly good and full bass. However, it was not very detailed. The sound is even better when an Ortofon cartridge is used as the detailing is impressive and a bright timbre comes through. While the Onkyo CP-1050's sonic performance is already decent with the included cartridge, it can certainly excel with a couple of tweaks.
Unlike other entry-level turntables, there are RCA terminals in the Onkyo CP-1050 turntable, which means that the RCA are not permanently fixed to the turntable's board. This is more convenient for users who are looking to upgrade their RCA cables. Onkyo also supplies its own cable which holds up well.
While a direct drive motor can produce unwanted vibrations, the high-quality build of the Onkyo CP-1050 mitigates any sound distortions and vibrations. Perhaps you might want to consider changing the cartridge for an even better performance.
Pros:
Detachable RCA cables
Removable headshell
Can upgrade the cartridge
Cons:
No built-in phono preamp
Cartridge could be better
Turntable needs additional adjustments, not stated in the manual
11. U-Turn Audio Orbit Plus Turntable – entry level, good punch for a small price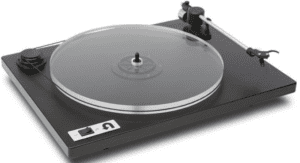 U-Turn Audio focuses on creating an efficient yet beautiful turntable for an affordable price. Their Orbit Plus turntable offers a no-frills open belt design that is both inexpensive and effective.
The U-Turn Orbit Plus turntable is noteworthy for its manual design and external belt drive. The Orbit Plus does away with automatic conveniences such an electronic speed selector. Users must manually change the speed from 33 to 45 RPM.
The external belt drive of the U-Turn Orbit Plus makes it convenient to do so. Instead of lifting the platter to change the speed, users can move the taut rubber drive belt onto a different pulley at the side of the TT. Thus, making the design of the U-Turn Orbit Plus incredibly efficient.
On the other hand, the U-Turn Orbit Plus lacks a feature to stop records that have played all the way through and users must pay extra for a cuing lever. Thus, this turntable requires more "work" than the automated alternative. Ultimately, it is dependent on each user's preferences.
In terms of the ease of setting up, the U-Turn Orbit Plus with its no-frills design is fast and easy to assemble. The cartridge in the Orbit Plus is already pre-fitted. In just five minutes, the U-Turn Orbit Plus can be easily assembled.
The U-Turn Orbit Plus turntable uses an acrylic platter which is than the MDF platter used by U-turn Audio's competitors. The heavier acrylic platter has more inertia which produces better speed consistency. The acrylic platter has 0.125% "wow & flutter" compared to 0.175% for an MDF platter. Furthermore, unwanted vibrations are reduced which improves clarity in playing.
The U-turn Orbit Plus turntable improves upon its original tonearm design with a new gimbal design and an improved anti-skate mechanism. With a new gimbal design, there is less bearing friction which allows the stylus to better track the grooves in the record. The improved anti-skate mechanism enables the stylus to sit more precisely in the centre of the groove. All of this reduces sound distortions and improves sound quality.
The U-Turn Orbit Plus turntable also uses either the Grado Black1 Cartridge or Ortofon OM5E cartridge with elliptical diamond stylus which performs well in the mid-range. The midrange is clear and detailed. However, while the bass is still easy on the ear, it is noticeably less full in the U-turn Orbit Plus turntable.
Furthermore, the design of the metal and plastic tone arm is quite modest and not particularly impressive. While the U-Turn Orbit Plus has a decent tracking force, the sound quality is not as satisfying in some respects such as its bass and bottom-octave performance.
Nevertheless, the U-Turn Orbit Plus still packs a good punch for a small price. First-time vinyl users and experienced listeners will be pleased with this entry-level turntable. Also, U-turn Audio is well-known for its customization feature. Customers have greater control over the design of their Orbit Plus turntable. For a few extra dollars, customers can change the plinth material an add-on a tonearm lifter as well as a pre-amp. U-Turn Audio certainly goes the extra mile to ensure your satisfaction.
Pros:
Great value-for-money
High-quality acrylic platter design
Many options for customisation
Cons:
Very simplistic design
Cannot easily change the cartridge, especially for new vinyl users
Absence of a tonearm lifter can make the turntable cumbersome
12. Crosley CR2413A-PA Memory Master II Turntable – versatile with great price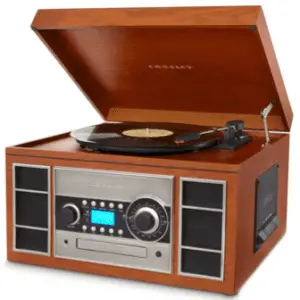 The Crosley CR2413A-PA is quite a marvel. It is a turntable with an AM/FM radio, CD player, cassette player and a cassette recorder. With all these distinct features, it is hard to believe that the entire ensemble costs just over $250.
The Crosley CR2413A-PA is a belt-driven turntable. One unique feature of this model is that users will have access to three different playing speeds, 33, 45, and 78 RPM. This is especially enjoyed by vinyl enthusiasts with a vast collection dating back to the early 1900s. The Crosley CR2413A-PA also functions as a radio, a recorder, and a cassette player. These additional functions are controlled by a fully-functioning remote, for greater convenience.
The turntable comes in two distinct colours, you have the option of either Black or Paprika. Users usually prefer the paprika version as it is a throwback to the retro-style turntables. With the paprika colour, it accentuates the detail in the turntable's solid wood cabinet. This sleek design with a nostalgic touch makes this turntable an impressive and hard-to-forget piece.
The best thing is that you can digitize your vinyl records in a variety of ways. For example, you can use the built-in CD recorder. All you need to do is insert your LP or cassette, put in a blank CD, and just like that you can make a copy of your favourite song or album!
The Crosley Memory Master can also effortlessly transform vinyl records and cassettes into digital files via a USB output. The company also throws in a free sound editing software!
With so many features in one model, does this affect the quality? Yes and no. Some users were reportedly quite happy with the cassette deck. However, the built-in speakers received poor reviews for its performance.  Unfortunately, there is very little information available on the turntable's tonearm, platter and cartridge. As such, it is difficult to market this turntable as a high-quality product.
According to online sources, each Crosley turntable uses a distinct needle-type. Most of the needles in Crosley turntables are diamond-tipped and can last 1000 hours' worth of playing time. There is more specific information on the stylus of a Crosley turntable in your user manual.
In terms of versatility, the Crosley CR2413A-PA really stands out amongst the entry-level turntables. It eliminates unnecessary technical processes and allows any user to digitize their records with ease. With all these features included, the price is surprisingly low and perfect for listeners on a budget. However, more sophisticated audiophiles would not find this model suited to their needs given that the audio quality still has some ways to go.
Pros:
Very affordable
An attractive paprika finish
Multi-functionality with USB connectivity
Cons:
Sound quality is unremarkable
Unknown cartridge and platter material
Added features cater only to a specific market
13. TEAC TN-300 Analog Record Player with Phono EQ and USB – affordable with good sound quality, less upgrading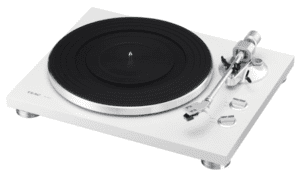 The Teac TN-300 turntable's glossy and eye-catching design is sublime. The 70s-inspired design comes with in different coloured finishes over the TN-300's MDF plinth. It is not just all looks, the Teac TN-300 has a great build and sound that any vinyl enthusiast can appreciate.
The Teac TN-300's versatility makes it a strong competitor. It has USB connectivity, RCA connectors as well as a selectable phono preamp. The TI-made A/D converter allows you to transfer music via USB to your PC and digitize your vinyl collection. With digitization, you can protect your vinyl records from damage whilst enjoying the quality of vinyl via your digital audio player.
The Teac TN-300 has a sturdy MDF cabinet which minimizes unfavourable resonance along with vibration-damping adjustable feet to keep unwanted vibrations from affecting the turntable's sound quality.
The die-cast aluminium platter is denser than other platters, which gives it great speed consistency. The turntable is also belt-driven and uses a high torque DC motor with durable Neoprene rubber which achieves a stable rotation. The motor itself is very silent and minimises any wow and flutter.
The Teac TN-300 uses a static balanced straight type tonearm. A straight tone arm generally achieves high tracking accuracy. The anti-skating mechanism also allows accurate tracking of phonograph records. Additionally, the gold-plated terminals prevent the oxidation of the headshell connectors for optimum sound performance.
The Teac TN-300 also comes with an Audio Technica AT95SE cartridge. The cartridge is of decent quality and is suitable for this price range. While the AT95SE is not the best cartridge available, it still produces a delightful and warm sound with clarity in the mid-range and bass.
You will encounter some difficulty when trying to upgrade your cartridge. The Teac TN-300 does not have a way to adjust the vertical tracking angle. Additionally, the angled headshell prevents you from switching to cartridges like the Ortofon Red and Blue cartridges, which are quite popular among vinyl listeners.
Unlike other entry-level turntables, the Teac TN-300 offers a switch for alternating between 33 1/3 and 45 RPM playbacks alongside a high-quality cue lever which ensures seamless playback. This table uses a rubber slip mat which is of superior quality as opposed to the thin felt mats in turntables of this price range.
If you would like to know about all the components in this turntable, refer to this video as a guide:
To many music lovers, the TEAC TN-300 represents excellent build quality, sound and affordability. This table sounds even better as time goes on. If you want an all-rounded turntable that balances style and functionality, the Teac TN-300 would be a great find. For more information, you can also check out our previous post about the Teac TN-300 here.
Pros:
USB connectivity and built-in phono preamp
High torque and quiet DC motor
Attractive yet functional build
Cons:
Cartridge quality could be better
Cannot adjust vertical tracking angle
Some users prefer manually changing speeds over a speed selector
Can't decide?
While this list does a wonderful job in narrowing down your options, it does not tell you which turntable is the best. Frankly, it's hard to say which turntable is the ultimate number #1, must-have product. It ultimately depends upon you, the consumer.
As a DJ, you would seek out a direct drive turntable with all the bells and whistles included. However, as a home vinyl listener, you would have little use for the added features. Thus, it is impossible to single out the best turntable. Hopefully, you will have less trouble finding your ideal turntable after going through this list. Even as a new vinyl lover, you should now have a pretty concrete idea of the kind of features that you want in your next turntable.
If you have made up your mind on what you want, the next thing you may want to check out is those stereo receivers that costs less than $200.