Today we are looking at what the best soundbars under 300 bucks are. So you have a big screen TV that lets you watch your Blu-Ray movies in perfect clarity or lets you play our video games in perfect quality. Maybe you are one of the people who has jumped on the 4K train and is enjoying HDR and ultra high definition? No matter what kind of TV you have, one thing most modern TV's have in common is less than amazing sound. It is like in an effort to make TV's as flat as they can be, the sound quality has had to take a hit. Well, that is where a soundbar comes into play.
Why Do I Need A Soundbar?
As we said, a soundbar can make up for a TV that has a less than incredible set of speakers. At a glance, you may wonder how something so small can result in epic sounds, but you would be surprised at just how better a movie is when you are watching it with sound coming through a soundbar. Or for you gamers out there, you will be blown away at how much better a shotgun sounds or how more scary a zombie sounds when coming through a soundbar.
Wireless vs Wired
Many soundbars these days are Bluetooth soundbars. The idea here is that they will connect wirelessly to your TV, games console or whatever. This can be a very convenient of doing things. But you need to make sure that your device is capable of this. The good news is that most Bluetooth soundbars even if they are marketed as such, will still allow you to connect to your TV via cable. Having both wireless and wired is pretty handy when you connect your TV via a cable and then you can connect something like your iPhone wirelessly. One thing to watch for is the inclusion of an RCA cable, most of the time a soundbar will not come with one so be sure to check.
What About A Subwoofer & Satellite Speakers?
To a novice when it comes to this kind of thing, hearing that some soundbars come with a subwoofer and satellite speakers can make things a little confusing. Well, a subwoofer is basically the thing that is going to give your sound some real oomph and rumble and make it like you are in a theater. Satellite speakers are the term for any extra speakers that come with a soundbar. So you would have the soundbar under your TV and then the satellite speakers either side or even behind your couch. While you can buy a soundbar on its own. You can also get bundles that come with a subwoofer or satellite speakers or even both.
The Best Soundbars Under 300 Bucks!
Samsung HW-M360/ZA 2.1 Channel 200 Watt Wireless Audio Soundbar
VIZIO SB3821-C6 38-Inch 2.1 Channel Sound Bar with Wireless Subwoofer
VIZIO SB3851-C0 38-Inch 5.1 Channel Sound Bar with Wireless Subwoofer and Satellite Speakers
Bose Solo 5 TV Sound System
ZVOX AccuVoice AV200 Sound Bar TV Speaker With Hearing Aid Technology
Klipsch Reference Series R-4B 2.1 Channel Sound Bar
1. Samsung HW-M360/ZA 2.1 Channel 200 Watt Wireless Audio Soundbar
The Good
Comes with a wireless subwoofer
Looks cool
Very easy to use
200 watts of power
Price is very reasonable
For those who are looking for a low cost soundbar/subwoofer combination, this one here is ideal.
At 200 watts, you are getting quite a lot of power out of this which considering its rather small stature is very impressive. The real draw here though is that wireless subwoofer. What is cool about this is that the subwoofer connects to the soundbar via Bluetooth so there is no need for an extra wire.
Speaking of Bluetooth, the actual soundbar can also be connected wirelessly. I was very impressed with the sound quality that this kit provided, especially in terms of the bass which had some great rumble to it which is going to be awesome for those of you who love your action movies and video games.
What Could Be Better
Remote is not the best
Satellite speakers are sold separately
I think it is cool that you can use your phone to control this as the included remote control is not exactly the best. Also while I do not think that satellite speakers are essential for a soundbar, Samsung seems to like to try and hustle you to buy a set!
2. VIZIO SB3821-C6 38-Inch 2.1 Channel Sound Bar with Wireless Subwoofer
The Good
Awesome sound quality
Deep bass
Has a very smart design
Is nice and easy to install
Comes with cable and mounting kit
If you are the kind of person that does not want their soundbar to just offer great sound, but also look pretty cool, this is for you.
The VIZIO SB3821-C6 38-Inch 2.1 Channel Sound Bar with Wireless Subwoofer is the kind of soundbar/subwoofer kit that I really like. The sound quality offered by the 2.1 speakers and the subwoofer really does do wonders to help give your movies that cinema quality sound. The subwoofer and the soundbar connect to each other wirelessly and while the soundbar is wireless as well, they do give you a cable to connect it to your TV.
The soundbar is nice and light so they have included the necessary parts to hang it on your wall. In all this is a great set and I must say, it has one of the coolest looking subwoofers I have seen in a while. Also, a nice touch is how great music sounds when you stream it from your phone through this.
What Could Be Better
Cable is a little short
Buttons can be a little finicky
While it is awesome they give you the cable to connect the soundbar to your TV in the box. The included cable is a little short so unless you have another one. The soundbar will have to go right under your TV. Also while this was not an issue for me as I have read that some people had issues with the buttons on the remote. I say, just be careful and pay attention to what you are pressing and you will not have any problems.
3. VIZIO SB3851-C0 38-Inch 5.1 Channel Sound Bar with Wireless Subwoofer and Satellite Speakers
The Good
Full 5.1 set up!
Amazing price
Gives you the movies at home
Smart design
Fully wireless
If you want the full surround sound experience then this is the soundbar package for you!
Next up we have the VIZIO SB3851-C0 38-Inch 5.1 Channel Sound Bar with Wireless Subwoofer and Satellite Speakers which is similar to the one we just looked at, but this is more aimed at those who want that little bit more. To start with the soundbar offers 3 speakers in it so the sound from there is great.
The subwoofer gives you that oomph and rumble that makes you feel like you are in a movie theater and the two satellite speakers give you that extra surround sound to really immerse you in the movie, game or even music you may be listening to. Best of all, every piece of this kit has Bluetooth in it so there are no wires all over your home theater! If you want an affordable and wireless surround sound set up, you will really have a hard time beating this.
What Could Be Better
Does require a little work
Some may not like the price
As this contains a soundbar, subwoofer and two satellite speakers. You are going to have to spend a little time making sure they are all connected properly. Do not worry though as this is all part of the fun of setting up a home theater. Also while I feel that around 220 bucks is a steal for something like this. Those looking for a cheap upgrade to their TV's speakers may not want to spend that much money.
4. Bose Solo 5 TV Sound System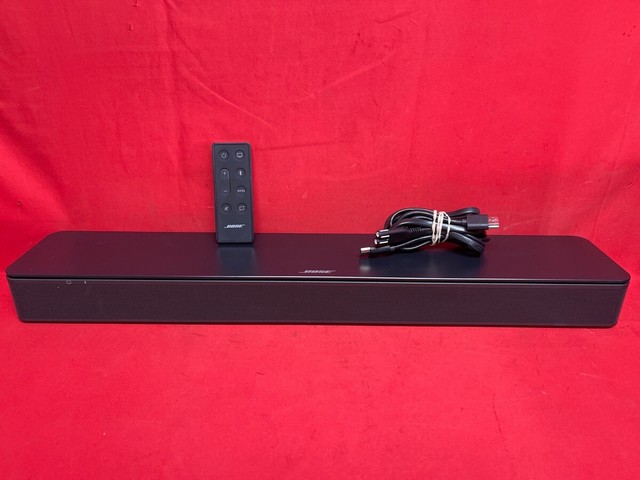 The Good
Incredible sound quality
Comes with a universal remote
Very high quality
Looks awesome
Simple set up
If you want the best sound possible to go with your fancy HD or 4K TV, but do not want to spend over 300 bucks, this is the soundbar for you.
Wow is what I said over and over again when I got the Bose Solo 5 TV Sound System set up properly. This is one of the more expensive soundbars on this list, but for the real audio connoisseur, this is perfect. Bose has done an amazing job with this soundbar and it is not just things like music and explosions that sound incredible.
With some fancy technology or some kind of witchcraft, people speaking sounds so incredibly clear, you will think they are in the same room with you. The included universal remote is pretty cool as it allows you to use it to control other devices. No matter if you want a soundbar for movies, music or even gaming, you will not be disappointed with this.
What Could Be Better
Price is around 250 bucks
Not for home theater novices
The sound quality on this is amazing and the universal remote really does let you tinker around with it. But with that being said. This is the kind of soundbar that is more aimed at a person who is willing to mess around with each setting and get the sound just right. I personally think this kind of thing is a lot of fun, but I get why for some people it would be off putting. But the flip side of this is that for those who do put in this kind of time, the sound this puts out is awesome.
5. ZVOX AccuVoice AV200 Sound Bar TV Speaker With Hearing Aid Technology
The Good
Perfect if you are hard of hearing
Has a very strong build
Is easy to set up and use
Price is reasonable
Remote is easy to use
For the person who uses a hearing aid or is hard of hearing, but still loves their movies, this soundbar is perfect!
The ZVOX AccuVoice AV200 Sound Bar TV Speaker With Hearing Aid Technology is one of the most interesting soundbars I have checked out. The idea here is that ZVOX has used a central speaker that manages to lift the vocals out of a TV show or a movie and really make sure it is emphasized so it can be heard as clearly as possible. The overall sound quality is amazing and I really do think that for a person that is hard of hearing this is well worth the near 200 bucks as it will allow them to keep on enjoying their movies and TV shows in the best quality possible.
Also, the build of this thing is amazing they have used strong aluminum and the size of it is also very compact so it takes up hardly any space. In all this is one fantastic piece of kit. Also as of writing, they are offering a free 30 day trial of this soundbar.
What Could Be Better
Is not wireless
Only really suitable for people who are hard of hearing
This is not a wireless Bluetooth speaker so that is important to know. Thankfully you just connect it with one of the included cables to your TV and you are good to go. You could if you wanted, connect a Bluetooth transmitter to it via the headphone jack. As this is aimed at those who are hard of hearing it is not really worthwhile for those who are not.
6. Klipsch Reference Series R-4B 2.1 Channel Sound Bar
The Good
Comes with a 6.5 inch subwoofer
Great for music
Has a virtual surround sound mode
Easy setup
Price is very good
This is ideal for the person looking for a high quality, but low price subwoofer/soundbar combination.
Last, but not least is the Klipsch Reference Series R-4B 2.1 Channel Sound Bar. I was very happy with the sound that this was putting out. It is the kind of soundbar that is ideal for movies, music, and games. It has many different settings that you can play around with and it even features a virtual surround sound mode which while not perfect, for the right movie really can enhance the experience.
The Bluetooth subwoofer that comes in this set is awesome. It delivers that nice rumble you want and it is very compact in its size so it is great if you do not have a lot of space. You will have this set up in no time and if you are like me, you will have a blast tinkering with the remote to get the best sound.
What Could Be Better
Subwoofer can disconnect
Remote is a little flimsy
If you look online one complaint is that the subwoofer can disconnect itself. This is something that can happen with any Bluetooth device. While annoying, if it does happen just turn the soundbar off and the subwoofer, turn them back on and they will reconnect. The remote while handy, feels like a credit card! This is great if you find a large remote annoying, but it does have a rather weak feel to it.
Final Thoughts On The Best Soundbar Under 300 Bucks
These days it is so easy to get a soundbar. There is a great selection out there and all ten of the ones I looked at do their job amazingly well and cost under 300 bucks. I think for pure value you really cannot go wrong with the VIZIO SB3851-C0 38-Inch 5.1 Channel Sound Bar with Wireless Subwoofer and Satellite Speakers as it is great for a home theater. Also the ZVOX AccuVoice AV200 Sound Bar TV Speaker, I thought was pretty cool as well. Even the under 100 bucks soundbars will give you better sound quality than what your TV offers! No matter what your budget it, you will find the right soundbar in the list up above.