Ok, so I know what you are thinking right now. "Why on Earth would I spend around 600 bucks on a soundbar?" I can see where you are coming from. I will be honest with you and say that for most people a soundbar that is anywhere near this price range is completely unnecessary. The soundbars (if you also want to look at soundbars under $400) that we are looking at today as we try to find the best soundbar under $600 are more aimed at people who are truly into their sound and who are pretty much an audiophile.
What Is Wrong With The Speakers On My TV?
Many people will just stick with their TV speakers and be cool with it. For me, modern TVs are great, but the sound quality on stock speakers these days is sorely lacking. To be fair, the publics' desire for lighter and thinner TVs is actually the cause of this. Many TV speakers really struggle with vocal clarity. How many times have you been watching a movie or a TV show and needed to have the sound up high so you can hear people speak, only to have your eardrums destroyed when an action scene or a commercial comes on a second or two later? That is what is wrong with your TV speakers!
Is Spending 600 Bucks Really Necessary?
No is the short answer to this. As I said, most people do not need to spend anywhere close to these. I would wager that your average person could buy a $200 (or even cheaper) soundbar and be more than happy with the sound. What we are looking at today are soundbars that are for people who are really specific about their sound or perhaps people who have a home theater and need that room filled with sound!
The 4 Best Soundbars Under $600 Reviews
Right now on Amazon, there are very few soundbars in stock at this price range. I am not sure what the reason for that is, but I would wager it is because your average consumer has no desire for a soundbar at this price point. Do not worry, I went on eBay and found some very high-quality and spectacular soundbars at this price range.
LG SN9YG 5.1.2 ch High Res Audio Sound Bar
Samsung HW-Q60T 5.1ch Soundbar
Klipsch BAR 48 3.1 Sound Bar
JBL Bar Surround 5.1 Channel Soundbar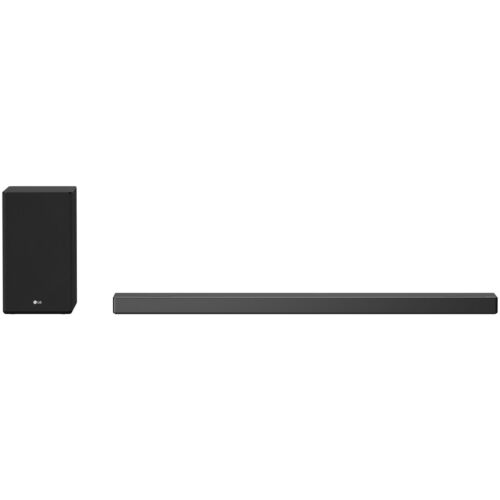 I thought that I would start off with a bang and banging is certainly what this LG SN9YG 5.1.2 ch High Res Audio Sound Bar is! This is a real "big boy" of soundbars coming in at 48 inches wide, LG does say that this is aimed at those of you with a 55-inch TV and up so it is perfect for a theatre room. The price range on this is anywhere from 500 to 600 bucks depending on where you are shopping. This does come with a subwoofer and that along with the actual soundbar has a very cool look to them. This supports Bluetooth, HDMI, and optical in terms of hooking it up to your TV.
The sound quality of this is amazing and it is amazing right out of the box. This has Dolby Atmos 3D sound so you get as close to the theatre experience as you can possibly get with a soundbar when you are using this. Those of you who are really serious about the way your movies sound will fall in love with this thing. I had the chance to test one of these for a couple of weeks and I was blown away. The way it can be so loud, but not lose any clarity is amazing and you can clearly hear any dialogue that is being spoken.
What Other People Are Saying
If you want to know all of the ins and outs of this soundbar check out this amazing video review that showcases all of the features that this thing has. It is amazing just how much this has going for it. Also, be sure to take a gander at the comments section as you can read how pretty much everyone who has this is very happy with it.
If you are making a home theatre and want cinema-style sound, but just want a soundbar and no rear speakers, the LG SN9YG 5.1.2 ch High Res Audio Sound Bar is hard to beat. It is 100 percent worthy of a spot in our best soundbar under $600 search and spoiler alert, everything that comes after this has a hell of a lot to live up to. I loved this so much I was trying to convince my wife that we needed to buy one after I had to send my review unit back!
Pros:
I love how epic this looks
It comes with a fantastic subwoofer
The sound is like being in the movie theatre
It is very easy to hook up to your TV
Cons:
It is rather expensive
It does take up a lot of space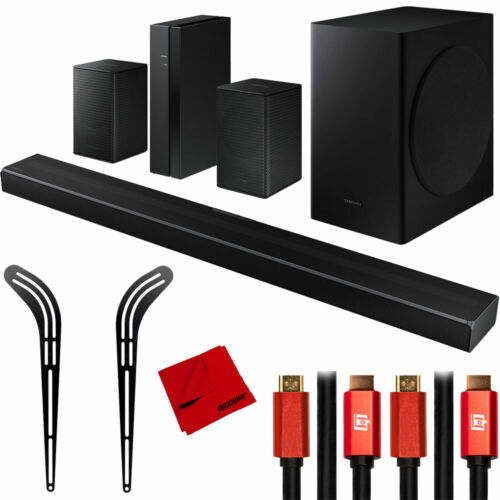 You cannot look for the best soundbar under $600 and not have a Samsung one on the list. This Samsung HW-Q60T 5.1ch Soundbar is more than just a soundbar it is a full kit for your home theatre. You get the 38-inch soundbar, but you also get a subwoofer, two rear speakers, brackets, and even the cable you need to hook it all up. You are looking at around 500 bucks for this bundle, but I feel that is a great price for a package like this. The whole thing looks great too and it would not look out of place in any theater room. It has wireless connectivity, but you also have your HDMI and optical as well.
For those that want the surround sound experience at home, this package is perfect for you. With this, you are getting DOLBY 5.1 surround sound and it sounds amazing. During my time with this, we had a Star Wars marathon and it was like I was sitting in the cinema! The soundbar on its own is amazing, loud, and clear! The subwoofer gives you that rumble and kick you need for action heavy scenes and those rear speakers pack way more punch than I thought they would. This truly is a complete home theatre set and it is amazing!
What Other People Are Saying
Amazon does not actually have this in stock as I write this, but they do still have it listed and it has close to 70 customer reviews with 90 percent of these (as of writing) being for 4 and 5 stars. One very happy customer had this to say, "Loved watching an action movie today and feeling like I was sitting in the theater. Love this purchase!!!" which is something I wholeheartedly agree with!
This Samsung HW-Q60T 5.1ch Soundbar is one of the best home cinema packages I have come across in a very long time. I love the sound quality and I am someone who loves to have my movies nice and loud and I do not have any complaints at all about the sound quality. If you want a soundbar, but you also want rear speakers and a subwoofer, you are getting it all in this fantastic package!
Pros:
It is a full home cinema sound system
It has more power than people say!
I loved the sound quality
It has a very cool and modern design
Cons:
Some people do question the power!
If you do not want rear speakers it is kind of a waste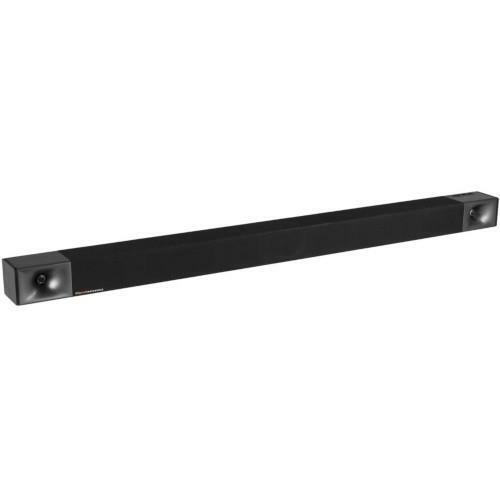 Next up we have this Klipsch BAR 48 3.1 Sound Bar which does come with a subwoofer. This is 39 inches long, but it has a very slender profile that I feel gives it a sleek appearance. I am not sure I am sold on the ends of the soundbar though as they do stick out. This comes with a wireless subwoofer which is a very nice added bonus. It costs nearer the top end of our pricing spectrum, but I still felt that this needed to be on our best soundbar under $600 list. It has Bluetooth connectivity, but you can also use an optical cable or HDMI, you do actually get an HDMI cable inside the box. Klipsch in my experience always makes high-quality products and this soundbar looks no different.
Despite not being able to test this for myself, I have used many Klipsch products before, including a few of their soundbars, and never once have I been disappointed. This is packing 600 watts of power so I am sure the sound is certainly going to rock the room. Getting as close to that cinema surround sound as possible is what they are aiming for with this, that, and nice and clear vocal clarity. I know the price tag is high, but the Klipsch name on this gives me a lot of confidence in the sound quality.
What Other People Are Saying
I found a very to the point video review for this soundbar that is well worth checking out. You get a good demo of the sound quality that this possesses, but you can also get a much better idea of what this thing actually looks like and the size of it. Be sure to check it out, from what I have seen, people seem to love this thing!
Even though I have not been fortunate enough to get my hands on the Klipsch BAR 48 3.1 Sound Bar myself. I am more than confident in recommending it to you guys to at the very least be in consideration for your soundbar purchase. Klipsch makes high-quality audio products. I have yet in all my years, tested or played around with a Klipsch product and been disappointed with it!
Pros:
This thing packs some serious power
It comes with a wireless subwoofer
You have plenty of ways to connect it to your TV
Klipsch always make high-quality products
Cons:
I am not sold on the way the ends of the subwoofer look
Is the subwoofer they give you the right fit for the soundbar?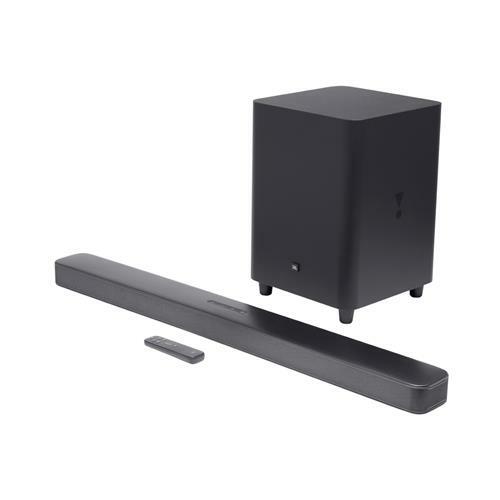 I am a big fan of what JBL does. I tend to find that they offer more "affordable" audio equipment so when I see something like this JBL Bar Surround 5.1 Channel Soundbar that comes in at over 500 bucks I am always interested to take a closer look at it. I love the design of this, it has a kind of 80s (futuristic 80s if you know what I mean) vibe going on and I think it is very cool. It does come with a subwoofer that has a very similar style to the soundbar so they go great together. It is around 40 inches in length and JBL themselves say that this is aimed at people with 4K TVs. You have your HDMI, optical, and Bluetooth connectivity options which is nice.
This is packing what JBL calls their "multibeam" technology. This is designed so that it gets you as close to cinema quality sound as possible in your home and that sounds great to me! It has 550 watts of power and the included subwoofer is going to help give it that extra punch it needs, all the while ensuring the vocal clarity is nice and clear. If you want to get cinema sound, but do not want a full surround setup with wires and rear speakers, something like this is going to be perfect for you.
What Other People Are Saying
Ok, so I know we are talking about the official JBL site here, but they do have a ton (over 150 as of writing) customer reviews for this soundbar. They do not break it down into percentages, but the majority of these reviews are for four and five stars. "While the JBL isn't a Atmos system. It does fill the room with sound coming from all around you" Many reviews praise the sound, but that is one that caught my eye.
The JBL Bar Surround 5.1 Channel Soundbar looks like it would be a fantastic soundbar. This is one that I truly would love to get the chance to check out at some point. I have never really played around with the higher-end JBL stuff before, but this one looks very interesting. Technically, it ticks all of the boxes when it comes to a soundbar that can give you the best home theatre audio experience.
Pros:
I love the style of this thing
It has many ways to connect it to your TV
They have made this with cinema sound in mind
The subwoofer is pretty damn powerful
Cons:
It is on the long side
I have not yet used one of the more expensive JBL products
What Is The Best Soundbar Under $600?
The two that I actually tested, the LG SN9YG 5.1.2 ch High Res Audio SoundBar and the Samsung HW-Q60T 5.1ch Soundbar are both fantastic. I would easily recommend either one of these to you guys in a heartbeat. I could not say for sure that one was better than the other in terms of the sound I was hearing. However, the LG one is just a soundbar and that seems to be more popular these days. The Samsung on the other hand is a full surround set up with the rear speakers and everything. So, you really have to decide what is for you. In my opinion, either one of these can be classed as the best soundbar under $600.