In this article, we round up the 5 Best Education LMS (Learning Management Systems) WordPress Themes to help you pivot your education business online. Due to the pandemic, most schools around the world remain shut and education can only continue online via video calls and of course through Learning Management Systems (LMS). The importance of LMS cannot be understated as it acts like an online classroom, bringing in accessibility of video lectures to question practices/quizzes and attendance taking amongst many other needs.
LMS WordPress themes are a unique category of design and management tools for WordPress websites that has gone from a quiet niche product to a widely used mainstream tool, and a category of WordPress Theme products that is growing in sales tremendously.
Why are LMS Themes becoming so popular?
For years now, schools and businesses have been experimenting with models of learning that reach beyond the classroom so no matter where the learner is, the course material and the teacher can reach them. It was originally an effort to provide greater educational opportunities while keeping costs in check, and for those companies in the business of educating, it was seen as a way to expand the student population well beyond the limits of the physical campus.
The Remote LMS Education Journey
As they began this journey, they quickly realized how complex managing remote education can be. That complexity begins with the difference in the way each learner progress through course materials and continues with a myriad of resource planning and scheduling issues. Then there is the actual delivery of the course material, the tracking of each student's progress through that material, and the assessment of each student's success.
They built systems, retrained educators, grew the technical infrastructure, all with an eye toward their original concept of what remote learning could be and then disaster struck, the covid-19 pandemic shut the world down and one of the most dramatic impacts of that shut down was the inability to educate students of all ages. The world went from university and business education to every level of education across entire societies.
What was complex but becoming more and more effective was suddenly pressed to its absolute limits and those that never imagined a need for remote learning platforms, websites, and distance learning materials were faced with the daunting task of building a remote learning platform and skillset practically from scratch.
WordPress Themes becomes a head-turning solution
Developers have been quietly delivering a range of WordPress LMS Themes that have been helping businesses and various other educators with tools for managing distance learning.  These tools help get students registered (Onboarding). They help direct the learning experience for those students. They manage teaching and teacher resources. And, they manage all of the payment processes that are associated with private education programs at any level.
For a better understanding of what LMS Themes do check out this article from Sherry Gray at The Balance Small Business – What Is a Learning Management System?
Most importantly, these WordPress LMS Themes provide anyone with something to teach, the opportunity to effectively deliver that knowledge, and for students at every level to access the education they need for success.
Our top best education LMS WordPress themes have also changed dramatically given the challenges and opportunities created by the pandemic. The challenges are being met by a growing number of well-designed themes that help educators administer the entire educational process and it could change the way education is delivered, permanently.
As for opportunities, and this is not being callous, these themes are helping reach a growing population of remote learners that are hungry to learn but unable to spend time in a traditional school setting. This is either because of the lock-downs or simply because they didn't know that remote learning was a real possibility.
Before we unveil our list, I can tell you, we have no horse in this race. Disclosure: We do not back any of these LMS WordPress Themes for profit and we don't earn from any of these theme developers. Also, we aren't even getting discounts.
We have also avoided reviewing anyone else top lists since those may have some built-in biases. Instead, we have based our review framework by first placing emphasis on the number of sales each of these WordPress LMS Themes has (as it means proven and tested) and we then looked at the features provided by each WordPress theme. Last but not least, we considered the reputation each developer has for customer support (to take care of you in the after-sales journey).
Without further ado, here are the best Education LMS WordPress themes in 2021.
UNLIMITED DOWNLOADS: 50+ Million WordPress & Design Assets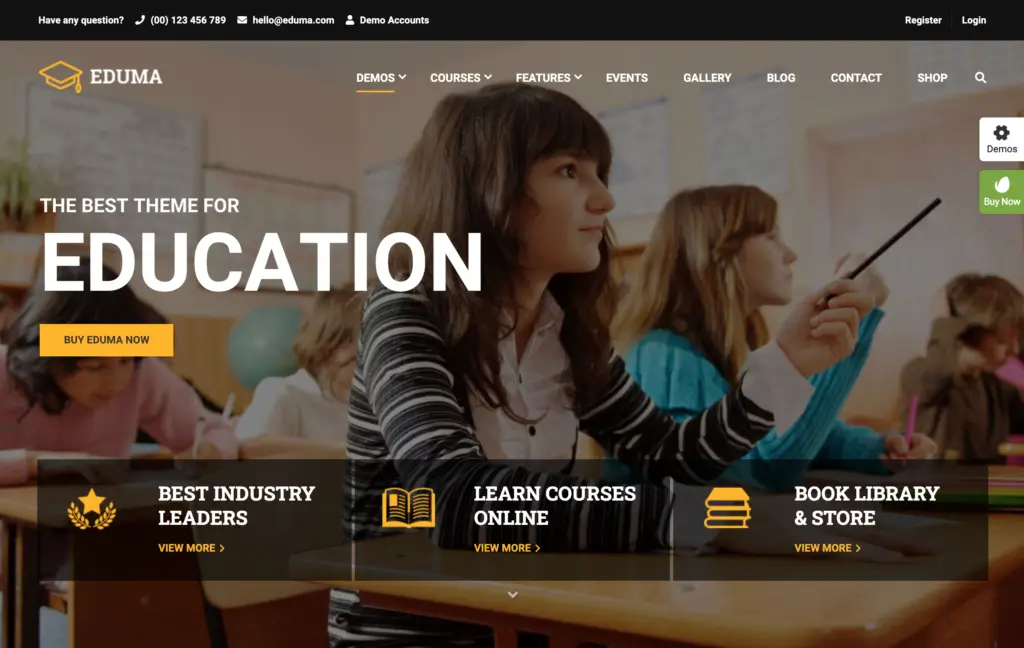 Eduma, based on both sales and feedback, is the #1 LMS WordPress Theme on the market today. It is specifically designed to provide all of the functionality required to deliver a complete education solution for every type of remote learning. It is fast and fully optimized for performance so both teachers and students will enjoy a smooth learning experience that avoids the lags that can impact so many other themes and websites.
Building the site is made reasonably easy with WP Bakery and with more than 20 demo sites ready to download, you could be fully up and running very quickly. You just need to focus on your educational content and let the theme handle the rest for you. The payment and registration process is handled through WooCommerce so you'll also be able to accept a wide range of payment methods, across various countries with relative ease. Finally, this theme is fully compatible with every other leading plugin/add-on you could possibly want to include on your LMS site.
For a full demo visit here. Check out how you can set up Eduma down below: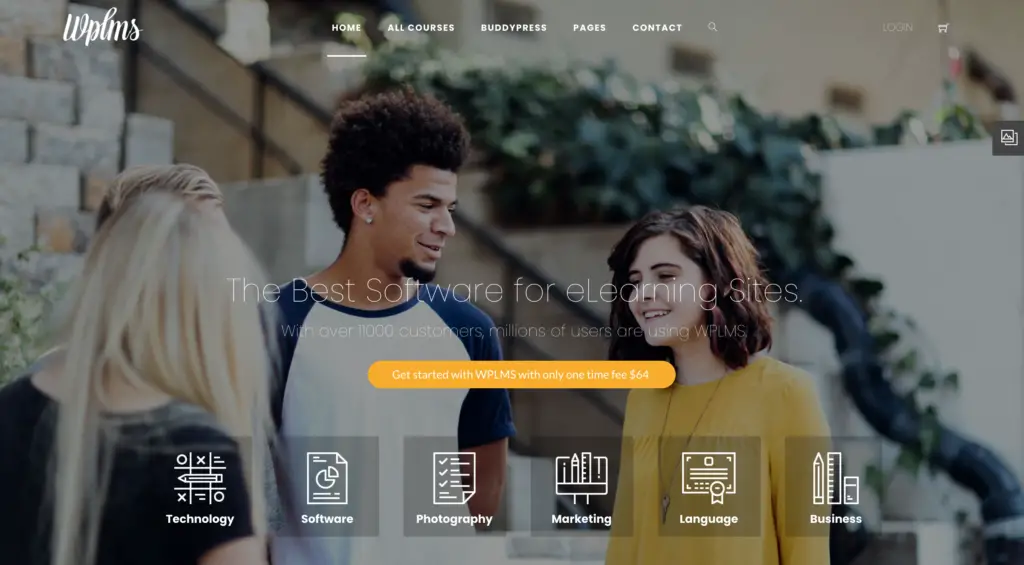 First, this WPLMS WordPress Theme reaches everyone, regardless of the device they are using, and that includes Desktops, Tablets, and Smartphones. Then, it has distinct functionality to meet the needs of students, teachers, businesses, home-schooling parents, colleges, universities, grade schools, and private tutoring programs. They claim it is the fastest LMS on the market and based on reviews, that appears to be a true claim. It is also designed to work both online and offline so those with limited online access still have access to the learning tools they need.
Course presentations are another apparent highlight of the LMS Theme for students and the course development functionality comes with high praise from educators. It tracks achievements, manages certificates, allows easy co-authoring of content, makes scheduling a breeze, integrates with Zoom, includes a comprehensive helpdesk environment, and provides the tools needed to create a comprehensive knowledge base for support. Registrations, purchasing, and payment processing are handled through the integration of this LMS theme and WordPress. Building pages is handled with the integration of Elementor. Forms management is done with Gravity Forms.
Take some time to go through their Live Demo read through some of the articles that talk about how their LMS can be best used. Check out a quick introduction to WPLMS below: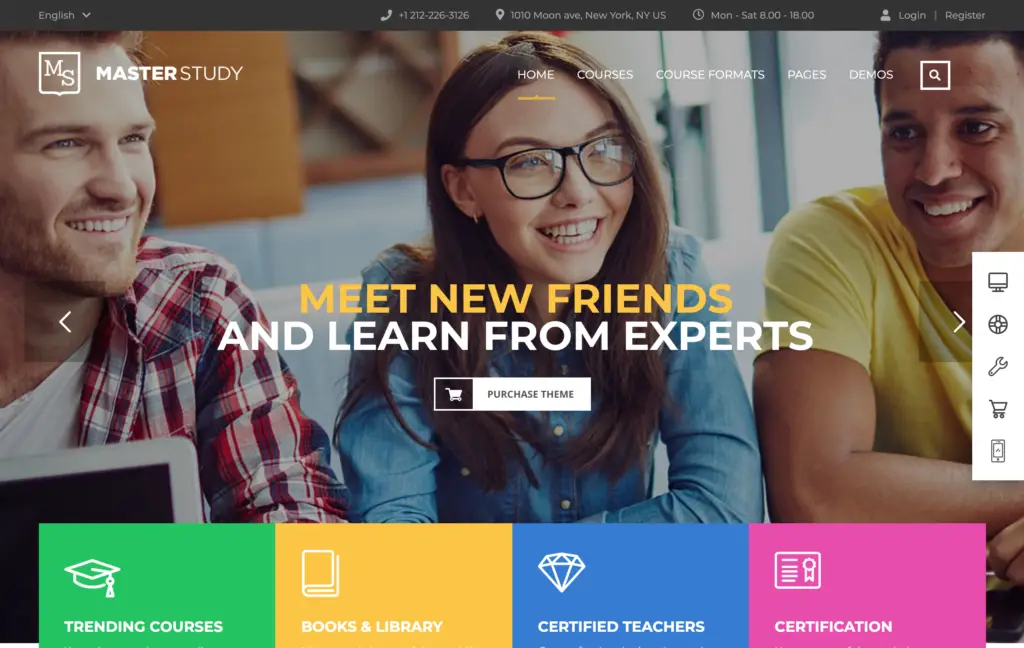 This is one of the most widely used LMS WordPress theme available today and with functionality that covers course building, various forms of quizzing, content delivery management, financial controls both on the income and expense side, links to Zoom, and a solution that requires no additional investment in plugins, it's easy to see why this Masterstudy Education WordPress Theme is so popular. Page construction is done with Elementor or WP Bakery, both included as part of the theme installation and both in their free versions. It also links up well with WooCommerce, also installed as part of the theme. It comes fully translated in eight languages, also as part of the installation so you'll be set.
For community building and teamwork projects, this theme integrates with bbPress and BuddyPress, 2 community forum platforms that allow real-time communication as well as support for private messaging so teachers and students can work one-on-one. Masterstudy even includes a points system so incentives can be built into the curriculum. This theme has been recently updated on Theme Forest and continues to be fully compatible with the latest versions of WordPress, WooCommerce, and all of the other tools it has been integrated with. It is also fully responsive and functions well on all of the leading browsers.
There is a comprehensive demo, including 15 unique demo versions you can dig into by Visiting MasterStudy. Check out the introduction to Masterstudy here: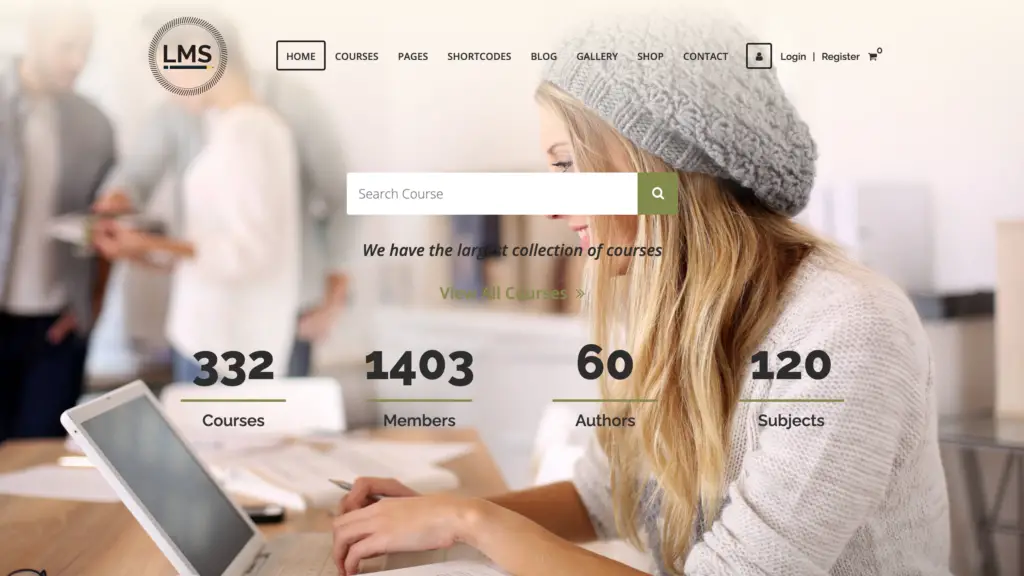 This LMS WordPress Theme lists itself as the #1 Word LMS theme on the market and while I'm not sure what that's based on, this is a popular and powerful theme. It has support for all forms of online educations, at all education levels, and this includes support for individual online instructor sites. Within the functions list, you'll find lesson management course development, mock test and quizzes, webinar and video support, rank and progress tracking, course calendar and booking support, and more. Much of this has been recently updated in their latest release.
It integrates with many top-rated plugins as well. These include BuddyPress for forums, Event Calendar Pro for scheduling and booking (also see our best WordPress event booking appointment plugins), Visual Composer as the page builder, WooCommerce for product and payment management, and WPML for multi-language support. They also added integration with Google Classroom and ZOOM meetings. Together, this takes this LMS WordPress theme to the level of a fully functional LMS platform that leaves nothing out of the mix but with all of the plugins, it will be a bit more expensive at the outset to take this route. Still, it remains a very strong contender.
They offer the opportunity to demo a fully functional backend but that does require a quick registration so they can email the credentials to you. You can also review a detailed Live Preview that will provide insights into all of the key functionality of this theme.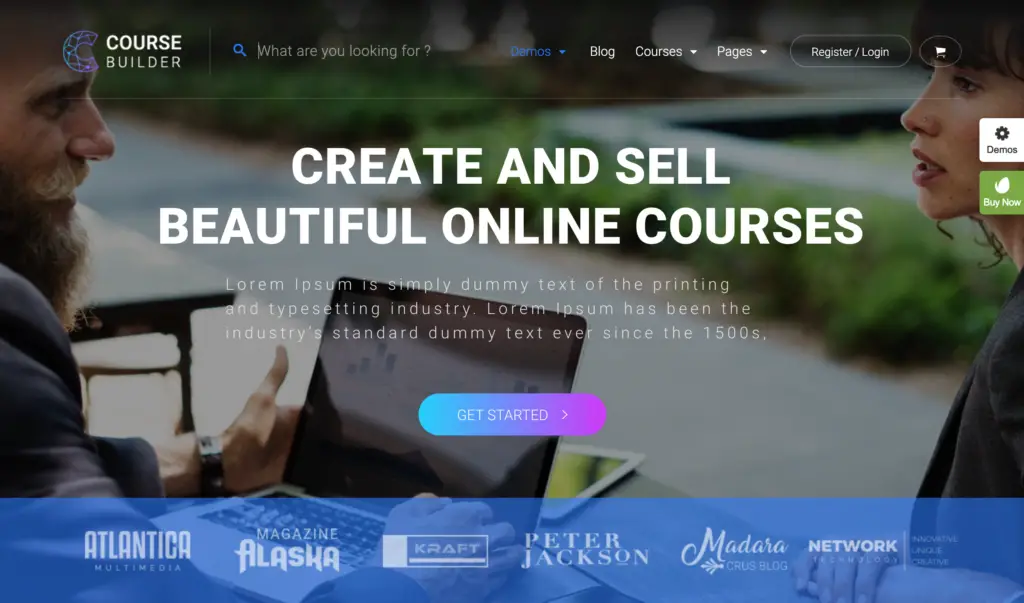 According to the author of this CorpTrain WordPress Theme, they designed this for ease of use with advanced functionality and especially high performance. Based on the review, they hit the bullseye on all three. The focus of this WordPress theme is on building comprehensive courses that are both educational and engaging but with an eye toward online schools, coaches, trainers, and especially those offering specific programs like ESL and other courses that are commonly offered on a one-to-one basis. This theme can and is supported but is not specifically designed for colleges, universities, or grade schools.
The design allows for the inclusion of both text and video training, quizzes with multiple question types, certificate awarding, commenting, email notification, and various levels of subscription programs. It is integrated with BuddyPress for community communication and WooCommerce for payment and subscription management. The built-in page builder is from WP Bakery and this LMS WordPress theme is fully compatible with WPML (WordPress Multi-Language).
There are 9 complete demos available for your review and they can be downloaded and installed on your site as a great starting point. Start though with the Live Preview and if you decide to buy, you can take time to decide which demo works best for you.
In Closing
There are a wealth of great choices when it comes to LMS WordPress Themes, so narrowing this down to just 5 quite likely leave out some others you may way to consider but, every one of these will do at least as good, making this list a very good starting point for your consideration.
Review the list, check out the demos and maybe even send some presale questions to the various support teams and see which one rises to the top of your list. If you would still like to review more LMS wordpress themes, you may consider hopping over to cloudways, athemes, colorlib and envato for another 40-60 themes probably!
If you're looking to set up an LMS site, check out what to expect:
Should you frequently need access to a variety of premium plugins, themes, logos, video footage and audio files to power up your WordPress site, do also check out envato elements' unlimited subscription plan starting from just $16.50/month.