Browsing through WordPress themes to build your organic food store website? Here we have curated the 9 best WordPress Themes that you can install and take your Organic Food Store business online in just a few clicks. With the pandemic creating a food security crisis in the world, demand for organic food has only sky-rocketed.
Organic Foods Stores find Opportunities
Due to the lockdowns, with restricted movements, we now realize how our lifestyles were negatively impacting our health and wellbeing. Poor diets, not enough exercise and too much stress were having a dire impact that could now come into focus while the life we knew was being radically reshaped. One of the most important things that has grown out of this crisis is our recognition of just how important a good diet is both for the body and the mind and that has led to a hard turn toward organic foods, and healthier and more balanced diets. Victoria Campisi talks about this trend in her recent articles entitled "Organic Food Gains Popularity Amid Pandemic". Right from the start she points out the 25% surge in sales of organic foods and drinks, and that trend is continuing to grow. 
For all sorts of businesses that have been focused on this sector long before this crisis, this is an opportunity to meet the needs of an increasingly enlightened consumer base. This is more the case for those that have or are now considering a move to online selling. With so much interest in this sector, those that can present a well designed shopping space, filled with the right products, have the opportunity to grow far beyond what they might have imagined and they can do it a lot faster too.
Seize The Opportunity – Get your organic food store online
The key to seizing this opportunity is certainly to have the right products to offer and to build a compelling story behind them and you but that's only half the equation. You also need a website presence that makes the shopping experience fun, intuitive, secure, and fast. That is where WordPress and a great Organic Food Store Theme steps up.
Our Top 10 list of Organic Food Store Themes will help you build an online store with ease. They will help you maintain that store with ease as well. The shopping experience will be fast and secure, with inclusions leading e-commerce tools, and they'll help you reach your audience effectively with integrated marketing tools (SEO). And, they will help you deliver outstanding customer service with integrated chat and other support tools that will keep you connected to your growing customer base.
Organic Food Store Themes make it easy
If this sounds good then read on and discover our top picks for WordPress Organic Food Store Theme. They are all easy to use. They are responsive so they work well on almost any device. And, they are integrated with all of the key tools you'll need to make your online organic food store a great success while you stay focused on products and marketing.
Without further ado, here are the Best Organic Food Store WordPress Themes.
UNLIMITED DOWNLOADS: 50+ Million WordPress & Design Assets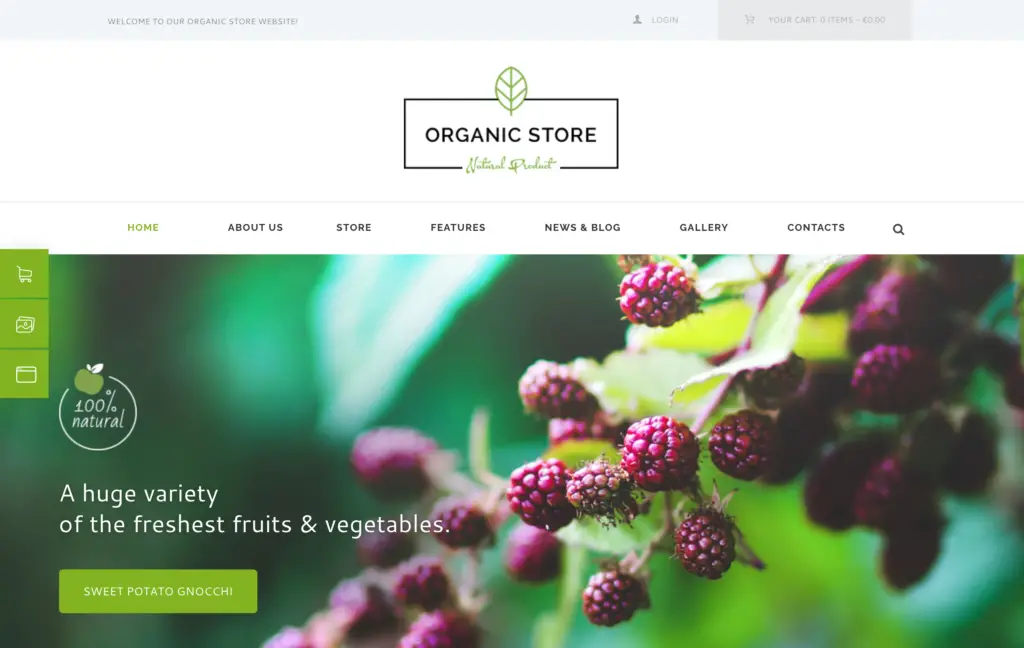 They describe this WordPress Organic Food Store theme as colorful, modern, and responsive and we have to agree. It should do well with all types of food stores and even does a good job of supporting food-related blogs. This is a fully responsive theme that comes packaged with Elementor for fast and simple page building. To make things even faster, it comes packaged with a number of homepage designs you can copy as a great starting point.
It is fully up to date with the latest releases of WordPress and WooCommerce and has been successfully tested on all of the leading browsers. It's also ready to go with WPML so language won't be a barrier to entering any market you wish.
Take some time to review their Live Preview and see what you think.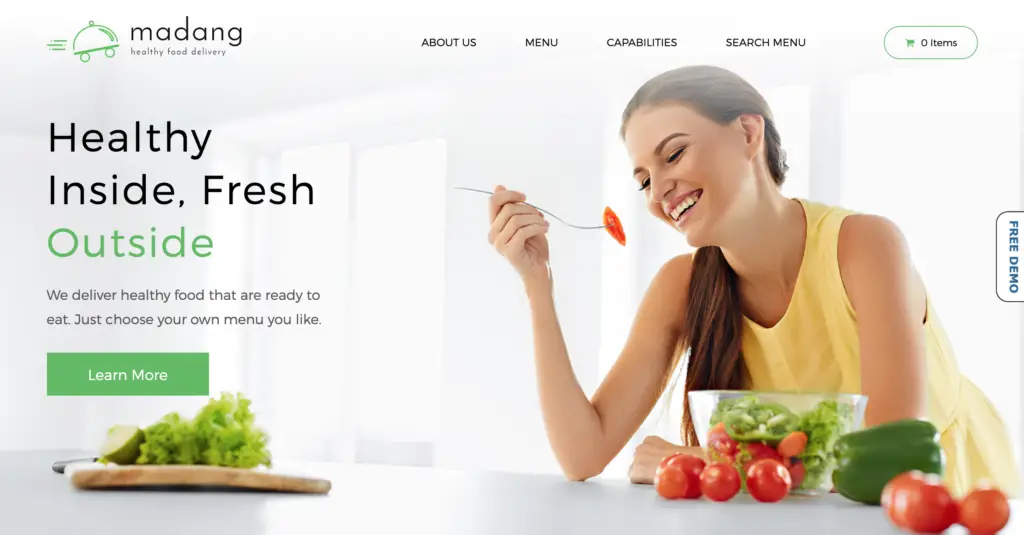 With the move to a healthier diet the lockdowns have also changed the way we buy our food. Much more is now ordered for pickup or delivery and Madang has been specifically designed to address the shift. It brings the order and delivery process into much greater focus while still giving the products the attention they need to move them off the shelves and out of the kitchen.
It is flexible and highly customizable, but always with a focus on keeping the entire shopping experience simple. With intuitive design elements and a fully responsive design, this goal is well met. This is a fairly new offering from a well-regarded WordPress developer so with so many sales already recorded, this theme is proving to be a real contender for the top spot on Theme Forest and on most anyone else's list. It is integrated with WooCommerce and comes with an extensive package of shortcodes that make it easy to add a rich set of functionality to your site. Plus, this developer has created one of the best search functions we've seen. This all adds to a theme that is highly functional.
Take some time to review their Live Preview and see how well the Organic Food Store theme may fit your needs.
As WordPress organic Food Store themes go, Agrofields is one of the most versatile of the group, with examples of everything from farms to grocery stores and health food outlets. There are even a few examples of follower shops using the theme successfully. The theme is fully integrated for WooCommerce so this is the platform for product management, sales, payment processing and customer service. Add to this the many shortcodes that are included and there is virtually nothing you can't accomplish with this theme. They actually hold the title for the largest library of shortcodes available on Theme Forest.
In addition to being WooCommerce ready, this theme works smoothly with WPML and a wide range of 3rd party plugins making this theme exceptionally flexible. This includes integration with Revolution Slider, one of the leading slider plugins for WordPress. The theme is built on a fully responsive framework and is retina-ready. This ensures the sites you build with this theme will work brilliantly on most any device and on all of the leading browsers.
Click here for a live preview of this theme and the many page layouts that are included.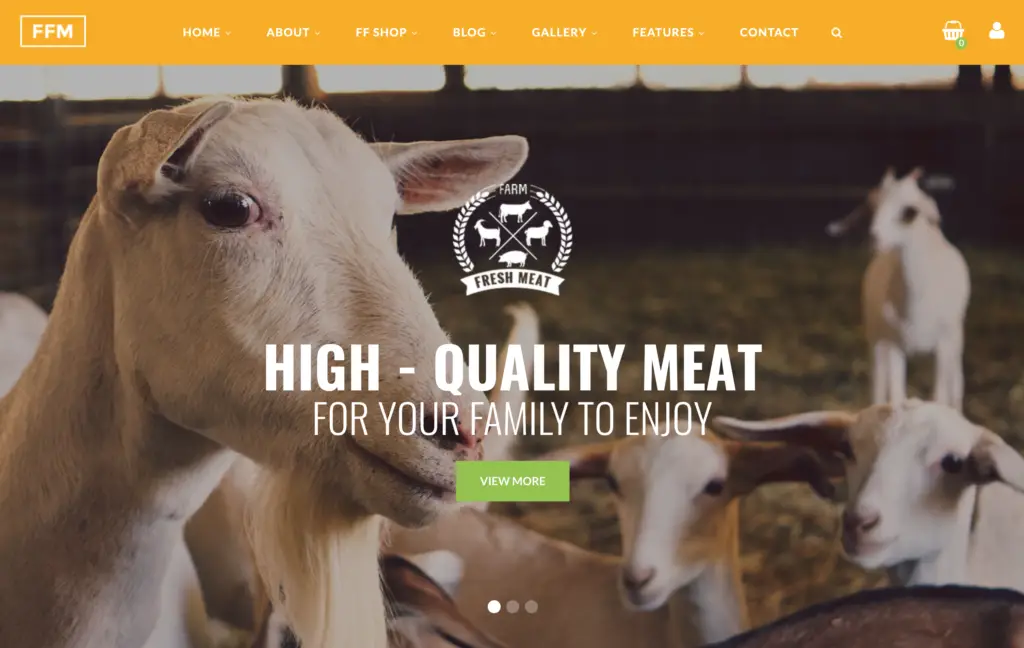 FoodFarm starts by delivering 9 premade home page designs and then adds lots of functionality through addons that will make the build of your website far easier than you might have expected. These add ons include Revolution Slider, WPBakery Page Builder, the page builder's Ultimate Addons, and an excellent admin panel that makes managing your store fast and easy too. The theme is built to be responsive and includes a number of demo sites you can install with a single click. That delivers a true quick-start experience so your site can be up and generating revenue in record time.
This is also one of the few themes that support all of the current browsers as well as the older IE browsers that may still be in use. It is fully up to date with the latest versions of WordPress and WooCommerce too so you can build with confidence. Updates will continue to be made and are free for as long as you continue to use this theme. Additionally, this theme is RTL enabled and integrates well with WPML so language won't be a barrier to selling into just about any market.
You can explore their Live Preview, including 9 complete Demos before making your purchase decision.
With a nearly perfect rating, Agricom ranks very high on our list but it isn't just the nearly 5-star rating that earns them this spot. That comes as the result of their focus on site performance and they have the scores to prove how well they've done from testing services like Validator, Pingdom. PageSpeed and others. The theme provides complete mobile compatibility with responsive designs that work on everything from a smartphone to a desktop and it also works well on all of the major browsers being used today. It's also the first and one of the few themes on our list that supports RTL languages.
The other thing that makes this template interesting is the developers willingness to work on new template designs, with an invitation to collaborate on them in order to meet your specific needs. However, you are unlikely to have to go that far. The designs that are included do a great job of covering what you are going to need. This theme is fully up to date with the latest versions of WordPress and WooCommerce and is also fully compatible with plugins like WPBakery, Elementor, Gravity Forms, WPML and more. Support is delivered directly by the developer, Ninetheme, directly and through the Theme Forest support forum.
They provide an extensive Live Preview you can walk though as you consider your choices.
This Theme Forest Power Elite Author has created Organie with all of the bells and whistles you'd expect for a top-rated theme no matter what niche it serves. It's also a fairly flexible theme that would serve equally well for stores, farmers markets, bakeshops, and even florists so if you're thinking beyond organic food, this could be a better choice than most.
They are continually adding new home and shop pages designs, with 14 distinct designs (2 new) now available when you purchase a license for this theme. They also include various shop layouts so you'll find a lot of premade flexibility in this package of goodies. As you would expect, the theme is 100% responsive and is compatible with Firefox, Chrome and Safari. By all accounts, it works well on the Edge browser but may not offer the best experience on some of Microsoft's older browsers. You'll get out-of-the-box integration with WooCommerce and full compatibility with WPBakery for all of your page-building needs. You also find that it's fully up to date with the latest WordPress release and updates remain free for life.
You can walk through all of their demo sites with a fully functional Live Preview.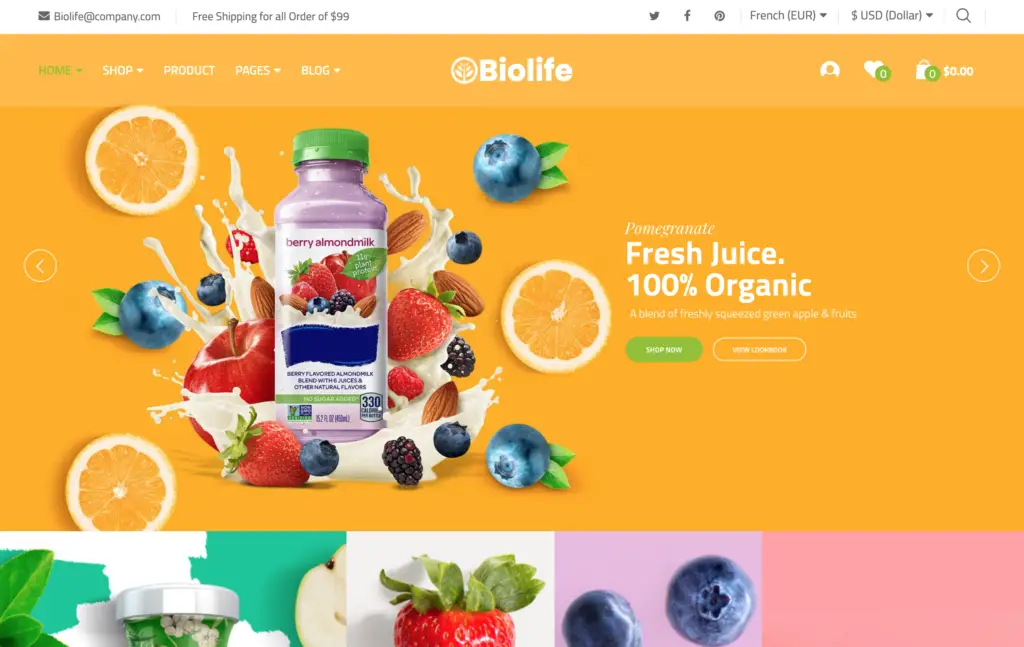 The author of this theme has fewer products offered on ThemeForest than most of the others on our list but they are rated as an Elite author and based on the comments, Biolife is highly regarded. That certainly earns them a solid place on our list. The theme is 100% responsive and it's colorful too with support for unlimited color settings. You can see how important that is by reviewing the 6 home page designs they include with the theme. The use of color fits perfectly with the organic nature of this theme and does a good job of showing what you can accomplish with your site.
You'll also find 12 complete demo sites you can copy and adjust so you won't be spending time reinventing the wheel with this one. Just grab the one you like best, make a few adjustments, load your products, and you'll be ready to launch your new organic web store. The theme is compatible with Visual Composer, Slider Revolution, WooCommerce, and WPML, and the author works to keep the theme up to date so compatibility is fully maintained.
Enjoy the Live Preview and see what you think about this theme for your site.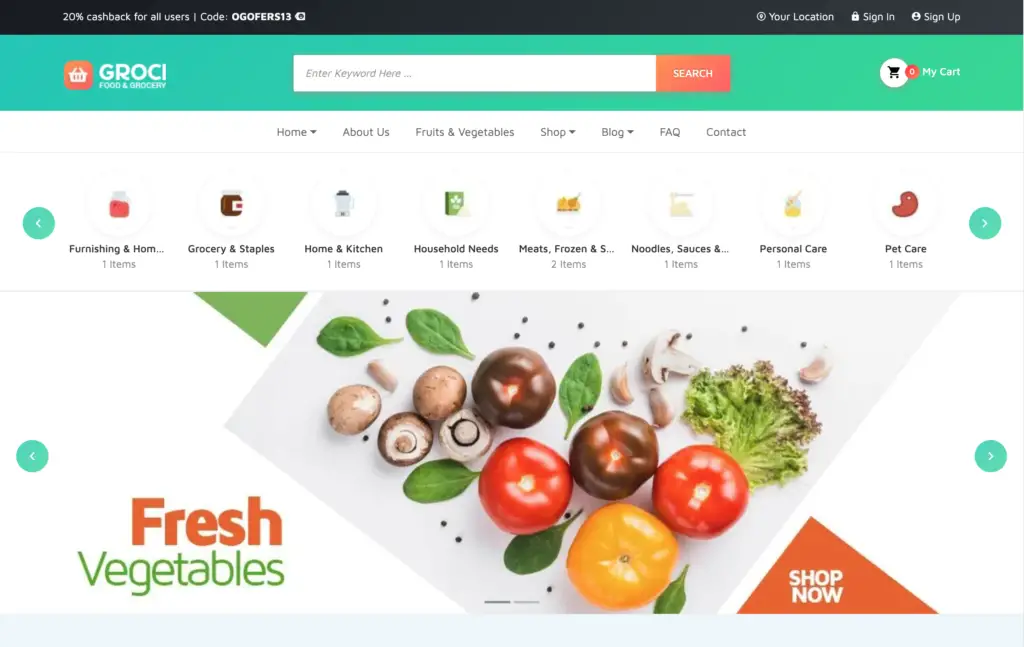 Groci comes from Klb Theme, an Elite Author on the Theme Forest marketplace platform. It is designed to be ready to use out of the box and to be fully responsive. It is very well documented and comes with the most important plugins you are going to need to make your store look great and work well. These include WooCommerce for product and payment management, WP Bakery for page building, and Revolution Slider for all sorts of rimage and product sliders.
It is compatible with WPML for multi-language functionality and has been tested and functions well on all of the major browsers. It is also fully responsive so what you build will look great and function well on everything from desktops to smartphones. This developer has a solid reputation for keeping this theme up to date and also for delivering effective customer support. You can reach out to them through their support forum or on the Theme Forest support forum.
Before you decide to buy, take some time to review their Live Preview.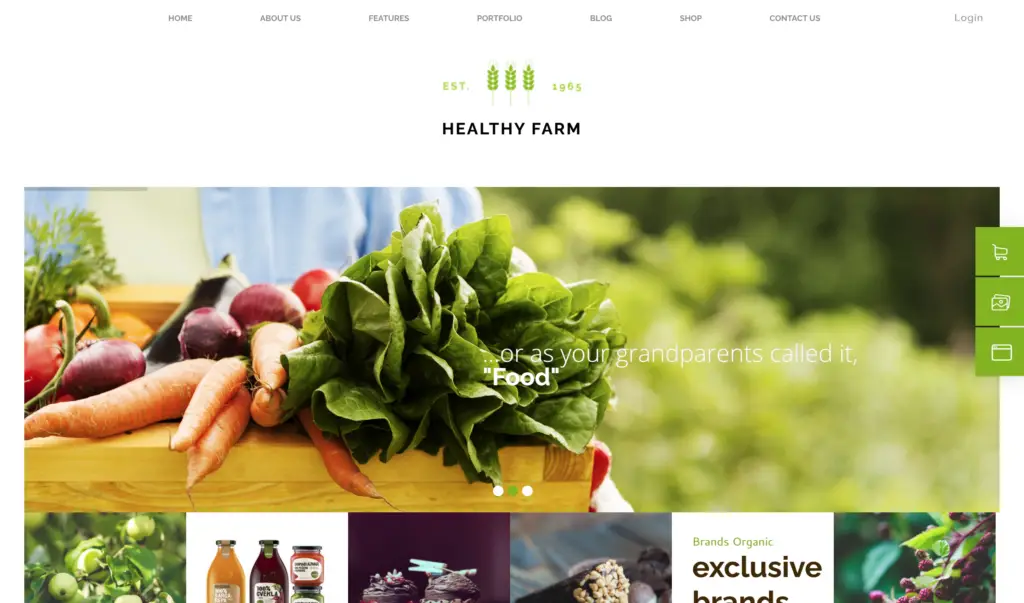 Healthy Farm comes from one of the leading developers of WordPress themes that are available on ThemeForest, with a reputation for delivering lightweight themes that are easy to set up and maintain. This one is no exception. It is built on their well-regarded framework that delivers excellent responsive controls so the site you build will look great on every device your customers may be using but particular attention is paid to mobile devices since this is most often where people are shopping today.
They integrate WP Bakery (Visual Composer) for drag-and-drop page building so the design process can focus on the presentation of your products without having to worry about any coding. While you can, you are unlikely to need any coding or other technical skills to build a site using this theme. It also integrates WooCommerce, the leading e-commerce platform for WordPress. It includes all of the product and payment processing options you are most likely to require and with a deep reservoir of add-ons, you can extend it to do just about anything you will ever need. Add to this full compatibility with WPML and your store can bridge language gaps that would otherwise limit your market.
This WordPress theme is well maintained by the developers and equally well supported. It is fully up to date with the latest releases of WordPress, WooCommerce and WP Bakery. It is tested and proven compatible on all of the leading browsers. And, it comes with complete documentation and a number of predefined sites that you can simply copy or use as inspiration for your unique design.
They have a complete Live Preview so you can get a really good sense of what is possible with this theme.
Summary
While all of these WordPress Organic Food Store themes offer excellent solutions, I lean toward either of the 2 from CMSMaster. First, I like the exceptional depth of the shortcodes they have available. It means doing things within the theme and not worrying very much about additional plugins that can create compatibility issues.
I also like the strength of the technical support they provide. Especially in the early days of any site build you can wind up with questions about how to get things done that tech support can offer quick answers for. I wouldn't worry about extending to 12 months though. Any issues you might run into will come up and get resolved in the included support period.
Should you frequently need access to a variety of premium plugins, themes, logos, video footage and audio files to power up your WordPress site, do also check out envato elements' unlimited subscription plan starting from just $16.50/month.