Howdy folks today I thought we would have some fun as we have the epic matchup of the Accuphase E470 and the Luxman L-509X. Both are high-end integrated amplifiers, but only one can win this fight to the death…. Ok, so perhaps that was a tad too dramatic, but I thought we would take a look at both of these and see which one comes out on top. We recently looked at the Yamaha A-S1100 vs McIntosh MA5200 Pros and Cons Review and that was fun, so now it is the turn of these two sound titans to duke it out and see which one is worthy of a spot in your entertainment center. 
Accuphase E470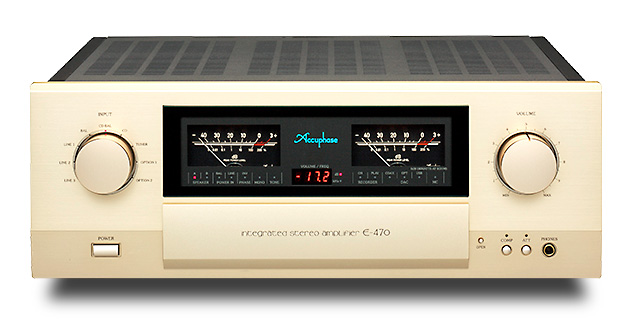 The Price
Check out this video unboxing and you can get an idea of what you are getting and why the Accuphase E470 commands such a high price point.
This is going to cost you a lot of money, let's get that out of the way right now. Accuphase are a Japanese company and when you look on eBay, the majority of these that are on there are from Japan. There are a few that you can find on our shores, but these tend to be even more expensive. I would say that you are looking at anywhere between $3000 and $7500 (I am including shipping here) depending on the condition of the unit. The price seems to be all over the place, but I would say that if you do see one for around the 3 grand mark or even less, you pull the trigger on it if this interests you in any way.
The Design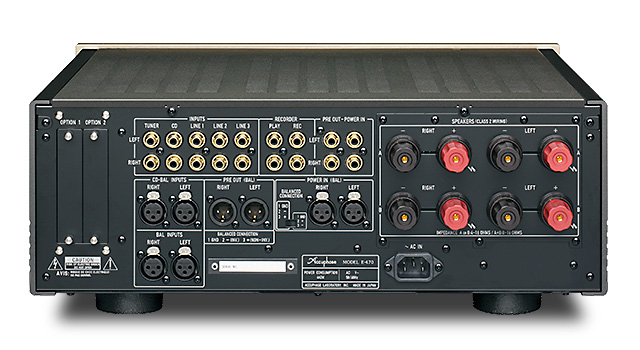 I love the design of the Accuphase E470. Japan always makes really sophisticated-looking audio equipment and this is no different here. It has a kind of gold, almost Champaign look to it and the bottom part of it is a bit darker. It is a very cool effect and one that I think gives a real elegance to it. You certainly would not mind having this out on display that is for sure.
If you look at this video review you get a great view of the front of the unit.
You can see that underneath the meters you can pull that section down and you have a whole host of buttons and dials on there to give you more precise control. On the main part of the front, you have two dials on either side of the meters one for your input selection and the other for your volume. There is also a handy headphone jack on the front too. I think the overall design of this would go great with an elegant turntable like the Sony PS-LX310BT Belt Drive Turntable: Fully Automatic Wireless Vinyl Record Player .
As you would expect, on the back you have all your inputs and this thing is stacked when it comes to inputs. As well as a turner, CD and three line inputs, you have your speaker connections and various microphone connections. It is amazing just how much is on the back of here. I really do not see anyone being disappointed with the Accuphase E470 in terms of the connections.
The Remote Control

You get a fairly basic remote control with the Accuphase E470. Well, I say it is basic, but truth be told it actually does all that you need it to do. It is the same color as the actual unit itself which I think is pretty cool. I like how they did not just put buttons on here for the sake of putting them on so it has a much cleaner and nicer look. At first glance, it looks basic, but it gives you full control and I would take that over being loaded with buttons I am never going to use any day!
The Sound
So, we know that this thing looks great, but what about the sound. Well, I was lucky enough to be able to spend some time with this thanks to a friend from Australia and I was pretty much blown away right from the start. I once read a review of this that said it was "extremely musical" and that is probably the best way I can think to describe this myself.
Seriously, once you have listened to your favorite albums through this, there is no way you could listen to them through something like this super cheap, but functional Moukey Mini HiFi Stereo Audio Bluetooth Amplifier.
This thing can get loud and if you think you know what loud is, trust me until you crank this all the way up you have no idea. This made my wife screech down the stairs for me to turn it down!
I listened to One Wild Night: Live by Bon Jovi through this as I really wanted to hear live music and to say it knocked my socks off is an understatement. Every instrument, the vocals, and everything to do with it sounded amazing. I really cannot overstate how good this thing is when it comes to the sound quality. I would wager that anyone who has this or has even just tested it like I did was blown away by the sound quality. Oh, and when I first tested it, I just left all the dials in the middle, I did not even tinker with the sound!
Pros:
This thing has a real elegance to the design that I just love
I know it is expensive, but the value for money is amazing
It is one of the best sounding integrated amps I have ever had the pleasure to use
I love how many inputs it offers you
Cons:
You will have to spend a lot of money to get one of these
More than likely, you will have to import it
Luxman L-509X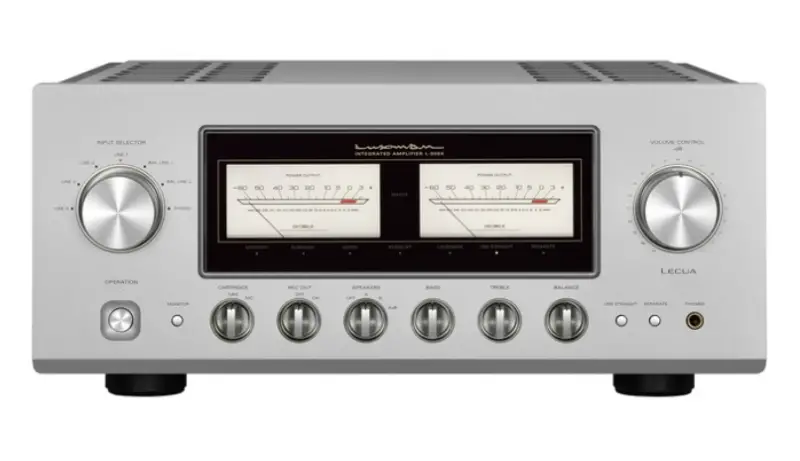 The Price
Just like the Accuphase, you are going to have to come to terms with the fact that the Luxman L-509X is going to cost you a lot of money. Before we get to the prices that this is currently going for, be sure to check out this video review where you can get a better idea of where your several thousand bucks is going!
I had a good look on eBay and these do seem to be plentiful, actually, as of me writing this (it could change by the time you read this) I found more of these than I did the Accuphase E470. Anyway, the asking price is right around the 7 to 8 thousand dollars mark for this! That is certainly no small chunk of change, but if you want the best of the best, you have to pay for it.
The Design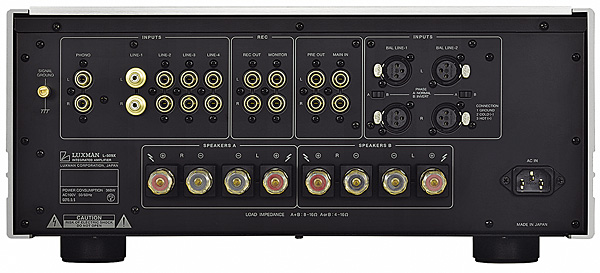 What I like about the design of the Luxman L-509X is that I think it has a kind of 90s thing going on. In the 80s stereo and home entertainment equipment was usually back, in the 90s that switched to silver. I like the silver look of this as I think that it goes very well with the blue of the meters. I think that the silver of this would look great with a silver record player like this Crosley C100A-SI Belt-Drive Turntable close by it.
The front of this is pretty busy and while I normally have no problems with dials, the fact that the Accuphase hides many of them does make them stick out a bit here. Along the bottom of the unit, you have your various dials for things like treble, bass, and so on. A large input selector and volume control dial are on either side of the meters. I do like how everything is done in the same kind of silver. It gives the whole unit a very uniform kind of look. The only thing I do not like are the air vents along the top, look I know why they are there, but they do kind of stick out like a sore thumb.
On the back, you have all the inputs you need. So, you can have your turntable, CD player, home theatre, games console, and so on all hooked up to this and a bunch of speakers and probably have a few ports left over for later. I like how clean and organized it all is on the back too, look I know that the way an amplifier looks from the back does not matter, but I like how they made an effort here.
The Remote Control
This comes with a very retro looking remote control and I love it. It is the same kind of silver color as the actual amplifier and just like the Accuphase, there are not a ton of buttons on here just to make it look more high-tech or busier than it needs to be. It gives you complete control over the unit and at the end of the day, that is all you want from a remote control. If it looks nice too so that your wife does not get mad about it being left on the sofa, that is a nice bonus!
The Sound
There is a very good reason why this is so expensive and sought after and that is because the sound is just amazing. I was lucky enough to get the chance to put one of these through its paces for a couple of weeks and was very, very impressed. Even my wife who normally does not really comment on the way things sound was impressed and we actually listened to Tails by Lisa Loeb which is one of my wife's favorite albums and it was just stunning.
What I think really grabbed me about the sound this gave was just how crystal clear it was. This is not just true for the vocals, but the instruments as well. Live at the Paramount by Nirvana is a tremendous live album and I am not exaggerating when I say that this made me feel like I was actually there, that is how good and impressive the sound was.
I think that this is just a fantastic amplifier and I can see why it is held in such high esteem. I through pretty much every album that is one of my favorites through this thing and I can hand on heart say that I have no complaints at all. You could play this with all the settings right in the middle and still be blown away, but you do also have the ability to play around a little and get things just the way you want them.
Pros:
I love how it has a kind of 90s design to it
You have full control over the sound thanks to the various dials and remote control
A great selection of inputs on the back
The sound is truly amazing!
Cons:
This is very expensive as you would expect
I think the air vents on the top take away from the look a bit
Final Thoughts
I have to be honest and say that even amps like the ones in our 7 Best Stereo Preamps Under $1000 article do not come close to matching what these offer. These amplifiers are on a whole new level and only really for those who take this kind of stuff way too seriously (like me) and those who have a ton of money (not me).
At the end of the day, both the Accuphase E470 and the Luxman L-509X are incredible. Picking between these two as far as the sound goes is near impossible. They both sounded great and you would have to be very nitpicky or have ears more sensitive than a meercat to notice any huge differences. For me, it really boils down to which one you like the looks of best and the design that appealed to me most was the Accuphase E470 so that is why I am picking that as my winner. However, I have to say if it were not for those air vents that really stand out the Luxman L-509X could have taken it!