Today we are pitting two awesome soundbars against each other, the JBL 9.1 vs the Samsung Q950T. These two soundbars are good in their own right and it was really tough comparing them side by side. These are definitely not one of your "affordable" soundbars that we have reviewed. If you want a soundbar that doesnt cost more than $200, check out our Best Soundbars With Subwoofer Under $200 as it really has some pretty good soundbar deals. Now, if you really want one of these, keep on reading to see what features suit you more!
First, it's important to take a bit of time to understand how these sound centers are put together and that starts with understanding some of the ways soundbar performance is measured and how that is used to compare one from another. This will ensure your search parameters for soundbars are as accurate for your needs.
Soundbar Performance Factors
Channel Configuration: Each soundbar is built around some number of distinct channels of sound. These channels separate sounds into three categories and then may separate or multiply the number of unique channels within each category. These are shown as three numbers like 5.1.4 or 9.1.4.
The first of these numbers are the "ear level" sounds and basically, they include all of the mid to high-level sounds. This is where your ear hears music, street noises, most background sounds, and in many soundbars, this is where voices are carried through to your ear. This is generally the highest of the three numbers in the channel rating.
The second number tells you about the number of base/subwoofers channels the soundbar will deliver.  This is most often a single channel, and with the right physical subwoofer, that is more than enough to produce some fairly thunderous results.
The final number can be the most important of the three. This is where a soundbar shines its brightest since this is where conversations are made clear and distinct beyond everything else that's happening. It's often referred to as the Atmos channel, as named by the Dolby engineers that create the incredible sound quality that draws you to the movie theater.
Stereo Dynamics: This is a measure of how loud you can turn up the volume on your soundbar before you begin to detect distortion in the quality of the should the bar is throwing out at you. For most living spaces where you're lounging on the couch, watching your favorite movies and TV shows, something in the range of 7.0 or above should serve you well.
If you generally like turning the volume up or you'll often be watching in a crowded or noisy space you will want a higher rating. This will help ensure you can still clearly hear voices and that can become important when you're listening at lower volumes since this dynamic range will help bring the voices to the forefront.
If you are mostly expecting to listen to music with your soundbar something with a channel configuration of 2.1 will meet your needs since music is generally just 2 channels known as stereo. For movies with a wide dynamic sound range, you'll want a soundbar that is at least 5.1 or higher and that should include at least 2 Dolby Atmos or voice channels.
Stereo Frequency Response: This is the last of the three ratings you'll need to consider and it's possibly the most important when measuring the whole listening experience. This is also known as the spectral balance and that points to how well all of the sound channels are balanced. A well-balanced frequency response will allow the bass tones to come through with impact without overpowering the midrange and high-frequency sounds, and without overpowering the voices. That is why this rating is so important. It reflects our perception of sound quality more so than either of the previous two factors.
Generally, you'll want a soundbar that has a rating of at least 8.0 or higher, and most decent soundbars will deliver that at a reasonable price.
How to compare soundbar ratings?
In general terms, the higher these numbers, the broader the range and the clarity of the sounds you'll enjoy with your soundbar but again, make your purchase based on the way you intend to use your soundbar. Don't invest in a soundbar that will give you the best theater-like experience if you're mainly interested in listening to music and don't try enjoying movies on a soundbar that is optimized for music listening. If you do, you will be disappointed, no matter how well-rated the soundbar is.
Let's Compare JBL Bar 9.1 vs Samsung Q950T
JBL Bar 9.1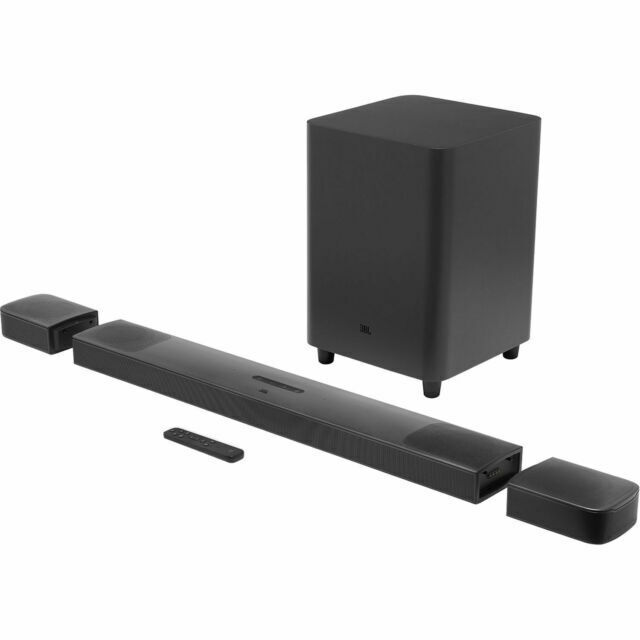 Channels 5.1.4
10" Subwoofer
Wireless Surround Sound (Subwoofer requires a power outlet, satellites are wireless)
3 hours charging time for satellite speaker – 10 hours playback time
Dolby Atmos
DTS:X
1 HDMI In
1 HDMI Out
HDMI ARC / eARC
820w Power output
Supports Chromecast, Airplay 2, and Bluetooth
Our reviewers all had the same basic first impression and that is that this soundbar is built better. That is mostly due to the wireless design of the satellite speakers that make it easier to set up. The space gets a more balanced sound treatment without having to worry about the length of wires or how to hide or at least make them look less annoying. Also, this soundbar just felt more substantial and the quality of the material seemed better.
Channels on this soundbar are 5.1.4 and compared to the 9.1.4 rating for Samsung. It's also rated a bit lower on both stereo dynamics and stereo frequency response. However, our crew was mostly impressed with this setup, and with a slight exception on voice reproduction, they were equally satisfied with the listening quality of this soundbar.
On the voice side, the real difference comes through with voices at low volumes and in noisy spaces. Unlike the Samsung HW-Q950T, this soundbar had no dialog enhancement and that seemed to make a noticeable difference.
The other area where our team noticed a difference was with music playback. The Samsun offering includes both base and treble adjustments that allow a listener to shape the playback based on their preferences and to more closely match the dynamics of the listening space. The JBL Bar 9.1 has neither of these adjustments and while the music playback was still very enjoyable, it just wasn't as personalized as our testers would have liked.
What it did do well was offer room correction adjustments that were automatic and this was especially noticeable in the rooms where there were no real acoustic treatments. In other words, rooms that were sparse and more prone to echoing sounded better than we expected. JBL does this with an integrated microphone that detects spatial issues and automatically makes adjustments to counter any acoustic deficiencies.
Have a look at this video review as well for a somewhat different take on the JBL Bar 9.1. It's not dramatically different but it is an interesting presentation offered by Andrew Robinson, a Youtuber that focuses on audio-related equipment.
The JBL Bar 9.1 has an average price tag of $899 to $999 and that is available at both Walmart and Best Buy. We found no listings on Amazon for this soundbar. But we found one selling at $899 on ebay!
Samsung HW-Q950T
Channels 9.1.4
Speakers – 20
Wireless Surround Sound (Satellites and subwoofer are wired for power)
Dolby, Dolby Atmos, Dolby Digital Plus, Dolby TrueHD, DTS:X DTS Digital Surround
4k Video Pass
HDR 10+
2 HDMI In
1 HDMI Out
HDMI eARC
546w Power output
Supports WiFi and Bluetooth
While the first impressions were positive, there was a general feeling that this was not built as well as the JBL Bar 9.1. It just felt a bit less substantial when unboxing this soundbar. That impression was quickly forgotten though once it was hooked up and our team began running it through its paces.
First, the sound this bar delivers is fairly well balanced, with just enough thump from the subwoofer to be impactful without being overbearing. We especially appreciated the various presets that allowed us to shape the sounds for things like theater settings and concert settings. It also has a special Q-Symphony setting that links with Samsung's line of QLED TV. This is designed to deliver a "more immersive" experience. We did not have a TV we could test that with so it's unclear just how impactful this may have on the sound quality but it might be fun to try.
The thing that made this soundbar stand out was its ability to deliver quality sound both for TV watching and music listening.  However, when it came to movie watching, it was a bit less impressive. The overall performance came up short, especially when compared to the JBL Bar 9.1. Its range and height were just a bit flat and that was a bit surprising given the higher channel number that this soundbar delivers.
Like the JBL Bar 9.1, there are some reports of dropouts that affect the wireless speakers. Our testers did not experience any of that with either the Samsung or JBL soundbars but we have seen that before with outer wireless devices. These issues tend to be environmental with distance and physical obstructions being the most obvious and normally the easiest to resolve.
It may be that this soundbar is specially designed to deliver its best performance when paired with one of Samsung's QLED TVs. It is the top of the line for Samsung soundbars and in the end, all of the ratings our team assigned to this soundbar were just a bit higher than those given to the JBL soundbar, and that was across the board.
Watch a full review of this Samsung HW-Q950T Soundbar, hosted by Andrew Robinson. We've also linked to his review of the JBL Bar 9.1 so you can get a similar yet unique take on these two products.
The Samsung HW-Q950T has an unusually wide range of prices. At the low end, you can get yours at Amazon for $1,154.99 and that includes a 4-year extended warranty. Best Buy carries the same product for $1,799.98.
The Verdict
We are quite happy with both the JBL Bar 9.1 and the Samsung HW-Q950T. Both delivered excellent sound quality when watching our favorite movies and TV shows. They deliver an impactful thumping bass that is impressive without being overpowering. They also did a good job delivering voices that were easy to hear and understand, even when we had the volume turned way up or down.
The build quality was a bit disappointing with the Samsung and while that might have some impact over the long term, it didn't impact performance in our test settings. We suspect that won't be an issue in the future either, especially considering the included multi-year coverage that comes standard with this soundbar.
We did especially like the convenience of the wireless setup offered by the JBL Bar 9.1. It was nice not to have to worry about how to run wires so they didn't end up looking like a disorganized mess. On the Samsung soundbar, this was limited to the subwoofer but at least with that unit, we were able to place it without worry.
Overall, our performance ratings were all just a bit better for Samsung and even the smallest differences did have an impact. All of our testers came to the same conclusion. While they would be very happy with the JBL Bar 9.1, the Samsung HW-Q950T was a better well-rounded choice that worked just as well when enjoying tunes as it did when sitting to watch a romantic comedy or action thriller.
That leaves you to decide on one of two very similar choices and that may mean that this will all come down to price. The JBL Bar 9.1 will save you about $100 and when performance is so close, that could easily be the tipping point. Be sure to also check out our most popular post comparing the Bose Soundbar 700 vs Sonos Arc!