This is going to be a pretty fun match up as we look at the Bose Solo Series II vs Sonos Beam. We have put many soundbars against each other as we look to find which one offers you the most bang for your buck. Not too long ago we looked at the Bose Smart Soundbar 300 vs Sonos Beam which was a lot of fun. Bose and Sonos make some of the best soundbars on the market and both of these are coming in under 400 bucks so these are great if you want something better than your TV speakers, but if you also do not want to spend a ton of money.
The Price
Getting as much bang for your buck is very important and that is why we are looking at the price of these soundbars first. We have looked at some rather expensive soundbars on here such as the ones on our Best Soundbars Under $600 list. These are great, but if you want to be way under 500 bucks, I can tell you right now that the asking price of both of these (one more than the other) is going to make you very happy.
Bose Solo Series II: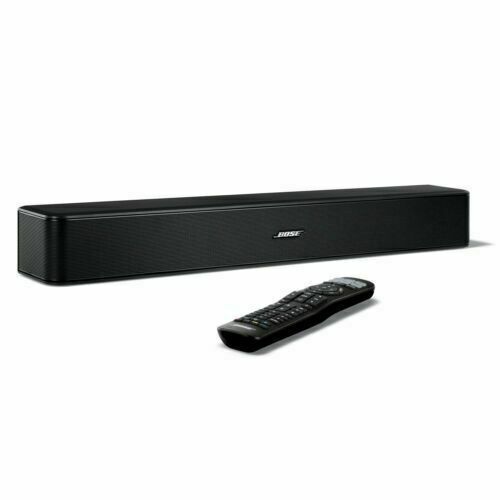 As of me writing this the Bose Solo Series II is not currently available to buy brand-new on places like Amazon as it is a few years old at this point. However, eBay do still have these for sale, but they are refurbished models and the price is $119.00 which is crazy! Close to 100 bucks for a Bose soundbar that was professionally refurbished by them! If I recall correctly this was priced at around 180 bucks when it was first released so a $60 saving is great. I had a quick look on Amazon and I have to say you would be better going through eBay. However, I did find a few brand-new ones on there for under 150 bucks so maybe shopping around is worth your time.
Sonos Beam:
As of me writing this article the Sonos Beam has a RRP of $399.99. I do not think this is an unfair price at all and you can buy it directly from Sonos for this price. On Amazon things can be a little weird as the price for the Sonos Beam tends to fluctuate on there on what seems like a weekly basis! I have seen it go for under the RRP and slightly over it. Doing a bit of shopping around is something that I highly recommend that you do. The reason I say this is that on eBay, you can find this for closer to 300 bucks from some sellers and if you are willing to buy a pre-owned one, you can get it for even less than that!
The Verdict: Well, if you put the Sonos Beam at its $399.99 against the Bose Solo Series II refurbished unit at $119. That is one hell of a price difference. I have to say that I do not think the Bose is overpriced at all and that these are both excellent value for money, however, that is a massive price difference that is very hard to ignore.
The Design
Both Bose and Sonos have a real style about all of the products that they make. I think that the design of the soundbar is very important. Granted, an improved sound is what you are buying a soundbar for, but the design is a very important category in our Bose Solo Series II vs Sonos Beam fight to the death. Everyone that I know who has a soundbar has it out on display so the way it looks is very important.
Bose Solo Series II: Bose manage to keep a rather uniform look with their soundbars and even something more expensive like their flagship, Bose Smart Soundbar 700 has a similar kind of style to what we are looking at here. I love the whole style that the Bose Solo Series II has going on. The standard Bose offering of plastic body with a metallic grille is on offer here and it looks so cool! I love the way the grille wraps around the front as it gives it a kind of movie theatre look which I love. This is nice and compact coming in at 2.8″  x 21.6″  x 3.4″ which makes it a tad smaller than the Sonos Beam.
If you look at this Bose Solo Series II Small Product Big Sound you can get a better idea of the dimensions and how it will look.
One of the things that I think makes this such a great soundbar is the way it can fit in with any kind of TV. To be honest, I would not want this sitting under a TV like this SAMSUNG 65-Inch Class Crystal UHD AU8000 Series – 4K UHD HDR Smart TV. However, the small stature of this soundbar does mean it would fit nicely in between the legs of a TV like that. This is the kind of set up my parents have and they are more than happy with it. One thing that Bose do really well is make it so that their soundbars can easily be wall-mounted, which is the case here and due to the small size and lightweight, it is even easier to do.
As the Bose Solo Series II is a few years old at this point it is pretty impressive what they have round the back of the soundbar. With a modern soundbar, especially one that is priced similarly to this, you will have an HDMI port and maybe an optical port if you are lucky. That is not the case here, but there is a drawback. You have an optical port, an AUX port, and a coaxial port as well. There is also a USB port for updates and stuff like that. There is no HDMI port on this soundbar which is a huge drawback. I have to be honest and say that the lack of an HDMI port could be enough to sway you away from this soundbar.
Sonos Beam: The Sonos Beam truly is a great looking soundbar. This can be purchased in both black and white.
I have only had my grubby hands on the black version so that is what I am talking about today, but check out this Sonos Beam Unboxing if you want to get a better idea of what the white version looks like. Coming in at only, 25.6" x 2.6" x 4.0", this is quite a nice and compact soundbar. What I think grabs your attention at first is just how curvy a soundbar this is.
The majority of the Sonos Beam is made from a very strong and sturdy plastic. Rather than using a metal or even a plastic grille, Sonos has a fabric one that I think looks great. Granted, you may be worried about dust and the kids breaking it, but I do think it is a very cool effect. The whole design makes this something that you will be very proud to have on display. I think a soundbar like this would look great with a TV like this All-New Toshiba 55-inch 55C350KU C350 Series LED 4K UHD. The smaller size means that it could fit in-between the feet of most larger 50 inch plus TVs and look great. On the flip side of this, it is so compact, it would not look out of place in front of a smaller TV either.
While you may be amazed by how sleek and cool the Sonos Beam looks from the front. When you ask it to turn around and give you a little wiggle, you can see what it has to offer on the back. You have the power port which you would expect. There is also an HDMI port on here too, but there is no optical port. That is not as big of a deal as it sounds as Sonos does give you a special HDMI to optical cable.
The Verdict: From the front and from a style point of view I have to say that I do prefer the look of the Bose Solo Series II. I love the way that the grille wraps around the body of the soundbar. However, the lack of an HDMI port is a real sore point for me, I know that this model is a few years old and it has been replaced by the Bose TV Speaker which does have an HDMI port. However, that is not the comparison today so I have to give this one to the Sonos Beam.   
The Sound:
Here we are with what is the most important category in our epic Bose Solo Series II vs Sonos Beam battle, the sound. I think that the rise of super thin TVs is what has led to the need and want for a soundbar. To be fair, more recent models of TVs are finding ways to pack better speakers in them, but they are still lacking.
Bose Solo Series II: I know I sound like a broken record here, but the Bose Solo Series II is a discontinued model, and Bose themselves only offer refurbished units at this point. The point I am trying to make here is that while for its day this was awesome and even now the sound is not bad at all. I must admit that the later versions of this the Bose TV Speaker improves what this offers. Do not get me wrong, this is certainly an upgrade on the speakers that are in your TV right now, and if you were watching a movie like Predator (which has a pretty epic 4K version available now by the way.  which has a lot of action and ambient sound, not to mention quite speaking. You will notice a massive difference to what your TV speakers are offering.
While I know I just said that Bose have made newer soundbars that are better, if you watch any Bose Solo Series II review you will notice that most people are impressed with the sound quality they are getting. It does give you some very nice vocal clarity and I think overall it is great, especially when you consider that you can get this thing (refurbished of course) for close to 100 bucks! Even if you were to find a new one for $179.99, I think the sound you are getting still makes it a great deal.
One area that the Bose Solo Series II does have the Sonos Beam beat is with Bluetooth connectivity. This is a feature my wife uses all of the time and there is no way we could have a soundbar in our living room or home theatre or anywhere in our house that did not offer it. I always like how Bose includes Bluetooth so you can stream your favorite music from your phone or tablet through it and it sounds very good.
Sonos Beam: Sonos always deliver when it comes to the sound and I have played around with the Sonos beam a million times and never once have I found myself disappointed in what they offer. Recently we did a similar article looking at the Sonos Beam vs Bose Solo 5 which I was very complimentary of the Sonos Beam and what I said there has not changed one bit. Even though there are many more expensive and larger soundbars on the market right now, I have to say that the Sonos Beam packs a hell of a punch and offers more kick than many people realize. This has the standard setup of a front and two side speakers that come right at you. I do feel that the sound this produces is best when you are sitting straight on. Case in point, my son and I recently picked up the 4K version of How To Train Your Dragon which is a fantastic movie (and series of movies actually) and it sounded amazing through this, seriously the step up from the TV speakers to the Sonos Beam was mind blowing.
I did find this very cool Sonos Beam Sound Test which I recommend you check out as the dude does do a sound test and it is one of the better ones I have seen. This thing produces amazing sound and what is particularly impressive about this is the way that it manages to not just be great at the mid-range stuff which is a bit of a given. Even at louder volumes, I was impressed not just with how vocal clarity sounded great, but how the bass still had a fair bit of kick to it as well. Right out of the box, it is seriously very impressive how good this thing sounds.
As far as movies, TV shows, sporting events and gaming goes there is nothing negative to say about the Sonos Beam. However, if you have read any of the other reviews or articles, I have done on the Sonos Beam, you know what is coming! This thing lacks Bluetooth connectivity. I know that is not a big deal to some of you guys, but I feel at 400 bucks Sonos could have put Bluetooth connectivity in here.

The Verdict: The Bose Solo Series II is excellent value for money and a great way to give yourself better sound for your movies, TV shows, and whatever. However, clearly, the winner here has to be the Sonos Beam. It just offers far more punch to the sound and I think it is a better overall experience. Again, the Solo is solid, but Bose has made similarly designed soundbars to that which make this one obsolete if I am being honest.
The Remote Control
I am a sucker for a good remote. I do not know what it is, but far too many things these days are lacking with the remote control.
Not too long ago I bought this LG 55UP8000PUA Alexa Built-in 55″ 4K Smart UHD TV for my game room and the TV is awesome, but man the remote is cheap and sucks! That is why I wanted to make sure our Bose Solo Series II vs Sonos Beam had a section dedicated to the remote control.
Bose Solo Series II: Good old' Bose always give you a remote and while the remote control they give you here is very basic; it is their Fire TV Stick style of remote that only has a few buttons. It is very easy to use and gives you what you need. Bose does have an awesome app that you can use, but if you are looking to be close to 100 bucks I would wager, you do not need that kind of control over the sound, and what this basic remote offers you should be more than enough.
Sonos Beam:
You can watch this Unboxing Sonos Beam video and a million like it and there will be one thing that they all have in common. That is not one of them has a remote control being pulled out of the box. That is right, Sonos has done away with the remote even their more higher-end soundbar the Sonos Arc with its 800 bucks price tag does not come with a remote control. You can set it up to work with your TV remote, but what you really need to do is download the app which gives you an incredible amount of control over the soundbar. It is a great app, but I really would have at least liked to have a basic remote included here.
The Verdict: This is the easiest category in our Bose Solo Series II vs Sonos Beam battle to pick a winner. Granted the Solo Series II wins by default here as the Beam does not have a remote. However, even though it is basic, I think the remote Bose gives you is more than enough to get the job done and it looks like of cool to thanks to having a design similar to an Amazon Fire TV Stick.   
What Is In The Box?
When you are spending as much as 400 bucks on an item you need to know exactly what you are getting for your money. That is why we are looking at what you can expect to find in the box for both of these.
Bose Solo Series II: One of the things that has driven me nuts about some of the other articles we have done such as the Bose Smart Soundbar 300 vs Sonos Beam is that more often than not Bose does not give you an HDMI cable. To be fair that is not an issue here as there is no HDMI connectivity. That does mean, Bose, give you what you need to get up and running out of the box. As well as the soundbar and the power cable, you also get your remote control, an optical cable. A nice bonus is that you do also get a wall bracket in here which is great if you want to wall mount this thing.
Sonos Beam: One of the things that I like about Sonos and the Sonos Beam here is that they give you everything you need in the box for the Sonos Beam. You get the soundbar and the power cable. They also give you an HDMI cable as well as an HDMI to optical cable which is there if you need to connect this to your TV via an optical cable. There is also a CD that can help you set the soundbar up if you need it.
The Verdict: Hmm, I think that I have to say this one is a tie. At the end of the day, they both give you exactly what you need to get your soundbar connected to a TV inside the box. The added bracket that the Bose Solos Series II gives you is great and all, but it is lacking an HDMI port so there is that. Yeah, I am pretty happy with these two soundbars growing hands, shaking them, and calling this one a draw.   
What Is The Best Soundbar?
Our battle of the Bose Solo Series II vs Sonos Beam has been pretty interesting. I know that I may appear to have been a bit harsh on the Solo Series II, but that is only in comparison to what Bose released after it. For its time, this was awesome and even now the sound it provides, especially considering the price point is very impressive. Still, with that being said, I have to say that if you take away the large price difference, I just feel that the Sonos Beam is the better out of these two soundbars. I 100 percent noticed a difference in the sound between the two and the Beam offered the better sound quality. Still, even though I am raising the Sonos Beam's hand as it if were Rocky Balboa at the end of Rocky II. For close to a hundred bucks (for the refurbished model) you are still getting a great soundbar for your money with the Bose Solo Series II.