This comparison of the JBL Bar 9.1 vs the Sonos Arc will help pull you up from the depths of disappointment that comes with buying a great 4k TV only to be totally let down by the quality of the viewing experience that TV delivers.
The picture quality is amazing but the sound is completely unimpressive. It's flat, there's no base to speak of, and the entire sound profile doesn't sound much better than what you hear on your smartphone. It is in desperate need of something.
In the past, you would head out to find a decent surround sound system but those were and still are either big and expensive or something that looks a lot better than it sounds. Decent-sounding systems offered by any of the top brands also cost as much, if not more than the TV you were so excited about.
The industry's answer to this problem is the soundbar, an all-in-one surround sound solution that delivered component quality high definition sound in a form factor and at a price that makes sense.
In this review we are going to review two leading soundbars from two of the leading names in quality audio equipment; JBL and Sonos, and while both do a great job of delivering sound quality that will rival the picture quality of your TV, they take a very different path to that destination.
The Ground Work
Let's start with the most basic difference between the JBL Bar 9.1 and Sonos Arc. The JOL Bar 9.1 is comprised of a package of components that include the bar, 2 satellite speakers, and a subwoofer. The Sonos Arc is sold as a set of separate components, starting with the soundbar. To this, you can add a wireless woofer and one or more wireless satellite speakers.
We will compare these as complete systems that include all of the components, and then spend some time talking about Sonos and what you may or may not want and need to achieve the quality you're after.
Before we talk about the JBL Bar 9.1 vs the Sonos Arc, you'll want to get familiar with some of the terms that will help you understand their difference.
How much do they cost?
Neither of these audio solutions is cheap but one of the two can be a whole lot cheaper than the other.
Let's start with the JBL Bar 9.1. It includes the soundbar as its central component, and then a subwoofer and 2 rear or satellite speakers. The entire package costs approximately $1,000 with occasional sale prices that will bring it down to the $850 range.
Compare this to the Sonos and you'll find that the Sonos Arc alone will come in at about the same price. If you add a subwoofer and pair of satellite speakers you will be practically doubling that price but don't run away just yet. The Sonos Arc may be all you'll want or need.
Performance Specs:
| | |
| --- | --- |
| JBL Bar 9.1 | Sonos Arc + Woofer and Satellites |
| 5.1.4 Channels | 5.1.2 Channels |
| 10" Subwoofer | 2 Force Cancelling Drivers |
| Wireless Surround Sound (Subwoofer requires a power outlet, satellites are wireless) | Wireless Surround Sound (subwoofer and satellite speakers require power connections) |
| 3 hours charging time for satellite speaker | No charging |
| 10 hours playback time | No playback |
| Dolby Atmos, DTS:X | Dolby Atmos, DTS:X |
| 1 HDMI in | 1 Digital optical adaptor |
| 1 HDMI Out | 1 HDMI In |
| HDMI ARC / eARC | 0 HDMI Out |
| Supports Chromecast, Airplay 2, and Bluetooth | Supports Chromecast, Airplay 2, and Bluetooth |
| Syncs with Alexa & Google | Built-in support for Alexa & Google |
| 820w Power output | 512w Power output |
JBL Bar 9.1 Impressions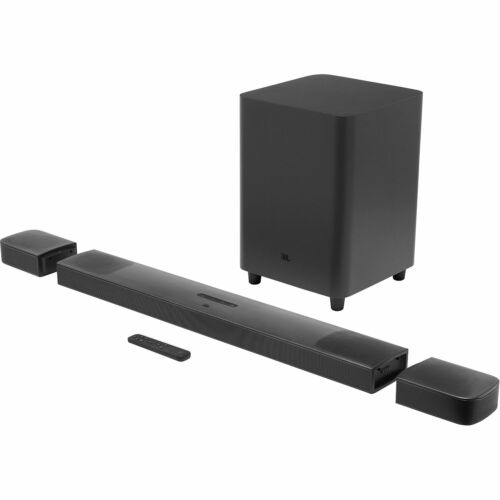 First impressions can be deceiving but that isn't definitely not the case with this soundbar. It looks and feels like a quality component system and while we would like to see other colors available, this black makes for a sleek look that blends well in almost any room.
You will find the soundbar, the subwoofer, 2 satellite speakers, a remote, and all of the power cords and cabling you'll need to hook this up. You will have to fully charge the satellite for the first time but that's simple to accomplish by simply connecting them to the right and left sides of the soundbar.
The bar connects to the TV using an HDMI cable. Plug it into and eARC input on the TV for the best results. Most TVs made after 2009 should have this input type and it's important to be sure you hook this to the right one to get the best results.
The channels, when compared to the Sonos Arc, are better with the JBL Bar 9.1 but to get the fullest sound from this system you need to have the subwoofer and satellites paired with the soundbar. The soundbar alone will sound a bit flat.
This system does some things extraordinarily well when compared to most other soundbars on the market and the first way it shines in with the delivery of voices. They are crisp and clear and stand out clearly from all of the others should they are surrounded by. You'll appreciate that you never lose a word, even in the depths of the most intense battle scenes.
It's also really solid when it comes to music playback and the Airplay and Bluetooth connectivity make that easy. You enjoy a rich sound that is supported by a solid bass line that is thunderous when it needs to be but never overwhelming. We do think it could use a touch more punch in the middle range, especially when listening to music, but still, we were not at all disappointed.
The JBL Bar 9.1 includes automatic room correction. Every room has a unique acoustic signature that is formed by the shape and size of the room, along with the furnishing, window dressings, and even the kinds of things that are hanging on the walls. With a built-in set of mini-microphones, this JBL Bar 9.1 gets feedback from the space and automatically adjusts the sound to deliver the best acoustic results.
As with all wireless systems we've tested, this one also suffers from occasional dropouts on the subwoofer and satellite speakers, but there are ways to minimize this. JBL offers some suggestions that include updating software and ensuring proper placement of wireless hubs and other devices so that interference is minimized.
Have a look at this video review as well for a somewhat different take on the JBL Bar 9.1. It's not dramatically different but it is an interesting presentation offered by Andrew Robinson, a Youtuber that focuses on audio-related equipment.
The JBL Bar 9.1 has an average price tag of $999. We found no listings on Amazon for this soundbar but it is available on eBay.
We've also done comparisons of the JBL Bar 9.1 vs the Samsung Q950T and the Samsung Q90R, two competitive choices you should review before making a final decision.
Sonos Arc + Sub3 & One (Satellite Speakers)
When it comes to first impressions, even the boxes this equipment is delivered in are impressive. They include convenient carry handles and locks that ensure the boxes don't open until you're ready to open them. Then, they've taken the time to wrap each piece in its own fabric bag. There's no room for plastic in this package. Finally, it is available in both deep black and bright white so you have options that help this bar fit your decore.
Let's start with just the Sonos Arc, the soundbar in this system. At 55" wide it is longer than the JBL Bar 9.1 and might look a bit oversized when set up with a smaller TV. The reason it's so long is this bar is packed with 8 subwoofers and 4 tweeters, all with their own unique amplifier. That's a lot packed into this form factor, especially when compared to just about every other soundbar on the market.
The one common impression though is that low-range sounds lack a bit of punch. They aren't even close to bad, they just aren't as potent as what you get from a dedicated subwoofer. That's where the Sub 3 comes into the picture. Its 2 force-canceling drivers deliver a powerful punch without the vibrations that many other subwoofers can produce. Plus, when this is connected to the system the Sonos Arc automatically changes the way it uses the woofers on the bar. They become dedicated to broadening the midrange of a music or movie soundtrack, making the entire package that much better.
Finally, the addition of 2 rear or satellite speakers do a great job of broadening the surround sound experience you are looking for. While the bar alone does a good job with this, adding satellites takes the experience to the next level.
The biggest negative is obvious. By offering this as individual components, the cost climbs dramatically. On average, you will pay just over $2,000 for a complete package. However, this unique approach to soundbars makes the SONOS Arc alone one of the best we've tested. Most people will be very happy with the bar alone and since these are sold as components, the subwoofer and satellites can be added at any time in the future.  That means you can jump into the SONOS Arc at just about the same price as the JBL Bar 9.1 and be satisfied with your choice.
For a more in-depth review of the SONOS Arc, both with and without the additional components, check out this review from B The Installer. It digs a bit deeper into the quality of the bar and the impact the subwoofer and satellites have on the overall quality of this sound system.
All of these components are available on Amazon. The Sonos Arc is priced at $999. The Sonos Sub (Gen 3) adds $749. Each Sonos One Satellite costs an additional $159.
The Verdict
At the end of the day, the price differences are so dramatic as to make you think the buying decision is a no-brainer. The fact is, that's not quite true. Even with the slightly less impactful bass, the Sonos Arc delivers, it compares surprisingly well with the entire JBL Bar 9.1 and that means you are going to have to think about this one just a bit more.
There is little doubt that Sonos offers a better-built system, with a great number and range of drivers and dedicated amplifiers for each of them. That doesn't mean JBL doesn't build a great product. They do, but this is the difference between a great consumer-grade product compared to a high-end near audiophile-grade product. It is noticeable and the prices reflect that difference.
Our take is not related to the price at all. It has far more to do with the convenience of buying once, setting up once, and having a complete sound system right from the start. For this reason, we like the JBL Bar 9.1 and expect that we'll be happy with its performance well into the future.
We would like to see JBL had some style options though. It's not that it looks bad but it just doesn't stand out when compared to the Sonos Arc. That difference is even more pronounced when you compare the Sonos Sub and the subwoofer that is included in the JBL package. Style-wise, the JBL subwoofer is something you'll probably set off in a corner while the Sonos Sub is meant to be seen and appreciated.
So, for convenience, we go with the JBL Bar 9.1's complete sound system package but if we had the budget to jump headlong into the SONOS Arc and its components, we absolutely would take that plunge.