With cinema-format, high-definition QLED TVs delivering outstanding images, it's time to think about upgrading your sound experience. Soundbars do that remarkably well but like screens, there are so many variations it's difficult to know which offers the best performance. That's even more complicated when you have to factor in the physical space they will fill with sound.
Buying the best-rated soundbar on the market could leave you wondering what all the fuss is about. For example, some soundbars are designed for large viewing spaces that are designed specifically for viewing movies rather than listening to music. Others are designed for smaller spaces and may be balanced to deliver both video and music playback. Overall, this could be fantastic unless all you need is one or the other or maybe listening in an oddly designed space.
We will compare the JBL 9.1 vs Samsung Q90R soundbars in this article as both are closely matched in terms of their performance in most spaces and both are designed for both video and music listening. This allows an apples-to-apples comparison that will help you make the right choice for your listening needs. Also check out my previous article comparing the JBL 9.1 against Samsung Q950T.
Before jumping into the reviews let's take a look at the technical terms you'll want to be familiar with. These terms define the performance parameters for each of these sound systems and as a raw form of comparison, they are worth understanding.
How much do they cost?
While both of these soundbars are fairly expensive, the Samsung Q90R won't be quite as difficult a pill to swallow. While the JBL 9.1 Bar averages $999 the Samsung Q90R is closer to $750. Much of the difference may have to do with the fact this Samsung bar is an older model but that doesn't mean it isn't still worth considering.
Performance Specs:
| | |
| --- | --- |
| JBL Bar 9.1 | Samsung Q90R |
| 5.1.4 Channels | 7.1.4 Channels |
| 10" Subwoofer | 8" Subwoofer |
| Wireless Surround Sound (Subwoofer requires a power outlet, satellites are wireless) | Wireless Surround Sound (subwoofer and satellite speakers require power connections) |
| 3 hours charging time for satellite speaker | No charging |
| 10 hours playback time | No playback |
| Dolby Atmos, DTS:X | DTS 5.1, Dolby Atmos, Dolby Digital Plus |
| 1 HDMI in | 1 Digital optical input |
| 1 HDMI Out | 2 HDMI In |
| HDMI ARC / eARC | 1 HDMI Out |
| Supports Chromecast, Airplay 2, and Bluetooth | USB / Wifi / Bluetooth |
| 820w Power output | 512w Power output |
JBL Bar 9.1 Impressions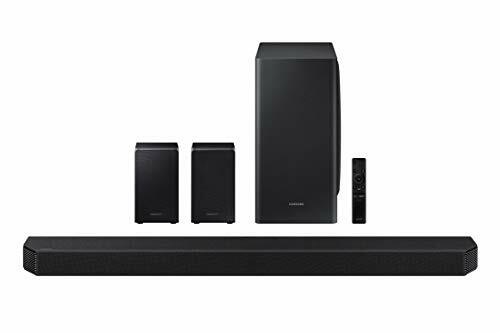 When you unbox this soundbar you get the impression that you're unboxing a substantial piece of kit. Its weight and the quality of the finish both suggest something that is reasonably high end and the actual performance stays true to this impression.
The channels are a bit better on this when compared to the Samsung Q50T but we can say this has nearly zero impact on our listening experience. Unless you're a serious audiophile it probably won't make a difference for you either.
Where this soundbar does seem to shine above many is in the way they deal with voices. With many soundbars, the voices can get lost behind the rest of the soundtrack and that can get frustrating, especially when watching movies like The Lord of the Rings where action and dialog both play an important part in the total movie experience. The JBL Bar 9.1 brings the conversation to the forefront without losing any of the excitement of the action so your viewing experience is what was intended.
This soundbar also does an admirable job with music playback, and with the combination of Airplay and Bluetooth support, pairing this to your smartphone is a breeze. It produces a well-shaped sound profile that delivers solid lows with sharp highs and a well-rounded middle. It does do this much better in a small to mid-sized room. In larger rooms, the middle of the sound spectrum seems to get a bit lost.
The JBL Bar 9.1 includes automatic room correction. This is accomplished with a small microphone that samples the sounds in the room based on the content being played. It then makes balance and tone adjustments automatically, using AI, to adjust the shape of the sound. Again, for an audiophile, this will seem more like an intrusion than a help. For most though, this is a great way to get the most out of your listening experience at a palatable cost.
Have a look at this video review as well for a somewhat different take on the JBL Bar 9.1. It's not dramatically different but it is an interesting presentation offered by Andrew Robinson, a Youtuber that focuses on audio-related equipment.
The JBL Bar 9.1 has an average price tag of $999. We found no listings on Amazon for this soundbar but it is available on eBay.
Samsung HW-Q90R Impressions
If you've handled the JBL Bar 9.1 before unboxing this soundbar you might not deliver the best first impression. It seems a bit lightweight and plasticky in comparison. However, once you have it out of the box and pumping out content that impression will quickly fade away. This is a case where you shouldn't be judging the book by its cover.
First, the sound this bar delivers is fairly well balanced, with just enough and while some have described the subwoofer as a bit flat, the majority of listeners were impressed with the thumpy impact this has. It has specific levels for the subwoofer and the satellites as well so you can get a good balance of sound for the space you'll be listening in. This setup is well suited to rooms that are everywhere from small to fairly large but with larger rooms, room ambiance begins to have a negative impact. There are 5 presets that allowed additional sound shaping when listening to things like action movies, concerts or simply listening to music from your phone. Finally, there is a Q-Symphony setting that links with Samsung's line of QLED TV. This is designed to deliver a "more immersive" viewing experience. We did not have a TV we could test that with so it's unclear just how impactful this may be but from most reports, this is a definite plus.
The biggest negative with this soundbar has to do with wireless connection dropouts. In our testing, this was a fairly significant nuisance, especially when it comes to the connection with the satellite speakers. The sound cutting in and out was a distraction that became worse if we paced the speakers too close to our WiFi router. We did update the firmware and that did have some impact but the problem persisted even after that.
For a more detailed review of this soundbar have a look at this video from Gearly Reviews. They dig into the details of this soundbar and compare it to the previous Samsung Soundbar H950T. On balance, they come to many of the same conclusions we have in terms of this bar's performance.
This Samsung Q90R comes with an average price tag of $750 on Amazon. That is a cost difference of about $250 when compared to the JBL Bar 9.1 but don't click the Buy Now button just yet. You'll want to dig into some of the comparisons first.
The Verdict
We are quite happy with both the JBL Bar 9.1 and reasonably happy with the Samsung HW-Q90R. Both delivered excellent sound quality when watching our favorite movies and TV shows. They both deliver a rich bass experience that is impressive and well-balanced. Voices were delivered crisply and cleanly as well.
The build quality was a bit offputting with the Samsung but we suspect that this will have no real impact over the long term. We should ass that Samsung has a solid reputation for customer service and support so there is no reason to think this soundbar won't stand the test of time.
We would like to see improvements in the wireless connection stability for both of these bars but this is especially true for the Samsung Q50R. The problem is rare enough that it doesn't have a major impact. It's just persistent enough to be annoying.
Overall, we have to give the JBL Bar 9.1 the edge in this comparison. Performance-wise, both of these soundbars deliver a listening experience that is impressive and will certainly add to your viewing and listening experience in a positive way. However, with the convenience of the Airplay support on the JBL side of the equation and the dropouts on the Samsung side of the equation, we have to give the nod to JBL on this one.