Samsung is one of the leading companies that release new, innovative products nearly every year. This company has a renowned soundbar lineup that guarantees to enhance your listening experience when consuming different content.
Shopping for a good soundbar can be overwhelming, especially when choosing between the Samsung HW A50C and the Samsung Q6CT. If you are wondering which between the two you should buy, read our detailed comparison.
But if you are in a hurry, here is a quick overview:
The Samsung HW A50C is a versatile and more affordable choice if you enjoy heavy bass music. It comes with a wireless subwoofer that delivers extended low bass.
On the other hand, the Samsung Q6CT has integrated sound technology that gives you a captivating theater experience. It works well with Samsung QLED TVs.  
Samsung HW A50C
This 2.1 soundbar system is recommended for surround sound systems. It has a subwoofer that does an excellent job of delivering extended low bass and immersive surround sound.
 Pros:
Excellent build quality
Optimized sound for different contents
Extended bass
Immersive surround sound
Cons:
Limited wireless functionalities
Lacks Atmos support
Samsung Q6CT
The Samsung Q6CT is a 2.1 soundbar with sound enhancement features to deliver an optimal and personalized listening experience. Although it includes a dedicated subwoofer, this unit lacks low bass, so you may not feel the rumble and thump in your audio as you may want.
Pros:
Loud sound
Innovative Q-Symphony technology
Delivers rich directional sound
Optimizes sound in real-time
It can be used for high-quality passthrough
Cons:
Omits room for correction feature
Lacks low-bass
No Atmos support
Product Comparison
1.      Design and Build Quality
Samsung HW A50C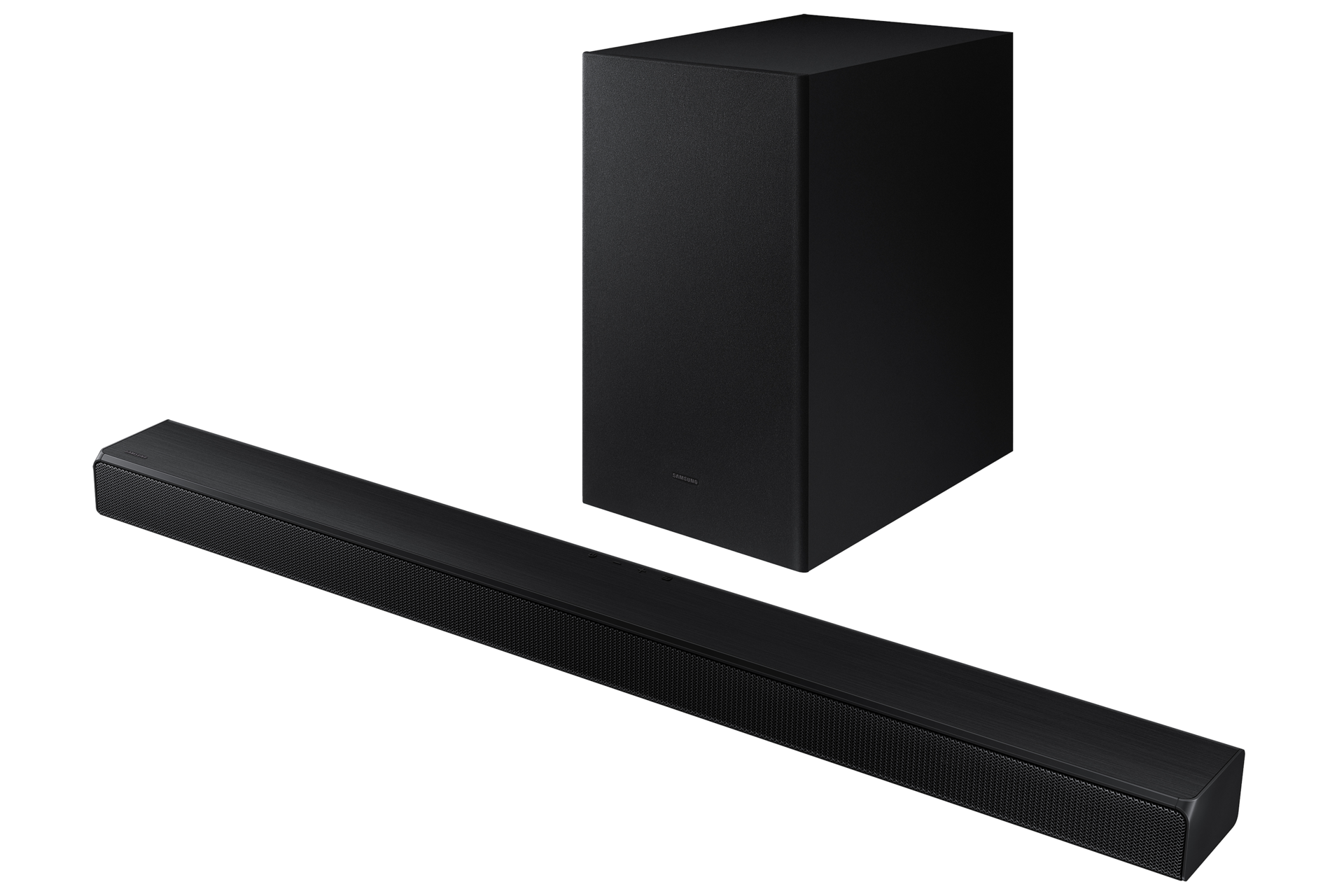 Samsung has placed a front display behind the metallic grille that indicates the settings, volume, or input. However, since the display is small, you need to scroll to see the entire message. The back of the unit houses the connection port, and there are special holes if you decide to wall mount the soundbar.
This soundbar includes a subwoofer that enhances the bass and delivers sounds with smoother notes and more resounding hits. The subwoofer is wireless and can give a bigger sound and extra bass with a touch of a button. It comes in a simple design and can fit well in most spaces without much difficulty.
There is a power connector at the bottom backside. This minimizes the number of connections and helps to keep everything neat 
Samsung Q6CT
This soundbar is crafted from quality black plastic, giving a stylish and modern look. A metal grille surrounds the front and top part of the bar, which feels solid and robust. Overall, the soundbar feels well-built.
Unlike its predecessor, it is shorter in length and a bit taller. The soundbar's back includes two openings for the power cable and the input ports. There are also universal holes underneath if you choose to wall-mount the soundbar. On the right side of the bar is a small screen that displays the input and volume level. Like the Samsung HW 150C, you will need to scroll to show the whole message.
The subwoofer also has an excellent build quality and comes in a decent size. At the bottom of the subwoofer's back is a port for connecting the power cable. Since the sub connects to the bar wirelessly, you can place it anywhere in the room.
2.      Performance
Samsung HW A50C
With a Samsung soundbar, you can level up your home entertainment with optimized sound depending on the type of content you are consuming. Whether you are watching movies, sports, or playing games, you will enjoy personalized sound compared to the sound output of the TV itself.
This soundbar has 3D surround sound, so you get a quality cinematic sound that will make you feel like you are part of the scene. Impressively, you can expand your surround sound wirelessly by connecting to rear speakers. Plus, the Dolby Digital 5.1 enhances the performance of the surround sound.
A unique spec of this soundbar is the extra bass that delivers more immense sensations, giving the rumple and thump in your audio. This subwoofer can give more thump than your TV, and you will not be disappointed if you are after a lower-end rumble and shaking. Because of the extended bass, this soundbar may do exceptionally well when listening to heavy music genres like hip-hop and EDM.
Samsung HW Q6CT
The performance of this Samsung soundbar is impressive and is designed to complete your Samsung QLED TV. It has numerous sound enhancement features, allowing you to choose sound modes that suit your content. The soundbar features an integrated sound Acoustic Beam technology that allows you to feel the depth of the sound precisely from where it emanates from on your screen.
Besides, this is the first soundbar in Samsung's lineup to include EQ presets such as Adaptive Sound and Game Pro. This unit also supports Q-Symphony and allows you to sync the soundbar with your Samsung QLED TV. With this feature, you can be assured of fuller and more immersive sound to give you cinematic entertainment right at the comfort of your home.
The DTS Virtual: X 3D Surround sound makes a lot of difference by improving the volume and depth of sound, giving a more immersive experience. Hence, the soundbar does an excellent job when watching films or movies with many sound and surround effects.
If you are a gaming enthusiast, you will be pleased to know that a Game Mode Pro feature is included in this soundbar. Simply connect your console to your bar and enjoy clear directional sound that will boost your gaming experience. This is especially useful when playing a game with a lot of action since you will hear all the action much clearer, giving you an advantage over your competitors.
This unit supports the usual formats like DTC and Dolby Digital like most soundbars. This means that you can listen to 5.1 surround content such as Blu-ray discs and streaming media. However, the soundbar can downmix the content to 3.1 unless you activate its surround sound mode.
3.      Connectivity
Samsung HW A50C
When it comes to connectivity, this soundbar has the essential connections that will allow you to connect your devices. Included is an HDMI port for synchronizing the soundbar to compatible devices. Of course, this connectivity is expected since it is more like the primary connection on most soundbars on the market.
For wireless connectivity, this soundbar has a Bluetooth TV connection so you can stream your favorite content without having to deal with messy, unsightly cables. Better yet, you and your friend can connect different devices simultaneously, thanks to the Bluetooth multi-connection feature. However, it does not support Wi-Fi functionality, Apple AirPlay, or Chromecast built-in.
Samsung Q6CT
The connectivity options for this soundbar are more like that of Samsung HW 150C. It features a Full HDMI In port that supports Dolby Digital for Blu-ray discs and streaming platforms. You can also use this port to set up your TV and PC devices. It can passthrough high bandwidth signals, deliver crisps and clear text on the screen.
Similarly, it lacks any other wireless capability other than Bluetooth. Therefore, it can be limiting if other wireless functionalities matter to you. The Bluetooth Multi-Connection makes it possible to connect two different smart devices simultaneously.
4.      Control Options
Samsung HW A50C
Something else we will be looking at is the controls and the remote control. The bar has control functions on it to make the necessary changes. The packaging also has a remote control for total control of vital soundbar functions.
Samsung Q6CT
Four controls are located on the bar for performing basic commands like powering On/Off, tweaking the volume, and changing inputs. Besides that, it comes with a remote control that offers more functionality.
It lets you control the power, volume, and sound effects in the comfort of your couch. However, the remote is not universal. Also, it has a similar appearance to Samsung's TV remotes and can be compatible with some Samsung TVs.
The Verdict
Ideally, we love that both Samsung soundbars have an immersive surround sound that gives theater-like sound. Nevertheless, the Samsung Q6CT stands out for us on many fronts, such as the integrated sound technology, the Samsung Acoustic Beam technology, and the rich directional sound. It is hands-down the perfect choice for anyone that wants a real cinematic experience from the comfort of their home.
However, if you enjoy the shaking and rumble of audio, the Samsung HW A50C may be worth checking out.