Today I am putting together this Accuphase E-470 and the E-650 article with a very open mind. Accuphase are one of the big boys when it comes to amplifiers. Both the Accuphase E-470 and the Accuphase E-650 are two awesome amplifiers and they are known for three things. They are very expensive, they will bring your music collection to life in a truly outstanding way and they have a very cool retro style that sets them apart from all of the rest of high-end stereo amplifiers that are on the market! So buckle up and get ready to use your next mortgage payment on one of these bad boys!
The Price
We have to start this comparison of Accuphase amplifiers article off by looking at how much these are currently going for. I actually had a way harder time finding these brand-new than I thought I would. Perhaps, Accuphase being a Japanese company was the reason for this?
Accuphase E-470: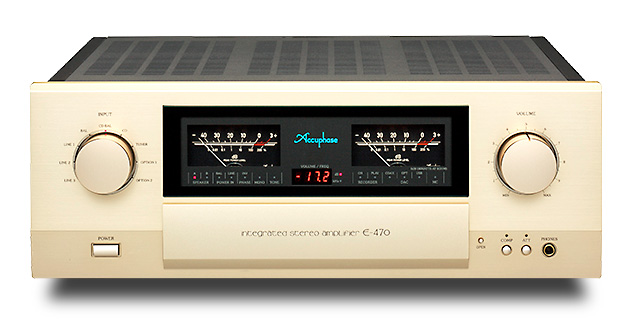 The going price for the Accuphase E-470 is all over the freaking place! So much so I am kind of at a loss in regards to telling you how much this thing is going for. If you do not mind going the pre-owned route with the E-470, you can find some cracking deals for this on eBay. I have seen this on there for under $3,000 and that includes the shipping. As I write this there are even a few on there that are available for bidding that has yet to hit a thousand bucks! Most of the ones on there are going to be imported, but still, the price for this while expensive, is actually much more affordable than I thought it would be.
Accuphase E-650: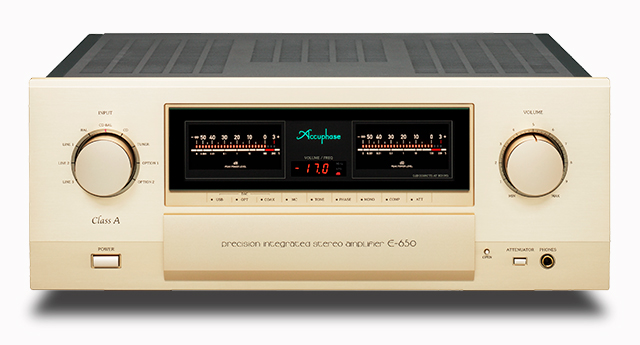 As the Accuphase E-650  is an even more premium stereo amplifier from Accuphase, it is going to cost you considerably more. As I write this there are a couple of pre-owned ones on the eBay for around the $7,000 to $8,000 mark. As you would expect these are going to be imported from Japan, but this can include shipping so it is not as outrageous as I thought it was going to be when I started this thing. This one does appear to be easier to find new than the E-470 and there is a brand-new unit on there as I write this for $8,999.99.
The Verdict:
Any time you are talking about spending several thousand bucks, you are dealing with a lot of money. However, I do think that the current going price for the Accuphase E-470 is pretty damn reasonable, but you do have to be cool with getting a pre-owned unit. Even the E-650 is not completely out of hand when you compare it to other high-end amps.
The Design
We come to a pretty interesting category in our Accuphase amplifiers battle, the design. I love the whole retro thing that Accuphase has going on, but these are two very similar looking amplifiers so that can make picking a winner here pretty damn hard.
Accuphase E-470:
I want to start by telling you guys to check out this Accuphase E470 unboxing and first Soundcheck video as they do a great job of showing off this thing right out of the box. It is a very impressive size as the dimensions are, 18.03" x 7.2" x 16.85" and weighing 26KG. It has a real heft and quality feel to it and you know you are dealing with a premium look. The first thing that captures your attention here is the champaign kind of color that the unit has. It is certainly very unique and makes it stand out from the crowd. The front of the unit really is quite spectacular. You have the two displays, but you also have a small LCD as well, it is like the perfect blend of modern and retro. You have two large dials on both sides of the display, one is for volume and the other is for selecting your input. You can also flip down a door on the front and here you will find a bunch of hidden buttons and dials to give you complete control over the unit.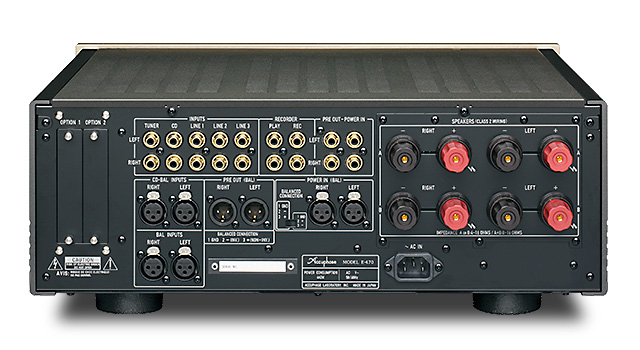 The back of the Accuphase E-470 is stacked with inputs. You have dedicated inputs for stuff like your CD player and record player, but there are plenty of other ports that you can make use of as well. I do not think anyone will be complaining about the number of connections that the E-470 is offering. It does also have two expansion ports where you can add in a DAC if you want, but that will add more to the cost.
Accuphase E-650:
Look, at first glance, many of you will look at the Accuphase E-650  and think it is just the same product! I did come across this Accuphase E 650 Integrated Amplifier video that goes into all the nooks and crannies of this amp so be sure to check it out. The first thing you notice is this has the E-650 logo on it and it also has "Class A" written underneath the input dial which is a nice touch, Apart from that, there is very little to talk about here. The unit I checked out was a slightly lighter shade, but to be honest with you my wife says this was all in my head and they were exactly the same. This one has the same dimensions too, but they do say it weighs a little less, but when I picked them both up, I could not tell the difference. It has that same hidden door design and cool display as the Accuphase E-470 too.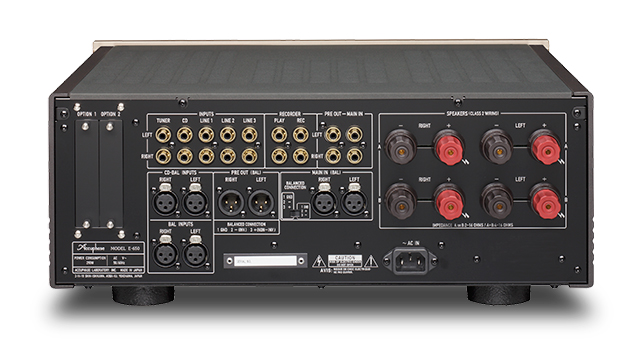 When get around to the back of the Accuphase E-650, we get a real sense of Deja Vue as just like the front, it is pretty much the same as the E-470! Like the front, you do see the E-650 logo on the back of here and that is the only real difference. The connections, the expansion ports, and the location of the various ports are pretty much identical. Look, I get it, the stuck gold with the design already so why change it?
The Verdict:
As these are so similar it kind of seems harsh to pick one as a winner and one as a loser. However, I am going to raise the hand of the Accuphase E-650 and for a very superficial reason. The reason that I like the design of that better is that it has that little "class A" underneath the input dial. It is only a small thing, but it does give it a little bit more class.
The Sound
The most important aspect of an amp, especially when you come to this kind of money is how good does it sound. This is the main event of this Accuphase E-470 and E-650 battle and probably what is going to sway some of you guys to make a decision one way or not.
Accuphase E-470:
I think that the Accuphase E-470 is a damn fine amp and one that is really quite spectacular. I have had the pleasure to play around with a few different Accuphase products and every one of them has been great in its own way. You do have a bit of breaking in of course to get this up to its best, but even out of the box (if you get a new one) with no playing around of the dials, the sound is going to blow you away. I am a huge lover of live music and one of my favorite live albums is Nirvana: MTV Unplugged in New York. By the way, why is MTV Unplugged no longer a thing? Anyway, I was very impressed with how good this sounded, granted the kind of sound you get will also depend on your speakers, but if you are looking at an amp like this, I would wager you also have a good turntable and a solid set of speakers.
Another album that I tested out with this was actually a CD. I listened to the Dumb & Dumber Soundtrack from start to end. Before you judge me, this album has some awesome 90s era rock and it is one of the best and most underrated soundtracks from the decade. Anyway, this sounded great on here too. I just had a great time playing around with some of my favorite albums and I never once felt that this map was lacking in any way and that is probably the best compliment, I can give it.
Accuphase E-650:
As much as I love looking at Accuphase products I always know that eventually I am going to get a new one to test out and it is going to be a better model of what came before it and that is exactly what we have here with the Accuphase E-650. Now, this is not going to diminish what the Accuphase E-470 is offering, but when it comes to sound, what I was experiencing with the E-650 was a richer and just more "real" kind of sound and there was certainly a notable difference. I used the same Audio-Technica AT-LP3BK Turntable and same Edifier R1700BTs Active Bluetooth Bookshelf Speakers and I could tell a difference right away. A record I know inside and out is Metal Health by Quiet Riot, with the title track being one of my all time favorite rock songs and a staple of any workout playlist I make. It was arguably the best I had ever heard it thanks to what the Accuphase E-650 offered!
I do think that the E-650 is not just for people who love their heavy metal! Any kind of music is going to sound awesome through this. I am not one to turn my nose up at some slow jams either and as I went to high-school in the 90s, I have an appreciation for Boyz II Men and their Legacy: Greatest Hits Collection is a record the wife and I have listened to many times and the vocals when pumped through this were truly outstanding. I really cannot praise it enough. I actually listened to this record first of all on the E-650 and then I went back to the E-470 to see if there was a difference and it is hard to explain, but there really was a noticeable bump in overall sound quality here.
The Verdict:
I think that these are two fantastic amps and truth be told I would be happy to have either one of these in my home as my main amp for my music center. However, I do have to say that the Accuphase E-650 produces a better overall sound than what the E-470 does. While they may look the same on the outside, Accuphase has done some wizardry on the inside here.
What Is The Best?
This Accuphase E-470 and Accuphase E-650 article has been fun for me to put together and it is quite a simple conclusion here. The Accuphase E-650  is clearly the winner here. The price difference between the two of these can be a few thousand bucks and that is going to be a real deciding factor for most people. Is the sound you get from the 650 two grand better? I would have a hard time saying yes as with that extra two grand if you bought the Accuphase E-470 you could also get yourself a new turntable and a great set of speakers too.