When you think of soundbars you probably picture a long and narrow bar, filled with some number of speakers, that will sit below your TV, and with the Samsung Q950A that is exactly what you get. That isn't the case with the unique "soundbar" configuration Sony deliveries with the HT-A9. This is a package of separate components that harken back to the traditional stereo systems we enjoyed (and still do) before the soundbar format was introduced. Still, it performs just as you would expect from a premium soundbar system and so, this comparison makes perfect sense. The Samsung Q950A is still at the top of the Samsung line of soundbars and since my last review, this upgraded Q950 has some interesting enhancements that I've been hoping for. These include support for Apple AirPlay 2, and a much-improved auto room correction setup that we'll talk more about as I pull back the covers on both of these soundbar systems. As you would expect with any premium soundbar, these are not inexpensive but they aren't over the top pricey either, at least the Samsung Q950A isn't. You can find the HW-Q950A Soundbar system, complete with a pair of satellite speakers and subwoofer on eBay for as low as $1,298.
The complete Sony HT-A9 system with the matching SA-SW5 subwoofer I tested this with will set you back nearly $3,500. That is a huge difference, and without looking any further, this could close down this debate, but wait. The question that begs to be answered is; is the performance of the HT-A9 and the Samsung Q950A so much better that it justifies the remarkable price difference. Let's dig in a see.
On to the details – Samsung Q90R and Samsung Q950T
Performance Specs:
| | |
| --- | --- |
| Sony HT-A9 with SA-SW5 | Samsung HW Q950A |
| 7.1.4 Channels | 11.1.4 Channels |
| 10" Subwoofer / 2 Satellites | 10" Subwoofer / 2 Satellites |
| Wireless Surround Sound (subwoofer and satellite speakers require power connections) | Wireless Surround Sound (subwoofer and satellite speakers require power connections) |
| No charging | No charging |
| No playback time | No playback time |
| DTS 5.1, Dolby Atmos, Dolby Digital Plus, DTS:X Dolby TrueHD, DTS-HD | DTS 5.1, Dolby Atmos, Dolby Digital Plus, DTS:X Dolby TrueHD, DTS-HD |
| 1 Digital optical input | 1 Digital optical input |
| 2 HDMI in | 2 HDMI in |
| 1 HDMI Out | 1 HDMI Out |
| HDMI ARC, eARC | HDMI ARC, eARC |
| USB, WiFi, Bluetooth | USB, WiFi, Bluetooth, SmartThings App Compatible |
| Alexa & Google Assistant, Apple Siri is built-in | Alexa is built-in |
| AirPlay 2 Support | AirPlay 2 Support |
Sony HT-A9 with SA-SW5
This comes in 2 boxes, one for the soundbar components and the other for the subwoofer. As you'd expect from all Sony products, they are well packed and includes all of the bits and pieces you'll need to get up and running. The one exception to this is the inclusion of any mounting brackets. Both the front and satellite speakers have standard mounting holes so they can be mounted to a wall or a speaker stand but you'll need to purchase the actual hardware separately.
There is something odd about this system that I had a hard time putting my finger on. Like traditional surround sound systems, the HT-A9 comes with separate speaker components but without a separate receiver/amplifier. Unlike soundbar systems, there is no bar to speak of. It feels as if Sony wanted to deliver the flexibility of a separate speaker system while still delivering all of the advantages of a soundbar with a dedicated receiver and amp. That makes this system somewhat of a hybrid and in this case, that's a good thing.
The most unique feature of the HT-A9 is Sony's 360 Spatial Sound Mapping technology. This tech is designed to "listen" to the characteristic of a listening space and adjust the output it delivers to create a more immersive listening experience. It does this really well and if there is any justification for paying a premium price this would be it.
I tested this both with and without the subwoofer with the hope that the additional expense might not be needed but it came up short. The bass without the subwoofer was more than a bit flat and the overall sound, especially when watching high-action movies left me wanting for some serious punch. The subwoofer delivers that punch and brings the overall performance of this system to the front of the pack.
The Sony HT-A9 does integrate with the Sony app that supports all of Sony's many entertainment-related products. However, it doesn't offer much in the way of sound-shaping control the way many other soundbars apps do. In fairness, the 360 Spatial Mapping makes this type of control unnecessary for all but the most particular listeners.
This system is designed to integrate seamlessly with Sony Bravia Stand. This allows a true Atmos listening experience where the built-in TV speakers add additional backfill. This does wonders for clear voice reproduction that isn't muddied by the rest of the soundtrack.
In the end, this is a truly impressive "Soundbar" system without any actual soundbar. As odd as that may sound, it puts most soundbar systems to shame in terms of overall performance.
If you'd like to see this setup and get some additional insights into how it performs you'll find an excellent video review from the folks at Digital Trends.
Samsung HW-Q950A Impressions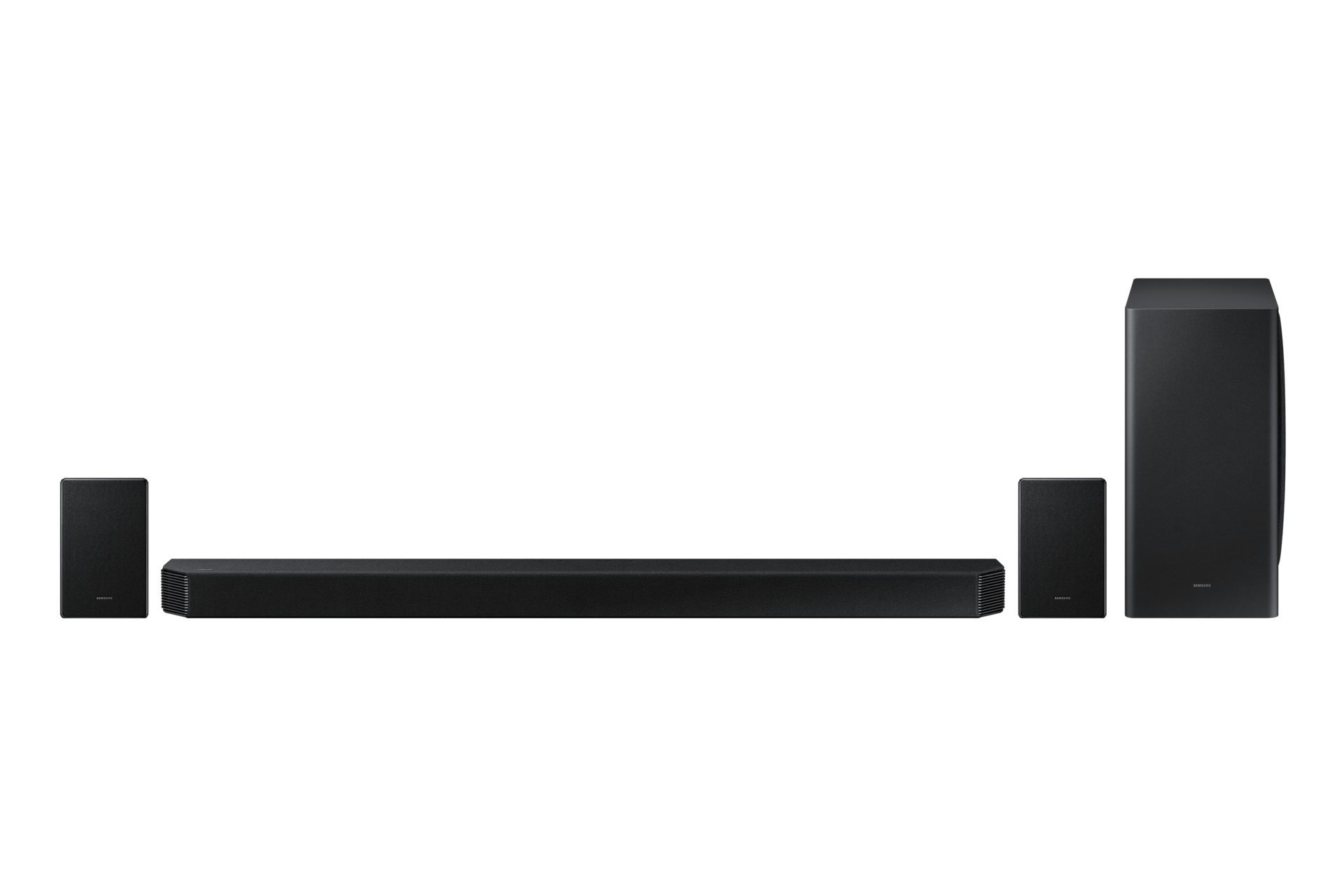 As the next generation in the Samsung Q950 series, the HW-Q950A is the 2021 version of the Q950T and there are many interesting improvements and performance enhancements that make this upgrade more than just a footnote.
Most notable among these is the enhanced auto sound correction that is remarkably more effective than anything that's come before in the Samsung line. With its ability to "listen" and adjust each soundbar driver component the sound this soundbar delivers is startlingly crisper, cleaner, and delivers much clearer conversation even amid dramatic action sequences.
The Q950A is pretty large at 48.4" wide so this isn't going to fit well with smaller TAnd. I'd suggest pairing it with a TV that is 55" or more if you are planning on setting it on a TV stand, in front of the actual TV. If you use the included wall mounts you could hang this above the TV. When you do the size is less of an issue.
Some things I wish would be upgrades are still the same on the Q950A, namely, the material covering the bar, the satellite speakers, and the subwoofer are still dust collectors. They come out of the box looking sharp and turn slightly dulled as the dust gathers. You can bring them most of the way back by wiping them down with a slightly damp cloth but if you own pets be prepared to work a bit harder to keep these clean.
The Q950 series of soundbars have always delivered seriously good sound quality. This is especially true with voices that can often get lost with other soundbars. With the Samsung HW-Q950A, the sound quality is even better and this isn't just a marginal improvement. This is a real advance that others will have a hard time matching.
However, this focus on delivering the best movie-watching experience does leave this soundbar a bit flat for pure music playback. It is by no means bad but others do this better. That's something to keep in mind as you're shopping for the right soundbar for you. If you are far more interested in movies then this is a great choice. If you are far more interested in enjoying your tunes then you may want to look at soundbars from Sonos or JBL.
With the addition of the adaptive sound functions and overall improvements in voice reproduction, this is a worthy follow-on in the Q950 series. The fact that is an all-inclusive soundbar system is another very definite plus in its favor. Yes, there are still things Samsung can do to make this even better, including improved finishes and some other color choices. But, the bottom line is, this is an upgrade that is well worth considering.
Watch a full review of this Samsung HW-Q950A Soundbar, hosted by Jonah Matthes.
He also did a detailed comparison review of this Samsung Q950T, compared to Sonos and LG, Visio, and Nalamichi soundbar products that you may want to have a look at.
The Final Verdict
The Samsung Q950A  and the Sony HT-A9 may seem like a battle of wildly unequal soundbar systems and based on price alone, this is clearly the case. Unless you are swimming in cash and completely unworried about your budget you'll want to steer clear of the Sony HT-A9. If that isn't a concern then consider these important differences.
1.4 channels and 11.1.4 channels might sound like a large gap but performance isn't remarkable better without a significant difference in the way these channels are used. In this case, both soundbars systems do a good job of getting the most from each driver so there is no real difference here.
The listening experience with both of these soundbars is mainly focused on your movie-watching experience. Your music listening experience may seem a bit flat as a result. On balance though, the HT-A9, with the SA-SW5 subwoofer does a slightly better job.
The finishes on the HT-A9, with the clean white and sturdy plastic enclosures and metal grills, deliver a more premium appearance. This is especially true after they've been sitting in your listening space for a while. Sony has a clear advantage here.
So, that leaves the one incredibly huge price difference. You can get the Samsung HW-Q950A for $1,200 or less. You'll be hard-pressed to find the Sony HT-A9 and matching SA-SW5 for less than $2,500 and depending on who has stock, that could go as high as $3,500. Is Sony worth a 200% premium?
For me, that answer is a resounding No. I use my soundbar primarily for watching movies and the Samsung HW-Q950A put me in the middle of the action and the middle of the conversations with equally excellent quality. I do still use it to play music but when I'm listening I'm often doing other things as well so the slight shortcomings of the Q950A aren't all that important. There is nothing so remarkably better that I would consider paying at least $1,300 more just to have a better-looking soundbar system.
Additional Resources
Learn more from our series of articles covering Samsung, Sonos, and JBL soundbars.  You can start with our Samsung Q800T and the Samsung Q900T article and dig deeper into the Samsung line of soundbars. We cover two other leading brands in this article – JBL Bar 9.1 and the Sonos Arc. We also compare the JBL Bar 9.1 to the Samsung Q90R and Samsung Q950T.  Have a read through these two articles – JBL Car 9.1 and the Samsung Q90R and the JBL Bar 9.1 and the Samsung Q950T and you'll get a sense of how well Samsung stands up to the competition.