I have to say that I think this Accuphase E-470 and E-480 article is pretty interesting. Many of us know that the Accuphase E-470 is a fantastic amplifier. However, Accuphase are never one to rest on their laurels and that is why we have the Accuphase E-480 which is basically the replacement for the E-470! That was already a fantastic piece of tech and Accuphase are known for improving on what they do so in theory, the E-480 should destroy its brother, however as is the case with all of these comparison articles, things are not always what they seem and it may not go exactly the way that you think it would.
The Price
If you know anything about Accuphase amplifiers, you know that they look cool, sound amazing and that they are very, very expensive! These are not the kind of amplifiers made for people that have a $100 bucks turntable from Walmart, not that there is anything wrong with that of course. These are for people that are very serious about their sound quality.
Accuphase E-470: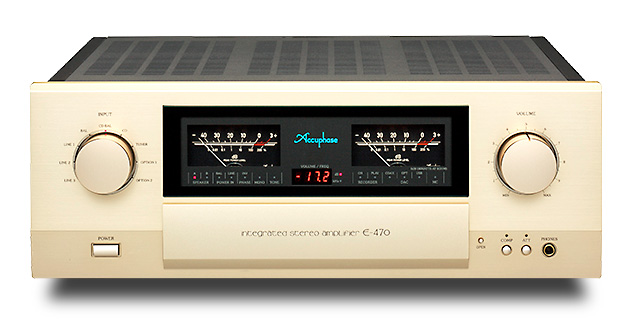 Each time I have talked about the Accuphase E-470 here on the site, I have to say how annoying it is to get an impression of the going rate for this thing. The reason I say this is that finding this brand-new is very unlikely so chances are you are going to have to go to eBay and on eBay, the prices for these are all over the place. We are talking anywhere from $2,000 to $6,000! The prices are very erratic, the best thing you can do is be very patient and be sure to read each description as carefully as possible.
Accuphase E-480: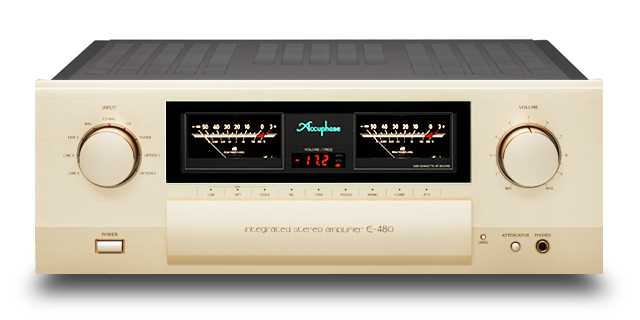 As the new kid on the block the Accuphase E-480 as you have probably guessed has a very high price tag. I found one brand new in the UK and it was priced at £8,000 which is close to ten grand! That is a hell of a jump up from the E-470. Even if we take one of the more expensive E-470's on eBay right now, we are still talking about at least a 2 grand difference in price! As a tight-fisted Scotsman, I just cannot overlook that kind of price difference. I know for me personally, if I had the money, there is no way I could justify this much more.
The Verdict: The big question you have to ask yourself is if the E-480 is worth that extra money. If money is no object for you, you might as well go for the newer model. However, it can be a lot more, sometimes almost double of what some people are asking for the E-470, and when we are talking about a difference of not hundreds, but thousands of dollars, it makes me feel a bit uncomfortable.
The Design
Our second round in this Accuphase E-470 and E-480 battle is going to be looking at the design. These are two very awesome looking amplifiers, I have always got a kick out of how retro this series of amps from Accuphase is and there is actually a pretty big difference in the design between these two!
Accuphase E-470: I just love the design of this Accuphase E-470. This is a pretty big boy too coming in at a pretty hefty 26KG and 18.03" x 7.2" x 16.85". As soon as you take this out of the box for the first time, it is impossible not to be impressed with the quality of this, Accuphase do not cut any corners and this amp is a prime example of this. I love the champaign color that it is, it makes this a real standout kind of amplifier and something you will be very happy to have on display. On the front of the unit, you have the two displays as well as a little LCD in addition to this. On each side of the display are two large dials and these are what you will be using for selecting your input and also your volume too.
A really neat design feature is that you can flip down this little door and here is where you have all your switches and dials to take the sound into your own hands. It is a smart design and something I really do like. On the back, you will notice that this thing is stacked with inputs. As well as dedicated inputs for your turntable and CD player, this thing has ports all over the place so no matter what you want to connect to this, you are going to be taken very good care of. There are also two slots for expansion modules such as a DAC if you want. It is worth noting that this thing does also have an awesome remote control as well.
Accuphase E-480: I highly recommend that you check out this 綺麗な Accuphase E-480 Integrated Amplifier Review! which does a great job of showing you the differences in the design of the Accuphase E-480 over the E-470.
The overall style is the same and what I love about the E-470 is the same here, that retro design, that champagne color, the display supported by the two dials at the sides. The dimensions are very similar with this coming in at 18.31" x 7.13" x 16.85" and weighing a still pretty hefty 24.5KG. The LEDs that let you know what is going on are now below the main display which is something I really do like; it makes it so much easier to see. However, it is the little flip down door where we see the biggest changes, more dials and a better layout make it just so much easier to use and neater as well. At first glance, it may not look like much has changed, but the changes that have been made here are certainly for the better.
On the back, there are not many changes at all and you have all of the same dedicated ports and huge variety of input options as you would have with the E-470. To be honest, I do not see what Accuphase could have done to make the back better, no more ports were needed if you ask me so I am glad they did not tinker with this too much just for the sake of doing so. You do also have those two expansion slots in case you want to add one of the modules that are available. Just like its brother, the E-480 has a tremendous remote control that is just as high-quality as the amplifier itself!
The Verdict: While I like the design of the Accuphase E-470 and think that it truly is fantastic, I have to say that I feel the changes to the design with the E-480 make it better. They were not changes for the sake of making changes, they were changes that I feel make the amplifier better! It retains that same retro kind of charm, but improves upon it so it is a pretty easy win for the Accuphase E-480.
The Sound
The million-dollar (well two and a bit thousand dollar) question we have to ask in this Accuphase E-470 and Accuphase E-480 battle is if the new model is worth the heftier price tag over its older brother.
Accuphase E-470: There are many great videos like this Accuphase E470 Integrated Amplifier video here that go into detail about how great the Accuphase E-470 is.
I have been a fan of Accuphase for a long time and if I ever strike it rich, I would certainly want to have one of their amps in my home. While an amplifier like this is designed with you playing around with it and getting the sound just the way, you want in mind, I have to say out of the box with all the dials right in the middle, this thing sounds amazing. The power and clarity is truly outstanding and when I fired up Master of Puppets by Metallica, an album that is in my top 20 of all-time list, I was floored and then yelled at by my wife for having it too loud, which brings me to my next point. No matter the volume, the clarity this thing provides you with is truly amazing. I do have to say your speakers and turntable will have an effect on things, but I just do not see anything not sounding better when connected to this.
When I had the chance to play around with this for a few days I made sure to listen to as many albums as I could and also played around with the various settings that the Accuphase E-470 offers. I found that you could tweak the sound in many different ways and when I was listening to my old ass CD of These Days by Bon Jovi and Hey God started, I swear it was the best Richie Sambora's guitar riff on this song had ever sounded and I have heard this live! I am actually struggling to think of anything negative at all to say about the sound this thing provides. I am sure some audiophiles with more sophisticated ears than me might, but for me, this is near perfect.
Accuphase E:480: When I heard that the Accuphase E-480 was going to be a thing, my mind started racing as to how I could weasel my way into trying one out. I do not consider myself an "audiophile" I am just a simple man that loves his music and feels that he knows what good sound is. I thought that the Accuphase E-470 was near perfect so I was not sure how much better Accuphase could get, but man they did it, the crazy bastards did it (timely Jurassic Park reference for you there). I can tell you right now, that there is more power here, more clarity, and just an overall richer sound. However, I can also tell you that when I roped my wife into helping with this comparison and we listened to The Cure: Greatest Hits on both amplifiers, she admitted that she felt this one sounded better, but not by much. Again, like the E-470, you will have to play with the settings to get it just right for you, but even with it all set to default, you are going to be impressed with what this is doing.
As a huge fan of live music I fired up Older Fatter Still The Greatest Ever: Live From Brixton by Bowling For Soup which is such a fun live album that I feel is very underrated. Anyway, live music is one area where that extra power and extra dampening technology did make a difference. It was truly a joy to listen to and if my wife actually noticed a difference then there has to be one! I just do not see any universe where someone can listen to music via both of these amplifiers and not say that the Accuphase E-480 is producing the better sound.
The Verdict: At the end of the day the Accuphase E-480 is a better amplifier than the E-470. It is more powerful; it has more tech to lessen noise and get the best out of your music it is just the next step of what the E-470 offered so there was no way it was not going to be better. Of course, the question is, is it over 2 grand better, and while many people will say yes, it is, for me, I could not justify spending that extra money on it, but I will admit the sound is better.
Which Is The Better Amplifier?
We come to the end of this Accuphase E-470 and E-480 battle and it has been a lot of fun and something that I have enjoyed, but at the same time, it has been a bit of an opener. The Accuphase E-480  is a fantastic successor to the Accuphase E-470. It takes what was already incredible and somehow makes it even better! The design has been refined for the better and the sound really is noticeably better. However, unless you are rich, I just cannot say that you need to spend over two grand more on it. The E-470 is great, it really is and it would be more than enough for me if I am being honest.