Now this Boulder 866 and Pass Labs INT-250 is a very even kind of match up. It is kind of like when Bret Hart wrestled Shawn Michaels at WrestleMania XII (which can be seen on the Shawn Michaels: Mr. WrestleMania DVD). Both the Boulder 866 and the Pass Labs Int-250  are two fantastic amplifiers. They are quite an even match as they are similar in their pricing and what they are offering your music collection. These are higher-end amps, but they are not in the 20 grand price range like some other higher-end amplifiers can be. Still, these are very expensive products!
The Price
I have to say that the price category in our Boulder 866 and Pass Labs INT-250 that we have going on today is not that bad. Do not get me wrong, these are still going to cost you upwards of 12 grand, but in comparison to other similar amps, I do not think that these are out of line in their pricing at all if I am being honest.
Boulder 866:
I must admit that the first time I saw a picture of the Boulder 866, I thought for sure we were looking at an amplifier that was going to cost nearly or as much as $20,000! However, the base version of the Boulder 866 is going to cost you around 12 grand. The version that I saw had the DAC built in and from what I understand that is going to push the price up a couple of grand, but I do not actually think that is a terrible price to be fair. I think that for your money, you are getting a great product here and it looks like something that should cost way more. I have looked on eBay a few times for this and not once have I seen it pop up on there.
Pass Labs Int-250: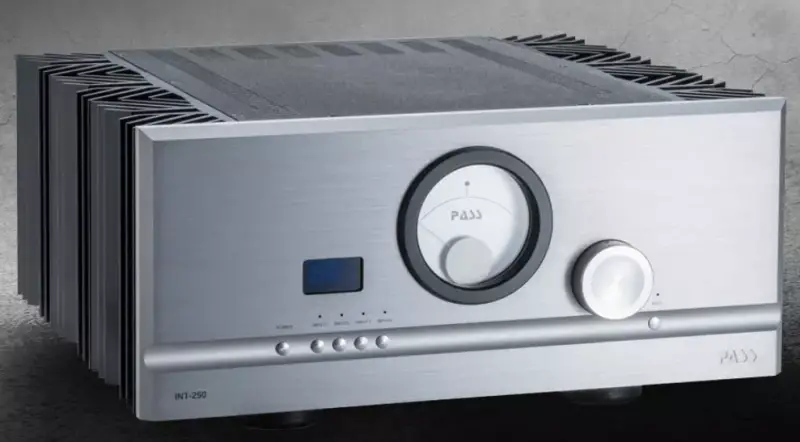 The Pass Labs Int-250  is going to cost you around $12,000 so it is very much in the same ballpark as the Boulder 866. Pass Labs to me are one of the big names when it comes to higher-end amplifiers. For the asking price here I think that you are getting a tremendous amplifier. I know that the asking price for this is far from cheap, but when you look at what some other amplifiers are going for, I do feel that this is right in line with that and I cannot be too critical of the folks at Pass Labs for that. If you look around on eBay, the chances of finding one of these pre-owned for a cheap price are slim to none. Plus, I would really not want to take the chance of someone sending an amplifier like this in the mail!
The Verdict: I have to say that I think overall, the Boulder 866 with the DAC is the way to go. I know it is more expensive, but you are getting all that you need and your entire music collection will be taken care of with it. I think that the Pass Labs Int-250 is fairly priced for what it is. However, for me, I just feel that you are getting more bang for your buck with the Boulder 866.
The Design
Round two of our Boulder 866 and Pass Labs INT-250 is looking at the design of these products. I like the design of both of these amplifiers and think that it is cool how they are both silver. I cannot remember the last time I actually looked at two amps that were silver actually. Anyway, let's roll up our sleeves and take a look at how cool these things look!
Boulder 866: How can you look at the Boulder 866 and not think that it is the coolest thing ever? I saw this online months before I had the chance to check it out and it completely blew my mind. I would go as far as to say that it is the most eye-catching of all the amps I have looked at recently. The silver design of this is really cool and it gives the amp a kind of modern look which I like. It has a very artistic kind of vibe going on with it and before I get to that amazing LCD touch screen, we have to look at how the front panel is angled and not just flat. This is such a cool design and it makes looking at and using the screen much easier. I have read that some people have stated the touch screen is a bit sensitive, but I never encountered that. This weighs 50 pounds and its dimensions are 16.7″ x 17″ x 7.25″ so it is "large", but I have certainly seen larger amplifiers. It is awesome how you can use the touch screen to control the amp and use its features, I found this to be a lot of fun!
The version of the Boulder 866 that I got the chance to look at while at my friend's store had the DAC built in. That means on the back of the amp, you not only have your selection of analog ports to use, but you also have a selection of digital connection options too. You can even use Wi-Fi so you can use your digital music library as well if you want and that is pretty cool. I like how Boulder has made sure that all of the ports are nicely spaced out, plus they are all labeled clearly too which makes hooking things up much easier. Now, there is no remote control included with this, but to be honest, I love playing around with the touch screen. You can though, download and use an app on your phone which gives you full control over the amp.
Pass Labs Int-250: I suggest you check out this Pass labs INT 250 INTEGRATED video of the Pass Labs Int-250 as it gives you a good sense of the scale of this thing. It has a silver body and it has a very cool design, I like how it looks like something you would see in a top-secret government lab or a nuclear power station, it has a fun and cool design to it. It is much larger and heavier than the Boulder 866 as it weighs a very hefty 105 pounds and comes in at 19" x 21.25" x 9.1". Of course, this does mean that you will need quite a lot of space to have this thing out on display. To be honest with you, I like the fact that it is large and bulky, it makes it look cool and gives it a very premium style. In the middle of the amp, you have a circular display that gives you all your essential information which I think is neat. One side of this has your volume dial and on the other, we have a small LCD that lets you know what input is currently selected. Overall, it is a very stylish design and one that I think would look great in any setup.
The back of the Pass Labs Int-250 is a bit of a mixed bag. You see, I like how the large size of the amplifier allows the connections to be cleverly spaced out so that they are easy to get to and use. They are also clearly labeled as well. However, what I do not like about the back of the amp is those weird handles. I get that these are there to make it easy to put this into some kind of rack, but they just seem weird to me and something that was not really needed. I am sure someone will tell me a good reason why they are here! The Pass Labs Int-250 does come with a really cool remote control. It has a very similar style to the amp and makes controlling it very easy.
The Verdict: Both of these are great looking amplifiers, but for me, there is a clear winner here and that is the Boulder 866. I love the fact that it has that awesome touchscreen display on the front of it. However, I also think the fact the front is angled is a very smart design choice. I do still really like the Pass Labs Int-250 (I like that whole series actually) however, I do like the Boulder design much more.
The Sound
We are ending our Boulder 866 and Pass Labs INT-250 the same way that we end all of these comparison articles and that is by looking at the sound! These are incredible and I have to say that my ears may not be the most refined "audiophile" ears on the planet, but I know the music I like very, very well so you can count on me giving you my honest opinion on how I felt these made my favorite albums sound.
Boulder 866: I have to be honest and say that I got so caught up in the looks of the Boulder 866 I forgot that I had to actually play some music on it and see how it sounded. I was very, very happy with what I was hearing out of the Boulder 866. I suggest that you check out some videos like this Boulder 866 Integrated Amplifier Highlights – English Version video, so you can see why it is so great!
Actually, I have not come across much negativity about this thing at all! I really put this thing through its paces in the time that I had with it. Hey, Stoopid by Alice Cooper has been a favorite of mine since I was a kid, although when I was a kid I had no clue about what Feed My Frankenstein was really about! This thing freaking rocked and man did it rock hard. It was the clarity that really blew me away, even when you had it cranked up, there was no loss in sound quality. It is a very high-end amplifier and honestly as cheesy as this sounds, I can tell you that it sounds every bit as good as it looks.
It is not even just rock music that sounds great, I wanted to try a lot of different music out with this and another one that springs to mind is The Chronic by Dr. Dre which is still one of my top three rap albums of all time. The production on this record is fantastic, at the time it was one of the "cleanest" sounding rap albums ever made and I really felt like I was getting Dre's true vision of what he intended this album to sound like. Even if you want something a bit more mellow like Adele, for example, you are going to be blown away by what this amp is capable of. I hand on heart cannot think of anything negative to say about this! I have even used more expensive amps that sound no better than this!
Pass Labs Int-250: I have talked about the Pass Labs Int-250 a few times now and I always like to say just how good this is. This whole series from Pass Labs is fantastic and as of writing, this is their flagship amplifier in this range and it really does show. I love how balanced the sound you get out of this thing is. There is just the perfect amount of bass and treble and while you can tinker with it if you like. I am sure many people will be cool with everything just being in the middle. I think albums like Hot Fuss by The Killers really showcase just how good the Pass Labs Int-250 can be. The song, All These Things That I've Done is a great way to show off the balanced way this thing handles music. It really does hit you and makes you say wow.
There is a real rawness to the power that this thing provides and the way it is so crystal clear truly does let you hear your music the way the artists and producers intended. I am also a big live music fan and I brought along Wembley Live 1996 by Brian Adams to my friend's store so we could play that. Live music on here is incredible, we had this blasting through the store and it was truly an epic experience. I know that saying "it is like I was there" is cheesy as hell, but this is as close to being at a concert as you can get. I hate using the term balanced as it sounds like such a cop-out and easy way to describe the sound, but that truly is the best way to describe the sound that this thing provides you.
The Verdict: Both of these sound fantastic and I am having a very hard time picking which one I liked the best. Truth be told, there is very little in it and I am sure unless you are super anal and a self-described audiophile, chances are you will not notice much of a difference between the two. However, I do think that if I had to say which one, I felt had that little bit of extra kick I want to say the Boulder 866, but I could write this thing again tomorrow and pick the Pass Labs Int-250, that is how close it is!
Which Is The Better Amplifier?
So here we are at the very end of our Boulder 866 and Pass Labs INT-250 showdown and this has been a lot of fun to put together. This has actually been one of the more even ones of these things that I have done as I truly do love both of these amps. However, I have to pick a winner and I am going for the Boulder 866! I do like the Pass Labs Int-250   and think that it sounds amazing. However, the inclusion of a DAC and the design of the Boulder 866 tip the scales in its favor, and if I was lucky enough to have someone come up to me and say, pick one, it is yours for free, I am 99.99 percent sure I would go for the Boulder.