Are you in the market for a new soundbar to enhance your home entertainment experience? With so many options available, it can be challenging to select which one is right for you. The Samsung Q870A and the Sonos Arc are two highly popular soundbars that have recently gained a lot of attention. Both of these soundbars offer advanced features and impressive sound quality, but how do they compare to each other? In this article, we'll dive into the details of the Samsung Q870A and Sonos Arc to help you determine which one is the best fit for your home theater setup.
The Samsung Q870A is a sleek and powerful soundbar that boasts 7.1.2 channels and a total power output of 330 watts. It uses Samsung's proprietary Q-Symphony technology to enhance the audio quality of your TV, and it's compatible with both Dolby Atmos and DTS:X sound formats. Additionally, the Q870A comes with Alexa built-in, so you can control your soundbar with your voice.
The Sonos Arc, on the other hand, is a premium soundbar that offers an immersive 3D sound experience with its 11 high-performance drivers. It supports Dolby Atmos and can also be used as a standalone music speaker. The Arc also features Amazon Alexa and Google Assistant built-in, giving you easy voice control options.
Determining which soundbar to purchase depends entirely on your individual needs and desires. If you're looking for a soundbar with robust and adaptable connectivity options that include Alexa built-in, then the Samsung Q870A may be the better choice for you. However, if you're seeking a soundbar that delivers a genuinely immersive 3D sound experience and integrates seamlessly with your smart home, then the Sonos Arc might be the best fit for you.
MORE ABOUT SAMSUNG Q870A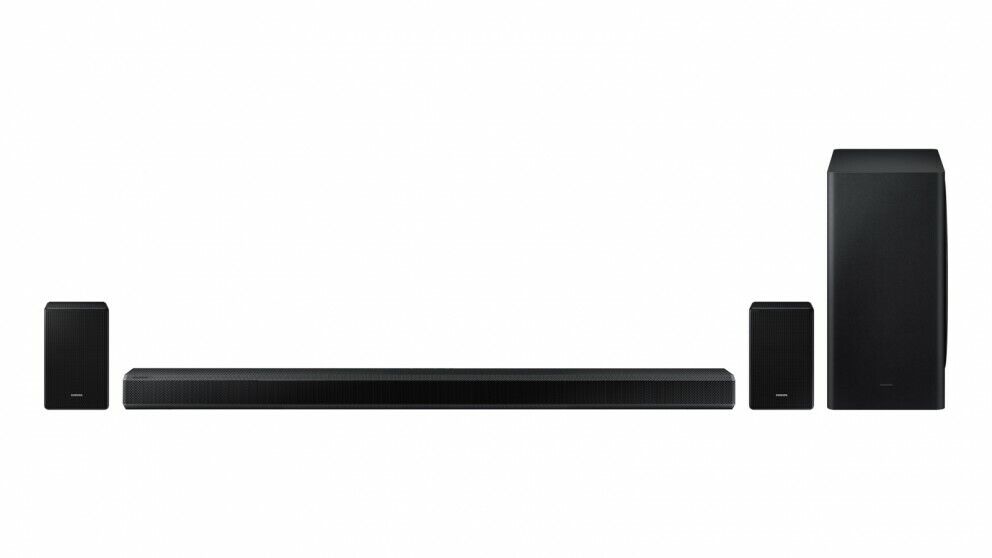 Here are some pros and cons of the Samsung Q870A soundbar:
Pros:
Powerful and versatile connectivity options: The Samsung Q870A comes with multiple connectivity options such as Wi-Fi, HDMI, and Bluetooth, which makes it easy to connect to a variety of devices.
Proprietary Q-Symphony technology: This technology allows the soundbar to enhance the audio quality of your TV, creating an immersive sound experience that matches the on-screen action.
Compatibility with Dolby Atmos and DTS:X sound formats: The Samsung Q870A can handle advanced sound formats, which means it can deliver high-quality sound for your movies and TV shows.
Built-in Alexa: With Alexa built-in, you can easily control your soundbar with your voice, making it a convenient addition to your home entertainment system.
Cons:
Relatively high price point compared to other soundbars in the market
Limited smart home integration compared to other smart speakers
Rear speaker expansion is not supported, so it may not be suitable for a true 7.1.4 setup
Some users have reported connectivity issues with the Wi-Fi and Bluetooth features, although this may be resolved with firmware updates
Overall, the Samsung Q870A is a high-quality soundbar with advanced features and excellent sound quality. However, due to its high price and limited smart home integration, it may be less suitable for some users.
MORE ABOUT SONOS ARC
Here are some pros and cons of the Sonos Arc soundbar:
Pros:
Impressive 3D sound experience: The Sonos Arc has 11 high-performance drivers and is compatible with advanced sound formats such as Dolby Atmos, allowing for an immersive sound experience.
Smart home integration: The Sonos Arc is compatible with a range of smart home systems, including Amazon Alexa and Google Assistant, making it easy to control with voice commands.
Sleek design: The Sonos Arc has a stylish and modern design that complements a variety of home entertainment setups.
Expandability: The Sonos Arc can be expanded to include rear speakers for a full surround sound setup, providing an even more immersive audio experience.
Cons:
The Sonos Arc is relatively expensive compared to some other soundbars in the market.
The Sonos Arc does not have a built-in HDMI port, which may limit its connectivity with certain devices.
It may be less user-friendly than some other smart home systems.
Frequently Asked Questions
1) Is Sonos Arc better than Samsung?
The Sonos Arc's superiority over a Samsung soundbar would be determined by a number of factors, including personal preferences, the specific models being compared, and the intended use. In terms of sound quality, the Sonos Arc is known for its ability to deliver high-quality audio, especially for home theater and surround sound applications. This is due in part to its 5.0.2 speaker configuration and support for Dolby Atmos, which enhances the sound experience even further. However, Samsung also has a range of soundbars that offer excellent sound quality and features such as object-based sound support, which can be just as impressive as Sonos Arc.
Other factors to consider might include the design and aesthetic of the soundbar, the ease of use and setup, and compatibility with other devices in your home theater setup. Ultimately, the best way to decide whether the Sonos Arc or a Samsung soundbar is the better option for you is to conduct research on the specific models you're considering, read reviews from other users and experts, and listen to both options in person if possible to determine which one you prefer based on your own personal tastes and needs.
2) Does Sonos Arc work well with a Samsung TV?
The Sonos Arc is fully compatible with Samsung TVs and can be connected to them using an HDMI cable or the TV's eARC port. With HDMI-CEC, the Sonos Arc can also be controlled by your Samsung TV remote, making for a more convenient user experience. In addition, the Sonos app offers various sound adjustment settings for customization, such as bass and treble controls. Overall, the Sonos Arc is a good choice for anyone looking to improve the sound quality of their Samsung TV.