Today I am going to review the new BenQ InstaShow S Model WDC20. The review is done in a meeting room shown below:
The meeting room is long and wide that seats 12 – 25 people (with additional chairs at the sides) and has a naturally lighted window. This is the first time I'm using such a device. All my life, presentation revolves around plugging a HDMI cable into your laptop and if there's another person who needs to present, he/she will need to move to the front seat to plug the laptop to the projector.
This device is something very new to me and I have no prior experience in setting up something like this. Let's go on to see how easy/difficult it is to set this all up.  
Packaging
The packaging feels premium with a very simple design. Unboxing the product feels nothing less than getting something from Apple. I guess that has become the new standard for packaging. All the necessary pieces of the products are properly laid out in the box. Honestly, I feel a little lost because I don't know where to start but they have included a Quick Start Guide in the package. I could quickly jump into it to get things started.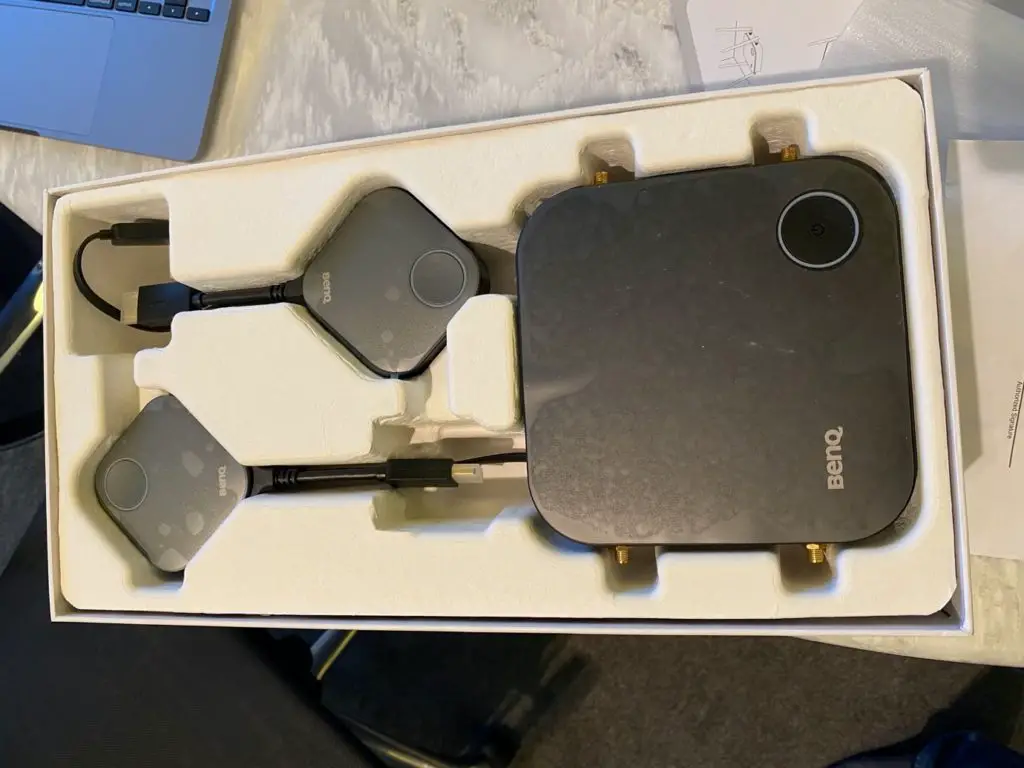 Quick Start Guide
I really like how they name all the individual components in the package. I hate guessing what each component does and this removes all the guessing that's required. I will approach the setup using the guide as if I'm an entirely IT idiot (most people in the office are) to see if I could get this up and running asap.
The first thing to do is to setup the InstaShow S Host Lid with the 4 Antennas. Piece of cake. Took me less than a minute to do it. The Host feels slightly plastic, but I don't have an issue with that.
If you wish to strap the Host to something like a pillar, you could. But since space isn't a problem to me and the Host is pretty small, I will just leave it on the table. It's not really an eyesore.
The Quick Start Guide is pretty simple without any words. The illustration is simple enough not to have words and following the steps are very simple.
Adaptor
The next thing to do is to connect the power adaptor to the Host. I'm sorry if I have to make a paragraph on this because as trivial as this can get, it is always the component that gives me the most problems.
Very thoughtful for BenQ to provide the adaptor for global travel use. Since this model is so small, I won't rule out the possibility of bringing this around with me when I go on a business trip.
To change the plug, simply press on the button "PUSH" located in the middle of the adaptor and push upwards. And you can slot in the plug that suits the country that you are in. There is a little hiccup for me when I tried to change to the UK plug. There is only one direction that fits, and I tried a couple of times in the opposite direction only to find out that its I wrong. I'm pretty sure bimbotic young admin ladies will have a hard time figuring this out for the first time. Doesn't take a genius to get it right but I didn't get it right the first time.
I really hate it when adaptors are weirdly shaped. This is the most classical case of it. When I tried to plug it into the socket, the top part of the plug is slightly too long. And as a result, I'm unable to plug it in! Now I will think twice about bringing this with me on a travel. Carrying a white elephant with me during a business trip where the slightest weight increase is an issue to me is a no no.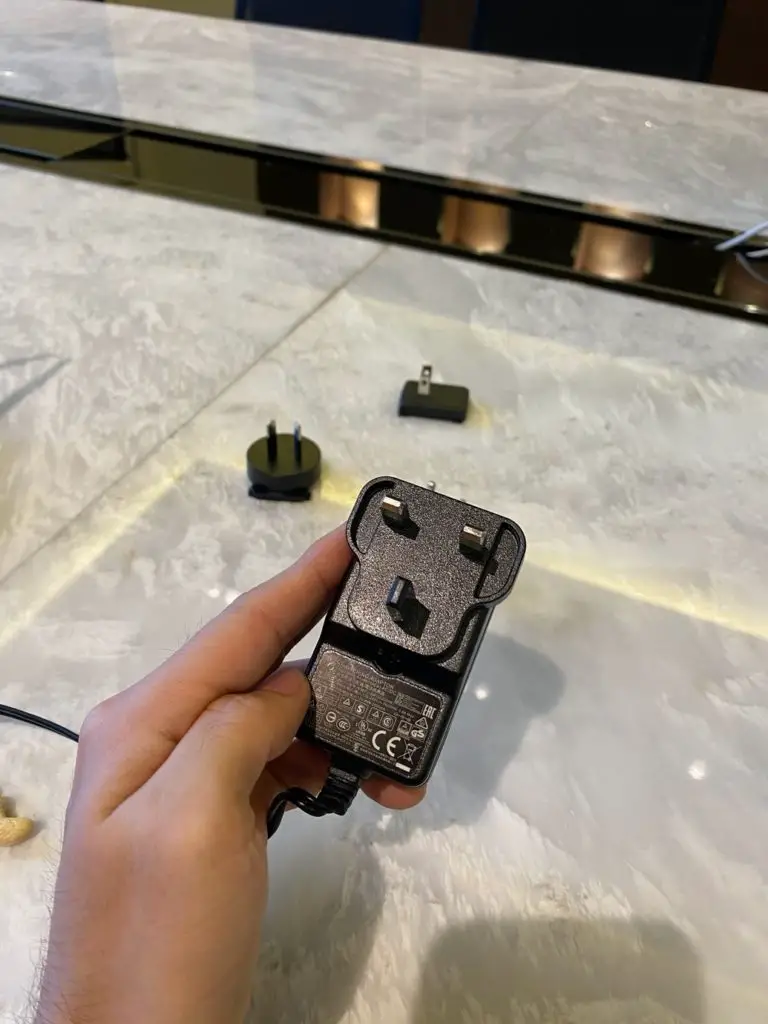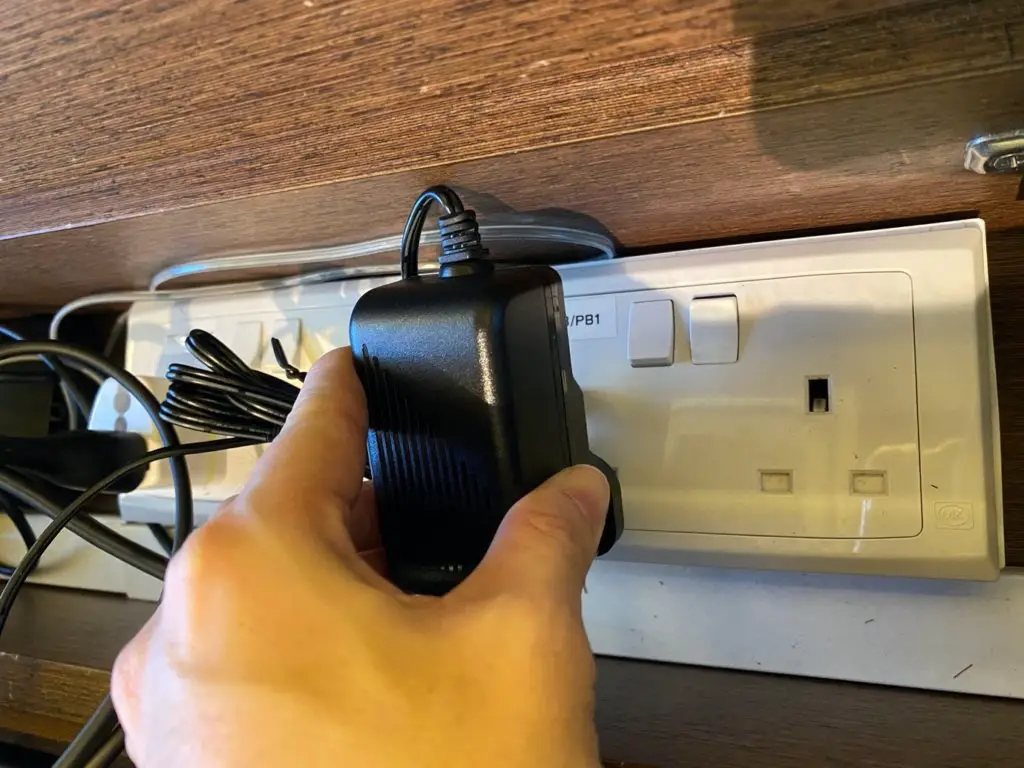 Eventually I ended having to search for another multiplug to alleviate the contact point before plugging the plug into the socket is made possible.
Getting Connected
After powering up the device, we are set to go! It looks pretty futuristic with the cool green light on the Power button on the device.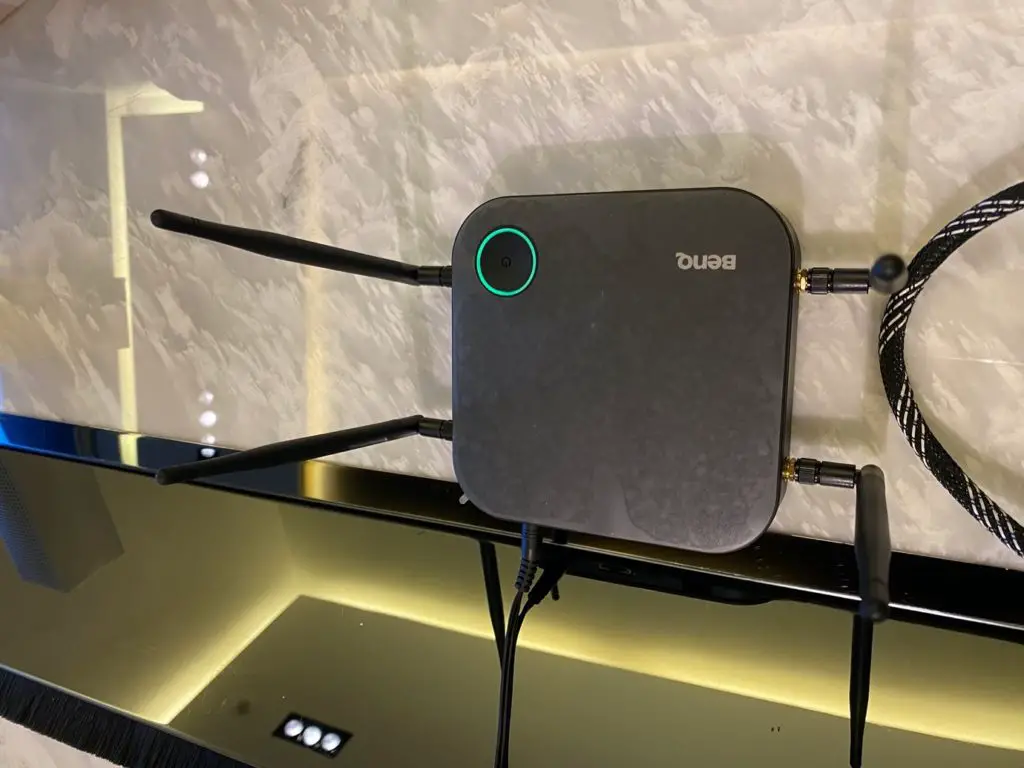 The next problem we are facing is the InstaShow S Buttons. They need to be connected to your laptop's HDMI port and a USB port. I am using the Macbook Pro 2020 and both ports aren't available. I have to use another USB C adaptor to connect my laptop to the Button. I'm guessing that the HDMI cable is to transmit the video data to the device and the USB 2.0 cable is to power up the Button. All could be solved if the Buttons are equipped with a USB C adaptor which can transmit both the video data and also power the buttons.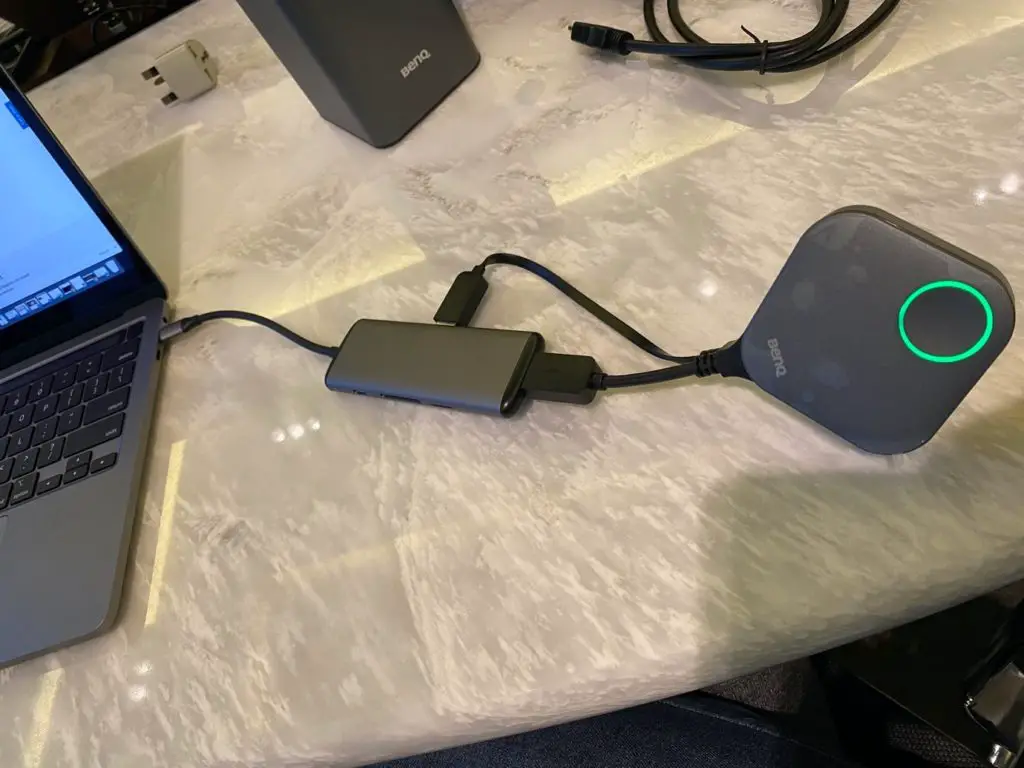 And it will look like a long giraffe neck sticking out from your laptop. Not ideal but not a big issue if space isn't a problem.
Well that's it! Turn on your projector and it works like a charm. No further configuration is required. Everything that's on your laptop will be shown entirely on the projected screen! I must say this is one of the easiest devices to use once it is setup! Absolutely no lag when it comes to corporate presentation.
Videos/Streams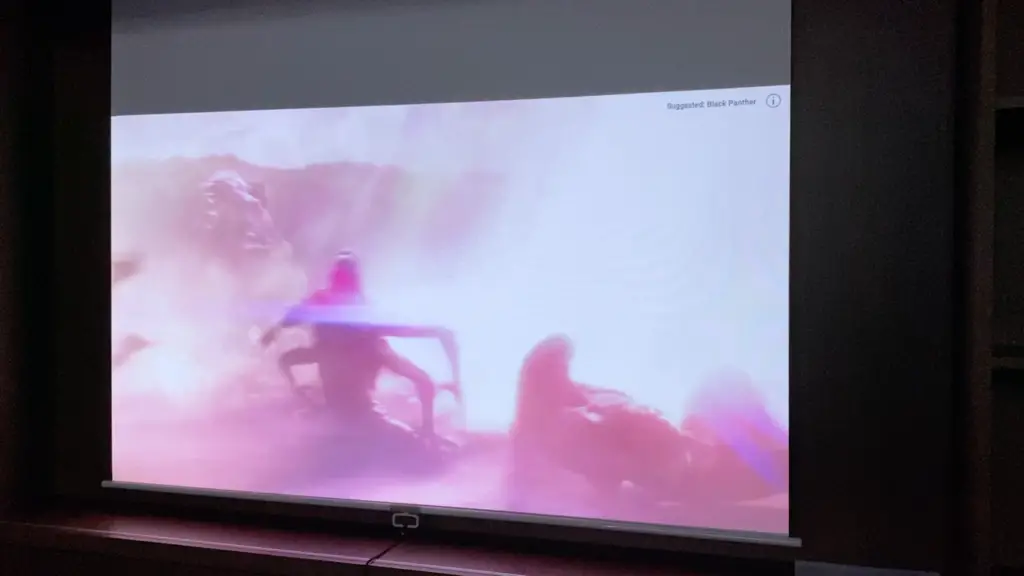 Many times, when someone is giving a presentation, videos are required. I need to convince myself that this is a decent device and I had to run a 4K video from YouTube to check the latency (lag) of the devices.
Absolutely no lag. I've included a 30 sec video below for you to take a look at the speed of data transmission. Perfect!
Mobile Device
I'm using an iPhone X and to use it with InstaShow, you'll need to download their app. You'll need to connect to the WiFi of InstaShow device to be able to use. Please take note that this WiFi isn't the same as the WiFi that you are already connected to right now on your phone to surf the internet. Once connected, click into the app and click onto the WiFi stated on the screen.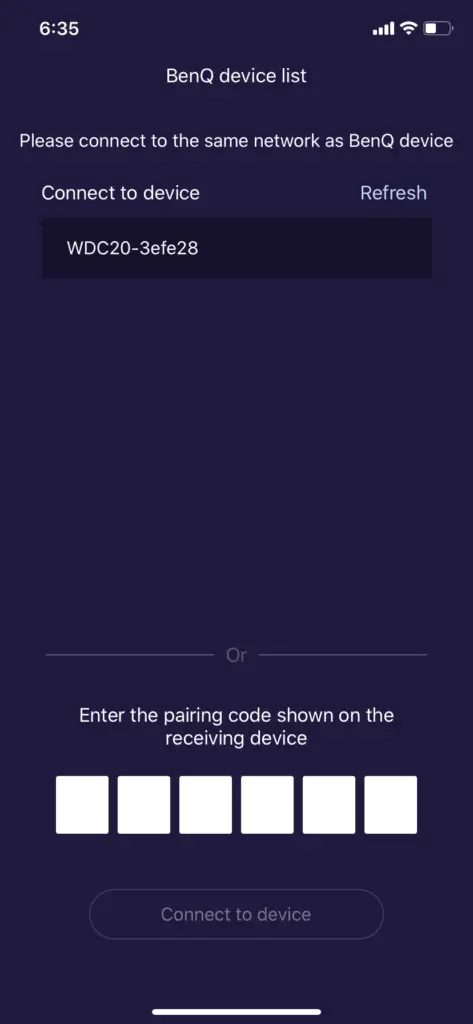 Once done, it will take you to the next page. You have a choice of mirroring the BenQ Display to your device or mirroring your device to the BenQ Display. I don't know what the first option does but let me try to mirror my phone display.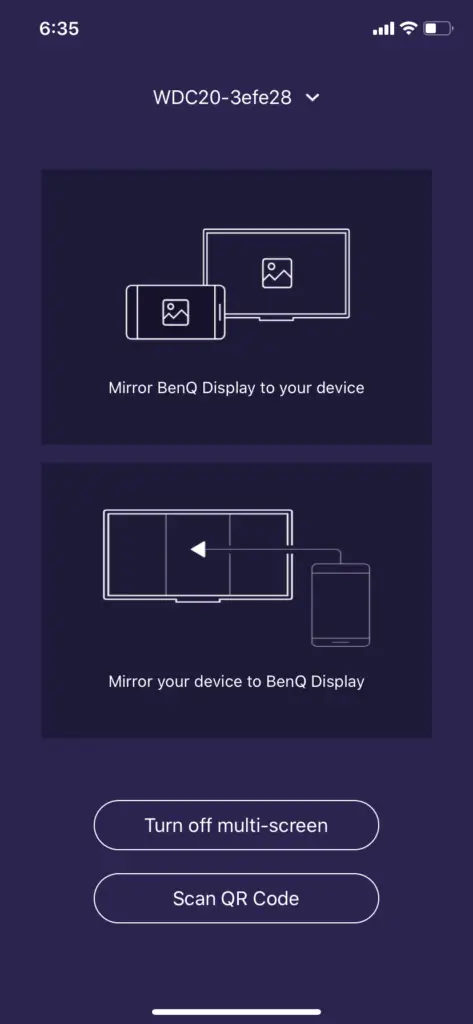 Follow the steps and click screen mirroring and the phone's display will be projected on the screen.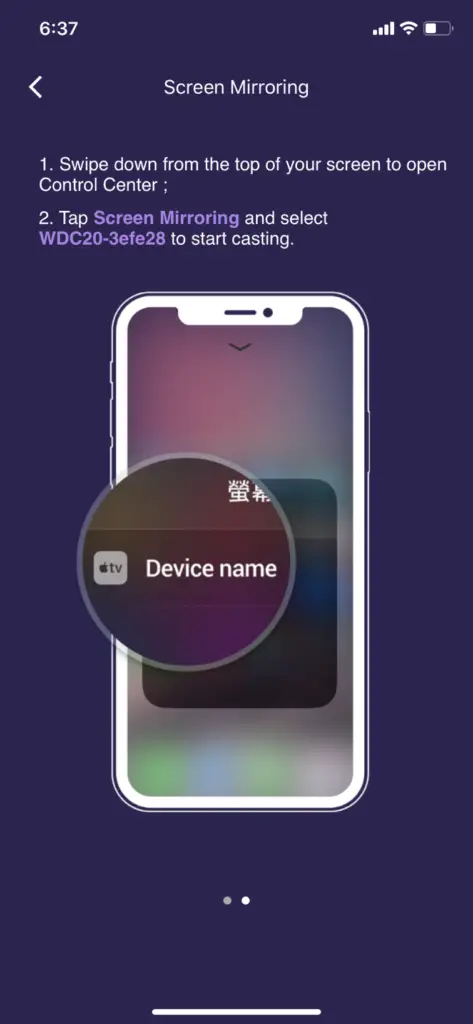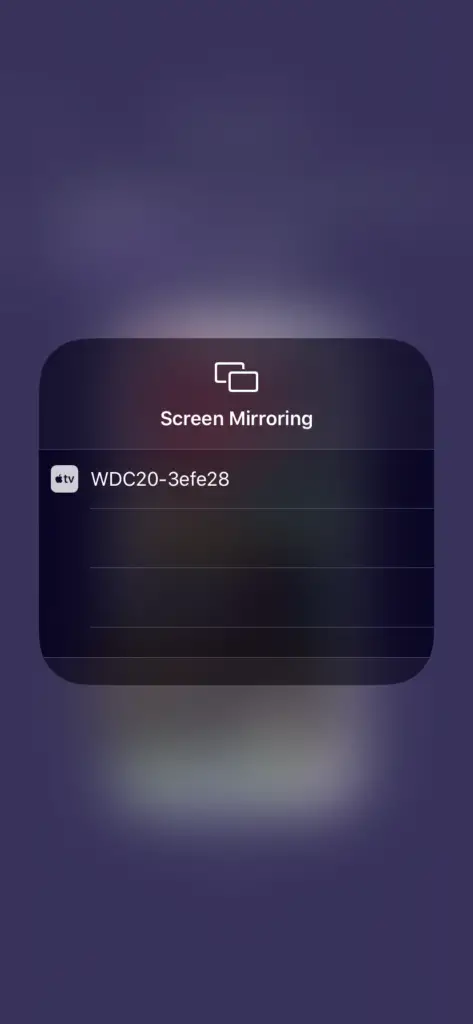 Multiple Screen
So many will wonder what good it is to mirror the BenQ Display to your screen. I played around with the device and wow! I must say I'm impressed. It turns out that the presenter will be able to project whatever he/she wants to the large screen and if you have say 50 audiences that could potentially be blocked from seeing the huge screen in the meeting room, you could still view it from your mobile device (in this case my iPhone).
Not only that! You will be able to interact with the presenter by having the option to draw on the large screen or control (click) on the large screen using your iPhone. You can even open up your Photo Album, pick a video, click on it and play it and the BenQ display will automatically switch to play the video that's playing on your iPhone. Pretty neat!
Cradle
The thing about all these techy stuffs is that they have so many components and people don't really know how to deal with them. BenQ has been very thoughtful about it to include a cradle. It allows you to keep all the Buttons inside very neatly. Love this cradle entirely. Most importantly, it looks elegant on its own. Good technology coupled with good aesthetic designs are what I truly will fall in love with and this is one of them.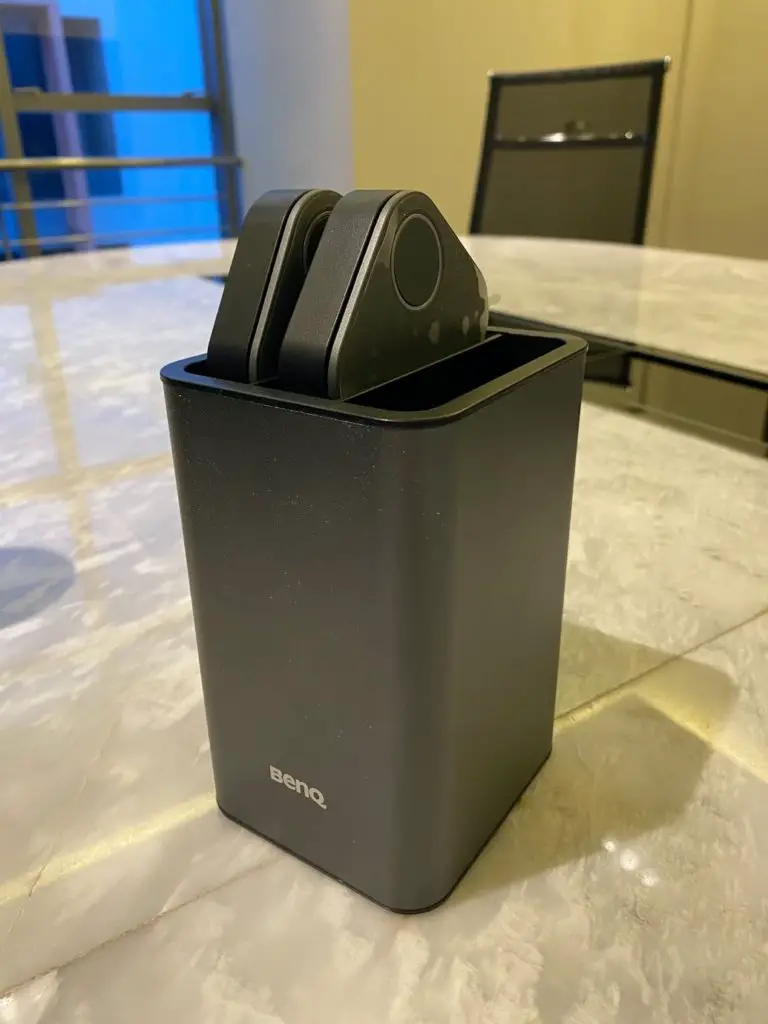 Conclusion
Very neat device to get for a presenter or a company who has a decently large meeting room. Presenter doesn't need to move toward the projector to connect the HDMI cable to the laptop to present. I love it. There are some hiccups along the way to set it up but overall not a big issue. I do find it slightly pricey at about $1390 on Amazon but I guess it's a pretty small price to pay for a company especially when they have many internal or external presentations.
Pros
Super simple installation
Beautiful design
You don't need additional equipment or cables to set it up. Everything is provided in the box
Zero Lag
Multiuser
Very interactive
Small and light
Mobile enough to bring it on a business trip
Cons
Slightly expensive
Adaptor is a huge pain due to the odd shaped plug
Buttons need to be HDMI and USB 2.0 connection