We have talked a great deal about various Technics SL Models here on the site recently and I guess you could say that I have been on a bit of a Technics kick. I managed to score an SL-1200 a while back and that was great, but one of the greatest deals I have ever come across in my time as a vinyl enthusiast was finding a Technics SL-1400MK2 for only $25 at a junk store. Sure, this thing was not exactly clean, but I knew I had to take the gamble and after spending some time with it and getting it working, I thought I would do my own little Technics SL-1400MK2 review and share my thoughts on it.
The Design of Technics SL1400 mk2
The first thing I have to talk about is the design, this was released in the late 70s and it has a very 70s and 80s kind of vibe going on. I love the design of this turntable! A UK review site has some great professional images of this and it truly is an amazing record player. I do feel that it needs to have the shell in order to truly grab your attention, but the way it has the little LED counter, the silver buttons, and so on just make it a fantastic record player that would look great in any room.
Now, I just said that I love the design and the one I got did come with the shell, but it is missing a chunk out of one of the sides. In looking online, finding one of these with a shell that is in good condition appears to be hard, but there are aftermarket sellers that do offer reproduction shells.
The Motion Of The Ocean
One of the things that people love about the SL-1200 is the way the arm will automatically return and act like it has a mind of its own and wants to make sure you are listening to music in style, well the Technics SL-1400MK2 has that same feature. This is awesome and it means you do not get that abrasive end to a record like some turntables give you! It is a direct drive record player and I will admit that I was worried mine would have some problems, but thankfully it is ok.
Cueing Failure
If you look online at various forums and so on about this, you will see that many people have said that coining failure is a very common problem with this turntable due to the way it is made. It turns out it is just a small piece of plastic that is on the bottom of it which can cause problems, but there are apparently people online who offer 3D printed replacement parts that can fix this problem. Even if the cueing failure is an issue with the turntable you buy, I am not 100 percent sure it would make the record player completely useless.
That "Oh Yeah" Sound
Now, I got lucky in that the Technics Sl-1400MK2 I found in the store, apart from the crack on the shell was able to rock and roll as soon as I got it home. However, you do have to take into account that this turntable is over 40 years old at this point so you may need to replace some parts with a new stylus or a whole new cartridge, I have actually replaced the one that was on there with an Ortofon Cartridge and it is fantastic.
Ok, so I set the turntable up, connect it to my receiver and the first record that I decide to play on this thing is Darkness on the Edge of Town by Bruce Springsteen as I wanted something authentic to the era from when this record player was around. I will admit that I was a little nervous as to what I was going to hear and if it would even work, but right from that first beat, I was like, hell year this is what I am talking about! The sound this produces is so rich, so real, so raw that it was like love at first sight and this was without me even messing around with anything. I can only imagine how awesome it must have been back in the day when this was first released for people to upgrade to this.
Things To Know About Buying Technics SL 1400 mk2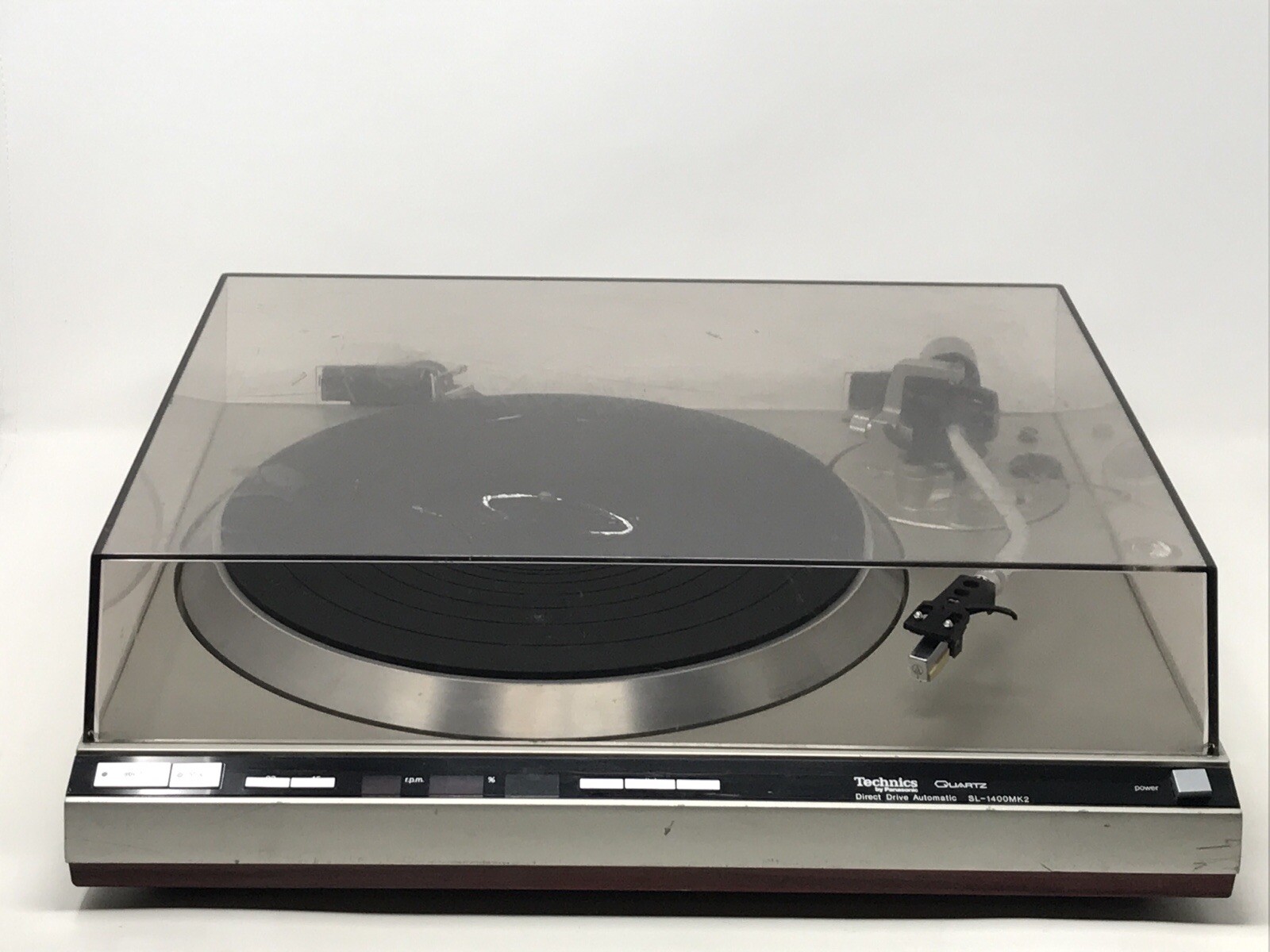 Ok, so I know that I am one lucky SOB for how I have had this and an SL-1200 basically fall into my lap over the years. However, if you do look for a Technics SL-1400MK2 on somewhere like eBay, you will notice they are not as common as some of the other SL models. The good news is that they tend to be priced more reasonably than an SL-1200.
The downside to this is that the cueing issue I mentioned before along with the fact that the shell/case is not the strongest thing in the world can mean that finding one in amazing condition can be tough. I would wager that the reason these are not all that common on places like eBay is because people have thrown them out thinking they were broken and no one would want them!
Chances are if you do find one of these you will have to do a bit of tinkering to get it fully working. There are replacement parts online such as the bit of plastic to fix the coining issue and also new shells that you can easily add. However, as these are not 100 percent authentic, I am sure some people may turn their nose up at them.
I have to be honest and say that I am pretty much in love with my Technics SL-1400MK2 at this point! I use this thing all the time and while I am sure I may have to do a repair probably sooner than later; I am more than willing to cross this bridge when I come to it as it is such an amazing record player.
We have looked at many Technics SL Models lately, but while this may lack that allure and history that the 1200 has, I must admit I am finding myself liking this a tad more than the 1200 I found!