At allforturntables, our love for music transcends beyond equipment, accessories, and turntables. For one, we are taken to blogging and reviewing everything from phono preamps to cartridges, providing you with opinion pieces that might be of interest to you. If you're similar to us and looking to start a personal or shared blog for your musical interest, you've come to the right page.  
In this post, we've curated a list of the best WordPress websites that'll be able to facilitate a vast amount of blogging needs catered towards the music industry from posting lyrics, reviews, to even starting an eCommerce store.   
Why consider blogging?
It's a great feeling to be able to motivate an audience through writing. It might make you want to do it more especially when people respond positively to you. Additionally, you could inspire others in an infinite number of ways as a blogger in a niche expertize like this.
Consider how you could use your words to motivate people to:
Make a positive difference in their life
Increase the efficiency of their days
Create something lovely
Assisting others
Without further ado, here are the best music blog WordPress themes for 2021 if you're passionate about this industry and would like to share your thoughts or services with others. 
UNLIMITED DOWNLOADS: 50+ Million WordPress & Design Assets
NeoBeat is a multipurpose WordPress theme that can be used to create a variety of music-related website that also offers a strong blogging feature. This theme comes with nine music-focused website demos that should appeal to anyone intending to build a music blog. 
Demos for promoting a tour, making an artist homepage, and creating a site for a music festival are just a few primary examples. There are more choices as well, such as a modern-looking blogging page that offers four blogging layouts, as well as variety of post types. Additionally, the theme's homepage includes a gorgeous look, but only a few items to keep things simple, such as links to where visitors may learn more about the new release. 
The theme comes with a one-click installation button and basic color options to match any branding and logo. Optimized for search engines, NeoBeat will allow you to improve your rankings and attract new readers with each post. Moreover, this WordPress theme has a responsive design, which means that all of your visitors will be able to view your content on any mobile device.
Get more information about NeoBeat here, or preview the theme here. 
Meloo's designs are contemporary, combining dark hues and light typography for a strong contrast. The theme comes with a variety of pre-built music website layouts, such as simple blog pages, one-page designs, and more. When it comes to music, Meelo lets users listen to tracks you've embedded on your site and have them play fluidly as they move around the site. 
However, unlike previous players, autoplay is disabled, giving visitors complete control at all times. Meelo also includes the front-end King Composer Pro Builder plugin, which allows you to easily alter the look of your pages. Moreover, the enhanced WordPress Customizer makes it easy to customize the theme by allowing you to upload logos, a site favicon, personalize and adjust pagination styles, and more. On retina displays and screens, the design is said to be "retina ready," with a crisp, pixel-perfect display. In addition, the code has been optimized for faster page load times, which is vital for both SEO and user experience. 
Without the need for a plugin, you can set and display social sharing options such as an Instagram feed for your posts and pages directly from the theme. Meelo has high-quality features and functionality that can help you create a remarkable experience.
Read up on more information about Meloo here, or preview the theme here. 
You'll want a theme that allows you to capture your distinct aesthetic whether you're launching an informative blog or building an eCommerce alongside it. It's all about style in the music industry and Glytch may provide all you'll need.
This WordPress theme comes with nine ready-to-use page layouts for any musical artist's website, including options for online shops, events and video displays, on top of basic blogs. When it comes to design, Glytch offers a wide choice of CSS animations that you can use to draw attention to specific portions and make your sites more interesting.
Glytch also includes a customized version of the WPBakery Page Builder plugin, which makes customizing your site a breeze. Threaded comments on your articles and pages are possible with this theme which is an excellent strategy for bloggers who want to grow their online communities and increase user interaction. It also includes pagination, a full-width layout with configurable left and right sidebars, and the ability to make a post "sticky" so that it stays at the front of your list of articles. Furthermore, this theme is simple to set up and works nicely with WooCommerce. If you're ready to launch an online store as part of your blog, you'll find it to be a rather simple process.
Obtain more information about Glytch here, or head to the theme's preview here. 
To draw in viewers to your blog, your website must be visually appealing, engaging, and simple to use. With a theme like Mozo, you should be able to implement whatever you need to sustain and exceed your expectations.
The theme is clean in both cases, allowing for easy navigation and focusing on crucial components such as embedded playlists and videos. Mozo also contains licensed stock photos that you can use in conjunction with any of your designs, making the process of creating a new website much simpler. Additionally, the theme has a three-column layout and makes fantastic use of the page to highlight your most recent posts. You can also share social media links, recent comments, popular or recent topics, and more.
In terms of functionality, Mozo allows you to rapidly display upcoming events and personalize the style of your page with the included Beaver Builder page builder plugin. The theme also comes with a comprehensive documentation library, making it an excellent choice if this is your first time designing a website. Mozo was designed to load quickly, rank higher in search engines, and look amazing on any device.
Gather more information about Mozo here, or preview the theme in your own time here.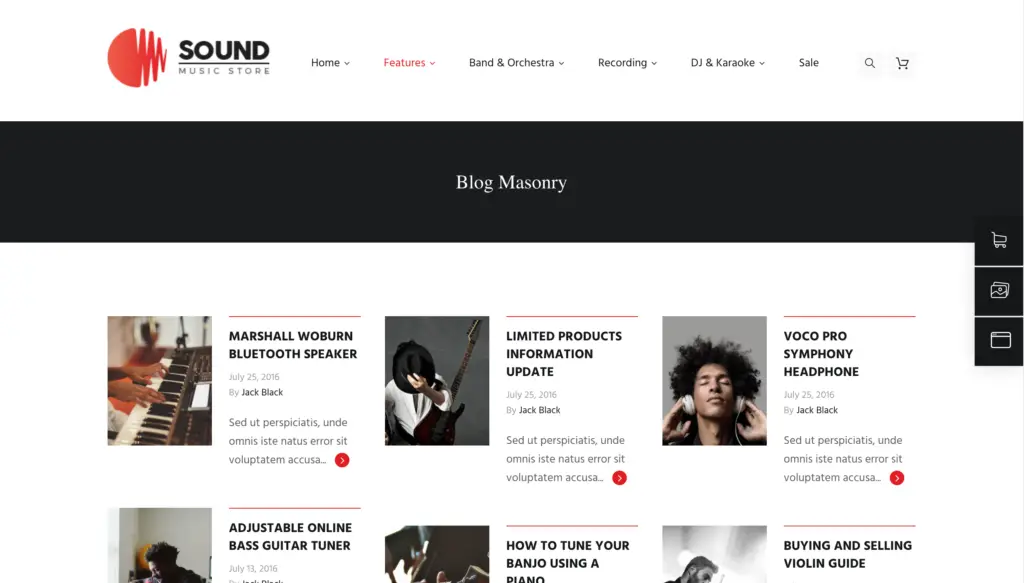 The design of Sound makes extensive use of white space. Visitors can browse through your blog design and feel at ease with lots of breathing room. The media library supports YouTube and Vimeo videos, and the home page has many possibilities for showcasing your most significant posts or information. 
Almost everything you'll need to promote your content is included in Sound. The WPBakery page builder that comes with the theme contains widgets for displaying just about anything you'll need from social media to a dutiful comments section on your blog. This theme is entirely responsive and cross-browser compatible, ensuring that your content looks great on any device. It also integrated with the popular eCommerce plugin, WooCommerce, allowing you to sell products if that is your desired action. 
When it comes to making adjustments, the Live Customizer makes it simple to modify colors, fonts, and more. The theme supports various post kinds, allowing you to quickly publish video and audio content with standard text. Moreover, Sound was designed to load quickly, rank higher in search engines, and bridge you to your potential readers effortlessly.
Collect more information about Sound here, or preview the theme here.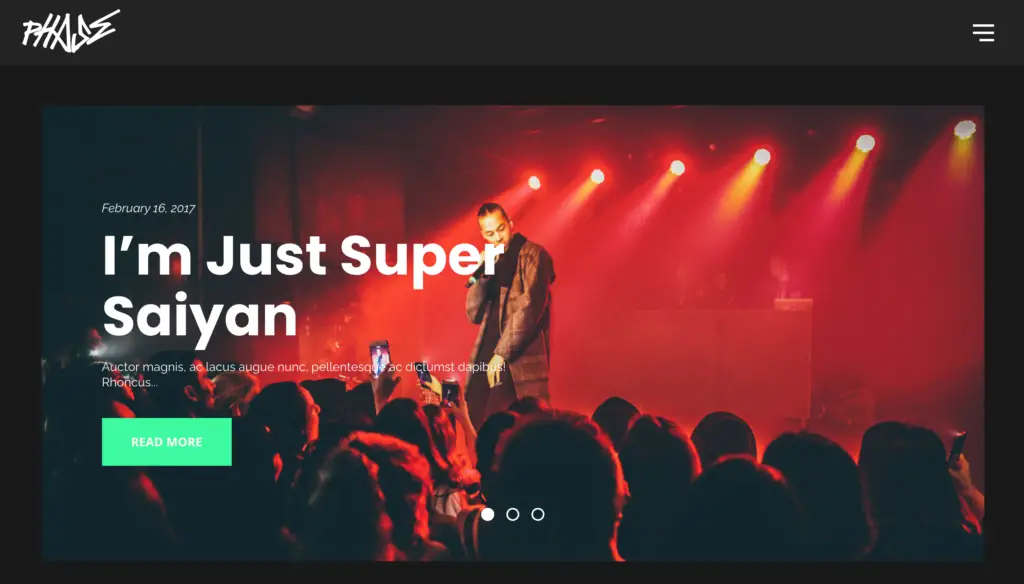 With Phase, you'll get a theme that can be used for nearly any form of website in the music industry, a music blog included. Several pre-built home page layouts are included in Phase, including designs for concerts, tours, bands, independent artists, record labels, and more. This clean, image-focused theme is ideal for any blogging format that depends on the visual impact of great photos.
Furthermore, Phase includes the Slider Revolution and WPBakery Page Builder plugins as part of the package. These allow you to personalize your music website by allowing you to add sliders and create layouts using drag-and-drop capabilities. They're important enhancements that provide flexibility and can help you achieve your intended interface design. This theme works seamlessly with WooCommerce, allowing you to simply incorporate e-commerce into your blogging business plan.
Phase's appearance can also be readily customized. The standard customizer that comes with WordPress can be used to change items like the primary color, link color, fonts, and widgets. This theme has a wide range of features that are geared to the needs of most music business websites but can also easily double as a trusty blogging site. 
Get more information about Phase here, or preview the theme here.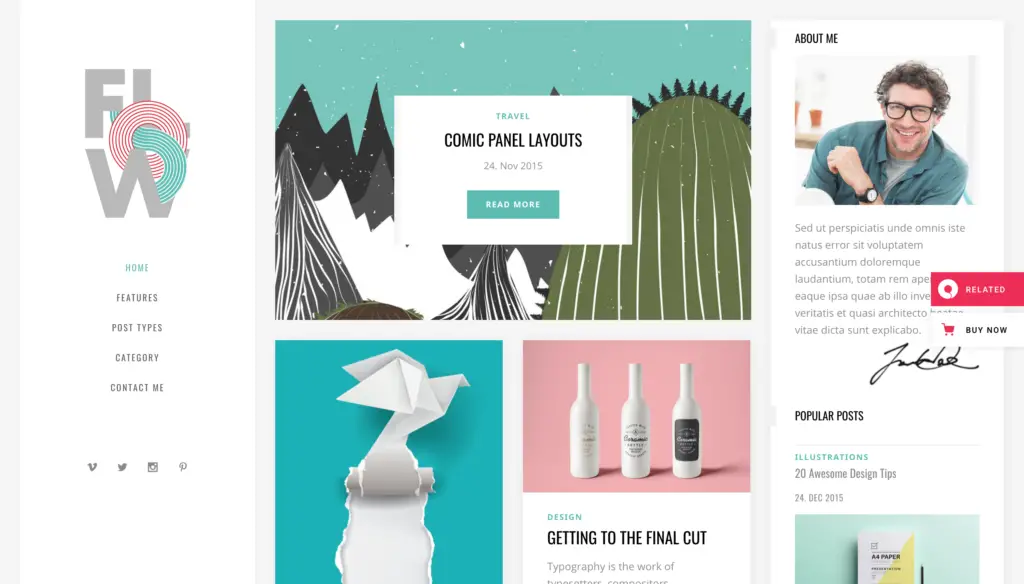 Flow is the theme for you if you're seeking a creative blog theme that has it all. This WordPress theme is vibrant and artistic, offering nine different homepage layouts that will make your content the key focus of your site. Flow is a blogger's dream theme, with a multitude of useful settings, fantastic Ajax functionality, support for SoundCloud audio links, and many other useful features. As a creative blogging theme, Flow can be used ideally for any music-related blogs prioritizing written content. 
Making use of complementary colors, this theme is fresh and contemporary that should draw in loyal readers to your site. It features various sliders, headers and six post types so rest assured that customization and publishing your content should not be an issue for you. Additionally, Flow is built to be light, fast, and responsive, with conditional loading and minified scripts and stylesheets to help your site load and function better in any browser. 
Most importantly, this theme is responsive and has been developed with accessibility in mind so it'll look great on any device and on any screen size. It has an adaptive layout that will improve and enhance your users' experience on your site. 
Access more information about Flow here, or head to the theme's preview here.
Parting Words
We hope to see you reaping the fruits of your music blog with one of the above WordPress themes and we wish you the very best and all that jazz.
Have a favorite theme from this list? Share it with us in the comments and let's discuss!
Should you frequently need access to a variety of premium plugins, themes, logos, video footage and audio files to power up your WordPress site, do also check out envato elements' unlimited subscription plan starting from just $16.50/month.