Music is largely unaffected by any barriers. It brings us closer together, reminds us of who we are, speaks for us when words fail, and portrays our hearts' true and sensitive emotions. It serves as a reminder that we are not alone. As a universal language, music is a lucrative business and cultural commodity that has no visible end in sight. If you're in the music industry offering products or services and seeking to establish a website for your business, then you've landed on the perfect page.  
Your wishlist of the required features for your website will likely be lengthy, and it's critical that an effective theme checks all of the boxes. For starters, a theme supporting the popular eCommerce plugin, WooCommerce, should be mandatory to ensure you'll be able to set up the perfect store for your music project. You might also consider looking into WooCommerce add-ons to give your virtual site additional functionalities for a fuller appearance. Rest assured that the themes we have chosen below are all eCommerce ready. 
Plugins for pricing tables will also make the viewing of pricing for your musical instruments or digital products easy by providing a set of tools that help you display your details in a meaningful tabled way for your customers. 
First impressions are important and the presentation of a product, service or content pieces to your audience will prove to be highly effective for your WordPress website. You'd want them to know exactly what they're getting and make their decision to stay, leave and/or make a purchase. 
We know that time is of the essence and we've therefore curated a list of 12 themes tailored for music eCommerce stores to save you some effort. Good luck!
UNLIMITED DOWNLOADS: 50+ Million WordPress & Design Assets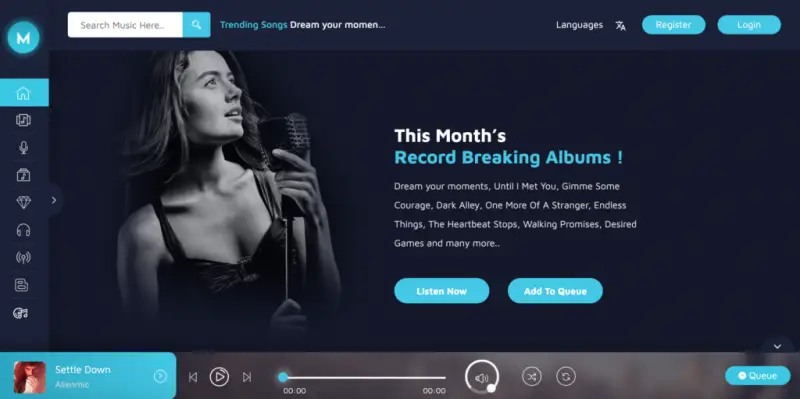 If you're a professional music establishment, you'll want your website to be a massive gig-generating, album-selling, and musical-fanatic powerhouse. It is therefore critical to pick a theme that both highlights your business and makes it simple for people to purchase your goods. Miraculous unquestionably hits a high note in both of these areas.
For musicians, artists, anyone working in the entertainment industry, and more, this theme includes two-page designs in both light and dark version. With the WPBakery Page Builder plugin, you can easily drag and drop site elements like headers, menus, text modules, and more. MIraculous is built to load quickly right out of the box, and its responsive design ensures that it looks great on any screen.
When it comes to stunning aesthetics, this WordPress theme may be unrivaled. Changeable full-screen backdrops, customized logos, slider galleries, social media links, and more have been made available. Most importantly, Slider is also 100% WooCommerce-compatible, allowing you to sell music, tickets, merchandise, and more directly from your website.
Miraculous is a superb WordPress theme for just about any music site, combining a wealth of customization options with excellent pre-built page layouts.
Gather more information on Miraculous here, or visit the theme's preview here.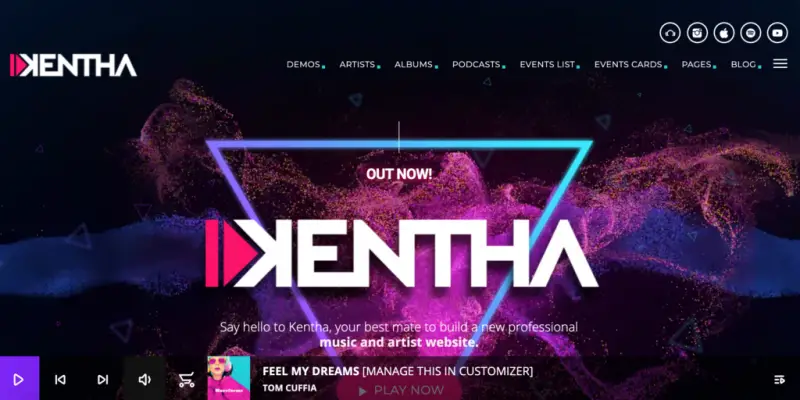 The finest music could arguably be an all-out assault on the senses. Keeping this in mind, your website should aim to elicit a response from your visitors. As such, Kentha could be the theme to aid you in this endeavor.
Kentha has a flashy and boisterous aesthetic on the surface, which is constant throughout nearly all of its 30 pre-built demo layouts. If you've found a design you like, you can install it with a single click. Furthermore, the included WPBakery Page Builder plugin allows you to drag and drop items into place, allowing you to construct a layout that meets your exact needs.
You may create a true music store with Kentha, similar to iTunes or Beatport, in which you can add tracks to the cart straight from any playlist or player, and purchase single MP3 songs or complete albums. Kentha has a plethora of unique shortcodes for your music store, including Buy Now links, cart icons on playlists and albums, unique playlists through shortcode and page Builder, and much more.
With Slider Revolution, you can also add playlists directly. The options for selling both digital and physical records, as well as any other form of product, are endless. Kentha is the only WordPress theme with direct ajax add-to-cart and the most comprehensive WooCommerce implementation.
Get more information about Kentha here, or head straight to the theme's preview here.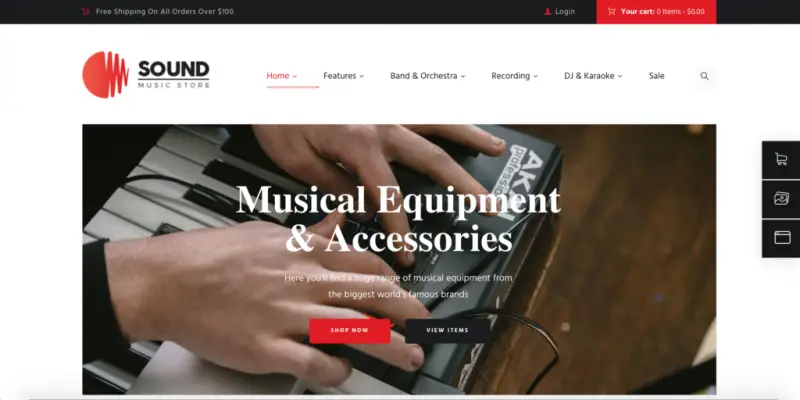 You probably don't want a complicated page structure when you're making a website to promote your musical products or services. You want visitors to be able to locate exactly what they're looking for right away, whether it's your music, instruments, or something else entirely. Sound can assist you by allowing you to provide the most amount of information possible without overpowering the reader.
The default home page of this theme is a complete package, allowing visitors to browse your music, musical equipment and accessories without having to leave the website. To have your website looking attractive, Sound features three clean and professional-looking demo templates. Each has slight variances that may or may not be suitable for your needs. The Visual Composer drag-and-drop page builder plugin is included with the theme if you want to further alter the layout, or develop your very own ones.
Even with this type of theme, Sound contains some smart features suited for eCommerce. You can display the instruments you're selling and show the ratings previous buyers have of your products. Additionally, there's also a section for featured items that will make a potential customer's navigation easy and straightforward. If you offer musical workshops or classes, there's a designated space for that, too.
When it comes to music themes, there is a lot of competition, but Sound stands out. It is deserving of your attention, both for the precise functionality it offers and the creative alternatives it provides.
Read up more information about Sound here, or preview it at your own time here.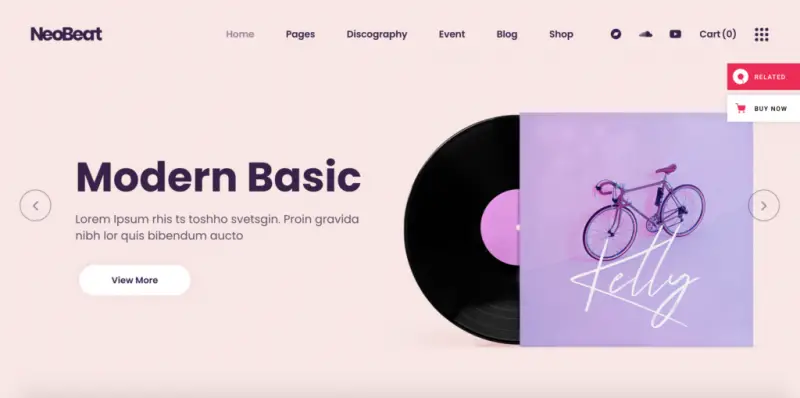 When choosing a theme to go with your music business, you may notice that some contain features that don't appear to be designed with your visitors in mind. However, every feature of NeoBeat was created with various focuses in mind. Your logo, featured content, and a full-screen background image will dominate Neobeat's homepage. 
A large color palette and opacity settings, as well as an array of shortcodes and widgets, will give you a lot of customization possibilities. If the demo's fonts don't suit your taste, the theme also has font pack support which you can access via the Customizer.
NeoBeat's designers have created a beautiful page for visitors to browse your listings. New musical releases, accessories, equipment, and merchandise can be accessed from the homepage, highlighting the nature of your company and its offers. Subscription to events with clearly listed dates will also ensure that patrons have no excuse for missing any shows.
NeoBeat was designed by a developer who prioritizes the eCommerce aspect of your music business by providing you with excellent design and features, as well as strong functionality. This WordPress theme is a no-nonsense theme equipped with a lot of power.
Find out more information about NeoBeat here, or head to the theme's preview here.
Recond is a modern theme integrated with a lot of features to push your music service towards a large audience. With many themes, all of the example layouts can appear to be extremely identical. This WordPress theme, on the other hand, provides a wide range of options that can be used for a variety of purposes.
You could, for example, keep to a tried-and-true format, or display your services and products at the forefront. To put it another way, there's plenty of flexibility right out of the box to fit your preferences, whatever they are. You may show your studio services, various equipment and more using either a collection of shortcodes or the integrated WPBakery Page Builder plugin, regardless of the layout you choose. 
While you first activate Recond, you'll have one-click access to two niche samples, but the theme's richness encourages you to be truly creative when developing your website. This theme allows you to create a powerful and impressive homepage for your band, with features such as a slideshow header and a wide range of layouts for showcasing your music, instruments, and merchandise.
Recond has a striking design, and if you offer contemporary music services with a twist, this could be the theme for you. 
More details about Recond can be found here, or check out the theme's preview here.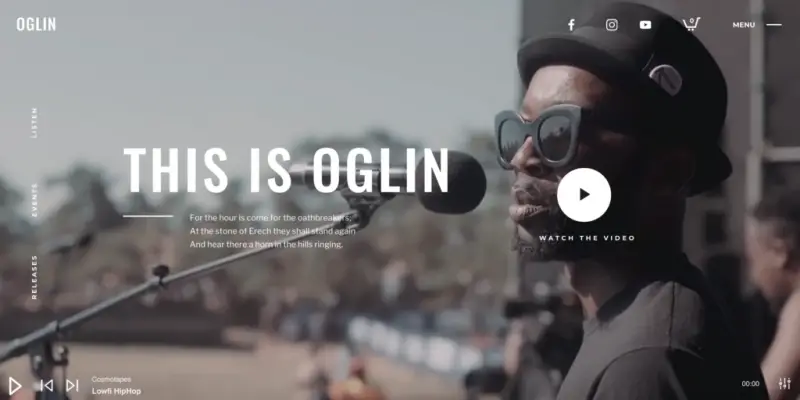 At least one thing connects websites and musicians. They both employ visuals to make a powerful first impression in the modern age. Undoubtedly, content and music are vital, but many visitors will appraise what you have to give solely on the basis of how it looks. Fortunately, Oglin is ideal for generating a good first impression on new site visitors. 
This theme comes with nine demos, almost all of which features distinctive homepage variations prominently. To summarise, they are all equipped with wonderful interface designs that are easy to navigate and highly responsive. Introduce visitors to your brand and advertize any product of your choice through the eCommerce possibilities integrated into the theme. 
There are also dedicated demos for displaying albums and tracks, along with an embedded player to let visitors hear any musical pieces regardless of the page they're on, making your site highly modern and attractive. You'll easily be able to showcase your discography, if any, along with your products or services with this WordPress theme. 
Overall, Oglin provides a visual and audio experience that many musical eCommerce businesses may find appealing. We encourage digging more into its feature set. It could even be the foundation for your budding music career on top of your items.
Access more information about Oglin here, or preview the theme here.
The music industry is inclusive of a diverse group of people, including musicians, promoters, record label executives, and others. Even if you're not in the spotlight, you'll need a great theme to promote those who are, which is where Herion comes in.
This WordPress theme comes with fifteen different templates that you can choose based on your function in the music industry. Be spoilt for choice with these themes that are all jam-packed with features to help you promote your business, aided by the WPBakery Page Builder and Slider Revolution plugins that come as a standard. Regardless of your involvement in the music industry, you're sure to find a demo supporting eCommerce features with Herion.  
Additionally, you'll have access to the most important designs for most internal pages, such as the About and Shop pages. This theme also includes a variety of layouts for various artists, increasing its versatility.
Herion is a well-considered option. It contains aspects that industry leaders, musicians, and shoppers will enjoy. Overall, it's a worthwhile addition to your shortlist, and it could help you narrow down your hunt for a musical eCommerce theme.
Dig for more information on Herion here, or visit the theme's preview here.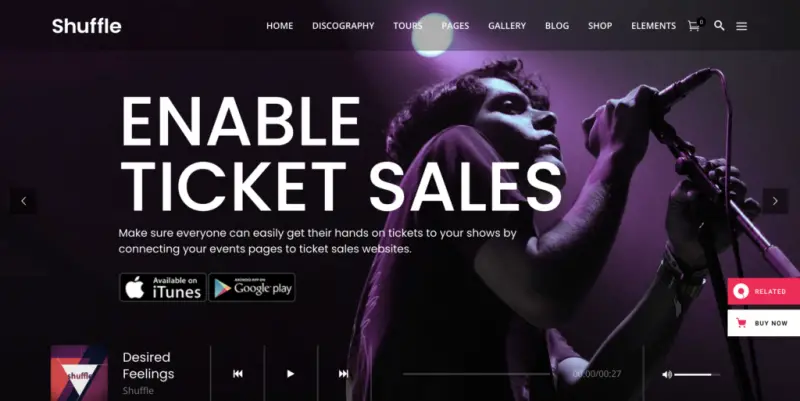 In order to grow, successful eCommerce businesses typically rely on high-quality promotional efforts, yet time and advertising are often limited. Shuffle, a theme that allows you to take complete control of your projects could be your salvation.
This WordPress theme allows you to make your merchandise and products a priority for your audience by being full-width and retina ready. You may use it to build a bold landing page-style website with a drag-and-drop interface, custom content widgets, and a variety of appealing color schemes.
With a sleek interface design, a full-screen slider highlights the product or service and gives your viewers a clear call to action. You've also been provided 18 homepage variations designed for various moods and impressions for your digital business that are detailed and leaves nothing to the imagination. Presenting any events or tours has also been made easy and highly customizable with Shuffle. This will be exactly up your alley if you prefer curating an event instead of simply putting on a show.
Furthermore, Shuffle comes with a streaming audio player and custom widgets for displaying live tweets, Instagram feeds, and other content. This theme should be at the center of your promotional efforts if you're searching for a customizable yet powerful theme that puts your eCommerce business first.
Click for more information about Shuffle here, or go straight to previewing the theme here.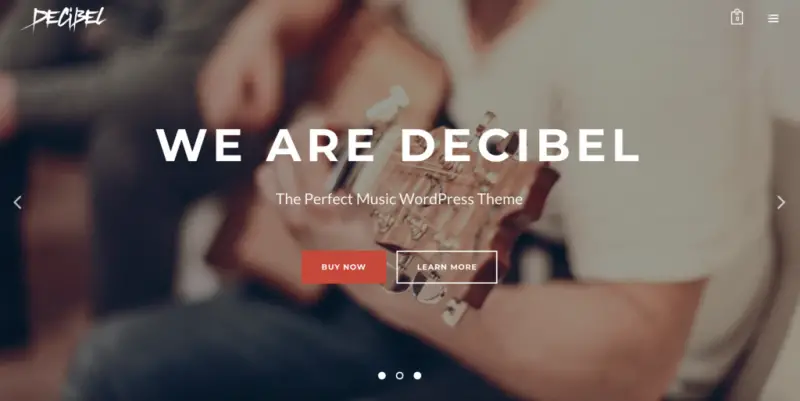 It's crucial to have music on your website, but it's also crucial to cultivate your brand and entice visitors to click the purchase button. Take a peek at Decibel if you value your image almost as much as your music. Take a peek at Decibel if you value your image and sales almost as much as your music.
Decibel is a full-width theme with a startling introduction. The bundled Slider Revolution plugin allows you to create full-screen parallax backdrop pictures and video backgrounds. It uses a landing page layout on its homepage, so your most recent release or product is prominently displayed, prompting a call to action in your site visitors. Additionally and most importantly, this theme supports WooCommerce, allowing you to sell your products directly from your website.
Decibel also has Google Fonts, a wide range of color possibilities, and more than 50 social icons, so that any branding, however unorthodox, may be accommodated. Pages are created using a drag-and-drop interface, with the Visual Composer plugin supplied to help you structure your pages to match your specific needs.
The material visible on the demo website can be installed with one click for individuals who would prefer to get up and started right away. Decibel is a theme for the musician or salesperson who thinks of everything. It focuses equally on your music, your goods, and your appearance, making it a highly attractive option.
Check out more information about Decibel here, or preview the theme here.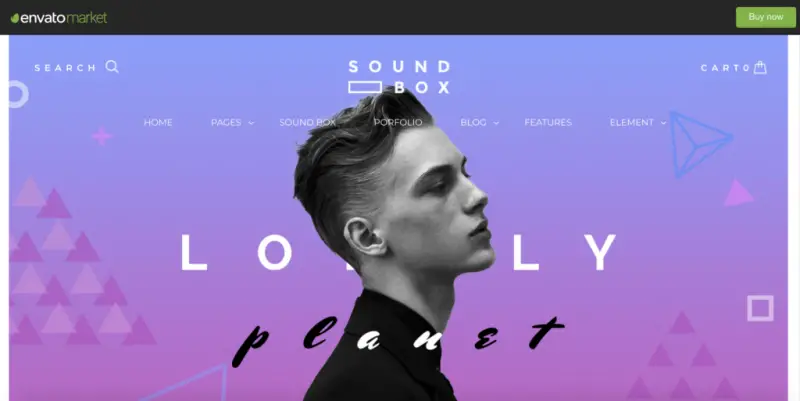 In order to attract customers, professional music-related businesses require a website that matches. Designing those websites becomes a lot easier when you use the proper theme. SoundBox is a multipurpose solution that can expedite the prospect of your eCommerce business through a simple and rather minimalistic design. 
Soft gradient colors and typography are used well in the demo's designs to highlight what makes your studio distinct. The eye-catching aspects of this theme's interface will undoubtedly assist you in making your brand stand out from hundreds of monochrome themes. However, if purple is not your color, simply adjust it to your liking through a powerful customizer tool offering you unlimited options and personalization.
SoundBox is also compatible with both the block editor and the integrated Visual Composer page builder plugin, allowing for simple drag-and-drop site modification. Everything you need to get up and going has been taken care of so rest assured that you'll be able to get your products or services across through this musical WordPress theme.
Get more information about SoundBox here, or preview the theme whenever here.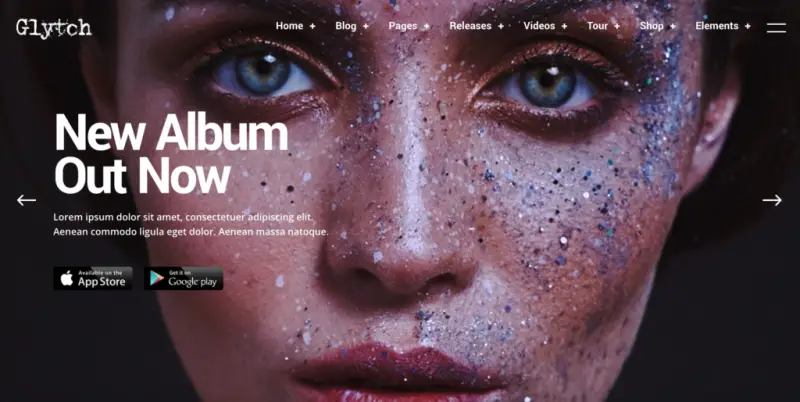 It's all about style in the music industry and you'll want a theme that allows you to capture your business' distinct aesthetic, whether you're launching a new release or building a website for your services. It's possible that your solution could be Glytch.
Apart from being eCommerce ready, this theme comes with nine ready-to-use page layouts for any musical artist's website, including options for events, video displays, and even basic blogs. When it comes to design, Glytch offers a wide choice of CSS animations that you can use to draw attention to specific portions and make your website more interesting. An interesting website will undoubtedly attract attention, subsequently leading to a possible increase in sales. 
Glytch also includes a customized version of the WPBakery Page Builder plugin, which makes customizing your site a breeze. It also works with Spotify, SoundCloud, Bandcamp, and a variety of other services. Easily customize your online shop by picking from the wide variety of layouts offered or create one on your own if you're feeling creative.
This WordPress theme comes with almost everything you'll need to launch a music eCommerce project, as well as facilitate countless other features. We strongly recommend this theme if you desire a website that looks good and works well without a compromise for any. 
Receive more information about Glytch here, or choose to preview it live here.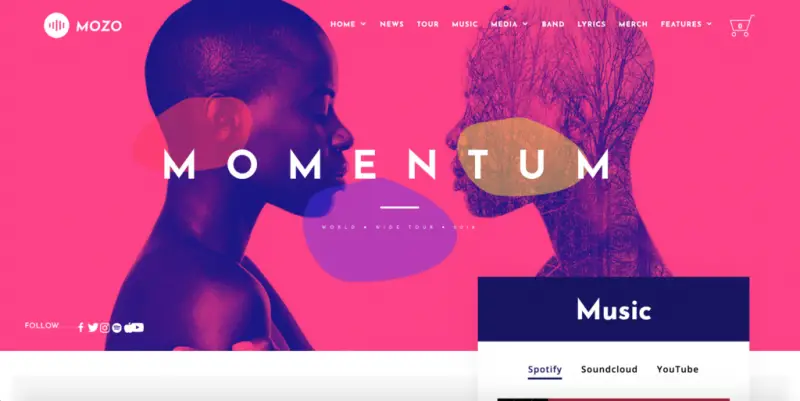 If you wish for your eCommerce band to be successful in the music industry, your website must be visually appealing, engaging, and simple to use. With the correct theme, such as Mozo, you should be able to implement whatever you need.
Mozo has demo designs for individual artists, bands, and an online store for selling merchandise. The theme is clean in all cases, allowing for easy navigation and focusing on crucial components such as embedded playlists and videos. You'll even be able to embed videos on your shop page, giving visitors a glimpse into your merchandise processes or any informative details you wish to put out. 
In terms of functionality, Mozo allows you to rapidly showcase upcoming events and personalize the style of your page with the included Beaver Builder page builder plugin. Furthermore, the theme comes with a comprehensive documentation library, making it an excellent choice if this is your first time designing a website.
if you're worried about how difficult it'll be to establish a professional music website with a digital store feature, Mozo can assist you throughout the process. We believe it is a worthwhile possibility that could be explored further.
Gather more information about Mozo here, or pay the preview a visit here.
Calling the tune
Having an eCommerce website for practically anything is the future of the world in the digital age we live in. From $1.3 trillion in 2014 to $4.9 trillion in 2021, eCommerce enterprises should expect a 265 per cent increase, a new study found. This indicates a long-term increasing trend with no indication of decline. 
From turntables to MP3, Rolling Stone magazine projects that the future of music in the digital era is centered on how streaming services will separate themselves from their competitors, how artists will reach their following, as well as revisiting past successful music business patterns with improvements. To have a responsive website for your music business or project is therefore highly warranted and greatly encouraged.   
We will reiterate that the most important thing to look out for when shortlisting your theme is to ensure that it is WooCommerce or Shopify compatible. You may read about the comparison between both plugins here. Other useful plugins for directory listing, pre and post-purchase surveys, user registration, as well as contact forms, will amplify the overall reliability of your brand and website.  
We hope to see you reaping the fruits of your digital music business with one of the above WordPress themes and we wish you the very best and all that jazz.
Have a favorite theme from this list? Share it with us in the comments and let's discuss!

Should you frequently need access to a variety of premium plugins, themes, logos, video footage and audio files to power up your WordPress site, do also check out envato elements' unlimited subscription plan starting from just $16.50/month.