When you've discovered a new tune that has tickled your fancy, we'd assume that the next steps you'd take might be: adding it into a curated playlist or pulling up a tab to look up the song's lyrics. Whether it's for a fun karaoke session at home or to acquaint yourself with the words before a concert, visiting sites housing song lyrics is something we have all done in our free time. 
If you're looking to set up a website for anything music-related, you've come to the right page. We've collected a list of the best WordPress themes that are musical and lyrical in nature to help you get started without a hitch.
UNLIMITED DOWNLOADS: 50+ Million WordPress & Design Assets
These themes are all highly recommended, with modern interfaces that will impress almost anyone. Without further ado, here are the best WordPress themes for music lyrics.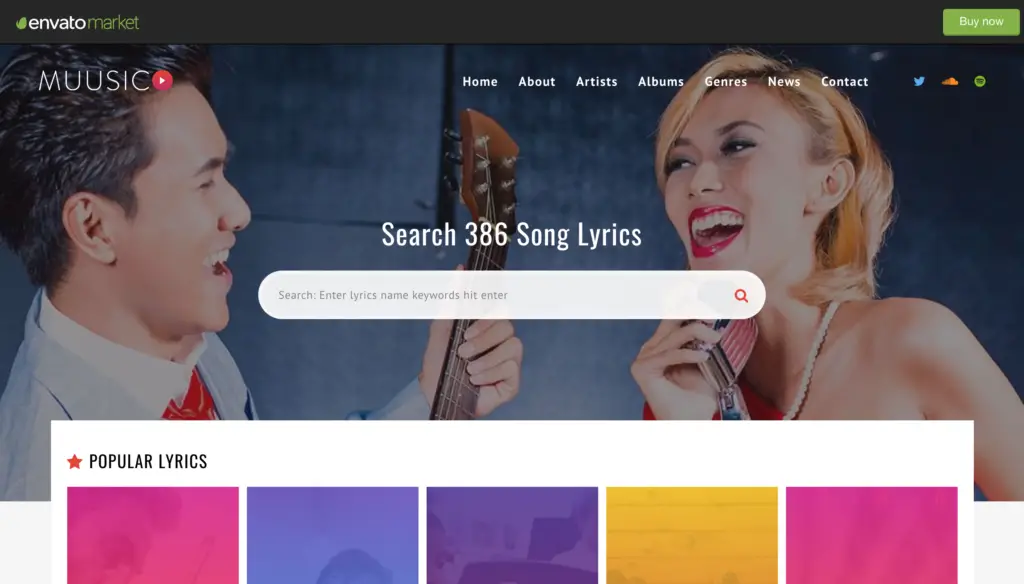 As of now, Muusico is the first and only WordPress theme on themeforest that is wholly designed and coded for lyrics. This responsive theme contains a full-width search bar header for the searching of lyrics and keywords. Additionally, you'll be able to highlight songs that are popular and trending on the homepage that visitors will be able to easily access. 
Built on the Bootstrap 3 Framework, Muusico comes with a powerful admin panel that'll allow you the ability to customize and personalize the site to your heart's content. Font Awesome Icons have also been integrated, on top of font choices, which will decorate your site effortlessly. Other features of the theme include the submission of lyrics from users through a form that you can manage directly. Pages of your website can also include advertisements that will be able to bring in some income for you if that is a desired action. 
Muusico has been created with a fast loading speed in mind that will sit right with Google's algorithm. Moreover, your lyric site will be search engine optimized as codes have been written especially for that purpose. Of course, there are more than meets the eye when it comes to this theme's features and we recommend you check them out yourself.
Look up more information about Muusico here, or preview the theme in your own time here.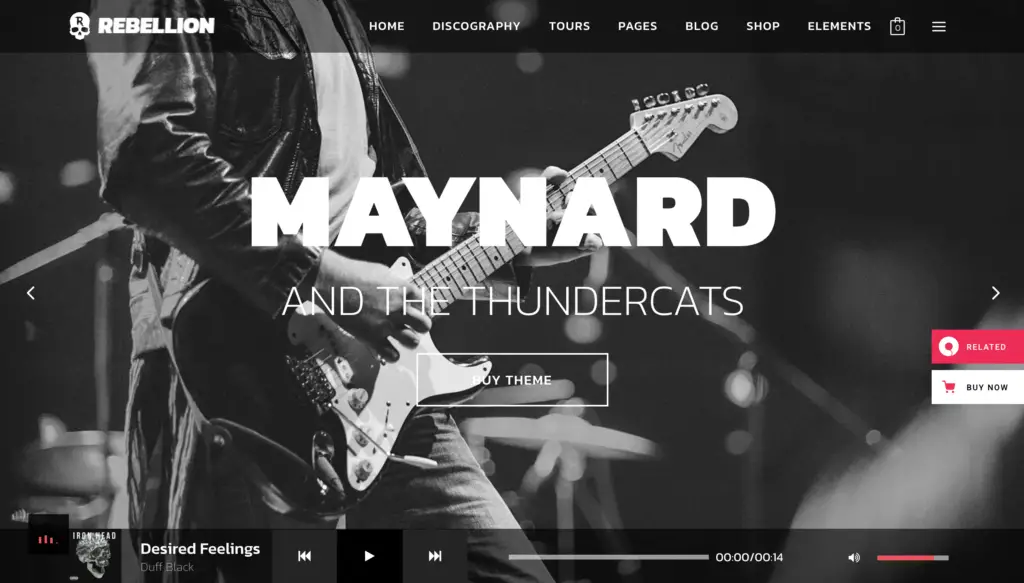 You probably don't want a complicated page structure when you're making a music lyrics website. You'd want visitors to be able to locate exactly what they're looking for right away, whether it's lyrics, music platforms, or something else entirely. Rebellion can assist you by allowing you to provide the most amount of information possible without overpowering the reader.
The default home page of this theme is a complete package, allowing visitors to browse whatever you want your lyrics website to host without having to leave the website. Rebellion features nine demo templates, with variances that may or may not be suitable for your aesthetic needs. Additionally, the Visual Composer drag-and-drop page builder plugin is included with the theme if you happen to want to further alter the layout (or develop your very own). The Slider Revolution plugin is also a bonus included at no extra cost. 
Despite not being designed for lyrics specifically, this WordPress theme can double as a lyrics website due to its musical nature. You'll be able to choose from 3 album layouts before adding lyrics to them with ease. Other features include post types for events, tickets, and albums if you would like to offer these on your primarily lyrical website.  
Check out more information about Rebellion here, or visit the preview here.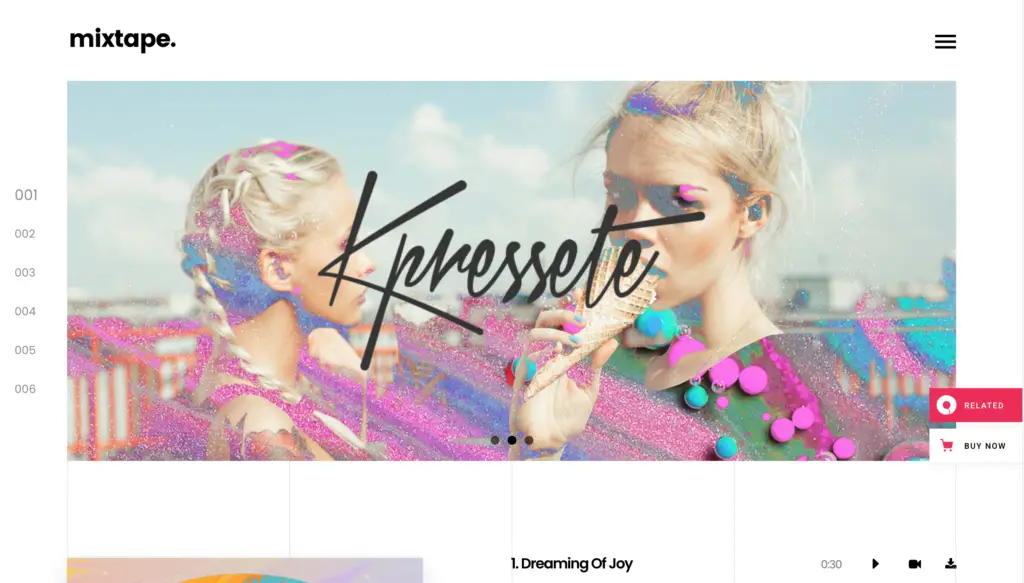 When it comes to music, at least one thing connects websites and musicians. They both employ graphics to make a powerful first impression in the current day. Naturally, content and music are vital, but having a visually appealing site will draw in praises. This should be the same case for your lyrics website and Mixtape is ideal for generating a good first impression on new site visitors. 
This theme comes with nine demos, almost all of which feature photos prominently. Furthermore, a select handful have full-screen layouts with simple navigation. This is fantastic for presenting photographs such as album covers along with song lyrics. Furthermore, there are specific sections for showing albums and tracks, as well as an embedded player that allows visitors to hear certain songs no matter where they are on the site. 
Mixtape has it all: shortcodes, widgets, different header designs, a huge menu, a changeable footer, event and album pages, and more. Moreover, this theme comes with the Visual Composer drag-and-drop page builder plugin that will allow you to design customed layouts without touching a single line of code. Rest assured that your lyrics website will look how you want it to look. Overall, Mixtape provides a visual and audio experience that many site viewers may find appealing when looking up lyrics. 
Get more information about Mixtape here, or head to the theme's preview here.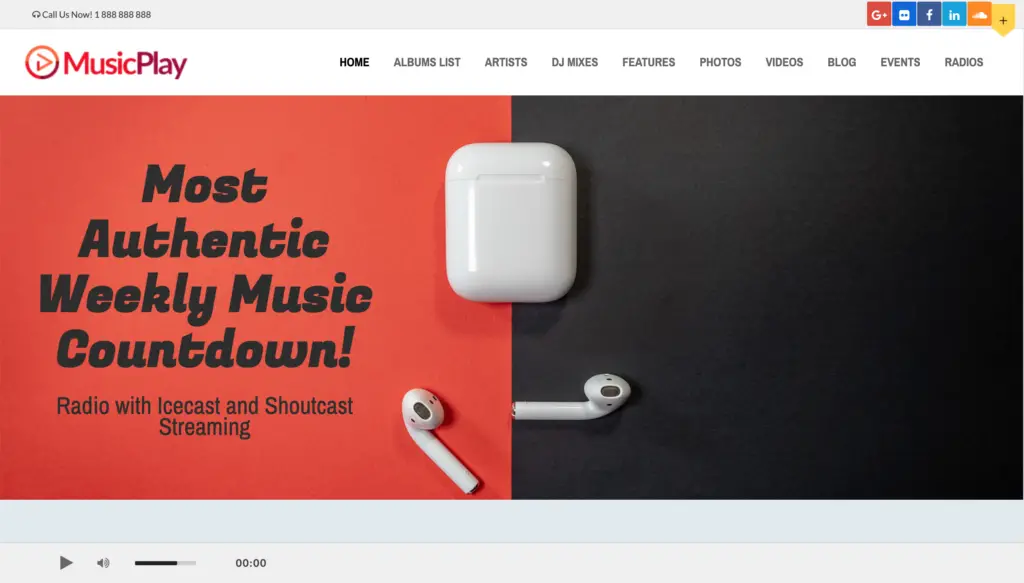 MusicPlay is a simple and elegant music theme designed to be structured and attractive. When it comes to attracting the eyes of a viewer, you'll notice a few of cool animation effects when scrolling down the demo and hovering your cursor over the thumbnails of highlighted tracks. This would translate particularly well for lyrical websites.
Despite being designed for music, radio and artists, the theme's seven categories of posts can be utilized wisely to display lyrics with a variety of other features. When it comes to customization, the theme's options panel is modern and simple to use, with advanced font and color options. Choose to equip your site with a fullwidth audio player if you would like to offer visitors a chance of listening and browsing the lyrics simultaneously.
Additionally, a range of shortcodes and custom widgets have also been integrated to provide you with the best website-managing experience. This WordPress theme includes 14 perfectly designed built-in custom widgets for sociables, contact information, submit forms, photos, and more. To get started with MusicPlay, there are several written and video setting tutorials available so even the most novice can get started on their lyric site in an instant.
Obtain more information about MusicPlay here, or head on over to the theme's preview here.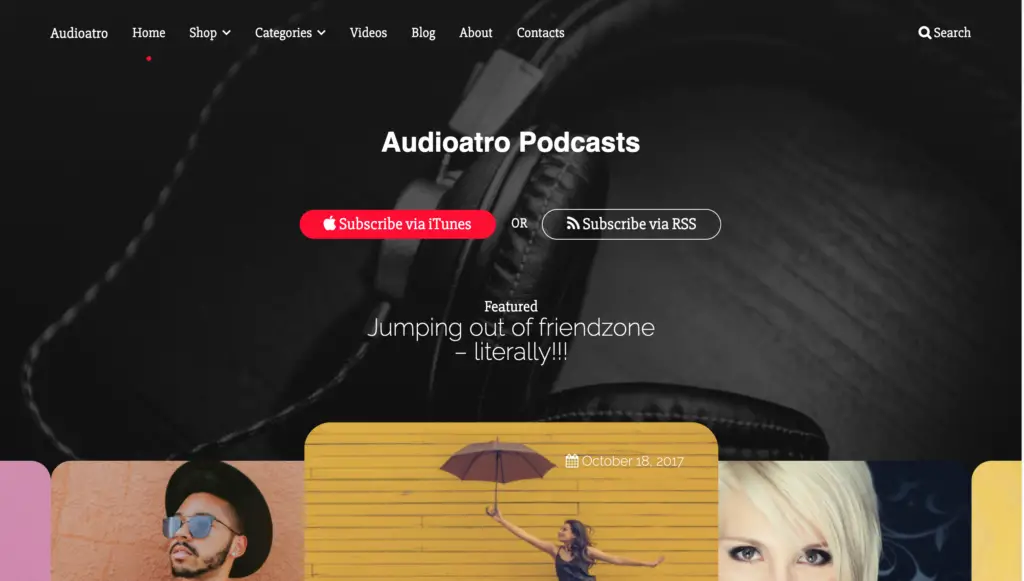 The very finest songs, like all timeless music, are straightforward and direct, and your website should be no different. Audioatro is a simple theme that is ideal for putting any music and lyrics front and center. There are four examples to pick from, each with vast modifications with most of them offering a full-screen image display that will allow you to prominently exhibit whatever you desire to your audience. 
Aside from the slider, the demo layouts are simple and straightforward, but they may be changed using the Visual Composer plugin that comes with the package. The best part is that no coding knowledge is required for anyone to use this theme. Easily modify the theme to be fitting for displaying lyrics and other music-related things. Customization options does not pale in comparison to other themes, too. If you're feeling the default colors, simply pick one to your liking.
Pages for lyrics and videos have been designed along with a unique WooCommerce shop page. If you would like to monetize your lyrics website at a later time, it'll be highly easy for you to do so and facilitate transactions. Other features include links for social sharing so your website will be optimized for social media at a drop of a hat. 
View more information about Audioatro here, or preview the theme here.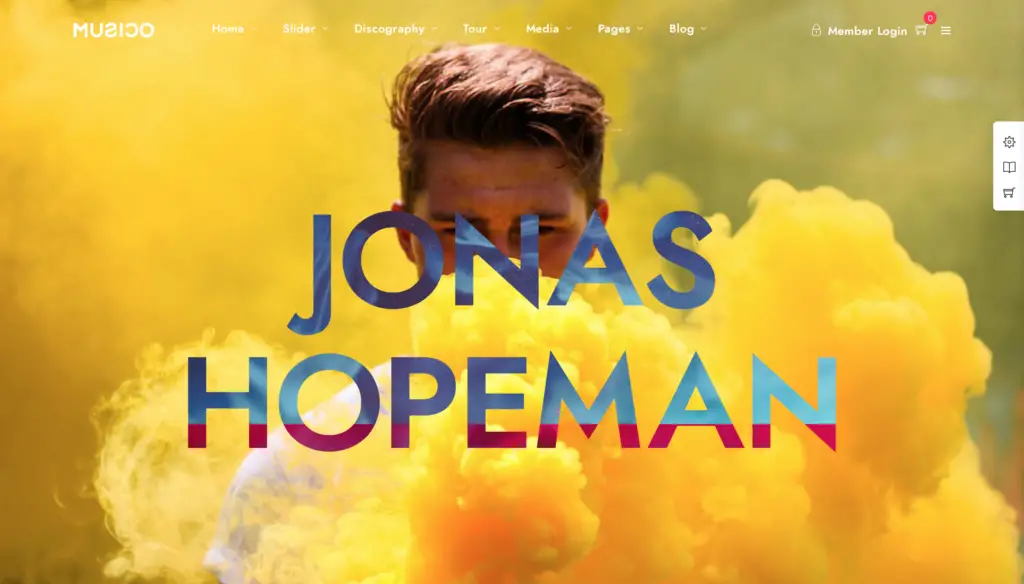 When choosing a lyrics theme, every feature of Musico was created to be able to accommodate that. Marketing itself as the number one selling musician and artist theme, this WordPress theme comes with 8 ready made fully featured homepages, over 100+ pre-made page templates and an intuitive drag and drop Elementor page builder.
Built with the most up-to-date WordPress technology. Musico supports responsive layouts, which are designed specifically for websites in the music industry and look amazing on all devices. It contains music-focused features and a variety of ready-to-use layouts for all types of musicians that can be imported with a single click. Using Musico to start a lyrics website should not pose a problem, too. 
Integrated within the theme are blog templates that can be utilized to house song lyrics of any kind. The lyrics content can be shown using photographs, a gallery slider show, or another video source such as Youtube, Vimeo, or self-hosted video. In addition, blog posts can contain a variety of media, such as photos, galleries, and videos. You'll find many ways to display lyrics effortlessly in ways that will appeal to your visitors. Overall, Musico is a good choice if you aren't sure what kind of design you want immediately, but do not want to be limited.
Access more information about Musico here, or head to the preview here.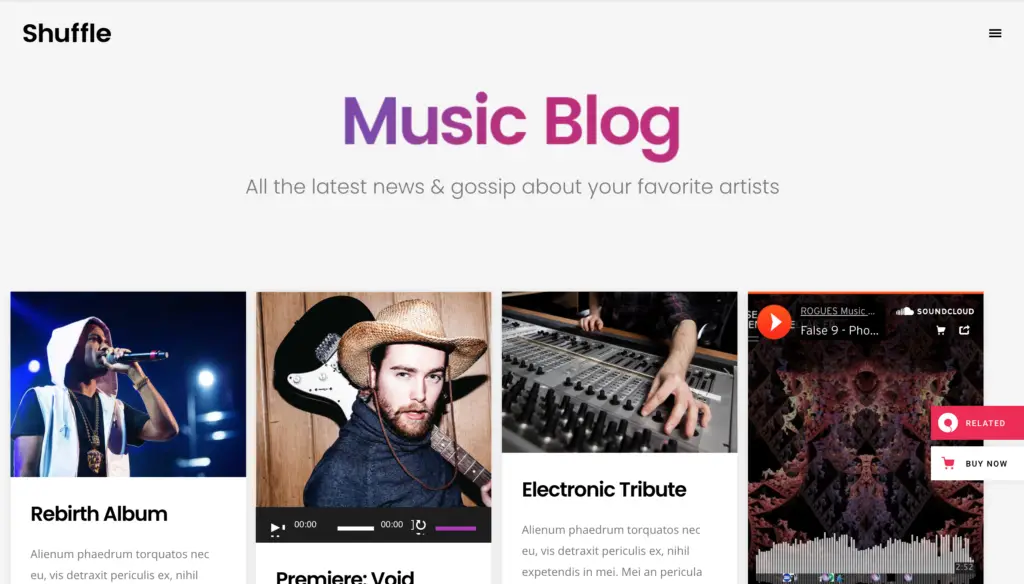 Many WordPress music themes concentrate on a single component of the industry, such as bands, solo performers, studios, or record companies. With Shuffle, you get a theme that can be used for nearly any form of website in the music industry, including lyrics. With the WPBakery Page Builder plugin, you can easily drag & drop site elements like headers, menus, text modules, and more. 
Shuffle is built to load quickly right out of the box, and its responsive design ensures that it looks great on any screen. Equipped with 18 pre-built layouts for homepages, you'll be spoilt for choice when setting up your lyrics website. Furthermore, this theme includes the Slider Revolution and WPBakery Page Builder plugins as part of the package, allowing you to personalize your lyrical website by allowing you to add sliders and creating layouts using drag-and-drop capabilities. These are important enhancements that provide flexibility and help you achieve your goals.
Simply utilize the homepage designed for blogging to post song lyrics and have your visitors interact with you owing to the wide range of shortcodes included. If your goals don't require you to limit your alternatives, we recommend Shuffle for its variety of features that are geared to the needs of most music business websites.
See more information about Shuffle here, or preview the theme in your own time here.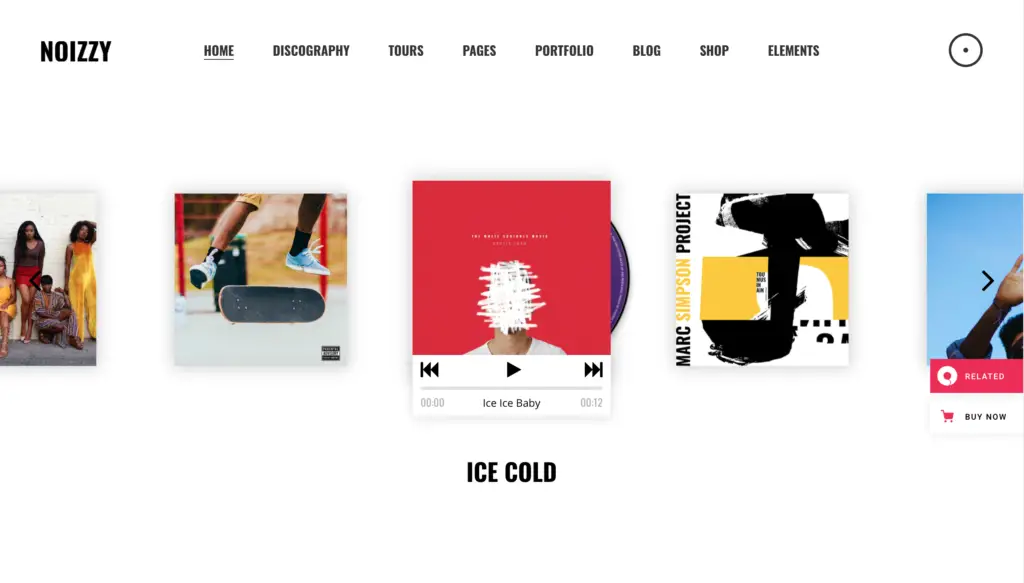 Despite its name, Noizzy is a minimalistic-looking music theme that makes use of white spaces for a balanced, modern and clean look. Choose from nine pre-made homepage layouts for your music lyrics website and get started instantly with its provided blog templates that are incredibly appealing and fresh. Give your website a sense of professionalism if that is what you seek.  
It's not an issue with Noizzy's templates when it comes to altering them, whether you want to make a few modifications or entirely revamp the samples. The ability to change all of this theme's templates is never more than a click away thanks to the inclusion of the premium WPBakery Page Builder plugin. Other adjustments to your site can be made using the theme options panel, which offers you complete control over Noizzy's default settings.
Furthermore, the theme comes with options to let you incorporate social media feeds and create submission forms on your website. This way, you'll allow visitors to submit lyrics to songs that have not yet been posted. Facilitating these submissions should not be an issue, either. There are even Spotify, SoundCloud, Instagram, and BandsInTown connection possibilities, which is excellent for the convenience of people in toggling between your website and their personal music streaming platform. 
Get more information about Noizzy here, or head on over to the theme's preview here.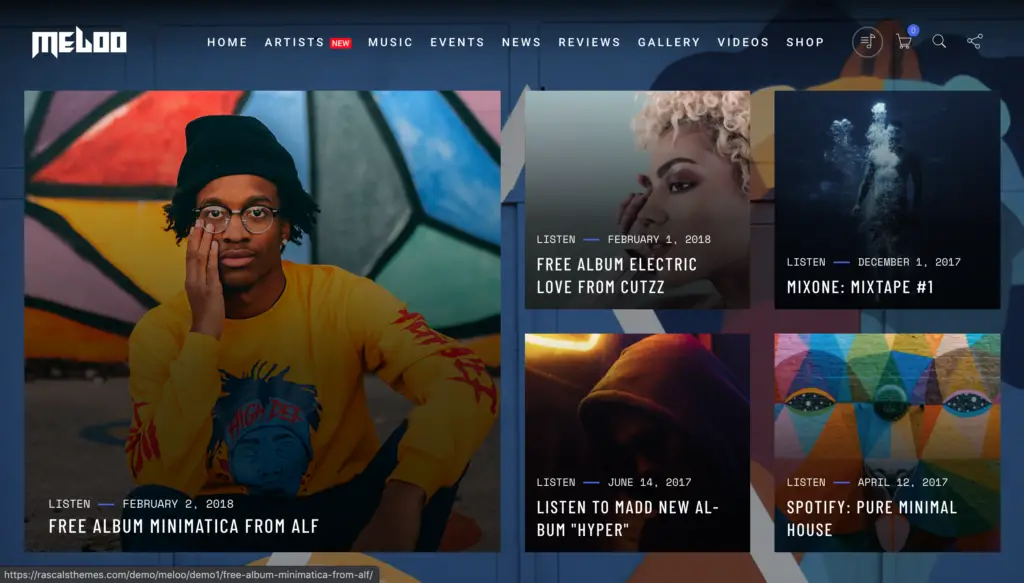 Websites used to load music in the background in the past. It's a fashion that's largely died out, but Meloo revives it with a twist. This WordPress theme's designs are contemporary, combining dark hues and light typography for a strong contrast. The theme comes with a variety of pre-built music website layouts, such as simple blog pages, one-page designs, and more that can be used for a lyrical website. 
When it comes to music, Meelo lets users listen to tracks you've embedded on your site and have them play fluidly as they move around the site. However, unlike previous players, autoplay is disabled, giving visitors complete control at all times. Meelo also includes the King Composer Pro Builder plugin, which will allow you to easily alter the look of your pages to your heart's content. Furthermore, the Muttley Framework is a template management solution with a lot of capabilities. It'll allow you to easily and rapidly adjust our theme to fit your demands, and best of all, it doesn't require any expert abilities.
Overall, Meelo has high-quality features and functionality that create a remarkable experience. By bridging your site to your visitors through social media integration and a series of unique modules, the theme will help you connect with your audience as you share a similar love for song lyrics. 
Browse more information about Meloo here, or preview the theme in your own time here.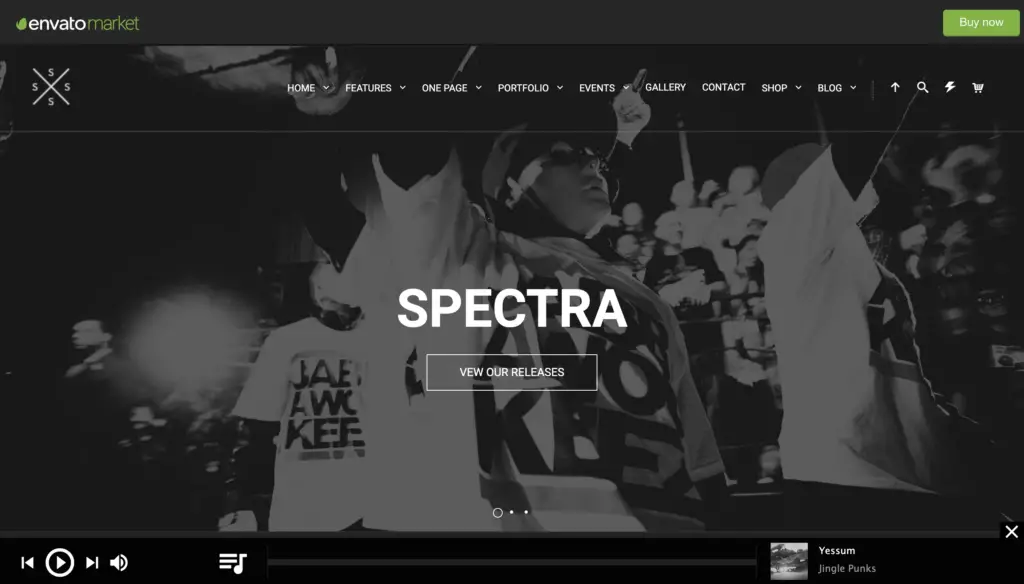 Spectra is a retina-ready, fully responsive full-width theme that lets you use unique backdrops to display photographs and videos from trending performances. Right off the bat, visitors will be greeted by a full-screen background image with an integrated music player at the bottom of the screen. This WordPress theme comes with six blogging layout options that'll give you many choices in displaying song lyrics and the likes.
Spectra also includes a customized version of the WPBakery Page Builder plugin, which makes customizing your site a breeze. Additionally, the theme works with Spotify, SoundCloud, Bandcamp, and a variety of other streaming services. Should you choose to sell products on your website in the future, the theme is WooCommerce compatible.
Moreover, this WordPress theme comes with a proclaimed 5-star ultimate support that offers everyone a full solution Support Center and ticketing system that you simply create a user account with and let the authors know your problem. This is perfect for anyone just starting out on website creation and management so rest assured that you will be well taken care of. Posting lyrics with this theme will be an absolute breeze.
Get more information about Spectra here, or preview the theme here.
Parting Words
Setting up a website for lyrics may seem outdated, but sites like Genius and Musixmatch proves how lucrative and in demand it can be. As long as songs are being produced, lyrics will be searched online. 
If you would like to start a music blog instead, head over to this post for the best WordPress themes for music blogs.
Have a favorite theme from this list? Let us know which in the comments below.
Should you frequently need access to a variety of premium plugins, themes, logos, video footage and audio files to power up your WordPress site, do also check out envato elements' unlimited subscription plan starting from just $16.50/month.