This Pass Labs Int-250 and Mcintosh MA9000 battle that we have going on here on this fine day is one I have been meaning to get around to for a while now. These are two amps that I hold in very high regard and I think that this is a rather good and interesting matchup as they are quite evenly priced. Both the Pass Labs Int-250  and the McIntosh MA9000 are two amps that I had the pleasure to check out thanks to a very good friend of mine and I wanted to smash the two of them head to head and try to figure out which one I liked best and which one I would add to my setup…. If I had the money and my wife would not divorce me for doing so of course!
The Price
As I said in the intro to this Pass-Labs Int-250 and McIntosh MA9000 article, the price is rather even here and there is not as much in it as there has been in some of the other higher-end amps comparison battles I have done. Hey, these are still very expensive products, but they are not as expensive as some of the others we have looked at recently.
Pass Labs Int-250: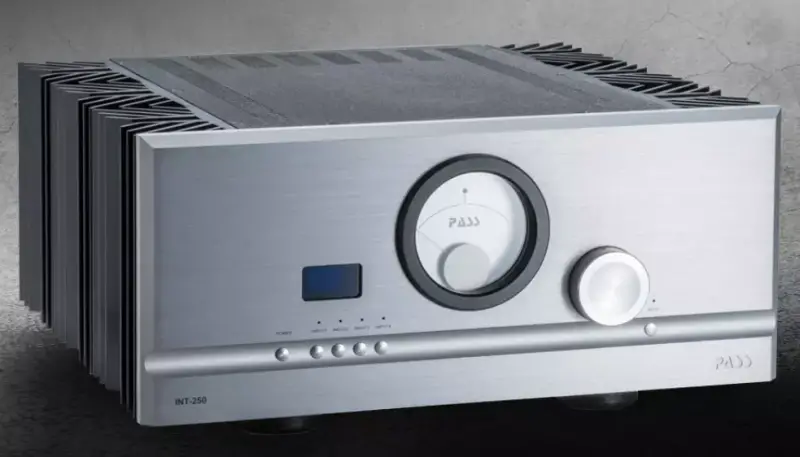 The Pass Labs Int-250  has an RRP of right around the 12 grand mark and that is a fairly decent price if you ask me. I think most dealers tend to be in the $11,500 to a bit over $12,000 mark so you may want to shop around to get the most bang for your buck possible with this thing. Now, I have looked at this a few times and I always say that I feel it is a solid value for money. However, you are very unlikely to find one of these on eBay so chances are you will have to pony up the money and pay what a dealer is asking for it.
McIntosh MA9000: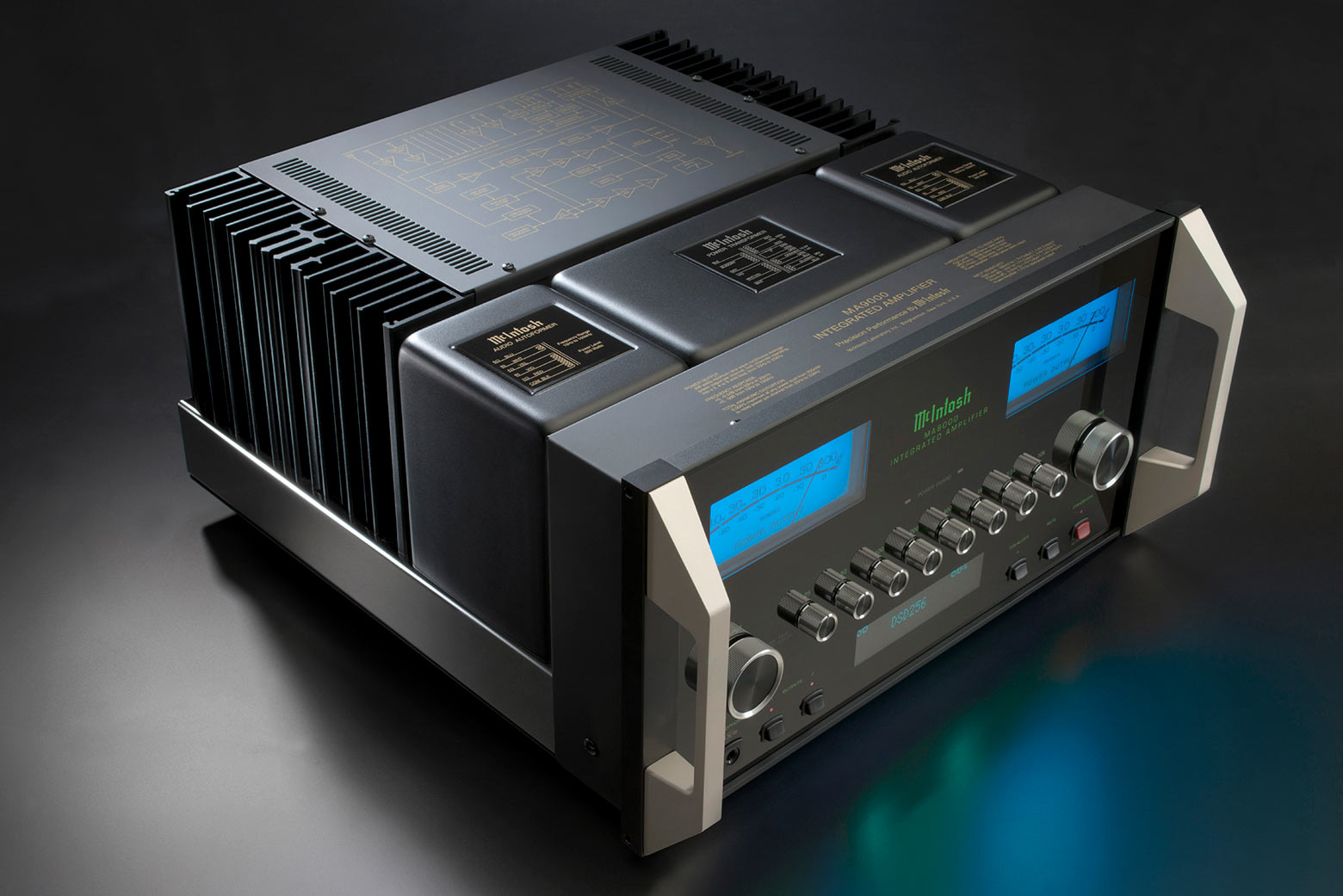 One thing that you will often read about McIntosh products is how they keep their price and that statement rings true for the McIntosh MA9000. I would say that this can be found for a tad cheaper than the Int-250 as I have seen it go in the $10,000 to $11,000 price range. That does not seem like a huge difference, but you do have to consider just how many new records, CDs, or whatever you could buy if you even saved just 500 bucks! I have seen this on eBay a couple of times, but people seem to want as much for a used unit as a new one! As I said, McIntosh products tend to hold their price.
The Verdict: While there is not a massive difference in price between the Pass Labs Int-250 and the McIntosh MA9000. I am going to side with the McIntosh MA9000. Not just because you can find it for as much as a grand cheaper than the Pass Labs Int-250. It is because I feel you are getting more for your money as it has digital capabilities as well as analog.
The Design
The design round of our Pass Labs-Int 250 and McIntosh MA9000 is where things really heat up. Honestly, the design of these things could not be any different. They both look great, but they also have completely different looks to them. This is going to be hard to pick a winner as at the end of the day when products look as vastly different as these do, it is all down to personal preference.
Pass Labs Int-250: The Pass Labs Int-250 is one of the more interesting looking higher-end amplifiers on the market right now. I am a big fan of this whole series from Pass Labs and think that it is so unique. The silver body of it is very cool and makes it look like something that should be used to conduct secret experiments on UFOs or something like that in a fancy and underground lab! In all seriousness, this is a bit of a monster as it weighs 105 pounds and its dimensions are, 19" x 21.25" x 9.1". So, if you do like the look of this, you will need to make sure you have a space not just big enough, but able to handle its huge weight too. In the middle, we have that circular display which I am a massive fan of. Then to the right of this, we have the LCD, and then to the left, we have your volume dial with a mute button under it. Underneath that LCD, we also have some input selection buttons as well. Overall, I think the front of the unit has a very modern and unique kind of vibe and that is something I really do dig.
On the back of the Pass Labs Int-250, you have e generous selection of analog ports that you can hook your equipment up with. What I like about this is how they are labeled and spaced out very well so it will be easy to get it all hooked up. However, before you notice the ports, the first thing that captures your eye are those large and I hate to say it, but ugly handles. I get why they are there, but I just think that more people will be putting this onto a shelf or into a unit from the front so the handles on the back are not going to be used by most people. They also give you a remote control and it is awesome! It has a solid bulky feel to it and gives you all the control you need.
McIntosh MA9000: I highly recommend that you have a look at this Behind the blue: The making of McIntosh's iconic amplifiers video which will show off the amp and let you know why I and so many others love the design of this thing! The McIntosh MA9000 like the Pass Labs Int-250 is a very large amplifier. It weighs very close to 100 pounds and it comes in at 17.1/2" x 9.7/16" x 19-3/4". So, it may be a bit smaller and lighter, but this thing is still really big. What captures your attention first of all with this amp is that awesome twin display, especially when that blue backlight is on. Under the display, McIntosh gives you a vast selection of dials. On one side of the unit, you have an input selection dial and on the other your volume. All of the dials in between this let you tinker with the sound and get it just the way you want which is fun. Under this, we have the LCD which is cool as it is blue instead of the standard white or red. The majority of the McIntosh MA9000 is black which I really like, but there are these two large silver handles that are there to help you get this into your setup. I was complaining before about the handles on the Int-250, but these ones I do not mind, they compliment the look of the amp and as they are on the front, they are actually useful!
I love the way the McIntosh MA9000 looks from the front, but it is the back that really makes this such a special amp. While you obviously have your analog inputs, this thing also has digital as well! It is stacked with ports and it is going to really be the ultimate thing in your entertainment center and cater to all your audio needs. I am actually surprised that this thing is as stacked as it is with ports considering the asking price! Just like the unit itself, the remote control that comes with this is large, cool looking, and very impressive. It has all the buttons you need and feels great to hold and screw around with!
The Verdict: These are two awesome looking amplifiers and truth be told, I like the design of both of them, but for different reasons. They are so different in their design that it is not really a fair comparison. For me, the McIntosh MA9000 takes this round, I much prefer the design of that. I like the black, the handles being on the front and the selection of input options is far greater. I think that the Pass Labs Int-250 has a cool style too and if someone prefers that, I could see why. However, this is my article and for me, McIntosh takes this round all the way!
The Sound
We now have to talk about the sound and you could say that sound is the most important category out of the three we have on this Pass Labs Int-250 and McIntosh MA9000 article today! These are both fantastic amplifiers and I consider myself to have a pretty good ear when it comes to sound, although, I would never call myself an "audiophile" I know good sound when I hear it!
Pass Labs Int-250: I have to start by telling you to check out this Sound Demo: Pass Labs INT-250 and Dynaudio Heritage Special. video which gives you an indication of what the sound capabilities of this thing are like. I really like what they have done with the Pass Labs Int-250. This is a great series from Pass Labs and this is the most expensive and most high-end of this series. It has a sound that is probably best described as balanced and what I loved about the sound was how that balance never falters even when you crank the volume up. To this day I think that Ten by Pearl Jam is one of the best debut albums from a rock band. I loved this as a kid and I still love it now. I listened to it from start to end and it was this record that made me realize that the Pass Labs Int-250 has a very real and balanced sound no matter how loud or quiet you have it going.
One of the albums I am most looking forward to in 2022 is True North by A-ha. Their Take on Me video from their Hunting High & Low album was a game changer to me and I love the song. They have such a unique and special kind of sound and I think that the Pass-Labs Int-250 was really able to bring that to life. Without even messing with any of the various settings, it sounded so real and rich that I was truly in awe of this song that I have probably heard at least a thousand times in my life. When it comes to an analog only amplifier that is closer to the 10 grand mark than the 20, this is honestly pretty hard to beat when it comes to the sound.
McIntosh MA9000: McIntosh are one of the most highly regarded and well-respected companies when it comes to amps and their McIntosh MA9000 awesome is truly something special. This thing is amazing and if I had it in my house, I would probably go to my record collection and get a stack of records about four feet high and just play them all. As I was in my friend's store when playing with this, I had to be more selective. One record that I took around was, 2001 by Dr. Dre. Controversial opinion here, but I actually like this record better than The Chronic. It was the song, Still Dre that I really wanted to hear pumped through this and that piano line the song has was amazing. This thing just hits all the right notes perfectly and the way my buddy had it set up the bass and treble were pretty much perfect.
Ok, so one thing that the McIntosh MA9000 clearly has over its competition is the fact that this can also support your digital music collection. For a guy that has an even larger CD collection than he does record one, some kind of DAC is a must for me. This thing plays all your CDs and other digital music flawlessly. I was feeling a bit 90s when I was at my buddies testing this thing out and we fired up I Wish by Skee-Lo which was a song we loved during our high school days. It sounded great! I think that those who have a vast music collection of all different genres like I do will really benefit from the real and authentic way this thing produces its sound.
The Verdict: When it comes to records, I am having a very, very hard time picking a winner between these two. I think that there is very little in it in this regard and I am sure most people would probably not be able to tell much of a difference between the two as they both sound incredible. However, I am going to give this round to the McIntosh MA9000. I think having digital capabilities makes it a better rounded amplifier that will be able to handle your entire music collection.
Which Is The Better Amplifier?
As the McIntosh MA9000 won all three rounds, you do not have to be a master detective like Batman to figure out that the McIntosh MA9000 is my pick here. I love this amp and I think if I had a spare 10 to 12 grand and I was given the ok from the wife to spend that kind of crazy money on an amplifier, the McIntosh MA9000 would easily be in the running, probably top two or three for which one I would want to get. It looks amazing and it caters to my entire music collection and makes it sound amazing! Still, with that being said, I must say that the Pass Labs Int-250  is an awesome amp in its own right! It has a very unique style to it and if you just want to listen to records, you cannot go wrong with it!