If you have checked out some of our other reviews, you will have noticed that Bose features quite prominently. I am a huge fan of Bose. I know that their products do tend to have a higher price point, but this is one case where I feel that you are getting what you pay for. Today I am checking out their awesome Bose Soundbar 700 which is their premium soundbar offering and the perfect soundbar if you want as close to cinema sound from a soundbar as possible. I will break down each aspect of the soundbar to hopefully give you a better idea of what it is all about.
I know that the current 800 bucks asking price for this is a lot. However, it is worth mentioning that Bose does offer other soundbars such as their, Bose Soundbar 300 which costs about 400 bucks.
We have a great series of guides such as this one here, 5 Best Soundbars With Subwoofer Below $200 which looks at soundbars at the lower end of the pricing spectrum.
The Bose Soundbar 700 Review
Pros:
This thing has a design that is just so cool
The sound quality truly is amazing and fills the room
They give you a remote that looks like it is from the future
There are many different presets and ways you can tinker with the sound
It truly is one of the best soundbars on the market right now
Cons:
This is one of the more expensive models
Some may be shocked it does not have a built-in subwoofer
Here is my review. I want to mention that I have spent a considerable amount of time with this soundbar.
No matter if it was watching an action movie like Transformers: The Last Knight or a more story-driven movie like Knives Out I was very impressed. For music, gaming TV shows, this thing managed to do it all and do it with some serious style I might add.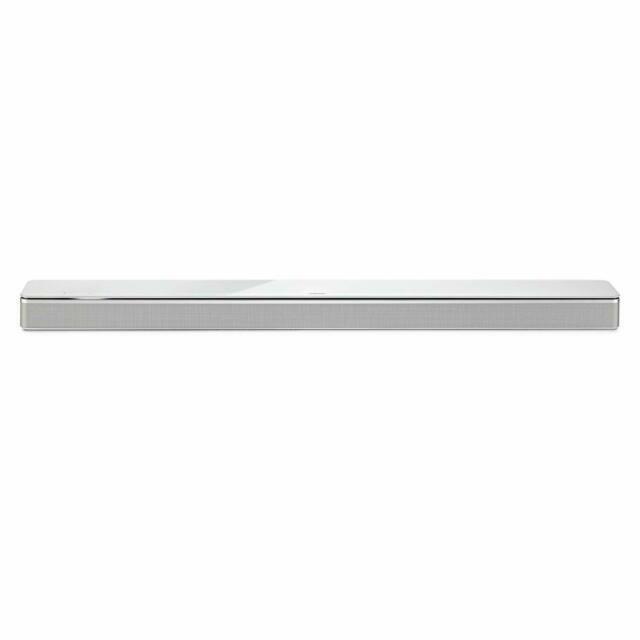 Please note, that I am basing this review on the black version of this soundbar. There is also a White Bose Soundbar 700 which looks pretty cool too. Depending on your living room or home theatre setup, the white might be the version that you go for. Just know that apart from the color, these are exactly the same.
The Design
If you are going to have a soundbar out on display, you want it to look the part and this thing is super cool looking. The dimensions for the Bose Soundbar 700 are, 38.5" x 2.25" x 4.25" which does make it one of the larger soundbars out there, but its size is not an eyesore. The front of the soundbar has a black grille that looks amazing, it has a very cool and premium kind of style. From the first glance you know that is a high end soundbar.
The top of the soundbar was what really surprised me. Rather than being plastic, this is glass and it looks great. The only issue I will say is that the glass is a real magnet for fingerprints. Thankfully, these are easily wiped off and Bose does give you a little cleaning cloth inside the box. Also on the top are the only physical buttons that this thing has. There is the power button and the microphone button too.
On the back of the soundbar, you have your hookups which are HDMI and optical. These are your standard hook-ups, but they are done in a way that the cable is not going to be hanging loose so you do not have to worry about them becoming easily disconnected.
The Sound
Now, the Bose Soundbar 700 does not have a built in subwoofer, but it still has some real kick in the audio department. Bose does not actually go into a great deal of "technical" detail about the drivers that they have used with this, but they are certainly firing on all cylinders for the mids to the highs. The soundbar is very clever in the way that it throws the sound too, you will feel like the sound is coming from every area of the room. To give you an example of this, I was watching Hotel Transylvania with my niece and nephew and my nephew was sure that we had other speakers!
I hand on heart do not have any complaints about the sound quality here. Many soundbars will say that they have "surround sound" however, this is probably as close as I have ever come to experiencing it with one. It is truly the closest to cinema-quality sound you are going to get in a soundbar in my humble opinion.
Now, remember how I said this did not have a subwoofer. If you really wanted to add one, this is designed with connecting to the Bose Bass Module 700 Subwoofer which is an amazing subwoofer, but it does cost 700 bucks!
But, I do want to draw your attention to this Bose 3.1 Home Theater Set (Black): Soundbar 700 + Bass 700 which features the soundbar and the subwoofer for $ 1,398.00 which by my calculation is saving you around 100 bucks if you were to buy them separately so that might be something worth thinking about. It will work with other subwoofers, but if you are spending this much money anyway, you might as well go all-in with Bose.
The Remote And Ease Of Use
Wow is the remote that comes with this thing like something out of the future. As you would expect from a high-end soundbar, the Bose Soundbar 700 is packed with different settings and features so that you can get the sound just the way you want.
The thing is, when you first look at it, you will think that it is very lacking as you can only see a few buttons, it actually looks more like a remote for an Amazon Fire TV Stick than a top-of-the-line subwoofer.
Once, you pick it up though it all changes. The buttons that are associated with the current settings you have the subwoofer on will all light up! This is just crazy! This not only looks cool, but it also makes it much less likely that you will end up pressing a button by mistake and changing the settings. You can tinker with the sound by changing stuff like the treble, but there are also many different presets that you can select from too.
If your house is like mine, the kids are always putting the remote in the most inconvenient place. You just sit down to relax and watch a little TV and you can guarantee that one of the remotes will be at the other end of the room. What is neat about this is that you can actually use an app on your phone to control this subwoofer too. It may not be as cool as the remote, but it can come in handy if one of the kids has misplaced the remote after using it as a Lightsaber!
What Is In The Box?
Do not worry I am not about to recreate a scene from the awesome Seven which by the way still does not have a 4K release! Instead, we are going to see what exactly you are getting for your 800 bucks. Well apart from the soundbar and the remote. They also give you an HDMI cable and an optical cable, both of which are very generous in their length. I put my Bose Soundbar 700 under our TV and both of these made it to the back of my TV without any problem. I
As well as this, you get the cleaning cloth that I mentioned earlier, and also, they give you an ADAPTiQ headset which is pretty cool. The idea of this is that you can use it to find the perfect placement for the soundbar. To be honest with you this was more of a toy for me than anything else, but it is still pretty neat that they included it. Still, I would have rather them not include it and knock a few bucks off the asking price instead if I am being honest with you. I ended up selling mine on eBay and made 20 bucks (after shipping) which I then used to purchase a used copy of Godzilla: King of the Monsters and Jumanji: Welcome to the Jungle on 4K from a seller on Amazon for that money so it all worked out in the end.
Final Thoughts
If you can afford it then there is no reason at all why you should not purchase the Bose Soundbar 700. It really is one of the best soundbars that I have ever had the pleasure to use. I know that the price tag is very, very high. Even more so if you decide to add in their Bose Bass Module 700 Subwoofer which is nearly the same price as the soundbar itself! Still, even with that being said, this is truly one of the greatest soundbars around and there is a good reason why nearly every review you read for it is glowingly positive.