As I write this first sentence of this Accuphase E-650 and the E-800, I am already 99 percent sure, I know exactly how this is going to go down! The Accuphase E-650  for a while was the flagship and premier offering from the good folks at Accuphase. Well, Accuphase are not a company to rest on their laurels and the Accuphase E-800 is here and that has basically taken over from what the E-650 offered. I have no idea how they do it, but Accuphase always manages to take what I think is the ultimate of products and somehow make it even better and that is pretty much what we are looking at today!
The Price
As the title of this article, today is comparison of Accuphase E-650 and Accuphase E-800, you know coming into this that you are looking at a lot of money! Accuphase makes some of the highest-end audio equipment on the planet. These are not for your average guy who has just gotten back into vinyl after getting a Victrola Vintage 3-Speed Bluetooth Portable Suitcase Record Player for under 100 bucks!
Accuphase E-650: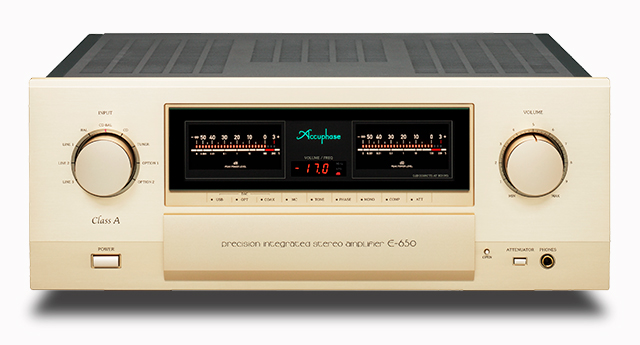 I do think that the release of the E-800 has driven the price of the Accuphase E-650  down a tad. You cannot just stroll into a Walmart or a Best Buy and pick one of these up, you have to go to a proper dealer and you are easily looking at close to ten grand for one of these. I did find a new one on eBay not too long ago for $8,999,99 which was the best price I had seen a new one at in some time. You can find these used and at least I would say you are probably looking at around $7,000 for one of these. However, I do think that the price may continue to drop a bit are more people consider upgrading to the E-800.
Accuphase E-800: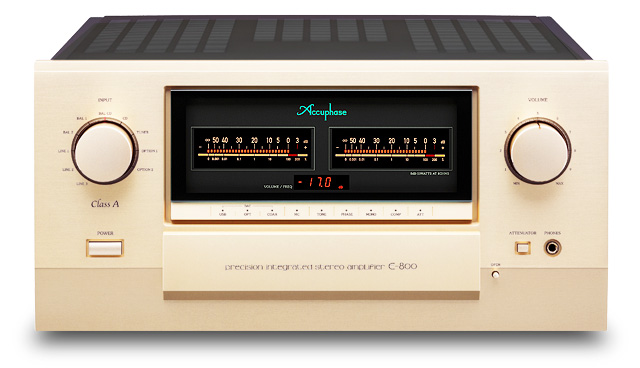 Let's not beat around the bush here, you are easily looking at 15 grand plus if you want to add the Accuphase E-800 to your home! As of me writing this, Accuphase does not make a better integrated stereo amplifier, this is their flagship model and it probably will be for the next few years at least. That is why the price of this thing is so high! At the time I was writing this article, there were actually a couple of pre-owned units for sale on eBay. One was priced at $11,899.00 and the other at $12,589.17. Both of which would have to be imported from Japan. While that is still a lot of money, it is a few thousand bucks cheaper than what you would spend getting a new one from a dealer.
The Verdict:
While the Accuphase E-800 is nearly double the price of the Accuphase E-650, this is not as easy a round as you would think. I should have a hard time telling you to go and spend several thousand more dollars, but the E-800 really is a pretty big upgrade. Still, you do have to consider all of the things you could buy if you purchased the E-650 over the E-800 with the money you are saving!
The Design
I have looked at most of the Accuphase models here on the site and this Accuphase amplifiers comparison is probably going to go in a very similar way. Accuphase has a style that they like and as a result, their products can all have a very similar look to them. Still, it is the little differences that I find fun as we take a closer look at them.
Accuphase E-650:
I am a huge fan of the design of the Accuphase E-650. This is just a really cool and elegant piece of tech that has high-quality written all over it. The kind of two-tone champaign style color is something that I get a real kick out of. The dimensions of this are 18.03" x 7.2" x 16.85 and it weighs 26 KG, so you do need to make sure you have somewhere that can handle it! I suggest you have a look at this Accuphase E – 650 + Dynaudio Special Twenty Five video if you want to see it in action. It has a very stylish look to it. You have a nice large display in the middle and on both sides of this, you have larger dials, one for volume and the other for your input selection. I really do think that "classy" is the best way to describe the whole vibe that the Accuphase E-650 has going on.
They have managed to keep the front very minimalistic and that is because there is a little door (that has the Accuphase E-650 logo on it) that flips down to reveal all of the various controls that you can tinker with. I like this design and think that it gives this a ton of personality. On the rear of the amp, you have a great selection of ports so you can hook your various devices up to this. They are spread out well and clearly labeled too which is something that I really do like. There are also two expansion ports on the side as well.
Accuphase E-800:
Like the jump from the Accuphase E-470 to the Accuphase E-650. The Accuphase E-800 is keeping that same kind of style as this series has had since the very start. It has that same awesome Champaign style and you also have the same display in the middle, large dials at the side, and other dials hidden behind the door going on. It is a design that is never going to go out of style and it is something that I really do like. I know that some people may have wanted them to change it up a tad, but I really do not think there was any need to at all. All of these units, especially the E-800 have an immense quality about them when you hold them for the first time.
The change that is worth talking about here is the overall size. The Accuphase E-800 is bigger and heavier than its brother. It comes in at 18.31" x 9.41" x 19.76" and it weighs a massive 36kg. If you plan on moving this thing around frequently, you may need to start hitting the weight room now. The extra height and depth make this already awesome looking design look that much more spectacular, I know that it does mean you need a bigger place to house it, but side by side, the larger size makes this look far more impressive. Around the back, we have the same design as the E-650, but the larger space means that things are a bit more spread out here.
The Verdict:
I already thought that the Accuphase E-650 was an amazing looking integrated stereo amplifier. However, even though the E-800 has the same kind of design as this one here, I think that the larger size makes it the clear winner here as you know what they say, bigger is always better!
The Sound
The final category in this Accuphase amplifiers contest is looking at the reason why these are priced so high and that is sound. These are two of the very best integrated amplifiers money can buy (and you do need a whole lot of money) and we are mainly going to be looking at just how big of an upgrade the E-800 really is.
Accuphase E-650: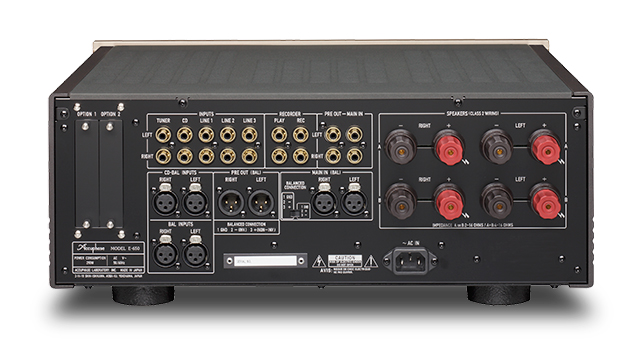 For a while, the Accuphase E-650 was the be all and end all of integrated stereo amplifiers. I can see why someone who would have this would not see the need to upgrade. First of all, they have already spent a ton of money on this. However, I also think that if I had this, I would be more than cool with the way it brings my music to life. Back in my high-school days, I became a massive Green Day fan and over the years I think I have owned every re-release of Dookie that they have put out. The point is, this is an album I know very, very well, and the way that the Accuphase E-650 brought it to my ears was such an awesome experience. It is hard to explain, but going from listening to this on a rather "basic" amplifier to this really is night and day as cliché as that sounds.
This really does hit all the notes just like you would want it to. I well and truly put the Accuphase E-650 through its paces with the likes of the epic Rocky IV which is an amazing soundtrack with the likes of Living In America and Hearts On Fire. I also played albums like MTV Unplugged: Brian Adams and Sting: Best of 25 Years to hear more "vocal centric" stuff as well. Again, the E-650 just excelled and in the case of live music really did make me think that I was there. The first time that I had the pleasure to play around with this thing, I hand on heart did not think that it could get any better than this.
Accuphase E-800: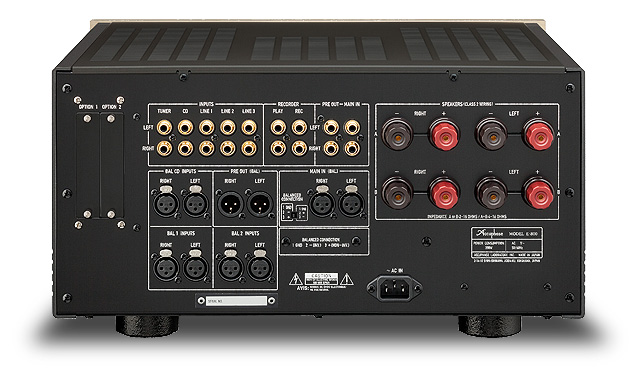 Well, I did not think it could get any better until I was given the chance to spend a couple of weeks with the Accuphase E-800. I used the same Audio-Technica AT-LP3BK Turntable that I used when testing out the E-650 along with the same set of speakers to make sure it was as fair a comparison as I could do. I started out with some epic Hot Rocks, 1964-1971 by the Rolling Stones. I know over the years this record has gotten "mixed" reviews, but I have always loved it, the first song I experienced with the E-800 was Paint It Black and man was I impressed. Look, this is probably the best integrated stereo amplifier that I have ever had the pleasure to play around with. The thing is, the differences from this over the E-650 are very hard for me to explain. In going from the E-650 to this, I could feel a noticeable upgrade. Things just have more "oomph" to them if that makes sense.
The Red Hot Chili Peppers are one of the few rock acts my wife loves as much as I do and I got her to listen to their Greatest Hits record that came out a few years back and she was very impressed with how it sounded when pumped through the E-800. I came across this very honest Accuphase E-800 Integrated – Is it any good ?? video and I suggest you check it out if you want to hear in more detail about all the ways that this truly does make your music collection sound amazing. My favorite band of all time is Guns n Roses and after playing with this for a few hours, I rushed to my vinyl collection and pulled out Unplugged 1993: Acoustic Broadcast Recordings so I could hear what live music sounded like. Wow, just wow is all I have to say. This sent me down a rabbit hole where I spent the majority of that evening trying out all my live records and I really was blown away and I had a freaking awesome time kicking back in my bean bag chair, listening to some great tunes.
The Verdict:
I am kind of at a loss of what to say here, to be honest with you guys! Going into this, I was excited to get the chance to check both of these out (even though I did have to send them back) however, I never expected the E-800 to be the upgrade that it ended up being. The Accuphase E-650 is awesome and truly amazing, but the E-800 really does offer a better sound.
What Is The Best?
We bring this Accuphase E-650 and E-800 battle to a close and I can say with 100 percent certainty that the Accuphase E-800 is better than the Accuphase E-650. It takes what was already a truly outstanding integrated amplifier and makes it even better, how they did this I have no clue, but there is 100 percent an upgrade to the sound, and even those who do not normally notice that kind of thing will pick up on it. The 3-to-6-thousand-dollar question though is if it is worth the extra money over the E-650? If money is no object, yes, you go for the Accuphase E-800. However, if you already have the Accuphase E-650 and are happy with it (why would you not be?) do not feel the need to rush out and upgrade, spending a ton of money in the process.